Wendover Nugget Hotel And Casino
Address: 101 Wendover Blvd, West Wendover, NV 89883
Phone Number: +1 775-664-2221
Website: www.maverickgaming.com/wendover-nugget
Hours: Wendover Nugget Hotel And Casino is open 24 hours a day, 7 days a week.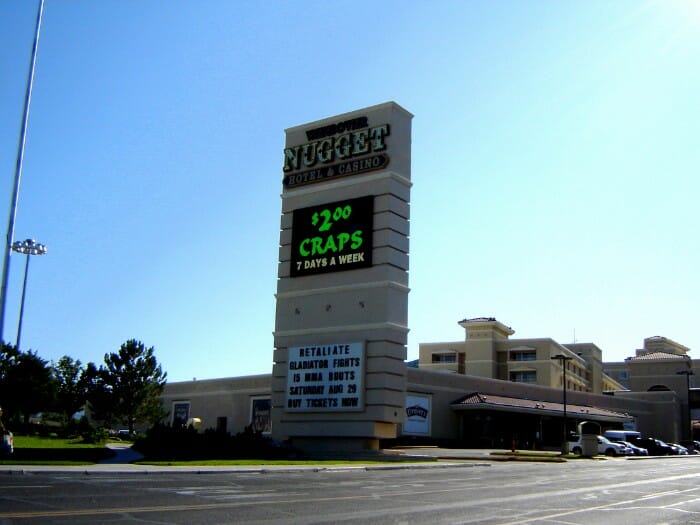 The Wendover Nugget Hotel and Casino opened in 2004 and is still owned today by Maverick Gaming. However, this casino has a long and interesting history. The building originally opened as the State Line Casino in 1931 and was owned by William Smith.
The casino's location was oddly chosen, as it was right on the Nevada-Utah border. This allowed customers to enter the casino from both states. The gaming space was built on the Nevada side, and the dining area was built on the Utah side.
After several ownership changes, the property was closed and eventually sold to the current owners, Maverick Gaming. The casino was remodeled and reopened as the Wendover Nugget Hotel and Casino in 2004.
Today, this casino features a wide variety of entertainment options, including slots, table games, live entertainment, a sportsbook and more. Its convenient location on the border of Nevada and Utah makes it a great destination for locals and travelers.
The casino also features several dining options, an on-site hotel and comfortable rooms. There are also plenty of other amenities, including an RV park, pool, and fitness center. Whether you want to have some fun or relax and enjoy the view, this is the perfect place for your next getaway.
Guests have given the property an average rating of 4 out of 5 stars on TripAdvisor. One guest said, "A great place to stay and play. The staff is friendly, the rooms are clean and comfortable, and the casino offers a variety of games."
Another guest said, "The casino floor is really nice and well laid out. There is a great selection of games, and the staff is really friendly and helpful."
(Related reading: Nevada casinos)
Gaming
Their 47,500 square feet casino floor features over 600 slot and video poker machines, table games and a sportsbook.
Table Games
Visit this fantastic casino and play one of their exciting table games. From the fan-favorite classic game of Blackjack to more novel games like La Paire Poker, you'll have plenty to fill your night with fun.
If you're daring, give Craps or Roulette a try for that extra adrenaline rush. But if you're looking for something new, why not try a game of Pai Gow Poker or even the tricky Royal Match?
And, of course – no casino gaming experience would be complete without the ever-popular Live Baccarat and Let It Ride. There's truly something here for everyone. So why take a gamble on missing out on all this casino fun?
Table games at this casino have a wide range of minimum bets from table to table. Generally, the minimum bets range from $5.00 up to $25.00 depending on the game and table that is being played.
Slots
If you're looking for a fun time at this casino in Nevada, you'll want to check out some of the popular slot machines they offer. From single-coin classic machines featuring iconic games like:
Cleopatra
Rapa Nui Riches
Flying Horse
Gentlemen Prefer Blondes
Dumb and Dumber
Lock It Link
All slot machines must offer a minimum payback percentage of 75% by law. Even though this casino does not disclose its exact payback percentage, you can be sure that all their machines offer a minimum of 75%.
Hotel/Resort
This casino hotel offers guests luxurious accommodations at an affordable price. The hotel itself is located in the heart of Wendover, Nevada and features a variety of rooms, from standard king suites to more luxurious penthouse suites.
With six types of rooms to choose from, this hotel has something for just about everyone. Each Tower Building Room features a king bed and mini-fridge, while the Main Building Room also includes a bathtub/shower combination.
Why not select a Whirlpool Bath Suite for an added luxury flare of luxury? It comes with both a luxurious whirlpool bath and a separate shower. The Bar Suite provides a kitchenette and two TVs with cable service if you want to make your stay extra special.
And last but not least, those looking for a truly outstanding experience can opt for either the Luxury Suite or the Whirpool Bath Luxury Suite – both of which come complete with their own living room area.
At this casino, guests are surely spoiled with a wide range of amenities. Some of these include:
High-speed internet access
24-hour front desk services
Free self-parking
Onsite restaurants and bars
Outdoor pool
Daily housekeeping
Fitness center
A golf course
Rates vary depending on the type of room you choose. Typically, room rates start at $79 per night plus additional taxes and fees. You can also find great deals on stays throughout the year, as well as packages that include meals or other activities.
Check-in time at Wendover Nugget is 4:00 pm
Check-out time at Wendover Nugget is 11:00 am
Restaurants & Buffets
Although they do not currently offer a buffet, this casino still offers a variety of delicious options. For those looking for comfort food, the Golden Harvest Cafe features an all-American breakfast and lunch menu with omelets, burgers, sandwiches and more.
If you're looking for lighter fare, the Prospector Cafe serves up modern cafe menu items like flatbreads and tossed salads. Of course, there's always time for coffee at Starbucks serving up their gourmet espresso drinks.
For a truly special experience, visit The Morning After diner offering classic old-fashioned meals that never disappoint.
And if you're in the mood to savor fine dining, try The Nugget Steakhouse with its exquisite menu featuring western-style steak cuts, seafood and chicken entrees.
Pools
This casino has an amazing pool that you won't want to miss. An outdoor, heated pool is open during warm weather, so you can relax and cool off while enjoying the scenic desert views of the area.
The pool has lounge chairs and umbrellas, so you can sit back and soak up the sun or get some much-deserved rest. The resort also offers a lifeguard and Wi-Fi, so everything needed for a fun-filled day of relaxation and enjoyment is available.
Whether for swimming or lounging around in the warm sunshine, your time at their pools will surely be unforgettable.
Wendover Nugget Hotel And Casino, NV FAQ
Does Wendover Nugget Hotel And Casino Have A Sportsbook?
This casino certainly has what sports lovers are looking for. With its Sports Book, you can easily make wagers and take in all the action on eighteen giant projection televisions.
Football fans will love the NFL Sunday package, too. And if you need to get your bet in after hours, do not worry: their automated betting kiosk is available 24/7.
Is Poker Available At Wendover Nugget Casino?
If you're looking for an exciting game of poker at this casino, Ace's Poker has you covered. With nine tables to choose from, you can enjoy various games. Whether you're a novice to the game or an experienced player, there's sure to be an option that suits your skill level.
What Are The Age Requirements For Gambling At Wendover Nugget Hotel And Casino?
The legal age for gambling in Nevada is 21. Guests must be at least 21 years of age to enter the casino and any gaming area, including restaurants and bars. Proof of age may be required upon check-in or entry. Minors are not allowed on the gaming floor at any time.
Does Wendover Nugget Have An Online Casino?
No, they do not currently offer an online casino. However, their website does provide information on their gaming options, tournaments and special promotions. You can also find the latest news and updates on all the fun things to do at this casino.
Is There An Wendover Nugget Hotel And Casino?
No, there is currently no app yet for this casino hotel. But you can access their website through your mobile device for all of your gaming needs.
You can also stay connected with their social media accounts to be in the know about everything happening at this casino, as well as any upcoming events and promotions.
What Is The Dress Code At Wendover Nugget?
Overall, the dress code at this casino is casual. However, visitors should avoid wearing clothing deemed offensive or vulgar. Shorts and flip-flops are acceptable attire in most parts of the property.
Is There An Airport Shuttle Available From Wendover Nugget Hotel And Casino?
Unfortunately, this casino does not offer an airport shuttle service. But taxis, Uber and Lyft are available in the vicinity to get you to and from the airport. Additionally, there are a few rental car companies nearby that may be able to accommodate your transportation needs.
What Is The Smoking Policy At Wendover Nugget?
Smoking is only allowed in designated areas of the casino. There is a dedicated smoking lounge with multiple seating areas and ventilation. Also, all casino gaming areas and restaurants are non-smoking. Guests must adhere to the posted signs or risk being asked to leave the premises.
What Is The Pet Policy At Wendover Nugget Hotel And Casino?
Unfortunately, no pets are allowed to stay at this hotel. This is due to the casino's strict policy regarding health and safety standards and guest comfort. Also, service animals with proper documentation will be allowed on the premises.
Is Wifi Available At Wendover Nugget?
Yes, complimentary wifi is available throughout the entire property. Guests will be able to enjoy a reliable connection while they're staying here. So you can stay connected and get the most out of your stay at this casino hotel.
What Is The Cancellation Policy For Wendover Nugget Hotel And Casino?
It is possible to cancel your reservation without penalty if it is done at least 24 hours before your scheduled arrival.
If you do not show up or fail to cancel within the appropriate time frame, then there may be a fee that applies to your reservation. For more information, please read the terms and conditions of your booking.
Conclusion
The Wendover Nugget Hotel and Casino is an all-around great option for anyone looking to try their luck at the tables. With a wide selection of games, from poker to slots, there's something for everyone here.
The casino also offers complimentary wifi, making it easy to stay connected during your stay. Plus, their pet and smoking policies ensure that all guests have comfortable experiences while enjoying the gaming floor.
Whether you're a novice or an experienced gambler, you'll surely find what you're looking for here at this casino!