Whiskey Pete's Casino Primm
Address: 100 W Primm Blvd, Primm, NV 89019
Phone number: +1 702-386-7867
Website: www.primmvalleyresorts.com/hotel/whiskey-petes
Hours: Whiskey Pete's Casino is open 24 hours a day, 7 days a week.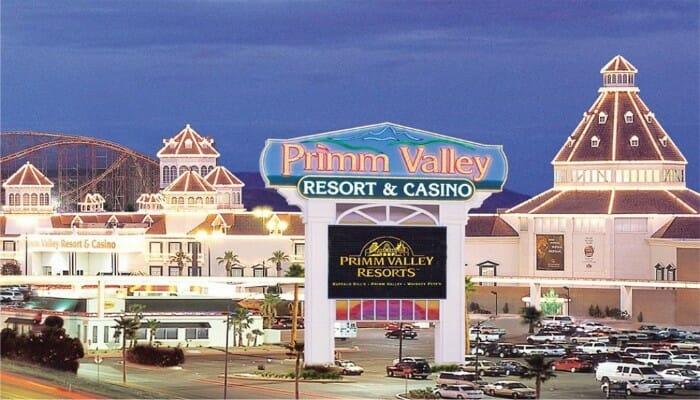 Whiskey Pete's is a hotel and casino located in Primm, Nevada, that opened in 1977. It was named after the legendary Pete MacIntyre, who reportedly died in the area while transporting bootleg whiskey across the state line during prohibition.
Ernest Jay Primm opened the casino, and the property is one of the first casinos on the State Line. Today, the property is owned and operated by Affinity Gaming. It features more than 1,200 slot machines, as well as table games such as blackjack and roulette.
The resort also has a hotel with over 700 rooms for guests to stay in. For guests looking for somewhere to eat, the property has multiple dining options where guests can enjoy a meal. There is also an entertainment center with live shows and concerts throughout the year.
On top of all this, this casino offers an arcade room, a golf course, a fitness center, retail stores and a gas station. Lastly, the property showcases the famous Bonnie And Clyde's Death Car. Guests often come to take pictures of the infamous car and wander around the property.
This casino is a great place for travelers who are looking for an exciting and fun casino experience. With its wide range of services, visitors can enjoy a luxurious stay in style with all the amenities they need.
On TripAdvisor, this casino has an overall rating of 4.5 out of 5 stars. One guest said, "This casino is great! Very friendly staff, clean and comfortable rooms, and a quick check-in process. I enjoyed my stay here for sure."
Another went on to say, "This was a fun place to visit. The slots were loose, and the atmosphere was great. I had a great time and will definitely be back."
(Related reading: Nevada casinos)
Gaming
Their 34,800 square feet of gaming space features more than 1,200 slot machines and video poker games to choose from. Table games like blackjack and roulette can also be found in the casino.
Table Games
This casino in Nevada is the perfect place to satisfy your gaming needs. Whether you're an experienced card shark or a casual gambler, there are plenty of table games available for you.
Play classic blackjack for 21 points and win big. Roulette is also an interesting traditional game – place your bets on red, black or green for potentially massive winnings. Craps can be a frantic and thrilling game where you have the freedom to control how much risk to take when rolling the dice.
3 Card Poker is ideal for poker players who also like slots – this hybrid game combines the skills of poker and slots into one dynamic experience.
The minimums for table games vary depending on the type of game you're playing. Typically, the table minimum for most games here is $5; however, if you prefer to play high-limit games, there are higher limits available.
Slots
This casino offers a variety of slot machines ranging from classic reel games to the latest video slots. Popular slot games:
Dragon Lines
Big Bang Theory
Dynamic 7s
Li'l Red
Jaguar Mist
Pixie Power
Unfortunately, the casino does not release its slot machine payback percentage. However, the Nevada Gaming Commission sets minimum payback percentages of 75% for slot machines in the state.
Hotel/Resort
The resort has over 777 rooms for guests to stay in. In-room amenities include complimentary Wi-Fi, a mini-refrigerator, a coffee maker and flat-screen TVs. There is also 24-hour room service available.
You may choose from their 1 King Bed or 2 Queen Beds options. All rooms are also available with non-smoking and smoking preferences. They also have ADA-compliant rooms for those with special needs.
Additionally, the resort offers a wide range of amenities for guests. These include:
Free wifi access
24-hour front desk
Onsite dining options
Live entertainment and shows
Arcade room
A fitness center
A golf course
Shopping outlets
Gas station
Bonnie and Clyde exhibit
Meeting and banquet facilities
The prices for staying at this casino in Nevada vary depending on the type of room you choose and when you stay. Generally, rooms start from around $50 per night, or you can opt for their special packages.
Check-in time at Whiskey Pete's is 3:00 pm
Check-out time at Whiskey Pete's is 12:00 pm
Restaurants & Buffets
Even though they currently do not have a buffet, they have a wide range of onsite dining options available. Whether you are looking for Mexican cuisine or an American classic like pancakes and eggs, there is something for everyone.
Cuca's Mexican Food offers delicious traditional Mexican dishes that are sure to please anyone's palate. Don't worry about having to settle for fast food either – IHOP and Subway are both conveniently located onsite to offer up a quick meal that still tastes great.
You'll have plenty of energy left after your delicious meal to tackle those slot machines and tables. So, head over to this casino and experience all they have to offer.
Pools
Spend those hot summer days near the seasonal outdoor pool at this casino. Come for a dip and cool off after exploring all that Nevada has to offer.
With plenty of outdoor seating complete with umbrellas, it's the perfect place for lounging with friends or family – and if you get too hot, just jump in. When you're done swimming, relax in peaceful luxury or take advantage of one of the many onsite activities available to you.
Whiskey Pete's Casino, Primm, NV FAQ
Does Whiskey Pete's Casino Have A Sportsbook?
This casino in Nevada is home to the William Hill Race & Sports Book, which provides an exciting and fun place to wager on sports. This venue offers a wide range of wagering opportunities, including live betting, MLB baseball, NBA basketball, NFL football, NHL hockey, and much more.
The knowledgeable team here offers friendly customer service, making this a great place to try your luck when the big game is on. So if you're feeling lucky and looking for something different than traditional slots or table games, head over to this casino for some thrilling sportsbook action.
Is Poker Available At Whiskey Pete's?
Yes, this casino offers a wide variety of poker action. They offer both live and video poker, and the atmosphere in the casino is always friendly and inviting. Poker tournaments are also held regularly at this casino, so if you're feeling like a real pro, then stop by and join in on the action.
What Are The Age Requirements For Gambling At Whiskey Pete's Casino?
All guests must be 21 years of age or older in order to gamble at this casino. They also require valid photo identification for proof of age at check-in. Guests under the legal gambling age will not be permitted to enter the casino floor or participate in gaming activities.
Does Whiskey Pete's Have An Online Casino?
If you're looking for an exciting online casino experience, look no further than this casino in Primm. Not only do they offer traditional possibilities on the casino floor, but they host A-Play Online Social Casino as well.
This platform is packed with exciting classic slot games, video poker and more – all available wherever you have your preferred device with an internet connection.
At A-Play Online Social Casino, you can play games with your friends while experiencing the same thrilling atmosphere that this casino offers its guests.
Is There An Whiskey Pete's Casino App?
No, there is not currently an app for this casino. However, they have a mobile-friendly site that can be accessed from any device. Here you can find information about the different amenities and activities, as well as special offers and promotions that may be available at the casino.
What Is The Dress Code At Whiskey Pete's?
The dress code at this casino is casual. Guests should refrain from wearing offensive or provocative clothing, and all guests must wear appropriate footwear while on the property.
In general, shorts and t-shirts are acceptable attire in the casino, but guests should avoid wearing anything that would be considered too revealing or inappropriate.
Is There An Airport Shuttle Available From Whiskey Pete's Casino?
Unfortunately, there is no airport shuttle available from the casino. However, you can easily arrange a taxi or private car service to take you to and from McCarran International Airport in Las Vegas. You can also rent a vehicle directly at the airport if you don't have one already.
What Is The Smoking Policy At Whiskey Pete's?
This casino is a non-smoking facility, and all guests must abide by this policy. Smoking is not allowed anywhere on the property, including the gaming areas and outdoor spaces. Failure to adhere to this policy may result in removal from the premises.
What Is The Pet Policy At Whiskey Pete's Casino?
The casino resort welcomes all pet owners and their furry friends, as long as the animals are kept on a leash at all times.
If you'd like to bring your furry companion along, they must be 50 pounds or less and a refundable $50 deposit is required. For more info about pet and service animal policies, please get in touch with the resort's guest services desk.
Is Wifi Available At Whiskey Pete's?
Yes, this casino offers free wifi to all guests. The wifi can be accessed in all areas of the property, from your room to the gaming floor. Guests can use the wifi to stay connected with friends and family or stream their favorite shows while they relax in their rooms.
What Is The Cancellation Policy For Whiskey Pete's Casino, NV?
The casino requires all guests to provide a valid credit card at the time of check-in. Guests can make cancellations up until 24 hours before their scheduled arrival in order to avoid being charged for one night's stay.
Conclusion
Whiskey Pete's Casino is an exciting destination for guests of all ages. With a wide range of gaming options, luxurious amenities and a friendly atmosphere, it's the perfect place to enjoy quality time with your friends or family.
Whether you're looking for an online casino experience or just some fun on the casino floor – this casino has something for everyone. Keep all these facts in mind when you visit this casino, and you're sure to have a great time.