Wildfire Casino Henderson
Address: 4451 Sunset Rd Suite #1, Henderson, NV 89014
Phone Number: +1 702-685-2100
Website: www.wildfiregaming.com/wildfires/wildfire-lanes/
Hours: Wildfire Casino is open 24 hours a day, 7 days a week.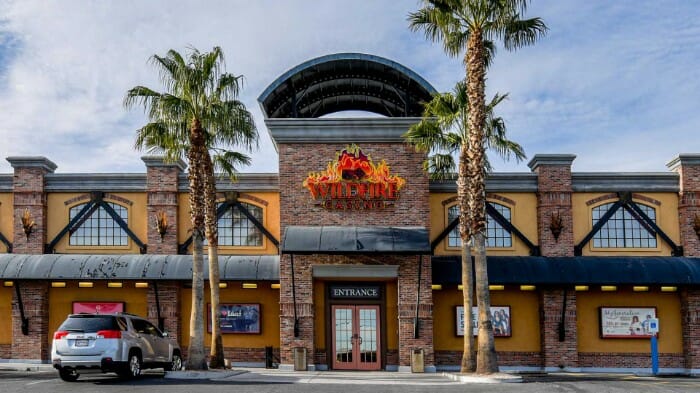 Wildfire Casino opened its doors in Henderson, Nevada, and has been offering gaming and entertainment since its opening. The casino was one of the first casinos to open in the area, and it has remained a popular destination for both locals and tourists alike over the years.
The casino is owned by Station Casinos, which is a large gaming corporation with locations all over Nevada. It offers various games for its guests, including slots and video poker machines, an onsite restaurant, a sports bar and a lounge.
They also offer bowling lanes where guests can try their hand at a game. The casino is well known for its friendliness and excellent customer service, as well as its many promotions and giveaways that guests can take advantage of.
This casino is located in an ideal spot for those looking to take advantage of the excellent nightlife that Las Vegas has to offer. With its proximity to the Las Vegas Strip, guests can easily access all the exciting entertainment venues nearby.
On the most popular review websites, this casino has generally been rated with a four or five-star review. One guest said, "I love the atmosphere at Wildfire Casino. They always make me feel welcome and provide an enjoyable experience every time I visit."
Another guest commented, "The customer service is excellent, and they are always willing to help. I love playing slots and video poker here without leaving the building."
(Related reading: Nevada casinos)
Gaming
Their gaming floor features 180 slot machines and video poker machines. The casino also offers progressive jackpots and tournaments for those looking to win big.
Table Games
If you're looking for various table games to play in this casino, you might be disappointed. Unfortunately, the casino offers no table games – only slot machines.
So if your heart is set on playing some classic card and dice games with your friends, you'll need to make the drive to a different casino. Luckily there are plenty of other casinos in Nevada offering the kind of gaming experience you're looking for.
Slots
This casino is known for its impressive selection of slot machines, which is sure to please players looking for a good time. The most popular slot machines are Wheel of Fortune, Elvis, Multi-denomination Slots, Nickel Slots, and Penny Slots.
Wheel of Fortune comes with vibrant graphics, bonus rounds, and progressive jackpots that keep the crowd coming back for more. For those looking to play a classic, check out the Elvis slots, which are filled with iconic imagery inspired by the King of Rock n' Roll.
Multi-Denomination Slots allow players to pick their desired denomination while playing on some of their favorite titles. Fans of cheap thrills can check out the Nickel and Penny slots featuring bets as low as one cent.
Finally, if card games are your style, then this casino has plenty of Video Poker games ready to be enjoyed. Unfortunately, the casino does not disclose the payback percentage for its slot machines.
However, it's safe to assume that the casino offers a minimum of 75% according to Nevada law.
Hotel/Resort
This casino is the perfect place to spend an exciting night out on the town. While this casino does not have its own onsite hotel, it still offers plenty of convenient and luxurious options for visitors.
Nearby resorts such as Tuscany Suites & Casinos, Westgate Las Vegas Resort & Casino, Courtyard by Marriott Las Vegas, and Sunset Station Hotel and Casino are just a few of the many excellent choices available.
Whether you're looking for a romantic getaway or just a spot to rest up before you hit the tables again, these premier hotels are sure to make your stay enjoyable.
Restaurants & Buffets
Whether you're looking for a luxurious experience or a casual meal, there's something here. Denny's, located just steps away from the casino floor, offers classic American comfort food like their famous Grand Slam breakfast and hamburger platters.
If you're dining with friends and family, their sharable appetizers are the perfect way to start the evening. No matter what time of day or night it is, Denny's is open and ready to fill your belly. However, this casino does not currently offer its own buffet.
Pools
For those looking to take a dip and enjoy a refreshing swim, this casino will not be the right fit. Unfortunately, there are no pools or hot tubs that can be found on the premises. But even without a pool, there are still plenty of ways to have fun at the casino.
Whether enjoying your favorite games in the large gaming area or indulging in delicious meals from their onsite restaurant – you're sure to have a great time visiting this casino.
Wildfire Casino, Henderson, NV FAQ
Does Wildfire Casino Have A Sportsbook?
This casino takes your sports-viewing experience to a whole new level. With their all-inclusive sportsbook onsite, patrons can enjoy all their favorite games in a comfortable and exciting atmosphere.
And with the STN Sports app, you can place bets right from your phone so that you don't have to miss out on any of the action.
Is Poker Available At Wildfire?
If you're looking for a good game of poker in this casino, you're out of luck. Unfortunately, the casino does not offer the table or live poker games. However, they do offer video poker, so if that is your preference, then this is the place to be.
What Are The Age Requirements For Gambling At Wildfire Casino?
The minimum age requirement to gamble at this casino is 21 years old. Please keep in mind that minors are not allowed on the premises, so you must have proper identification with you at all times.
Does Wildfire Have An Online Casino?
Unfortunately, this casino does not offer an online casino option. However, they are affiliated with the STN Play app, which allows members to play their favorite slots and table games on their laptops or mobile device.
The STN Play app also offers exclusive promotions and prizes that you won't find anywhere else for endless fun and rewards. Players can even participate in tournaments to win big.
Is There An Wildfire Casino App?
Unfortunately, there is no app specifically for this casino. However, they are affiliated with the STN Play app, which offers many of their classic slot and table games that you would find in the casino.
The app also allows players to participate in exclusive tournaments and promotions, giving them a chance to win even bigger rewards. So, if you're looking for the same casino experience but with the convenience of your own device, then this app is a great choice.
What Is The Dress Code At Wildfire?
The dress code here is pretty casual and relaxed. As long as you're wearing something appropriate and respectable, you should be fine. Keep in mind that this casino does not allow anyone to enter while wearing offensive or obscene clothing.
Is There An Airport Shuttle Available From Wildfire Casino?
Unfortunately, no airport shuttle goes directly to and from this casino. However, visitors can take advantage of the many transportation options available in Henderson.
From taxi services to ride-sharing apps, there are plenty of ways to get around town and make your way to this casino. Additionally, the Las Vegas McCarran International Airport is only a short 25-minute drive away from the casino.
What Is The Smoking Policy At Wildfire?
Smoking is only allowed in designated areas inside the casino. For guests who do not wish to be around second-hand smoke, non-smoking areas are available. The casino also provides outdoor seating for visitors who would like to enjoy some fresh air.
What Is The Pet Policy At Wildfire Casino?
Unfortunately, the casino does not allow pets on its premises. Only service animals are allowed to enter the casino. If you have a pet and would like to bring them along, you may be able to find pet-friendly accommodations nearby.
Is Wifi Available At Wildfire?
No, this casino does not offer free wifi access. However, you can purchase an internet package from the hotel if you wish to stay connected while visiting the area.
Additionally, most of the restaurants and cafes in Henderson offer free wifi access for customers. So, visitors should have no problem finding a place with internet access nearby.
What Is The Cancellation Policy For Wildfire Casino?
As there is no need to make a reservation at the casino, there is no cancellation policy. You can enter and leave this casino as you, please. Additionally, if you're staying in a hotel near the casino, check the cancellation policy for that particular hotel.
Conclusion
Wildfire Casino offers visitors a fun and exciting experience with all their favorite games, promotions, and rewards.
Before you head out to this casino, check the age requirement, dress code, pet policy, smoking policy and wifi availability. By following these guidelines, you can have an enjoyable time at this casino and be sure you've got all the information needed to make the most of your visit.