Winners Hotel & Casino Winnemucca
Address: 185 W Winnemucca Blvd, Winnemucca, NV 89445
Phone Number: +1 775-623-2511
Website: www.winnersinn.com
Hours: Winners Hotel & Casino is open 24 hours a day, 7 days a week.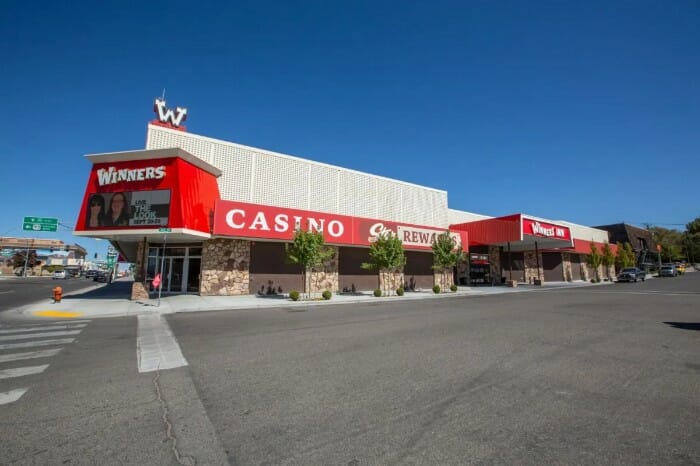 Winners Hotel & Casino opened its doors on May 31, 1947, and has been a staple of the Winnemucca community ever since. It is located near the historic Old Town district and is known for its affordable accommodations, great casino gaming, and friendly staff.
The property was initially built as Sonoma Inn and was rebranded as its current name in September 1997. The casino features over 200 slot machines and several table games, including blackjack and craps.
Their hotel offers a variety of rooms, including standard guestrooms, deluxe suites and executive suites. The hotel also offers guests onsite dining and live entertainment, such as local bands, DJs and comedians.
They also offer a variety of amenities, including an outdoor pool and fitness center. They are also committed to providing the best possible gaming experience for its guests, as well as giving back to the community.
Their property amenities, customer service, and commitment to the community have helped this casino remain a popular destination in Winnemucca for over 70 years. Whether you are looking for a place to stay or want to have some fun at the casino, this is the perfect destination.
On most review sites, guests rate this casino with a 4.2/5 stars rating. One customer said, "The staff was friendly, and the rooms were very clean. We had a great time at the casino and enjoyed all the amenities."
Another customer commented, "We had one of the best weekends here in Winnemucca! The food was amazing, and all the staff was very friendly and accommodating. Highly recommend it!"
(Related reading: Nevada casinos)
Gaming
Their gaming floor offers over 200 slot machines, as well as several table games, including blackjack and craps. They also offer daily promotions and tournaments, which can reward players with cash and other prizes.
Table Games
When you're looking for gaming fun with friends or family, this casino is the perfect destination. Their expansive gaming floor has plenty of entertaining table games, such as single-deck blackjack and Craps.
With exciting and rewarding gameplay, you'll quickly see why both of these classic favorites are a go-to here. Whether you want to wager small or big, they have stakes for everyone.
Generally, most table games here have a minimum bet of $5, and some may offer higher minimums depending on the game.
Slots
This casino in Nevada offers a wide selection of popular slot machines to satisfy the needs of any player. Players can indulge in slot machines like:
Pawn Star
Forbidden Dragons
CSI
Wizard of Oz
Monopoly Legends
The Godfather
Unfortunately, this casino does not disclose the payback percentages of its slot machines. However, the Nevada Gaming Control Board requires casinos to maintain an average payout of at least 75% for all their machines. So, you can expect a good return rate at this casino.
Hotel/Resort
The hotel at this casino offers a total of 120 rooms, including standard guestrooms, deluxe suites and executive suites. All rooms have comfortable beds and amenities like free Wi-Fi, cable television and mini-fridges.
Their Courtyard Rooms are the most affordable and conveniently have parking right by the door. Those looking for extra space in their accommodations can opt for the Terrace Rooms, which come with one and two queen beds and King suites featuring couches and tables with minibars.
Finally, if you want to be close to the casino and restaurant amenities, then Hotel Rooms are the way to go. Additionally, this casino offers a variety of amenities to make your stay as enjoyable as possible. Onsite amenities include:
Free parking
Free WiFi
Air conditioning
Connecting rooms available
Onsite restaurant
24-hour front desk
Banquet and meeting facilities
Live entertainment and comedy shows
This casino offers a variety of room types, ranging from affordable guestrooms to luxurious suites. Prices depend on the room type and time of year, with rates starting at around $100 per night for standard rooms.
Check-in time at Winners is 3:00 pm
Check-out time at Winners is 11:00 am
Restaurants & Buffets
When dining at this casino, Star Broiler is sure to be a hit. This fine-dining eatery offers an atmosphere of high-end elegance and a menu filled with delectable dishes with an alluring selection of wines.
Although they do not provide a buffet option, the individual entrées are served so deliciously that you won't miss it anyway. Whether you're looking for something sweet or savory, Star Broiler has many fantastic menu items for everyone to enjoy.
Pools
Located in the heart of Las Vegas, this casino is the perfect spot for a getaway. Experience all the thrills this exciting city offers in one convenient place.
While you won't find any pools onsite, you can always take a short walk or drive away from the hotel and find nearby spots offering a refreshing dip anytime.
And once you've dried off, head back to this casino for a fun night – from lively lounges and show-stopping entertainment to exciting gaming action and delicious dining; your time here will be truly unforgettable.
Winners Hotel & Casino, Winnemucca, NV FAQ
Does Winners Hotel & Casino Have A Sportsbook?
Unfortunately, this casino does not have a sportsbook. However, guests can still enjoy exciting live-action gaming and slots. Also, this casino hosts various events throughout the year, so check out their website for more details.
Is Poker Available At Winners Casino?
Yes, you can enjoy a thrilling poker game at this casino. The casino offers both cash games and tournaments with a variety of buy-ins. Plus, the casino hosts special events with bigger prizes and more intense competition.
What Are The Age Requirements For Gambling At Winners?
Guests must be at least 21 years of age to gamble in the casino. Additionally, proof of age may need to be presented before entering the gaming area. So, make sure you have your state-issued photo identification with you.
Does Winners Have An Online Casino?
No, this casino does not offer an online casino. However, they offer a wide array of games and entertainment options in-person at their brick-and-mortar location. So, you can be sure to get your fair share of fun with plenty of chances to win big.
Is There An Winners Hotel & Casino App?
No, this casino does not have an app. However, guests can keep up to date with all the events and promotions taking place at the casino by visiting their website or following them on social media.
What Is The Dress Code At Winners?
The dress code at this casino is casual. Guests can wear comfortable clothes such as shorts, jeans, t-shirts and tank tops. However, guests are encouraged to dress their best when attending special events or visiting the restaurant.
Is There An Airport Shuttle Available From Winners Hotel & Casino?
Unfortunately, this casino does not offer an airport shuttle service. However, taxis and rideshare services are available for guests who need transportation to and from the hotel. Additionally, there is a bus station located nearby for those wishing to explore the area on their own.
What Is The Smoking Policy At Winners?
The casino has a strict non-smoking policy in all areas of the hotel, including the gaming area. If a guest wishes to smoke, there are designated outdoor areas provided by the casino for this purpose.
What Is The Pet Policy At Winners Hotel & Casino?
Unfortunately, pets are not allowed inside the hotel or casino. However, service animals are permitted with proper documentation and must be on a leash at all times. There is an outdoor pet relief area located outside of the property for those traveling with furry friends.
Is Wifi Available At Winners Hotel & Casino?
Yes, this casino offers complimentary wifi to all guests staying at the hotel. This allows visitors to easily stay connected throughout their stay and make sure they don't miss out on any of the fun happening in and around the casino.
What Is The Cancellation Policy For Winners?
The cancellation policy for this hotel is 24 hours before the scheduled arrival. Guests must also provide a valid credit card or debit card upon booking, as all reservations will be charged for at least one night's stay.
Conclusion
Winners Hotel & Casino is the perfect place to escape it all. Enjoy the exciting gaming action, delicious dining options, and lively entertainment.
From its spacious rooms and suites to its non-smoking policy, this casino offers everything you need for a comfortable stay. Plus, this hotel offers complimentary wifi and a convenient location near local attractions. So stay at this casino and make your next vacation an unforgettable one!