Wynn Casino Las Vegas
Address: 3131 Las Vegas Blvd S, Las Vegas, NV 89109
Phone Number: +1 702-770-7000
Website: www.wynnlasvegas.com
Hours: Wynn Las Vegas is open 24 hours a day, 7 days a week.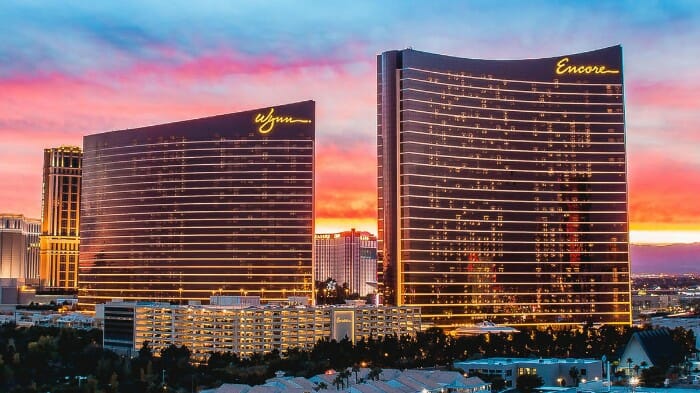 Wynn Las Vegas is a leading luxury hotel and resort on the Las Vegas Strip. It was opened in 2005 by Steve Wynn and is now owned by his company Wynn Resorts.
The resort features two high-end hotels, the original property and the newer Encore, a casino, multiple fine-dining restaurants and clubs, an 18-hole golf course, shopping venues, and art galleries.
It has been awarded the AAA Five Diamond rating for its luxurious amenities and accommodations since 2006. It is also known for its stunning performances by world-class entertainers like Celine Dion, Gwen Stefani, Elton John, and more.
The resort hosts various events throughout the year, including boxing matches, beauty pageants, and its signature event – the Wynn Classic Poker Tournament.
This casino is one of the most sought-after destinations in Nevada for its unparalleled level of luxury and entertainment. It has become an iconic destination for several celebrities and is the site of many high-profile weddings, events, and conferences.
With its luxurious amenities and opulent decor, it is a premier destination for tourists and locals. Whether you're looking for a romantic getaway or simply want to enjoy all that Las Vegas has to offer, this casino is sure to provide an unforgettable experience.
Experience everything this casino offers — from fine dining and entertainment to incredible shopping experiences. Make your dream getaway a reality and visit them today; you won't regret it.
On the most popular review websites, this casino resort has an overall rating of 4.5 out of 5 stars. One guest said, "My experience at Wynn Las Vegas was exceptional. From the glamorous rooms to the luxurious restaurants, everything exceeded our expectations and had us wanting more!"
Another guest wrote, "The staff was so friendly and helpful, and we had an amazing time at this resort. Highly recommend!"
(Related reading: Nevada casinos)
Gaming
Their 111,000-square-foot casino features 1,962 slots and table games, including blackjack, craps, roulette, baccarat, and more. Plus a variety of high-limit rooms and an exclusive VIP gaming room.
Table Games
This casino has a great selection of classic table games. Whether you're looking for an old favorite or something new to try, they have plenty. From centuries-old baccarat and blackjack to the classic American game of Craps, there's something here for everyone.
Roulette fans can find their favorite on the casino floor, as well as Pai Gow Poker and Ultimate Texas Hold'em. Three Card Poker is also available for those who love a good card game.
The minimum bet for most of their table games is $10. Some games, such as Pai Gow Poker, have higher minimums at this casino — usually $25 or more. For a more accurate minimum bet, please check with the on-site casino staff.
Slots
If you're looking for the best place to play slots in Las Vegas, look no further than this casino. From penny slots to high-stakes action, this iconic establishment has all the classic and newest slot machines to satisfy your needs. Popular favorites include:
The Walking Dead II
Scrolls of Ra
Wheel of Fortune 3D
The Goonies
Dead or Alive II
Big Shots
Unfortunately, this casino does not disclose its slot machine payback percentage. However, Nevada state law requires all slots to have a minimum of 75% payout rate. This means that for every $100 put into a slot machine, the player should expect to get back at least $75.
Hotel/Resort
This casino has two luxurious towers — Wynn Tower and Encore. Both are located on the Las Vegas strip, each offering a unique experience.
The two hotels have a combined 4,748 rooms and suites that offer features like marble bathrooms with soaking tubs, pillow-top mattresses, and floor-to-ceiling windows.
For those looking for an exceptional stay, Wynn Hotel Tower Suites are perfect. With options like Wynn Tower Suite Executive, you have access to beautiful Strip views and unparalleled amenities dedicated to making your stay as luxurious and comfortable as possible.
Those who prefer more spacious accommodations should look into Encore's Tower Suites, such as the elegant Two Bedroom Apartment suite featuring two full bedrooms and ample living space.
Additionally, this casino hotel provides guests with an array of amenities that make their stay even more luxurious. Some of these include:
Wifi access
24-hour room service
Onsite dining and entertainment
Outdoor pool with private cabanas
Valet parking
Gift shop
Spa and salon services
Fitness center
Business center
Concierge services
Retail stores
A golf course
The cost of staying at their hotel varies by room type and time of year. Their room rates start at around $183 per night and can go up to $2000 per night.
Packages, promotions, discounts, and specials vary depending on the time of year, so check their website for the most up-to-date information.
Check-in time at Wynn is 3:00 pm
Check-out time at Wynn is 12:00 pm
Restaurants & Buffets
This casino resort has it all regarding fabulous dining options for any palate. From chef-inspired Mexican cuisine at Casa Playa to the iconic Italian dishes at Cipriani, the city truly offers something for everyone.
For classic American steak and seafood, Delilah is a must, while Lakeside brings top-of-the-line modern culinary artistry. If you're looking for a more exotic flavor, try your luck with Mizumi's inspired Japanese specialties and Sushi selections.
And don't forget Allegro if you're in the mood for inimitable Italian favorites, or why not experience the coffee shop atmosphere and Viennese culture at their finest at Caffè Al Teatro? Espresso provides guests classic Asian-style breakfast dishes – perfect in the morning or any time.
Then take things down a notch and relax with tapas found, expertly crafted cocktails, Jardin's Mediterranean flare, or whisper-sweet nothings over shared plates from La Cave's incredible wine selection.
Lastly, if you're looking for a delicious dining experience but don't want to break the bank, consider The Buffet. Offering up a wide variety of different dishes, including traditional American cuisine and international flavors, there is something wonderful to tantalize every taste bud.
Prices vary depending on the time of day you visit, but the rates range from $46.99 to $70.99 per person, plus taxes to enjoy a meal with family and friends. So come on down today and check out what delicious meals await.
Pools
This casino is the perfect destination for anyone who loves to lounge at a pool on a hot day. There are two pristine locations to choose from – the luxurious Wynn Pools & Cabanas and the Encore Beach Club.
Both provide spectacular settings for relaxation, with plenty of lounge chairs and private cabanas available for rent. At the Encore Beach Club, guests can expect an elevated club experience with great music and entertainment and amazing amenities.
Or, if preferred, visit at night for illuminated floats, specialty cocktails and stunning views of The Strip whilst sipping specialty cocktails amidst illuminated floats. Regardless of your choice, both these locations will guarantee an unforgettable experience – come and explore this casino.
Wynn Las Vegas, NV FAQ
Does Wynn Las Vegas Have A Sportsbook?
If you're looking to make some sports betting action while visiting this casino—you're in luck. The resort offers a full-service Wynn Race & Sports Book that offers betting on all major sporting leagues and horse and greyhound racing.
Plus, every guest can download the WynnBET app and place their wagers directly from their own phone. With this convenient app, you don't even have to be on the property to bet real money on the games of your choice.
Is Poker Available At Wynn?
Yes! The Poker Room offers a wide range of cash games and tournaments for all levels of players. Whether you're a seasoned pro or just getting started, the room offers plenty of poker action to keep you busy.
What Are The Age Requirements For Gambling At Wynn Las Vegas?
The minimum age to gamble at this casino is 21 years old. All guests must be able to provide valid proof of identification and age when visiting the casino. Anyone who does not show valid identification will be denied entry and asked to leave the property.
Does Wynn Have An Online Casino?
For those looking to enjoy the excitement of Las Vegas from the comfort of their own homes, you'll be happy to know that they do indeed have an online casino. It's available in the form of a convenient app called Wynn Slots.
The app gives players access to various exciting slot machines and other games that offer a thrilling and immersive experience. Not only is it easy to navigate and use, but the app also allows players to participate in promotions and special offers when available.
Is There An Wynn Las Vegas App?
With its elegant design, vibrant colors and variety of features, the Wynn Resorts Official Mobile App is a great way to stay connected with all the activities that this casino has to offer.
Available for free from the App Store and Google Play, this mobile application allows you to check in to your room, book restaurants and create a custom itinerary that you can access from anywhere.
It's easy to customize your travel experience at this casino with information on shows, entertainment events and even spa treatments. You can also take advantage of special offers through the app, so check in often for updates.
What Is The Dress Code At Wynn?
At this casino, dressing with classic elegance is always a good idea. Whether heading out on the town or hitting the casino floor, business casual attire is the way to go. Ladies can showcase their best dressy-chic style, and gentlemen will look smart in collared shirts and polos.
Is There An Airport Shuttle Available From Wynn Las Vegas?
Unfortunately, there is no airport shuttle service available from this casino. However, you can always take a taxi or rideshare for a quick and easy way to get to and from McCarran International Airport.
There are also ridesharing services like Uber and Lyft that can be requested for service to the airport. Be sure to check your rideshare app for any special offers or promotions when booking your ride.
What Is The Smoking Policy At Wynn?
Smoking is not allowed inside the casino. However, there are designated outdoor smoking areas on the property that guests can use if they choose to. These areas have been set up to ensure that all guests enjoy their time at the casino without being exposed to secondhand smoke.
What Is The Pet Policy At Wynn Las Vegas?
Unfortunately, this casino does not allow pets on the property. Service animals trained to do work or perform tasks for persons with disabilities are the only exception. All other animals must be left at home when visiting this casino.
Is Wifi Available At Wynn?
Yes, complimentary wifi is available throughout the property. Guests can access the wifi in their room, as well as in public areas such as the casino, restaurants and bars. However, some areas of the property may require a paid subscription for higher-speed connections.
What Is The Cancellation Policy For Wynn Las Vegas?
The cancellation policy for this casino varies depending on the type of reservation you have. For most reservations, a full refund is available if you cancel at least 72 hours before check-in.
However, there may be additional fees or restrictions that apply, so it's important to read the fine print before booking your stay.
Conclusion
Wynn Las Vegas is an exciting and luxurious casino that provides guests with a premium entertainment experience. The Wynn Mobile App gives players access to special offers and promotions, while the dress code ensures an elegant atmosphere throughout the property.
With complimentary wifi and designated outdoor smoking areas, there's something for everyone at this destination. Be sure to read through the cancellation policy for your reservation to ensure that you get the best deal and have a great stay.