Caesars Atlantic City
Address: 2100 Pacific Ave, Atlantic City, NJ 08401
Phone Number: +1 609-348-4411
Website: www.caesars.com/caesars-ac
Hours: Caesars Atlantic City is open 24 hours a day, 7 days a week.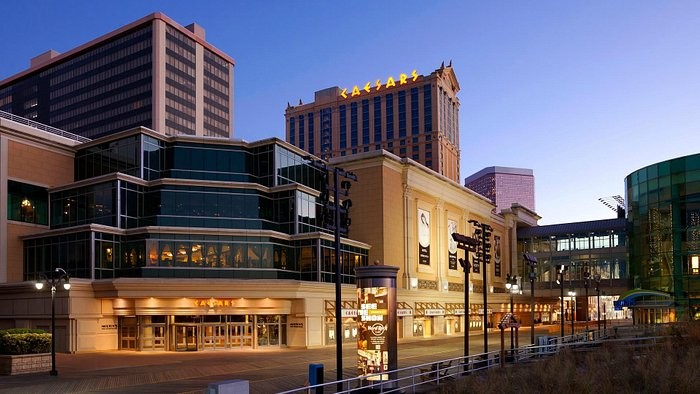 Caesars Atlantic City began as the Boardwalk Regency. Before becoming the Boardwalk Regency, the building was originally built in 1966 as a motor hotel. In 1979 it was transformed into a casino and was rebranded as Caesars Atlantic City in 1987.
Since then, the establishment has become one of the most popular and successful casinos on the East Coast. It has been host to numerous high-profile boxing matches, celebrity appearances, and musical performances.
The casino features three gaming floors, a high-end shopping mall, and plenty of dining options. With more than 1,144 hotel rooms, over 21 adult pools and a variety of entertainment options, this casino offers something for everyone.
If you're looking for a high-end entertainment experience in Atlantic City, look no further than this casino.
Guests give Caesars Atlantic City a 4.6 out of 5 stars rating on Google reviews. Many guests speak highly of their experiences while visiting the casino. One guest said, "The staff was great, the rooms were very clean and comfortable, and the entertainment options were top-notch."
Another guest mentioned that they "enjoyed the gambling aspect of Caesars Atlantic City as well as their restaurants and nightclubs."
(Related reading: New Jersey casinos)
Gaming
This casino offers a range of gaming options including more than 2,000 slot machines, table games, and sports betting. The casino also offers a variety of progressive slots, video poker machines, and other specialty games.
Table Games
At this casino, you have a wide selection of table games to choose from. Take Blackjack for instance, where the goal is to beat the dealer by getting closer to 21 than they do without going over.
Then there's Roulette, where you bet on a number or color and see where that spinning wheel lands. Craps is another popular option because of its many different betting opportunities and quick action.
Baccarat counts its point totals like Blackjack does but has different rules for what actions can be taken afterwards. Four Card Poker combines elements of both poker and blackjack into one game with the chance of becoming an even bigger winner thanks to bonus payouts.
And finally, you can also enjoy Pai Gow and Let It Ride Poker at Caesars Atlantic City; you don't want to miss out on these fun games.
The minimums at this casino vary depending on the game and time of day. Typically, you can expect to find minimums as low as $10, but they can be as high as $100.
Slots
This casino in New Jersey is the premier destination for slot machine games. Enjoy a wide selection of popular reel and video slot machines, ranging from penny and nickel games to machines with $100 betting options.
Some of the exciting games on offer at this casino include:
China Shores
Great Wall 2
Rome and Egypt
Wheel Of Fortune
Rising Fire Dragon
Goldfish Deluxe
Take your pick of quick-hitting jackpots, mega jackpots, and up-to-date themes designed to keep you on the edge of your seat.
Don't forget to try out some video poker while you're at it; this self-paced game comes in multiple variations, allowing you to play the way that suits you best.
Unfortunately, the payback percentage amounts for slot machines at this casino are not publically available. However, the New Jersey Casino Control Commission has set a minimum payback percentage of 83% for all slot machines located in Atlantic City casinos.
Hotel/Resort
When you plan your trip to Caesars, you'll find the perfect room equipped with all the modern amenities. They offer three glorious towers to choose from: Forum Tower, Ocean Tower and Centurion Tower.
Inside each tower, you will find a wide selection of suites, deluxe single bedrooms and premium double bedroom options. As soon as you enter a room, you will be mesmerized by the unique ocean views and custom artwork – a nod to Caesars' Roman-style sculpture and architecture.
All their rooms are equipped with modern amenities such as flat-screen TVs, Wi-Fi access, air conditioning and more.
Here are the room types available at this casino:
Forum Tower – deluxe bedrooms with 1 king or 2 doubles (offers smoking and non-smoking)
Ocean Tower – luxury bedrooms with 1 king or 2 queens (offers smoking and non-smoking)
Centurion Tower – premium bedrooms with 1 king or 2 queens or 2 doubles, ocean views and panoramic views (offers smoking and non-smoking)
At this casino, guests can enjoy a variety of amenities including:
High-speed internet
Rooftop pool
Fitness center
Business center
Spa and salon
Valet and self-parking
ADA accommodations
The cost of staying at this hotel varies depending on room type, time of year, and if you are a Total Rewards member. You can expect to pay as low as $80 per night plus taxes and fees.
Check-in time at Caesars is 4:00 pm
Check-out time at Caesars is 11:00 am
Restaurants & Buffets
This casino has some of the best restaurants around. Whether you want to splurge on a special occasion at Morton's The Steakhouse or grab a quick slice at Slice Pizzeria, you'll find something that suits your taste in this culinary paradise by the shore.
Start your day with a cup of joe and an infusion of creativity from Starbucks, or get back to basics with classic pub fare from Gordon Ramsay Pub & Grill. Craving for asian cuisine? Head to Kwi Noodle House for delicious bowls of ramen.
Or you can experience chef Ramsay's cooking with his restaurant Gordon Ramsay Hell's Kitchen. And don't forget about Tazza Cafe for authentic Italian coffee or Nobu for famed-chef sushi and Japanese favorites.
Even if it's just greasy snacks you're after, AC Snack Shack has got you covered. However, unfortunately, this casino does not offer buffet options at the moment.
Pools
If you're looking for a new spot to soak up some sun and sip on some cocktails, look no further than The Pool at this casino.
Perfectly situated on the rooftop of Qua Baths & Spa, visitors at this casino will want to make sure they book ahead of time to reserve space alongside stunning beach and ocean views.
Lounge and mingle on a sunny lounge chair or spread out on a comfy daybed for some space of your own — private cabanas are also available for those wanting extra privacy.
With exclusive pool access for this casino's guests, spend the day with friends or relax solo as you take in views of the beach from the large patio area.
Caesars Atlantic City, NJ FAQ
Does Caesars Atlantic City Have A Sportsbook?
At this casino, sports betting has been taken to the next level. Whether you're just a casual fan or an experienced sports bettor, there is something for every type of sports enthusiast.
The venue offers thousands of square feet of space dedicated to sports betting, featuring plenty of high-tech TVs and games throughout. For those looking for an extra special experience, the property houses 5 private Fan Caves which can be reserved for groups of up to 24 people.
The Fan Caves come with comfortable seating, high-resolution televisions that can split into three different screens, game consoles including an Xbox plus table service and food provided by AC Snack Shack.
Additionally, you can enjoy the convenience of betting on the go using the Caesars Sportsbook app. Not only is it simple and easy to use, but wagering on your favorite sports with them also rewards you with exclusive offers.
With each wager, you can earn Reward Credits that can be redeemed for bonuses, sports tickets, dining experiences, getaways and VIP experiences.
Is Poker Available At Caesars New Jersey?
While the poker room is currently closed, there are still plenty of opportunities to experience the adrenaline of poker at this casino. You can still be part of a host of exciting poker games such as Four Card Poker, Let it Ride Poker and video poker.
So if you're looking for an intense game to get involved in while feeling the excitement of playing against other players, then these options may be just perfect for you.
What Are The Age Requirements For Gambling At Caesars?
The legal age for gambling in New Jersey is 21 years of age. All guests must present valid ID upon entering the casino floor, and players must be at least 21 to play poker and other casino games.
Does Caesars Atlantic City Have An Online Casino?
While the casino is a popular tourist destination with plenty to do, the answer to the question, if whether they have an online casino, is unfortunately a no. The regulations regarding internet gambling in New Jersey are such that this avenue of casino gaming is not yet legal.
Therefore, if you're looking for an online casino in the state of New Jersey then you'll need to look elsewhere as Caesars does not offer this option.
Is There An Caesars Atlantic City App?
The award-winning Caesars Rewards mobile app puts all of the offers, information and ways to explore the hotels, casinos, shows, restaurants and nightclubs at your fingertips. Now you can access all of this at any time from anywhere with just a few taps.
So whether you plan on going soon or just want to stay up to date on all the great things that this casino has to offer, the Caesars Rewards App is your key to a fantastic information-packed experience.
What Is The Dress Code At Caesars?
The dress code at this casino hotel is fairly relaxed, with no mandated attire. However, guests are encouraged to wear clothing that is appropriate for the occasion and the atmosphere. This could include anything from a nice cocktail dress for ladies or a collared shirt and slacks for men.
Is There An Airport Shuttle Available From Caesars Atlantic City?
Unfortunately, the casino does not currently offer an airport shuttle. However, the Atlantic City International Airport (ACY) is located just a short 20-minute drive away. You can easily arrange for a taxi, ride-sharing service or limousine to take you directly to the hotel.
What Is The Smoking Policy At Caesars Atlantic City Hotel & Casino?
The casino offers both smoke-free and smoking areas. Smoking is allowed in designated outdoor areas on the property. There is also an outdoor garden area located near the pool that allows guests to enjoy their cigarettes or cigars while taking in the fresh air.
What Is The Pet Policy At Caesars?
The casino does not allow pets on the premises, with the exception of service animals. These must be accompanied by their owner at all times and are permitted to remain in all areas of the property.
Is Wifi Available At Caesars Atlantic City?
Yes, wifi is available throughout the entire property. You can access it from any device and it offers a high-speed connection so you can stay connected with ease. Whether you're gaming or lounging by the pool, you can rest assured that your devices will stay connected.
What Is The Cancellation Policy For Caesars Atlantic City Hotel?
Guests may cancel their reservation up to 48 hours prior to their arrival date without penalty. If the cancellation is within 48 hours of the arrival, a charge equal to one night's stay will be applied.
Conclusion
Whether you're looking for a fun gaming experience, enjoying the nightlife, or just relaxing by the pool, Caesars Atlantic City Hotel & Casino has something to offer everyone.
This casino offers great amenities and plenty of ways to have fun while also providing a safe and secure environment. With its convenient location, relaxed dress code and commitment to customer service, it's no wonder why this casino is such a popular destination.
So if you're looking for the perfect place to stay and play in Atlantic City, be sure to check out this casino.