Golden Nugget Atlantic City
Address: 600 Huron Ave, Atlantic City, NJ 08401
Phone Number: +1 609-441-2000
Website: www.goldennugget.com/atlantic-city
Hours: Golden Nugget is open 24 hours a day, 7 days a week.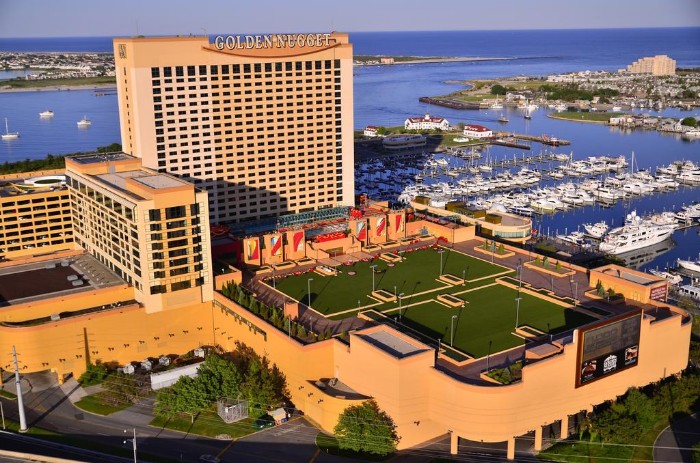 The Golden Nugget is a hotel and casino located in the heart of Atlantic City, New Jersey. It was originally opened in 1985 as Trump's Castle and would later become the Trump Marina.
Following a series of ownership changes, the casino was eventually rebranded in 2011 as the Golden Nugget Atlantic City, owned by Landry's Inc. It is one of the few casinos in Atlantic City to remain open throughout the years and is a popular destination for both locals and visitors alike.
The property offers over 1,500 slots and several table games, including classic favorites like Blackjack, Baccarat, Craps and Roulette. They also offer progressive jackpots and other exciting promotions.
In addition to gaming, this casino offers a wide range of entertainment and activities, including shopping, nightlife, live entertainment and more. The hotel provides guests with luxurious rooms and suites perfect for any getaway.
In terms of dining, the casino offers a variety of options for visitors. There are multiple restaurants, such as The Buffet and Grotto Italian Ristorante to choose from. They also offer several bars and lounges, including Bar 46, Rush Lounge and the H20 Bar & Grill.
This casino is the perfect destination for those looking for a weekend getaway or an unforgettable night out.
Guests rate Golden Nugget Atlantic City highly, with an average rating of 4.4 out of 5 stars on TripAdvisor. A guest claimed, "We had an amazing time at the Golden Nugget! The staff was friendly and accommodating, the casino was lively and vibrant, and the rooms were comfortable!"
Another guest noted, "This place is amazing! From the awesome pool to the delicious food and entertainment, this is a must-visit Atlantic City destination."
(Related reading: New Jersey casinos)
Gaming
This casino offers over 1,500 slot machines and numerous table games such as Blackjack, Baccarat, Craps and Roulette. They also have progressive jackpots and other promotions running throughout the year that make playing here even more exciting.
Table Games
The casino offers an exciting selection of traditional and progressive table games for all levels of players. Whether you're a seasoned veteran or just starting out, you'll find something to suit your mood that fits your budget.
Enjoy classic games like Mini Baccarat, Blackjack, Craps, Roulette and Criss Cross Poker, as well as multi-level progressives such as Mississippi Stud, Three Card Poker and Pai Gow Poker, spread across the casino floor.
Try the party Pit in Rush Lounge for bigger stakes, or play outside on The Deck and H20. For a truly exclusive adventure, opt for the High Limit Table Room with Blackjack, Craps, Single "0" Roulette and Mini-Baccarat.
The minimum bets for the different table games at this casino vary depending on the day and crowd size. Generally, the minimums start as low as $5 and can go up to $100, depending on the game.
Slots
For the best slot experience, head over to this casino. Home to a vast array of slot machines, this luxurious casino offers something for everyone. Some of the most popular slot machines include:
5 DRAGONS
BAT BLESSINGS BFCB
BETTI THE YETTI
BOMBAY
BONUS FRENZY
DOLPHIN BAY
DOUBLE DOUBLE GOLD
DOUBLE DIAMOND
FIRE STRIKE KING OF WEALTH
FORTUNE FOUNTAIN
NORTHERN TREASURE
OCEAN MAGIC
OPEN VAULT
OX REIGN CHOY'S KINGDOM
PALACE OF WONDERS
PANDA FI DAI LIAN
POMPEII
Additionally, they offer an unparalleled slot experience with their expansive high-limit slots room. With more than 117 of the most in-demand slot machines and a luxurious, secure environment, it's the perfect spot for trying your luck.
The slot machine payback percentage in this casino is undisclosed at the moment. However, the New Jersey Casino Control Commission requires all casinos in the state to maintain a payback of at least 83%.
Hotel/Resort
The Golden Nugget is the perfect destination for a luxurious getaway. The property offers guests more than 700 rooms and suites, many of which come with spectacular views of the city skyline or beachfront.
Each room and suite is beautifully appointed with top-of-the-line linens and other modern amenities for an unforgettable stay. Room and suite accommodations also include state-of-the-art key systems, fridges, Wi-Fi, in-room safes and more.
Their Luxury King rooms offer refined elegance and feature a king bed, while the Luxury Double Bed is the ideal choice for larger parties with two double-size beds.
Both the Luxury King Bay View and Luxury Double Bed Bay View make for truly spellbinding stays, especially in the evening as you watch the golden sun dip below the horizon. Additionally, if you need accessibility, then the Luxury Queen has everything you need with ADA amenities.
And if you're looking for even more space, the Junior Suite or Marina Suite offers plenty of living, dining and bedroom space and views. Lastly, their Bedroom Suites come fully furnished and boast contemporary designs and all the features of a modern luxury home.
The hotel offers a variety of amenities to make your stay as comfortable and enjoyable as possible. Some of these include:
Fitness center
Complimentary high-speed Wi-Fi access
Spa and Salon
Rooftop pool
Retail corridor
Marina
Restaurants and bars
The starting rate for rooms appears to be $80 per night, which is relatively reasonable compared to other Atlantic City casinos. The cost of the room depends on the type of room and availability. Rates will also increase after the state taxes and resort fees are added.
Check-in time at Golden Nugget is 4:00 pm
Check-out time at Golden Nugget is 11:00 am
Restaurants & Buffets
Golden Nugget Atlantic City boasts a tantalizing array of restaurants with something for everyone's taste. Start off at Michael Patrick's European-style brasserie for a night of modern French cuisine.
Seafood enthusiasts can check out Chart House, where breathtaking views of the ocean accompany each meal. Foodies won't want to miss Vic & Anthony's Steakhouse, recently voted one of America's top ten steakhouses.
For something different, try Lillie's Asian Cuisine and their new spin on far-east favorites. Grotto Italian Ristorante serves up authentically crafted Italian cuisine in a cozy atmosphere.
If you're looking for something quick, head to Bill's Bar & Burger — CNN rated it one of the top 10 best burgers in America. Need a snack? Bean & Bread has you covered.
Additionally, stop by H20 Bar + Grille if you want something more casual and fun. At the same time, The Deck allows you to take in the waterfront atmosphere while getting delicious treats with weekly theme nights and live entertainment.
If you are looking for an all-you-can-eat buffet, the casino offers The Buffet, which features an extensive selection of your favourite dishes. You'll be sure to find whatever cuisine you're craving, and the prices start at just $16.
And that's not even the best part – if you have access to a BOGO coupon, you can save even more on getting your fill of amazing dishes.
Pools
Get away from the heat and step into the H20 Pool located on the 6th Floor rooftop of this casino. You'll love the chic atmosphere with vibrant colors like red, orange and yellow to match the amazing views of the Atlantic City skyline.
Immerse yourself into a luxurious getaway with their cabanas, daybeds, fire pits and hot tubs. Enjoy some relaxation at one of their 300 chaise lounge chairs under the sun.
While adults may enjoy this fun escape, children under 18 are not permitted in either the shallow pool or hot tubs for safety reasons.
Golden Nugget Atlantic City, NJ FAQ
Does Golden Nugget Have A Sportsbook?
If you want to gamble on sports online or in person, this casino is the perfect place. With more than 50 TVs, five video walls, not to mention self-service betting kiosks, and limited seating, the Sportsbook, located off the Main Atrium, will give you everything you need.
If you'd prefer an online experience, the Golden Nugget Online Sportsbook is also available on any device across New Jersey and offers great odds with a huge variety of markets across US & International sports.
Is Poker Available At Golden Nugget Atlantic City?
Yes, this casino offers a wide variety of poker games. Their sprawling 9-table poker room is located on the 4th floor and features luxurious surroundings.
Whether you're in for Texas Hold'em, 1-3 No-Limit, 2-5 No-Limit, PLO, or 3-6 Limit, this room has something to offer every poker aficionado.
They also offer various promotions and rewards such as Splash The Pot, Guaranteed Poker Tournaments and Rake Back, so you can earn more than just bragging rights.
What Are The Age Requirements For Gambling At Golden Nugget Casino?
You must be 21 years of age or older to gamble at this casino. Proof of identification and residency may be required before you can play any game. It's also important to note that anyone under the age of 21 is not allowed to linger in any gambling area.
Does Golden Nugget Atlantic City Have An Online Casino?
Yes, this casino does have an online casino. You can access all of their exciting games from your desktop, mobile or tablet device anywhere.
With a stellar selection of over 700 games and their award-winning live dealers, plus their friendly customer service team based out of Atlantic City, you will not be disappointed. To top it off, Golden Nugget offers new promotions and special offers every week for you to enjoy.
And right now, if you join the online casino right away, you can get up to a $1,000 deposit match plus 200 Free Spins – so don't wait any longer.
Is There An Golden Nugget App?
Are you looking for an app to help you keep track of all the awesome things at this casino? Well, you're in luck. Aside from their sportsbook app, they also have a Golden Nugget Mobile App, which will make life much easier.
This app lets you view hotel, gaming, entertainment & event mail offers on your phone and even has exclusive mobile-only bonus offers. You can also check your comp dollars & available cashback, view tier credit status & tier level progress, as well as upcoming shows & events.
Now you can easily access venue hours, menus & more right from the palm of your hand.
What Is The Dress Code At Golden Nugget Casino & Hotel?
The dress code at this casino is casual but neat. They recommend refraining from wearing t-shirts, tank tops, swimwear and shredded denim. As it is a place of business, guests are requested to be respectful of the other patrons by dressing appropriately.
Is There An Airport Shuttle Available From Golden Nugget?
No, this casino does not have an airport shuttle service available. However, there are plenty of taxi and ride-sharing services you can take advantage of to get to the casino.
Additionally, the Atlantic City International Airport is only a 12-minute drive away, so you could also opt to rent a car or take one of the local buses instead. Just be sure to check for fares and schedules before planning your journey.
What Is The Smoking Policy At Golden Nugget Atlantic City?
The casino abides by the New Jersey Clean Indoor Air Act, which bans smoking throughout all public spaces. However, designated smoking areas are located outdoors in front of the casino's entrance and on its rooftop.
What Is The Pet Policy At Golden Nugget Casino & Hotel?
Unfortunately, the hotel does not currently allow pets. However, service animals that are specially trained to provide assistance for a person with a disability are welcome – make sure to register them upon reservation and confirm at check-in.
Is Wifi Available At Golden Nugget?
Yes, the casino offers complimentary wifi to all its guests. Their high-speed connection is available throughout the property, so you can stay connected even when you're away from your room.
Come by the hotel reception desk to get your password, and you can enjoy fast, reliable internet throughout the casino.
What Is The Cancellation Policy For Golden Nugget Atlantic City?
If you need to cancel your reservation, please give the hotel 24 hours' notice before your arrival date to avoid additional fees. Otherwise, a one-night stay fee will be charged.
For more information about the casino's policies and amenities, feel free to contact the hotel directly for further assistance.
Conclusion
Undoubtedly, the Golden Nugget Casino & Hotel in Atlantic City is an ideal spot for a fun night out. With its impressive selection of games and promotions, friendly customer service team, convenient mobile app, and more – this casino has everything you need for a great time.
Don't forget to check out their dress code and pet policy before you go, as well as their cancellation policy and wifi availability.
With all these details in mind, there's no doubt that your time at this casino will be unforgettable.