Harrah's Atlantic City
Address: 777 Harrah's Blvd, Atlantic City, NJ 08401
Phone Number: +1 609-441-5000
Website: www.caesars.com/harrahs-ac
Hours: Harrah's Atlantic City is open 24 hours a day, 7 days a week.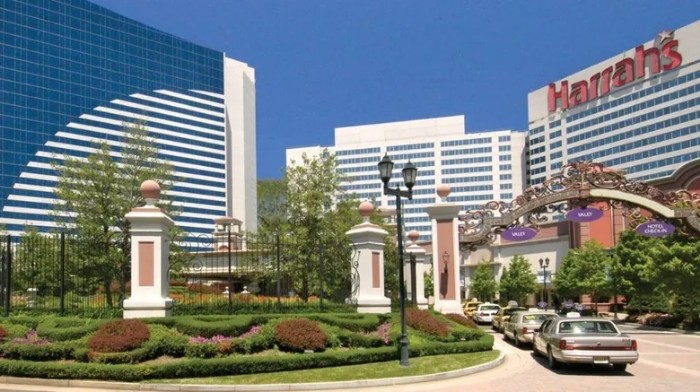 Harrah's Atlantic City first opened in 1980 and was immediately a popular destination for gambling, dining, and entertainment. Since then, it has grown to become one of the most iconic casinos on the East Coast.
It is currently operated by the Caesars Entertainment family of resorts and offers more than 2,500 hotel rooms, dozens of restaurants and bars, and over 177,000 square feet of gaming space. From slots and table games to poker and sports betting, there is something for everyone at this casino.
It is one of the largest casino resorts in New Jersey and a major tourist attraction for Atlantic City. It has been the site of major events, such as boxing matches and concerts, over the years.
The casino also offers a variety of amenities such as a spa, pool, shopping outlets and more. There are even special packages available to make your stay even more enjoyable.
Whether you're looking for a night out on the town or hoping to hit it big gambling, this casino is sure to be a great experience.
Guests who have visited Harrah's Atlantic City rate their experience highly. On Tripadvisor, the casino has an excellent rating of 4.5 out of 5 stars from over 8,100 reviews. Guests say, "This is the best casino in Atlantic City" and "The staff is friendly and helpful."
Another guest also noted, "It was a great place to spend an evening out with friends. There were plenty of slots and tables, the atmosphere was lively and everyone had fun."
(Related reading: New Jersey casinos)
Gaming
This casino features 1,800 slot machines and over 100 table games. Popular game offerings include blackjack, craps, roulette, baccarat and poker. There are also sports betting options available onsite or through the Caesars Sportsbook mobile app.
Table Games
If you're looking for the thrill of classic casino table games, look no further than this casino in New Jersey. There are 12 different gaming tables to choose from, perfect for resolving your craving for old-school fun.
Some popular games include Blackjack, Roulette, Craps, Baccarat, Four Card Poker and Pai Gow. Additionally, newer card games like Let It Ride Poker, Ultimate Texas Hold'Em and Three Card Poker provide a modern twist on traditional favorites.
Mississippi Stud, Spanish Blackjack and Head Up Hold'em are also available if you're feeling extra lucky. Don't forget to try out Criss Cross Poker or High Card Flush as well.
The minimum bet for most table games at this casino is $5. However, some tables may have higher or lower limits. Be sure to check before you sit down so that you don't risk more than you're comfortable with.
Slot
At this casino, you'll never be bored when it comes to slot machines. Their floor has an enormous array of 1,860 reel and video slots, so there's something for everyone.
Some of their most popular games include:
Blazing 7 Hot Shot-15R
Wizard Of Oz-Emerald City
High On The Hog
Lucky Larry's Lobstermania
Mega Vault
Rising Fire Dragon
Wild Monarch Money
Plus, don't forget their extensive video poker selection that can bring if not riches certainly plenty of entertainment.
Whether you prefer the liveliness of Eden Lounge or a quieter setting to concentrate on your strategy, there's a perfect atmosphere for every gambler.
Currently, the payback percentage for slots at this casino is unlisted. However, the New Jersey Casino Control Commission requires all Atlantic City casinos to return at least 83% of all slot machine wagers in the form of winnings.
Hotel/Resort
If you're planning a longer stay, Harrah's Atlantic City has an on-site hotel with over 2,500 rooms and suites. Guests can enjoy luxurious amenities such as a spa, resort pool, shopping outlets and more.
The casino is proud to feature five different hotel towers designed to meet the needs of any traveller. If you're looking for breathtaking ocean views, the Waterfront Tower and Bayview Tower both offer amazing vistas that will take your breath away.
And if you prefer a more contemporary design, the Atrium Tower, Coastal Tower, and Laguna Tower provide modern accommodations with all the comforts of home.
The entire property has several different room types to choose from, so whatever your needs are, you're sure to find the perfect place to stay.
Guests can pick between the Laguna Tower Premium and Luxury rooms, which offer single kings or doubles. The Bayview Tower also offers Premium and Deluxe rooms with 1 king. The Waterfront Tower is another great choice with a 1 king room or the Modern Suite available.
There's also a pet stay option in the Laguna Tower, so you don't have to leave anyone behind. And if you require nonsmoking accommodations, the hotel has you covered; all of their options come as either smoking or non-smoking.
Each room is designed to provide a luxurious experience, complete with high-speed Wi-Fi and flat-screen TVs. Plus, guests get access to complimentary valet parking as well as 24-hour room service.
Harrah's Atlantic City has a variety of amenities that make the stay even more enjoyable. Some of the highlights include:
High-speed internet
Swimming pools
Spa and salon
Fitness center
Pet-friendly accommodations
ADA amenities
Business center
The cost of a room at this hotel will depend on the type of room you choose and when you visit. Generally speaking, rooms start around $44 per night plus taxes and fees. Luxury suites can cost significantly more, depending on your needs.
Check-in time at Harrah's is 4:00pm
Check-out time at Harrah's is 11:00am
Restaurants & Buffets
This casino hotel is home to an amazing array of restaurants, ranging from seafood options such as McCormick & Schmicks, a classic Italian eatery at Martorano's, and delicious American steakhouse classics at Gordon Ramsay Steak.
Not to mention there are tons of casual dining spots such as Ac Burger Co., Pin-Up Pizza, and Bobby's Burgers if you're looking for something fast and convenient.
Coffee connoisseurs won't have to settle either; whether you're in the mood for Starbucks or Cafe Tazza Atlantic City, you'll be able to get your daily joe fix.
Additionally, you can grab a seat around the boardwalk and enjoy some amazing food at The Baywalk – sandwiches and more are definitely on the menu. Unfortunately, there are no buffet offers available at the establishment.
Pools
If you're looking for a quintessential beach vacation experience, this casino has just the thing for you.
Take a dip in their indoor pool, soak up the sun on one of their comfy lounge chairs or daybeds, or get an even more luxurious experience by reserving a cabana or bungalow that offers some additional space and privacy.
When dusk falls, don't miss out on The Pool After Dark where DJs and live performers ensure an exciting night. Plus, don't forget about Sunday NFL watch parties. Enjoy live music from DJs and tailgate food paired with drink specials as well as sports betting at the poolside.
Harrah's Atlantic City, NJ FAQ
Does Harrah's Atlantic City Have A Sportsbook?
The casino is proud to offer its very own Caesars Sportsbook. Whether you're looking for the best seats in the house to watch your favorite games or you want to take advantage of the Fan Caves for a more upgraded experience, you won't be disappointed.
Their 3,800 square foot space offers extra plush seating, high-resolution LED TVs and even food service. And if that's not enough, they also have an app so you can make wagers on the go. No matter what the end result is, you can find rewards with every bet thanks to Caesars Rewards.
Is Poker Available At Harrah's?
Whether you're an experienced pro or a rookie, there's plenty of poker action awaiting at this casino.
Guests can experience a wide variety of games including Four Card Poker, Pai Gow, Let It Ride Poker, Ultimate Texas Hold'Em, Three Card Poker, Mississippi Stud, Spanish Blackjack and more.
What Are The Age Requirements For Gambling At Harrah's Atlantic City?
The legal gambling age in New Jersey is 21. All guests wishing to participate in any form of gaming must provide valid photo identification upon request.
Does Harrah's Have An Online Casino?
No, they do not have an online casino. The casino does, however, offer online sports betting. Guests can sign up for an account and place wagers on their favorite teams whenever they wish.
Is There An Harrah's Atlantic City App?
While they don't have their own direct app, they do have a helpful sportsbook option that their official partner Caesars Sportsbook offers
Using this exciting and easy-to-use app, you can bet on all sorts of major sports events with great odds. Plus, you'll receive special bonus opportunities and be able to track your favorite bets in real-time.
What Is The Dress Code At Harrah's?
They are a casual casino resort, so all guests are welcome to dress as they please. However, they do ask that everyone wear appropriate attire when visiting the casino and dining establishments.
For more formal occasions, such as a special event at the hotel or restaurant, nice business-casual attire is recommended.
Is There An Airport Shuttle Available From Harrah's Atlantic City?
The casino hotel does not provide an airport shuttle service. For guests looking to get to the casino from the airport, they will need to either rent a car or arrange for a taxi or rideshare service such as Uber.
What Is The Smoking Policy At Harrah's Casino Hotel?
The establishment is a smoke-free property, meaning that all guests and common areas are completely smoke-free. Guests may only smoke in designated outdoor areas.
They also offer smoking and non-smoking rooms for their guests, so you can choose the option that works best for your needs.
What Is The Pet Policy At Harrah's?
This casino is the perfect place to bring your four-legged friend when you visit. This hotel is pet-friendly and welcomes dogs of up to 50 lbs. There are PetStay rooms that include several canine in-room amenities like food, water bowls, and pet treats.
In addition, their outdoor areas include relief areas and even walking routes for your pup. Service animals are more than welcome to join as well and are exempt from additional fees.
There is a fee of $75 per night per pet for all other canine companions. For your convenience, only certain rooms are available so be sure to book online or ask at check-in for pet-friendly accommodations.
Is Wifi Available At Harrah's Atlantic City?
Yes, guests can stay connected with complimentary high-speed wireless internet access throughout the casino. The connection is secure and easy to use, so you can get online quickly and stay connected during your stay.
What Is The Cancellation Policy For Harrah's?
The hotel offers a flexible cancellation policy. Guests can cancel their reservation up to 48 hours prior to arrival without incurring any penalty fees.
After that time, the hotel will charge a one-night room and tax fee. Guests should contact the hotel directly for further details on cancellation policies.
Conclusion
Harrah's Atlantic City is an exciting destination for casino lovers. Whether you're looking to play the tables, try your luck at slots, or enjoy a few drinks with friends, there are plenty of options available.
Their helpful staff and guest services make it easy to get in on the action and their pet-friendly policy makes sure that you can bring your furry friends along to have some fun too. Plus, their cancellation policy allows for flexibility in case of any changes in plans.
With plenty of exciting gambling opportunities and convenient amenities, this casino is sure to provide you an unforgettable experience.