Tropicana Atlantic City
Address: 2831 Boardwalk, Atlantic City, NJ 08401
Phone Number: +1 609-340-4000
Website: www.caesars.com/tropicana-ac
Hours: Tropicana Atlantic City is open 24 hours a day, 7 days a week.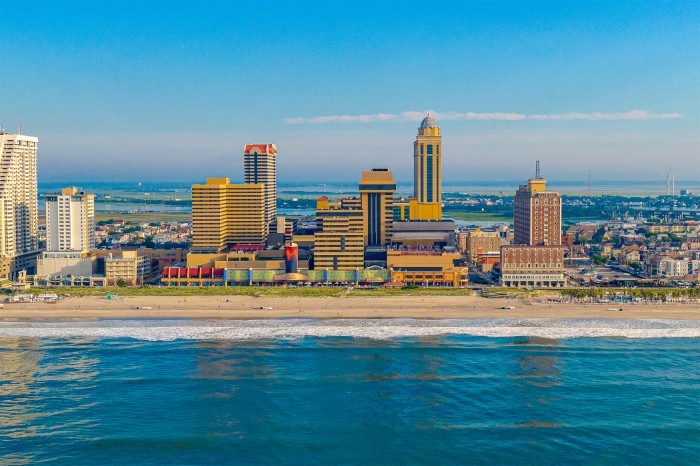 Tropicana Atlantic City has been a vibrant part of the Atlantic City skyline since 1981. The original building, which was built in 1919 and was an entertainment landmark, opened its doors to the public as a casino hotel in 1981.
It quickly became one of the most popular destinations for gaming, dining and entertainment on the Boardwalk. Over the years, they have undergone several renovations and expansions, while always staying true to its core of providing an entertaining experience for all guests.
As one of the longest-running casinos in Atlantic City, they continue to provide a classic gaming experience with over 2,000 slot machines and more than 100 table games.
The resort also holds several entertainment events throughout the year, including concerts, comedy shows, and special events. With a variety of dining options and an exciting nightlife scene, this casino is the perfect place for a weekend getaway or a fun-filled evening on the town.
Whether you're looking for classic casino action or a unique night out, this casino is the place to be.
This casino has consistently been rated as one of the best casinos for many years. It has earned 4.4/5 stars on Tripadvisor, with guests saying, "This is an excellent place to visit – the staff was friendly, the games were varied and enjoyable, and the atmosphere was fun."
(Related reading: New Jersey casinos)
Gaming
This casino has over 2,000 slot machines and more than 100 table games. It offers blackjack, craps, roulette, baccarat and poker.
Table Games
This casino is the perfect place to enjoy some traditional table games. Whether you prefer Blackjack, Roulette, Craps, Baccarat or one of the higher-stake options such as Three Card Poker, Pai Gow and Let It Ride, there's something for everyone at this world-class resort.
For those looking for an adrenaline rush, head over to The Pulse Arena and try your luck at Caribbean Stud Poker. With hundreds of tables to choose from, joining in all the action at this casino is easy and enjoyable for anyone with a taste in gaming.
The minimums at the tables vary depending on the game, season, and other factors. Generally speaking, the minimum table bet is typically as low as $10 and as high as $100. Some of the higher-limit tables may have a higher minimum bet amount.
Slots
At this casino, you can enjoy a great variety of popular slot machines. From classic three-reel slots to the newest 3D video slot games and progressive jackpots, there's something for everyone at this casino. Popular titles include:
Back To The Future-Back In Time
Bombay
Fu Dao Le
Double Diamond Multiplay
Lotus Flower
Willy Wonka
Diamond Queen
Pompeii
Triple Fortune Dragon
Lucky Honeycomb
Emperor And Pharaoh
Lock it Link – Cats, Hats & More Bats
Ultimate X Bonus Streak Poker
Mr Cashman
The casino's average payback percentage for its slot machines is currently unavailable. However, the New Jersey Division of Gaming Enforcement mandates that all games pay back at least 83%.
Hotel/Resort
Tropicana Atlantic City offers guests the perfect place to stay while enjoying all the entertainment and gaming this great city offers.
They provide a variety of amenities, such as plush guest rooms with private balconies and breathtaking views of the Boardwalk and Atlantic Ocean, an outdoor pool for relaxing days in the sun, and several restaurants and bars to enjoy a delicious meal or cocktail.
The hotel features 2,300 luxurious rooms and suites and offers a variety of amenities such as 24-hour room service, a business centre, concierge services, complimentary high-speed internet access and much more.
Some of their room types include:
Havana Premium Room – features 1 king bed, bathroom and walk-in shower
Havana Ocean View Executive Room – features 1 king bed in a very spacious room, bathroom and walk-in shower
North Deluxe Room – features 1 king bed, bathroom and walk-in shower
South Deluxe Room – features 1 king bed, bathroom and walk-in shower
South Ocean View Deluxe Room – features 1 king bed, bathroom, walk-in shower and ocean view
Additionally, this casino hotel offers a variety of amenities that both visitors and locals can take advantage of. Some of these include:
High-speed internet access
Indoor and outdoor pools
Valet and self-parking
Business center
Spa and salon services
Live entertainment
Fitness center
Rates for rooms at this hotel can vary depending on the season and availability. You can book a room for as low as $42 per night plus taxes and fees. However, if you are looking for a luxurious stay with all the amenities included, prices can go up to $250 per night plus taxes and fees.
Check-in time at Tropicana is 4:00 pm
Check-out time at Tropicana is 11:00 am
Restaurants & Buffets
With such a diverse variety of restaurants, this casino resort has something for everyone. From Hash House, A Go Go for breakfast to Ossu Japanese Tavern for dinner and Broadway Burger Bar for a good ol' burger, it's all here.
If you are looking for classic Italian cuisine, Carmine's is your spot, or try Casa Taco & Tequila Bar for some delicious Mexican fare. Further down the list is Gilchrist Restaurant, with local seafood dishes, and Golden Dynasty, where dim sum can be found.
Other popular restaurants include Hooters Atlantic City, La Petite Crêperie, The Palm, P.F. Changs Atlantic City, Wild Honey Smokehouse, Tavern, and Starbucks.
Whether you're in the mood to enjoy scrumptious food or catch a game at Chickie's And Pete's Crabhouse And Sportsbar while enjoying drinks from Cuba Libre Restaurant & Rum Bar, there isn't a shortage of fun eateries at this casino.
However, the casino does not offer buffet options at the moment.
Pools
Looking for a way to cool off at this casino? Check out their pools. They offer three great outdoor pools, the Blue Parrot Pool, Cabana Five Pool and Oasis Pool.
The Blue Parrot Pool is perfect for anyone looking to have fun in the sun or relax and enjoy the views of the ocean. The Cabana Five Pool is located directly on the beach and is only open to ages 21 and above.
Or, if you're at least 18 years old, head to the Oasis Pool with its luxury cabanas and infinity pool edge featuring stunning ocean views. If you would rather stay indoors, take a dip in Tropicana's South Tower indoor pool.
Tropicana Atlantic City, NJ FAQ
Does Tropicana Atlantic City Have A Sportsbook?
At this casino, they're proud to offer sports betting through their partner Caesars Sportsbook. With one of the largest sportsbooks in all of Atlantic City, you can enjoy enough seating, a massive 250 sq. ft. odds board, and LED screens to catch all the action.
Whether you're a real die-hard fan or just looking for a place to kick back and watch the game, they have everything you need for a premium sportsbook experience.
Keep up with scores and stats with their state-of-the-art odds board; this casino got you covered when it comes to staying on top of your favorite sports.
Is Poker Available At Tropicana?
This casino offers a variety of poker options for players, whether you're looking for cash games or tournaments. There are always plenty of tables open, and the friendly staff is always willing to help.
You can find poker games such as Pai Gow, Let It Ride and Three-Card Poker. If you're looking for a high-stakes game, take your seat at the high-limit area. There is no better way to test your luck than by playing one of these exciting and lucrative games.
What Are The Age Requirements For Gambling At Tropicana Casino?
The minimum age for gambling at this casino is 21. Patrons must present valid photo identification to verify their age before they are allowed entry. If a person is found to be underage, they will immediately be asked to leave the premises and may be subject to further action.
Does Tropicana Have An Online Casino?
Yes, this casino has an online casino that offers a wide variety of slots and table games. You can play any game you like right from the comfort of your own home. Visit their website for more information about the games and promotions they offer with regard to their online casino.
Is There An Tropicana Atlantic City App?
Are you planning a visit to this casino and wondering if there's an app for that? We have good news – even though there is not an app specific to the facility, there are still plenty of ways for you to get in the game.
They have partnered with Caesars Sportsbook, which allows guests to enjoy sports betting on their phones and tablets. The app acts as a portal for users to place bets, view bonuses, collect rewards and receive special offers.
With rewards including sporting events tickets and VIP experiences all conditioned on your wager history, even if you lose, you can win.
What Is The Dress Code At Tropicana Casino & Hotel?
The dress code at this casino is upscale casual. They do not allow visitors to wear swimwear, tank tops, athletic clothing or ripped jeans. Shoes are required and must be worn at all times.
Visitors are asked to dress respectfully and keep their attire neat and appropriate when visiting this casino. The staff reserves the right to refuse entry to anyone who does not comply with the dress code.
Is There An Airport Shuttle Available From Tropicana Atlantic City?
This casino does not offer an airport shuttle service. However, there are several options for getting to and from the airport. You can take a taxi or ride-sharing services such as Uber or Lyft. Or you could rent a car at Atlantic City International Airport and drive to Tropicana Atlantic City.
What Is The Smoking Policy At Tropicana?
The establishment has a strict no-smoking policy. Smoking is not allowed anywhere inside the property, including in any of the gaming areas. In addition to this, they have designated outdoor smoking areas that are located away from public entrances and ventilation ducts.
What Is The Pet Policy At Tropicana Atlantic City?
This casino does not allow pets on the premises. The only exception to this policy is service animals, which are allowed in all public areas and may remain with their owners at all times.
If you plan on bringing a service animal, it must remain under your control and be leashed at all times. Service animals must also be clean and properly groomed throughout the duration of their stay.
Is Wifi Available At Tropicana Casino & Hotel?
Yes, this casino offers complimentary WiFi for all patrons. Connecting to the WiFi is easy and can be done directly from your mobile device. Ask any staff member for assistance if you need help connecting to the network.
What Is The Cancellation Policy For Tropicana Atlantic City?
The cancellation policy for this hotel is subject to change and may vary depending on the rate or package you have booked. It is important to read the cancellation policy carefully before making a reservation.
You can cancel up to 48 hours from your scheduled arrival time for most reservations without penalty. If you cancel after that, you will be charged a penalty fee. For more information, contact their customer service team.
Conclusion
The Tropicana Atlantic City is a great place to visit for a night out on the town. They offer a variety of slots and table games and an exclusive sports betting app.
The dress code is upscale casual, and smoking is not allowed inside the building or anywhere else on the premises. You can connect to the free WiFi network, and there is even a pet policy for service animals.
Be sure to read the cancellation policy carefully before booking your stay. With all these great amenities, you're sure to have a night to remember at this casino.