Black Mesa Casino Algodones
Address: 25 Hagen Rd, Algodones, NM 87001
Phone Number: +1 505-867-6700
Website: www.blackmesacasino.com
Hours: Black Mesa Casino is open Monday 9 am – 2 am, Tuesday 9 am – 2 am, Wednesday 9 am – 2 am, Thursday 9 am – 2 am, Friday 9 am – 2 am, Saturday 9 am – 2 am, Sunday 9 am – 2 am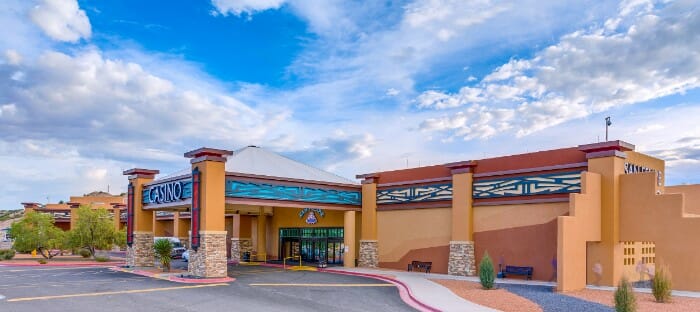 Black Mesa Casino is located in Algodones and was initially opened as San Felipe Casino Hollywood. The casino is owned and operated by the Pueblo of San Felipe and is located on their tribal land.
The casino offers a variety of traditional slot machines, video poker and keno. It has over 600 gaming machines which also offers several promotions and giveaways. Plus, with live entertainment, a full-service bar and a restaurant, this casino is the place to be.
The casino also has various other amenities, such as an RV park, banquet facilities and a convenience store. They are fully committed to providing the ultimate gaming experience with the best customer service in Algodones.
So if you want to have a great time gambling, this casino is definitely the right place for you. From the moment you enter, you'll be welcomed into a world of entertainment and excitement.
This casino is highly rated on Google, with 4.5 stars out of 5 over 617 reviews. One guest mentioned, "Black Mesa Casino is great. The staff was friendly, helpful and accommodating. The variety of games was great, and the atmosphere was fun. Highly recommend."
Another said, "I love this place. They have a great selection of slots, and the food always tastes delicious. And the staff are always friendly and helpful."
(Related reading: New Mexico casinos)
Gaming
Their gaming space features more than 600 gaming machines for guests to enjoy. They offer a variety of classic slot machines, video poker and keno games.
Table Games
While this casino is a popular destination for gaming enthusiasts, unfortunately, they do not offer table games at this time. However, they do have a wide selection of slot machines that are sure to satisfy your gaming needs.
With over 600 machines, you'll have plenty of options to keep you entertained all night. Plus, the friendly and helpful staff are always available to assist you with any questions or concerns.
Slots
This casino is known for its wide selection of slot machines. From classic 3-reelers to the latest video slots, you'll have plenty of options. Popular titles at this casino include:
5 Dragons
Quick Hits
Colossal Wizards
Li'l Red
Wild Panda
Spartacus Gladiator of Rome
Double Diamond
Forbidden Dragons
Queen of the Wild II
Cleopatra
Lazer Lock Ice Sapphire
Wheel of Fortune
Although the exact payback percentages for slot machines at this casino are not publicly available, the minimum payback percentage of all slot machines in New Mexico is approximately 80%. This means that for every $1 wagered, 80 cents will be paid out by the casino.
Hotel/Resort
If you are planning to visit this casino in New Mexico and looking for a comfortable and convenient place to stay, you might be surprised that the property does not have a hotel attached. However, worry not.
There are plenty of great options nearby. You could check out the Santa Ana Star Casino Hotel, the Isleta Resort & Casino, or the Hyatt Regency Tamaya Resort and Spa for a luxurious stay.
If you're looking for more budget-friendly accommodation, the Holiday Inn Express in Bernalillo could be a great option. Whichever you choose, you will surely have a fantastic stay in New Mexico.
Restaurants & Buffets
If you're looking for a delicious meal in this casino, look no further than the Black Mesa Kitchen. This restaurant offers a menu full of traditional New Mexican flavors and contemporary cuisine. From breakfast burritos to green chile cheeseburgers, there's something for every craving here.
And don't forget about the daily specials, which include dishes like stuffed sopapillas and grilled salmon. Vegetarian options are also available, making this a great place for groups with varying dietary restrictions.
Pools
While this casino has a lot to offer, unfortunately, there are no on-site swimming pools to dip into. However, don't let that discourage you from enjoying your stay. There are other fun activities to indulge in, like exploring the stunning natural scenery that New Mexico has to offer.
You can try hiking through scenic trails or venture out on a road trip to experience the unique attractions of the area. And when you return to the casino, there's always the option of trying your luck at the many gaming machines available.
Black Mesa Casino, Algodones, NM FAQ
Does Black Mesa Casino Have A Sportsbook?
No, they do not currently offer a sportsbook. However, they offer various gaming machines and slots for guests to enjoy. Plus, there are plenty of great dining options and nearby attractions that make the casino an ideal destination for anyone looking to have some fun.
Is Poker Available At Black Mesa?
No, they do not offer poker at this time. Instead, they offer various slot machines and other gaming options to keep guests entertained. Additionally, the casino has an on-site restaurant and is located near some great attractions in New Mexico that are worth checking out.
What Are The Age Requirements For Gambling At Black Mesa Casino?
The age requirement for gambling in this casino is 21 years old. Guests must present a valid ID upon entry to access the gaming areas. Minors are allowed on the premises accompanied by an adult but will not be permitted in any of the casino's gaming sections.
Does Black Mesa Have An Online Casino?
No, there is no online casino associated with this casino. However, many other casinos in New Mexico offer gaming options through their websites. Additionally, there are various games available to play for free on various online platforms.
Is There An Black Mesa Casino App?
No, they do not currently have an app. However, they do offer a mobile-friendly website that allows guests to access gaming options and other information about the casino on their phones or tablet.
What Is The Dress Code At Black Mesa?
The dress code at the casino is casual. Guests must wear appropriate attire and shoes, such as t-shirts, jeans, shorts, and closed-toed shoes. However, clothing with profane language or offensive graphics is not allowed.
Is There An Airport Shuttle Available From Black Mesa Casino?
No, there is no airport shuttle available from the casino. However, taxis and ride-share services are available in the area for those who need transportation to or from the casino. Additionally, guests can rent a car or book a private driver for their stay.
What Is The Smoking Policy At Black Mesa?
The casino has a strict no-smoking policy. Guests are not allowed to smoke in any of the areas of the building, including gaming floors and dining areas. The casino does offer designated outdoor smoking areas for guests who wish to smoke during their visit.
What Is The Pet Policy At Black Mesa Casino?
Unfortunately, pets are not allowed in the casino. However, service animals are welcome and must meet all local requirements for entry. Guests who wish to bring a pet with them can check out nearby pet-friendly hotels or stay at home with their furry friends.
Is Wifi Available At Black Mesa?
Unfortunately, the casino does not have wifi available for guests at this time. However, there are plenty of nearby cafes and restaurants that offer free public wifi for those who need to stay connected while they visit.
What Is The Cancellation Policy For Black Mesa Casino?
They do not have a hotel on their premises, so there is no cancellation policy for bookings. However, guests should check with the individual hotels or rental companies to determine their policies.
Conclusion
This casino is the best destination for anyone in New Mexico looking for fun and entertainment. They offer a variety of gaming machines and slots, plus there are plenty of nearby attractions and great dining options to explore.
Make sure to remember all their policies so that you can have a safe and enjoyable experience while visiting Black Mesa Casino. With these things in mind, you can make the most of your visit to this great New Mexico destination.