Buffalo Thunder Casino & Resort Santa Fe
Address: 30 Buffalo Thunder Trail, Santa Fe, NM 87506
Phone Number: +1 505-455-5555
Website: www.hiltonbuffalothunder.com
Hours: Buffalo Thunder Casino & Resort is open Monday 8 am – 2 am, Tuesday 8 am – 2 am, Wednesday 8 am – 2 am, Thursday 8 am – 2 am, Friday 8 am – 4 am, Saturday 8 am – 4 am, Sunday 8 am – 2 am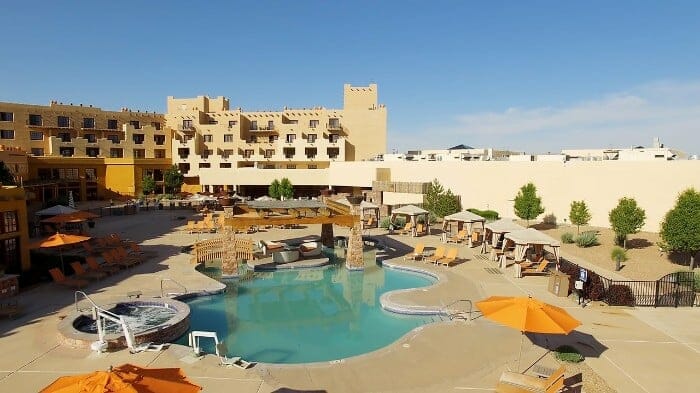 Buffalo Thunder Casino & Resort has been in operation since 2008. It is owned and operated by the Pueblo of Pojoaque, a Native American tribe in New Mexico. Since its opening, the casino has been one of the premier gaming and entertainment destinations in the Southwest.
With over 1,200 slot machines, ranging from penny slots to high-limit games, and multiple table games, the casino offers something for everyone. The resort also features an onsite sportsbook where guests can place bets on their favorite sports teams.
In addition to gaming, the resort offers several amenities, such as luxurious suites and guest rooms, indoor and outdoor pools, a spa and salon, several bars and restaurants, and live entertainment.
The resort also hosts several events yearly, ranging from live music to comedy shows. It also features several educational and cultural activities. The Pueblo of Pojoaque is dedicated to preserving its culture and continuing its legacy through this amazing resort.
With its unique combination of gaming and cultural activities, this casino resort is one of the premier destinations in New Mexico. Whether you're looking for a great night out or an exciting new experience, this casino has something to offer everyone.
On several review sites, this casino resort has an overall rating of 4.5 stars out of 5. One guest said, "The casino has a great selection of slots, table games and live entertainment. The staff was friendly and helpful. The rooms were clean and spacious."
Another guest said, "This is an outstanding resort. The casino was well-maintained, and the staff was knowledgeable and friendly. We had a wonderful stay!"
(Related reading: New Mexico casinos)
Gaming
Their gaming space features 1,200 slot machines and table games offering blackjack, roulette, craps, and more.
Table Games
This casino resort in New Mexico has something for everyone regarding table games. Whether you're a fan of classic card games or high-stakes poker, they've got you covered. Test your luck with roulette wheels, craps, blackjack and more.
Get an adrenaline rush with No Limit Holdem, Omaha Poker, Pot Limit Hold 'Em and various poker games like Ultimate Texas Hold'em, Ultimate Texas Hold'em Progressive and Three Card Poker.
The minimums for table games at this casino vary depending on the game. However, generally speaking, the minimums for their table games range from $5-$25, while poker maxes out at $100. They also offer special high-limit tables with higher betting limits.
Slots
At this casino resort, their slot machine selection is second to none. With over 1,200 slots ranging from penny slots to high-limit games, there's something for everyone. Here are some of the most popular slot machines at this resort:
Lucky Ducks
Lobstermania
Tabasco
Wheel of Fortune
Lobstermania 2
Cash Wizard
This casino does not release its individual slot machine payback percentages, but the New Mexico Gaming Control Board does report that all gaming machines in the state are set to a minimum of 80% RTP.
Hotel/Resort
On top of gaming, this casino resort offers luxury suites and guest rooms equipped with top-of-the-line amenities. Each of their rooms includes complimentary Wi-Fi and breakfast, a flat-screen TV, and premium bedding.
Some of their room types include:
One King Bed – features one king bed and a patio or a balcony
Two Queen Beds – features two queen beds and a patio or a balcony
Enchantment Suite – features one king bed, fireplaces, a living area, a soaking tub and a large deck with mountain views
Junior Suite – features one king bed, a sitting space and a large bathroom
Governor's Suite – features a 2,000-square-foot space with two bedrooms, sitting spaces, a bar area, a dining area, a loft and a soaking tub
On top of luxury accommodations, the casino resort also offers a variety of amenities. These include:
Highspeed wifi access
24-hour front desk
Concierge services
24-hour business center
Onsite restaurants
Nightlife and live entertainment
Spa and fitness center
Pool and hot tubs
Business center with meeting rooms
Banquet facilities
Golf course
Laundry facilities
The prices for the hotel rooms at this resort vary depending on the time of year, type of room and availability. Prices typically start from around $1097 per night, excluding taxes and fees.
Special discounted rates may be available for those who are members of their rewards program or have a valid coupon code.
Check-in time at Buffalo Thunder is 4:00 pm
Check-out time at Buffalo Thunder is 12:00 pm
Restaurants & Buffets
Although they currently do not offer any buffet-style restaurants or buffets, they do have four onsite restaurants offering fine dining and casual eats. If you're looking for delicious dishes and drinks while staying at this casino resort in New Mexico, you won't be disappointed.
The Red Sage Restaurant & Bar has an atmosphere like no other, blending traditional Southwestern cuisine with a twist of upscale flavor. For something lighter, check out the Iguana Café or stop by the Turquoise Trail Bar & Grill to satisfy your deeper cravings.
And don't forget to visit The Pueblo Deli for authentic local and American classics. Whether you're in the mood for breakfast, lunch or dinner, these restaurants will surely please.
Pools
This casino resort has two pools that everyone can take advantage of in Santa Fe. Soak up the sun in one of the outdoor pools or relax in one of the indoor pools.
Whether you're looking to swim a few laps under the sky or lounge around with a good book, these pools give you plenty of options no matter what time of year it is. Staff and pool attendants are always available to ensure your safety and answer any questions you may have.
Nowhere else can party-goers, sunbathers, and swimmers all come together to enjoy their ideal outdoor escape—make sure to visit this casino resort for a leisurely swimming experience.
Buffalo Thunder Casino & Resort, Santa Fe, NM FAQ
Does Buffalo Thunder Casino & Resort Have A Sportsbook?
If you're looking for a great place to try your hand at sports betting, this casino hotel has your back. With their Thunder Racebook & Sportsbook venue located on the second floor of their casino, you'll have access to the best betting lines and wagers no matter when you decide to visit.
At Thunder Racebook & Sportsbook, you can bet on everything from football to basketball – not only local leagues in New Mexico but national leagues too.
With the potential of big payouts and the great atmosphere of watching your favorite teams while enjoying food and drinks, it's the perfect place to make an exciting night out of sports betting.
Is Poker Available At Buffalo Thunder?
Yes, this casino hotel features multiple poker tables with many games. Whether you're a casual player or a seasoned pro, you'll be able to find the perfect game for your skill level at this casino resort.
What Are The Age Requirements For Gambling At Buffalo Thunder Casino & Resort?
The minimum age requirement for gambling at this casino resort is 21 years of age. Identification must be provided upon request to verify your age before any gambling can occur. Additionally, all individuals under 18 must be supervised by an adult at all times while in the casino or resort.
Does Buffalo Thunder Have An Online Casino?
No, this casino resort does not have any online casino games. All gambling activities must be done in person at their physical location. With so many exciting games and activities available in their casino, you won't want to miss out on the thrilling experience.
Is There An Buffalo Thunder Casino & Resort App?
No, this casino resort does not have an app available for download. However, you can visit their website for more information about the casino and its offerings. Additionally, you can follow them on their social media channels for the latest updates and promotions.
What Is The Dress Code At Buffalo Thunder?
The dress code at this casino resort is casual. Shorts, jeans, t-shirts and swimwear are all allowed. However, all clothing must remain appropriate for the public setting of a casino. They also ask that no offensive or inappropriate clothing be worn while on their premises.
Is There An Airport Shuttle Available From Buffalo Thunder Casino & Resort?
Unfortunately, you may need to arrange other transportation as this casino resort does not offer an airport shuttle.
There are several transportation services located near the casino that you can use to get to and from the airport. Additionally, if you've driven yourself, there is plenty of parking available at the casino resort.
What Is The Smoking Policy At Buffalo Thunder?
This casino resort is non-smoking, but there are designated outdoor areas where you can smoke. Smoking is only allowed outdoors and away from any entrances or exits of the building. Additionally, all smoking materials must be disposed of properly in designated receptacles.
What Is The Pet Policy At Buffalo Thunder Casino & Resort?
If you are planning a trip to this casino resort in New Mexico and would like to bring your beloved pet with you, you will be happy to know that the hotel runs a friendly pet policy.
The resort welcomes dogs up to 70 pounds. There is, however, an additional $75 non-refundable fee that guests need to pay upon arrival. For more information about the pet policy, you can call the hotel directly.
Is Wifi Available At Buffalo Thunder?
Yes, the casino resort offers complimentary Wi-Fi to all guests. Whether you're here for a few hours or an entire weekend, you can stay connected with family and friends at home during your visit.
What Is The Cancellation Policy For Buffalo Thunder Casino & Resort?
Guests can cancel their reservation up to 24 hours before arrival without being charged a cancellation fee. Reservations canceled within 24 hours of check-in will be charged the first night's room and tax fees. For more information, you can contact the hotel directly.
Conclusion
This casino resort is the perfect place for a fun-filled casino getaway. With so many exciting games and activities available, there is something for everyone here. From slot machines to table games, the casino offers a wide range of gaming opportunities.
So, if you want to take a break from everyday life and experience some Vegas-style fun in New Mexico, don't miss out on your chance to visit Buffalo Thunder Casino & Resort.