Cities of Gold Casino Hotel Santa Fe
Address: 10 Cities of Gold Rd Santa Fe, NM 87506
Phone Number: 505-455-0515
Website: www.citiesofgold.com
Hours: Cities of Gold Casino Hotel is open Monday 10:00 AM – 11:00 PM, Tuesday 10:00 AM – 11:00 PM, Wednesday 10:00 AM – 11:00 PM, Thursday 10:00 AM – 11:00 PM, Friday 10:00 AM – 11:00 PM, Saturday 10:00 AM – 11:00 PM, Sunday 10:00 AM – 12:00 AM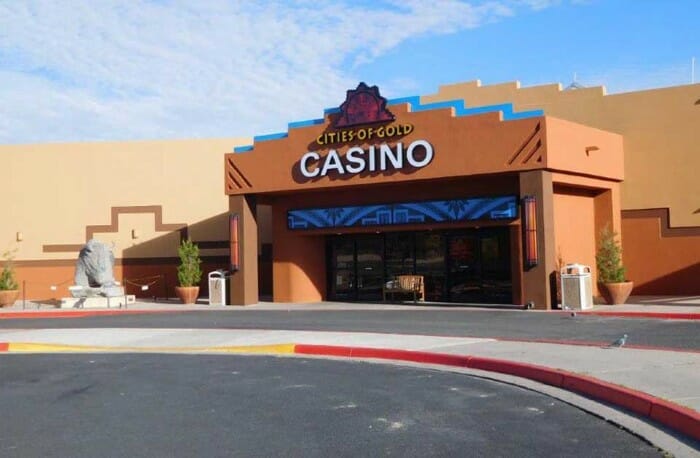 Cities of Gold Casino Hotel is located in the beautiful city of Santa Fe and has been providing gaming entertainment to its guests since opening in 1998. The casino was built on the ancient Native American Pueblo land and pays homage to the area's rich history of cultural diversity.
The property offers a variety of gaming options, including slots, video poker and keno. They also have a Players Club where guests can earn rewards for playing. Their hotel offers comfortable rooms with modern amenities, and their on-site restaurant serves delicious local cuisine.
In addition to gaming, this casino hotel offers numerous entertainment options, such as live music, bowling and more. The casino has also become a popular destination for all travelers looking for a fun and memorable experience in Santa Fe.
Whether you're a first-time visitor or an experienced gambler, this casino promises a gaming experience like no other. Discover why it's the best place in Santa Fe for gaming and entertainment.
This casino has been rated with a 4.5-star rating by its guests on TripAdvisor and is one of the highest-rated casinos in Santa Fe. One guest said, "The staff is friendly, and the casino is very clean. I had a great time playing the slots and the video poker."
Another guest said, "I was pleasantly surprised by Cities of Gold Casino Hotel. The rooms were nice, the service was excellent, and it was a great experience. I would recommend it. I had a really good time."
(Related reading: New Mexico casinos)
Gaming
Their gaming floor houses over 500 slot machines with the latest games, including 3D and progressive slots. They also offer video poker and keno machines that will keep you entertained for hours.
Table Games
For anyone looking for the fun and excitement of table games, this casino in New Mexico is not the best destination. While it offers plenty of entertainment with its slot machines, the casino, unfortunately, does not include any table games like blackjack, poker or roulette.
If you're looking to test your luck on the felt or spin a roulette wheel while in New Mexico, there are other casinos located around the state that offer exciting table gaming options.
Slots
This casino has numerous popular slot games to choose from. From classic coin slot machines to dollar coin games and even brand-new penny slot machines, you're sure to find something that fits your budget and playing style.
There is something for everyone's tastes at this casino. The friendly staff is always happy to answer any questions you may have and help guide you in the right direction when it comes to choosing a game.
Unfortunately, this casino does not provide information on its slot machine payback percentage. However, most casinos in New Mexico generally have a state-mandated minimum payback percentage of 80%.
So, you can be sure that your chances of winning are fair when playing slot machines at this casino.
Hotel/Resort
Their hotel has brand-new guest rooms and suites that offer all the modern amenities you need to feel at home. From cozy beds and high-speed Wi-Fi to flat-screen TVs and mini-refrigerators, each room provides a comfortable stay for travelers visiting Santa Fe.
Room types include:
One King Bed – features one king bed
Two Full Beds – features two queen beds
Additionally, their resort offers a range of amenities such as:
Wifi access
24-hour front desk
Laundry facilities
A bowling alley
Daily housekeeping
A lounge
Business center
Large meeting space
Live entertainment
Onsite dining option
The nightly rate for their hotel rooms starts at $99. But the price can vary depending on the season and room type. You can book your room by visiting their website or calling them directly.
Check-in time at Cities of Gold is 3:00 pm
Check-out time at Cities of Gold is 12:00 pm
Restaurants & Buffets
Although they do not have a buffet, the restaurant at this casino offers a variety of delicious dishes for you to sample.
Barranca Café draws its inspiration from traditional Southwestern recipes, dishing up plates piled high with an assortment of favorites like tacos, enchiladas, flautas and huevos rancheros.
The café also offers beefsteak and tempts customers with its signature guacamole bacon burger smothered in all your favorite toppings. No matter your craving, Barranca Café has something sure to delight.
Pools
For those looking for a great short-stay getaway or perhaps just a weekend of relaxation, this casino hotel is the perfect option. This beautiful hotel in New Mexico offers stunning views, great hospitality, and awesome food.
But unfortunately, it doesn't have pools to enjoy on hot summer days. Still, if you're looking for an exciting night at the casino combined with all the comforts of a five-star hotel, this casino hotel is just what you need.
Cities of Gold Casino Hotel, Santa Fe, NM FAQ
Do Cities of Gold Casino Hotel Have A Sportsbook?
Unfortunately, this casino does not have a sportsbook at this time. However, guests can still enjoy all the same games and activities in the casino. Additionally, there are several sportsbooks and race books located around the state.
Is Poker Available At Cities of Gold Casino?
This casino in Santa Fe offers video poker as part of its gaming selection. Visitors will find a variety of popular machines with exciting chances to win large jackpots.
Whether you're new to the game or an experienced player, the friendly staff are happy to help and answer any questions you may have about the machines.
What Are The Age Requirements For Gambling At the Cities of Gold Casino Hotel?
Gambling at this casino is restricted to guests 21 years or older. All guests must present a valid ID upon entry and show proof of age when requested. This is state law, so please be prepared when visiting the casino.
Do Cities of Gold Have An Online Casino?
No, this casino does not have an online casino. However, you can enjoy the same games and activities in person at the physical location in Santa Fe. With a wide selection of slots, table games and more, there's sure to be something for everyone.
Is There An Cities of Gold Casino Hotel App?
No, there is no app available for this casino. However, you can visit the website for information on promotions, events and more. You can also keep up to date with the latest news and announcements via their Facebook, Twitter and Instagram accounts.
What Is The Dress Code At Cities of Gold Casino?
The dress code at this casino is smart casual. Visitors should avoid wearing shorts, sandals, or sleeveless shirts. As with any gaming establishment, visitors should also be aware of their behavior and conduct as it may affect their entry to the casino.
Is An Airport Shuttle Available From Cities of Gold?
No, there is no shuttle service available from this casino. However, guests can easily book a taxi or ride share to the hotel from the airport. Other transportation options include private car hire and public buses.
What Is The Smoking Policy At Cities of Gold Casino Hotel?
The casino allows smoking in designated areas only. All guests must adhere to the smoke-free policy, as well as any other rules and regulations set forth by the hotel. Please be aware that there may be additional fees for smoking in certain restricted areas.
What Is The Pet Policy At Cities of Gold Casino?
Pets are not allowed at this casino hotel, except for service animals. Guests with service animals must notify the hotel prior to their arrival to ensure accommodations are available. Please be aware that all pets, regardless of breed or size, are not allowed at this hotel.
Is Wifi Available At Cities of Gold?
Yes, wifi is available at the hotel. Guests can access complimentary wifi throughout their stay at the casino. This service allows visitors to catch up on emails, browse online and stay connected with friends and family back home.
What Is The Cancellation Policy For Cities of Gold Casino Hotel?
Guests can cancel up to 24 hours before their stay without any fees. Cancellations made after this time will incur a fee, so please be sure to read the terms and conditions of your reservation carefully before making any changes or canceling.
Conclusion
Cities of Gold Casino in Santa Fe is a great place to visit for anyone looking for an exciting gaming experience. With a wide selection of slots and table games, sportsbooks and race books, video poker and more, there is something for everyone at this casino.
Guests should be aware of the age requirements, dress code, smoking policy, pet policy and cancellation policy prior to their visit. The hotel also offers complimentary wifi so that visitors can stay connected.
With its convenient location, friendly staff and wide range of gaming options, this casino is the perfect destination for a fun-filled day or night gaming!