Dancing Eagle Casino Paraje
Address: Exit 108, 167 Casa Blanca Rd I-40, Paraje, NM 87007
Phone Number: +1 505-552-7777
Website: www.dancingeaglecasino.com
Hours: Dancing Eagle Casino is open Monday 9 am–2 am, Tuesday 9 am–2 am, Wednesday 9 am–2 am, Thursday 9 am–2 am, Friday 9 am–2 am, Saturday 9 am–2 am, Sunday 9 am–2 am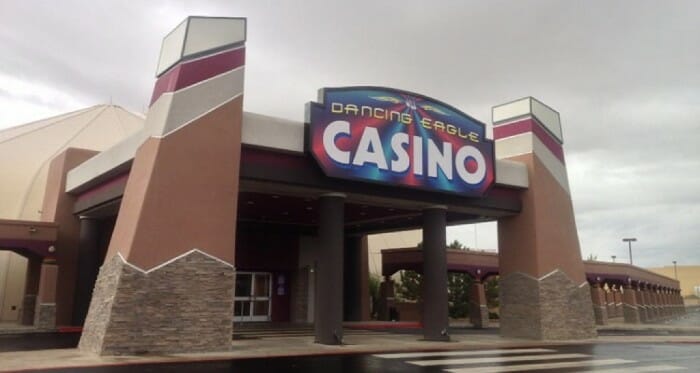 Dancing Eagle Casino was opened in 2000 by the Laguna Development Corporation, a tribally-owned enterprise of the nearby Laguna Pueblo. The casino is located on the I-40 on Exit 108, just outside of Paraje and features a variety of gaming options and entertainment.
The casino floor contains slot machines, video poker machines, video keno, and a state-of-the-art bingo hall. There's also an onsite restaurant called The Great American Diner that offers classic American cuisine and is open for breakfast, lunch, and dinner.
The casino also offers a variety of promotions, ranging from weekly and monthly drawings to special events. The casino also hosts regular poker tournaments, live music performances, bingo games, and other exciting events throughout the year.
The property also has an onsite RV park, full hookups, and a laundry facility. Moreover, they also have a grocery store and gas station, making it a great stopover when traveling through the area.
The casino is dedicated to providing guests with an enjoyable gaming experience and excellent customer service. They are committed to giving back to the local community and are proud supporters of various local organizations.
So if you're in the area, come on out to this casino and take part in their exciting gaming action. You can play your favorite games while enjoying delicious food and drinks at The Great American Diner.
On most major review sites, this casino has been rated with a 4-star average. One guest said, "The staff was amiable, and the casino floor was packed with slots. I had a great time, and I'll be back!"
Another commented, "The atmosphere was festive, and the games were exciting. Everything was in great condition, and it was an enjoyable place to go to have a good time. "
(Related reading: New Mexico casinos)
Gaming
Their casino floor houses over 600 slot machines, video poker and keno games. There is also a bingo hall with state-of-the-art equipment that offers regular games throughout the week.
Table Games
Are you looking for the chance to play some table games? This casino in New Mexico, unfortunately, doesn't offer that option. However, they do have hundreds of the latest slot machine titles available.
Whether you're looking for a classic 3-reel game or the ability to win massive jackpots with video slots, they've got something to fit your needs. Plus, plenty of new machines are added frequently, meaning there's always something exciting at this casino.
Slots
Are you looking for exciting slot machine action in this casino? If so, you'll want to learn about the popular machines that players love. Colossal Wizards may be the most popular game, with its five reels and 19 pay lines.
When you feel like going on a fun adventure, check out Li'l Red – it has five reels and 40 pay lines, plus a bonus feature. For an ancient Roman-themed experience, try Spartacus Gladiator of Rome – it has 100 pay lines for epic wins.
Forbidden Dragons offer cascading reels for extra chances of big prizes, while Queen of the Wild II is perfect if you're a fan of wild symbols. Finally, Lazer Lock Ice Sapphire is one of the latest installments in the casino lineup – it features up to 50 free spins and sticky wilds.
Unfortunately, this casino doesn't publicly report its slot machine payback percentages. However, New Mexico allows a minimum of 80% return on all slots and video poker machines. So you can count on the fact that this casino offers competitive returns.
Hotel/Resort
This casino in New Mexico offers a world-class gaming experience. Although there is no onsite hotel, guests can take advantage of surrounding lodgings like the Sky City Casino Hotel Acoma, Cities of Gold Hotel, Isleta Resort & Casino, and Ohkay Hotel Casino.
All are within close proximity to the casino and offer incredible amenities for their guests to enjoy. Whether you are looking to stay in a luxury suite or need a comfortable place to crash after an exciting night at the slots or tables, each hotel has something special.
Restaurants & Buffets
Even though they currently do not have a buffet, this casino offers a variety of delicious food and drinks. For a tasty experience in the heart of this casino, visitors have two excellent options: The Great American Diner and Café 108.
The Great American Diner offers home-style comfort meals with classic sides to fit any appetite and budget. If you're looking for creative flavors from around the world, try out Café 108.
With different global cuisines represented on the menu and live music every weekend, Café 108 is a great place to enjoy an amazing meal while being entertained by talented musicians.
Whether you're visiting their casino or nearby attractions, make sure not to miss out on these two fantastic restaurants in this casino.
Pools
Unfortunately, if pools are what you're after, this place won't be the right casino for you – they don't feature any pool areas or swimming facilities. But if you don't mind skipping a dip in the water, there's much to love about this casino.
From hundreds of slot machines to two delicious restaurants and even a bingo hall – you won't be disappointed. Additionally, you'll find the gaming atmosphere vibrant and friendly, with plenty of promotional events being held throughout the week.
Dancing Eagle Casino, Paraje, NM FAQ
Does Dancing Eagle Casino Have A Sportsbook?
Unfortunately, this casino does not have a sportsbook, so sports betting is unavailable now. However, you can still enjoy the wide selection of slots, table games and other activities. Also, there are plenty of other nearby casinos with sportsbooks for your betting convenience.
Is Poker Available At Dancing Eagle?
Although the casino does not offer traditional table poker, you can get your fix on the popular game by playing video poker. Video poker allows players to put their strategy and skill to the test for a chance to win some big hands.
If you are looking for a fun new experience at the casino, then why not try out some video poker? It can provide plenty of entertainment and thrills no matter how experienced you are.
What Are The Age Requirements For Gambling At Dancing Eagle Casino?
The minimum age to gamble at this casino is 21. You must provide valid identification before being allowed to enter the casino and start playing. So make sure you have your ID with you when you arrive.
Does Dancing Eagle Have An Online Casino?
No, this casino does not offer an online version of the gaming experience. However, there are several other casinos in New Mexico with online platforms that can provide you with the same exciting action from the comfort of your own home.
Is There An Dancing Eagle Casino App?
No, this casino does not have a dedicated mobile app at the moment. However, you can always check out their website or social media platforms for updates on promotions and events. Plus, they will often post any new games or services that become available.
What Is The Dress Code At Dancing Eagle?
The dress code at this casino is casual, so comfortable clothing with sensible footwear is always recommended. Remember that tank tops and swimwear are not allowed, so dress accordingly if you plan a night out at the casino.
Is There An Airport Shuttle Available From Dancing Eagle Casino?
Unfortunately, there is no airport shuttle service available from this casino. The closest airports are Albuquerque and Santa Fe, about 90 minutes away.
You can always take a taxi or rent a car for the journey. Several ridesharing services in the area can take you to and from the casino, so check them out.
What Is The Smoking Policy At Dancing Eagle?
Smoking is only permitted in designated smoking areas inside the casino. All other areas are non-smoking, so ensure you abide by this regulation when visiting the casino. Additionally, vaping is also not allowed on the premises.
What Is The Pet Policy At Dancing Eagle Casino?
Unfortunately, pets are not allowed inside the casino. However, service animals can be brought in as long as they are properly identified. The casino also has a kennel on-site where you can board your pet while you enjoy the games.
Is Wifi Available At Dancing Eagle?
Yes, free wifi is available throughout the property. So you can stay connected while exploring all that this casino has to offer. Plus, you can also use the complimentary wifi for streaming and browsing on your favorite devices.
What Is The Cancellation Policy For Dancing Eagle Casino?
There is no need to reserve a table at the casino. However, if you booked for an event or special night, you can contact the casino in advance to cancel your reservation and receive a refund.
Additionally, you may find additional information regarding the cancellation policy on their website.
Conclusion
Dancing Eagle Casino is a great spot for those who love to gamble. With plenty of games, entertainment, and activities available, you can always expect an exciting time when visiting this casino.
Plus, with multiple restaurants and lounges, there is something for everyone at this casino.
So if you're looking for a fun night out, check out this casino!