Fire Rock Navajo Casino Church Rock
Address: 249 U.S. Rt. 66, Church Rock, NM 87311
Phone Number: +1 505-905-7100
Website: www.firerockcasino.com
Hours: Fire Rock Navajo Casino is open Monday 8 am–4 am, Tuesday 8 am–4 am, Wednesday 8 am–4 am, Thursday 8 am–12 am, Friday Open 24 hours, Saturday Open 24 hours, Sunday 8 am–4 am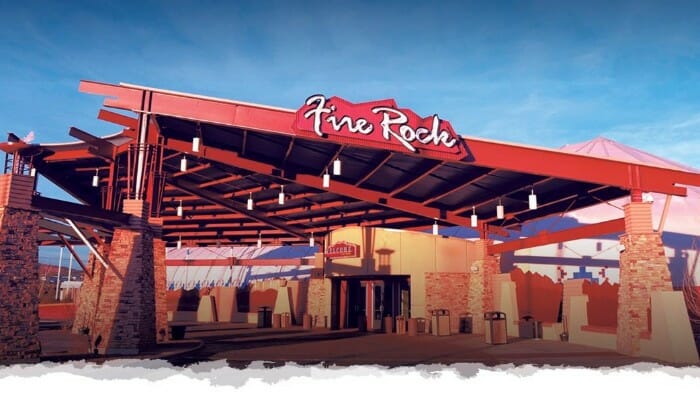 Fire Rock Navajo Casino was established in 2008 to provide entertainment and gaming services to the local community. It is owned and operated by the Navajo Nation Gaming Enterprise, an economic development agency of the Navajo Nation.
The casino offers a wide range of live table games, more than 1,000 slot machines, bingo and keno games. The casino serves as an important economic driver for the local community, providing employment opportunities and revenue for the Navajo Nation.
The casino houses one restaurant and a food court where patrons can find various dining options. Additionally, the casino offers live entertainment and special events throughout the year, including concerts and comedy shows.
It is also conveniently located nearby several Navajo attractions, including the Nation Museum, Grand Falls and Canyon de Chelly National Monument. The casino is also dedicated to preserving the cultural heritage of the region and strives to be a positive economic force in the area.
This casino offers guests a great place to unwind and enjoy an exciting evening of gaming and entertainment. Whether you are looking for a fun night or want to try your luck at the slots, this is the perfect destination for a memorable experience.
On popular review sites like Google, Yelp, and TripAdvisor, this casino has received an overall 4-star rating from guests. One guest mentioned, "The atmosphere was great, staff and dealers friendly and helpful, and it was a nice little spot for a night of gambling."
Another guest said, "A great casino that offers a variety of different games, plus the food court has some excellent options. The staff is very friendly and helpful."
(Related reading: New Mexico casinos)
Gaming
Their gaming floor features table games, including blackjack, craps and roulette. They also have a wide array of slot machines and video poker machines.
Table Games
This casino offers an exciting array of table games that provide hours of entertainment. Whether you're a fan of classic card games like blackjack and Spanish 21, or you're looking for something with more excitement, like craps or roulette, they have it all.
Experienced dealers and pit staff help ensure your gaming experience is the best; they will explain rules to inexperienced players and advise the more experienced ones.
The minimums for table games vary depending on the game. Generally, the minimum bet is between $5 and $20.
Slots
This casino in New Mexico has an incredible variety of popular slot machines from which to choose. From classic 3-reel favorites and exciting 5-reel video games to thrilling progressive jackpots, there's something for everyone here. Some of their most popular machines are:
Colossal Wizards
Spartacus Gladiator of Rome
Queen of the Wild II
Forbidden Dragons
Lazer Lock Ice Sapphire
Li'l Red
Unfortunately, due to local laws, this casino does not publicly disclose its slot machine payback percentage.
However, the Gaming Control Board of New Mexico requires that all casinos in the state have an average minimum payback percentage of around 80%, so you can rest assured knowing that you are getting fair gaming at this casino.
Hotel/Resort
Although there is no hotel on site, visitors can stay at any one of several nearby hotels, including the Fairfield Inn & Suites by Marriott Gallup, Comfort Suites Gallup East Route 66 and I-40, La Quinta Inn & Suites by Wyndham Gallup, and Holiday Inn Express & Suites Gallup East.
All provide comfortable accommodations that satisfy the needs of every discerning traveler. With quality amenities and excellent customer service, you will surely enjoy your stay no matter which hotel you choose.
Restaurants & Buffets
Even though this casino does not have a buffet, it does have two dining options offering a wide range of tasty and healthy options. If you're looking to take a break from gaming and have a meal, Cheii's Restaurant is the perfect spot.
Offering classic American dishes with bold flavors, traditional Navajo cuisine, and even vegan options, there is something on the menu for everyone. The decadent desserts will leave you wanting more, so don't forget to save room for those.
If you're short on time or just not feeling up to an upscale experience, the Food Court includes delicious snacks, sandwiches and hot foods that are easy to grab and go. No matter what your gustatory desires are, this casino has got it covered.
Pools
For those looking to take a dip on their next visit to this casino, unfortunately, there are no pools available.
However, the area offers plenty of other recreational activities that can be enjoyed, like visiting the nearby Monument Valley on a scenic tour or relaxing amidst the beauty of hiking trails surrounding Shiprock peak.
The casino itself has plenty of entertainment at its slot machines and tables, or you can spend some time enjoying local cuisine at the Fire Rock Navajo Casino Café. And, of course, don't forget to purchase souvenirs from the gift shop!
Fire Rock Navajo Casino, Church Rock, NM FAQ
Does Fire Rock Navajo Casino Have A Sportsbook?
Unfortunately, this casino does not currently offer a sportsbook or betting services. However, guests can still enjoy the other gaming and entertainment options available at this casino. Additionally, several nearby casinos may offer sports betting services.
Is Poker Available At Fire Rock Navajo?
Yes, this casino offers poker games such as Fortune Pai Gow, Let It Ride, Limit Holdem and more. There is typically a minimum buy-in for each game, and some may have an ante requirement. The table limits vary by game, so check with the dealers before playing.
Additionally, there are often tournaments available on certain days, so be sure to check the schedule when visiting.
What Are The Age Requirements For Gambling At Fire Rock Navajo Casino?
The legal gambling age in New Mexico is 21. All guests must present a valid ID to prove they are of the required age to gamble at this casino. Additionally, minors may not be allowed to enter certain casino areas, so please check with management before bringing minors.
Does Fire Rock Navajo Have An Online Casino?
Unfortunately, this casino does not have an online casino, but many other local casinos offer exciting gaming on the internet. Additionally, guests can enjoy plenty of chances to win at this casino with their wide range of slot machines and table games.
Is There An Fire Rock Navajo Casino App?
No, this casino does not have an app at the moment. However, guests can stay informed on upcoming events and promotions by following the casino's social media channels or visiting their website.
What Is The Dress Code At Fire Rock Navajo Casino?
The dress code at this casino is business casual. Guests should avoid wearing clothing with offensive language or images and may be asked to leave if their attire does not meet the standards of the casino.
Is There An Airport Shuttle Available From Fire Rock Navajo?
No, there is no airport shuttle available from this casino. Guests can take advantage of several other transportation options, such as local taxi services or private shuttles. Additionally, there are often rental car services available near the airport or downtown Church Rock.
What Is The Smoking Policy At Fire Rock Navajo Casino?
This casino has a designated smoking area for guests who wish to smoke while gambling. All other areas of the casino are non-smoking, and there is no smoking allowed inside the restaurant or gift shop.
What Is The Pet Policy At Fire Rock Navajo?
Unfortunately, this casino does not allow pets in public areas. Guests may bring service animals, but all other animals must remain outside the premises. If guests plan on bringing a service animal, the casino asks that they notify the staff in advance.
Is Wifi Available At Fire Rock Navajo Casino?
Unfortunately, this casino does not currently offer wifi services. However, guests can often access the internet through their own devices, such as smartphones or laptops. Additionally, there are several public wifi hot spots available nearby for guests to use.
What Is The Cancellation Policy For Fire Rock Navajo?
Visitors do not need to cancel their reservations, as this casino does not require bookings or deposits.
However, it is always a good idea to contact the staff before visiting to ensure they can accommodate your group. Additionally, some forms of payment may have their own cancellation policies that guests should check before making a purchase.
And if you have booked a live event, please contact the event organizer for more information on their cancellation policies. Please note that some events may have non-refundable tickets even if the event is canceled.
Conclusion
Fire Rock Navajo Casino offers visitors a wide variety of gaming options, including slot machines and table games.
The legal gambling age is 21, and all guests must present a valid ID to prove they are of the appropriate age. Additionally, tournaments are often available on certain days, so check the schedule when visiting.
Overall, this casino is a great destination for those looking to enjoy gaming and entertainment in Church Rock, New Mexico. With its convenient location, ample gaming options, and friendly staff, this casino will surely provide a memorable experience for all its visitors.