Flowing Water Navajo Casino Shiprock
Address: 2710 US-64, Shiprock, NM 87420
Phone Number: +1 505-368-2300
Website: www.flowingwatercasino.com
Hours: Flowing Water Navajo Casino is open Monday 10 am–1 am, Tuesday 10 am–1 am, Wednesday 10 am–1 am, Thursday 10 am–1 am, Friday 10 am–3 am, Saturday 10 am–3 am, Sunday 10 am–1 am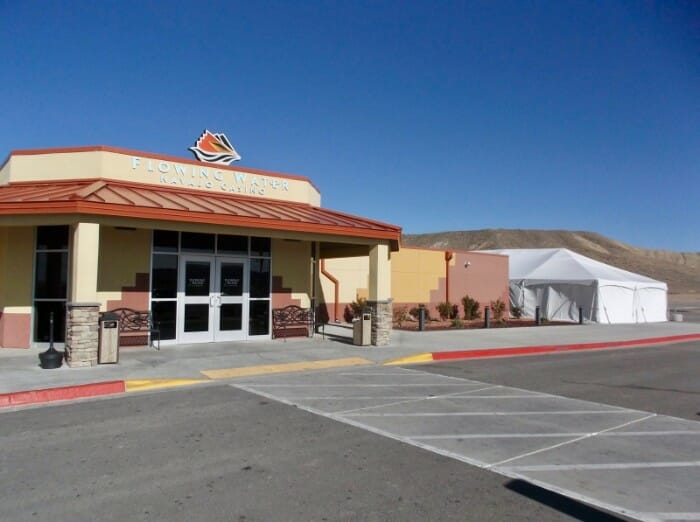 Flowing Water Navajo Casino is located in the Navajo Nation in Shiprock, New Mexico. It opened its doors in 2010 and has since become one of the most popular casinos in the area. The property showcases the area's traditional art and architecture and is owned by the Navajo Nation.
It offers its guests a hundred slot machines, video poker, video keno and more. It also features a full-service cafe that serves a variety of classic American and local favorites. They also offer live music and entertainment on their outdoor stage.
The casino's location is also surrounded by many of the area's cultural attractions and activities, including Canyon De Chelly, Navajo Dam, Petrified Forest National Park and more. The casino also supports local charities and organizations to promote economic development.
The establishment is committed to providing its guests with a unique and entertaining casino experience. From the traditional art throughout the property to the exceptional customer service, they are sure to provide their guests with an unforgettable experience.
Most guests rate this casino on popular review sites with a four or five-star rating. One customer said, "I was surprised at how beautiful the casino looked. It's not like your typical Las Vegas-style casino, but it had a lot of character and charm."
Another customer said, "The staff was friendly and helpful. The atmosphere was comfortable and inviting, and the machines had a good pay-out rate."
(Related reading: New Mexico casinos)
Gaming
Their casino floor offers a hundred gaming machines, from classic slots to video poker and keno. There's also live entertainment hosted on the outdoor stage.
Table Games
If you're looking for the best table games in New Mexico, this casino is not the place to go. While they offer numerous slot machines with exciting themes, their gaming floor is strictly limited to those options.
Nevertheless, it's still a great opportunity to try your luck and have fun. If you happen to be in New Mexico, check out the other casinos in the area; there's likely one that offers great table games that will suit all kinds of players.
Slots
If you're looking for a thrilling experience, you should check out the popular slot machines at this casino. Whether you're a fan of fantasy and magic or ancient history and science fiction, there's something for everyone.
Try your luck on the Colossal Wizards game, featuring exciting graphics and bewitching music. Or spin the reels of Li'l Red for an enchanting journey through time. Then, step back to Ancient Rome with Spartacus Gladiator of Rome.
After that, soar into new heights with Forbidden Dragons and its plethora of interesting characters. Next, explore the wilderness with Queen of the Wild II as you spin to win big rewards. Finally, join in on an icy adventure with Lazer Lock Ice Sapphire.
This casino does not publicly release its slot machine payback percentage. However, according to the New Mexico Gaming Control Board, the average slot machine payback percentage in New Mexico is around 80%.
Hotel/Resort
This property will surely provide an exciting and rewarding casino experience, but there is no onsite hotel. However, visitors don't have to worry about finding accommodation with various nearby options.
Santa Ana Star Casino Hotel is located just 8 miles away and offers luxurious rooms with all the modern amenities for a comfortable stay. Isleta Resort & Casino, just 26 miles away, boasts an endless amount of activities, spa services, dining venues, and entertainment options.
Cities of Gold Hotel, not far from the casino, provides historic charm along with gaming, shopping and multiple dining choices. Finally, Twin Arrows Navajo Casino Resort, approximately 42 miles from the casino, has been voted the number one hotel in Gallup for two years.
Restaurants & Buffets
Although there is a buffet-style restaurant at this casino, it does have an onsite cafe. The Flowing Water Food Court is especially noteworthy, offering flavorful fare that ranges from traditional American favorites to succulent Indigenous dishes.
Whether your cravings call for a sit-down feast or a meal on the go, you're sure to find something delicious at this popular casino restaurant. Stop by and sample some scrumptious food during your next visit.
Pools
Unfortunately, the casino has no pools or other water features on-site. However, they have much to offer, and many people travel miles to experience it all. Also, guests can check out the nearby hotel options, which may have their own pools.
Whether an experienced gambler or a first-time visitor, you can find something right up your alley at this world-class casino destination.
Flowing Water Navajo Casino, Shiprock, NM FAQ
Does Flowing Water Navajo Casino Have A Sportsbook?
Unfortunately, there is no sportsbook at this casino. However, you can check out the many other gaming options and amenities it offers. You will find a variety of slots and video poker machines.
Additionally, they provide an onsite cafe, and there are nearby accommodations to make your stay more enjoyable.
Is Poker Available At Flowing Water Navajo?
This casino is your go-to destination when it comes to classic casino fun. While they don't offer live poker tables like other casinos, it prides itself on offering an impressive array of video poker machines.
Plus, with frequent promotions and special offers running through the week, their virtual poker games will keep you entertained. So why not plan a visit soon and test your luck?
What Are The Age Requirements For Gambling At Flowing Water Navajo Casino?
Under New Mexico law, the minimum legal gambling age is 21. All patrons must provide valid identification proving they are over the required age to be allowed entry into the casino.
Additionally, anyone under 18 is prohibited from being in any casino, even if accompanied by an adult. So, it's best to leave the kids home when making your trip to this casino.
Does Flowing Water Navajo Have An Online Casino?
No, this casino does not offer an online version. However, they provide plenty of gaming options at their physical location and various weekly promotions. Plan a visit soon and enjoy some exciting casino gaming action!
Is There An Flowing Water Navajo Casino App?
No, there is no official app for this casino. However, you can still access information about their gaming options, amenities and other details on their website. This will help you plan your visit more efficiently and make the most of your time at this casino.
What Is The Dress Code At Flowing Water Navajo?
The dress code at this casino is casual. They don't require patrons to wear any specific type of clothing, although they do ask that guests refrain from wearing clothes with offensive messages or content.
Is There An Airport Shuttle Available From Flowing Water Navajo Casino?
Unfortunately, there is no airport shuttle service available from this casino. However, the nearest major airport is Albuquerque, about 180 miles away. There are several ground transportation options you can use to get to the casino from here.
You can also look into booking a car rental or take advantage of the many ridesharing services available in the area. However, check any restrictions they may have before making your trip.
What Is The Smoking Policy At Flowing Water Navajo?
The smoking policy at the casino is strictly enforced. There are designated areas where smoking is allowed, and guests must abide by those rules.
If a patron is found in violation of this policy, they may be asked to leave the premises. So please make sure to check out their detailed smoking policy before visiting.
What Is The Pet Policy At Flowing Water Navajo Casino?
Only service animals are allowed inside the casino. If you plan on visiting with a pet, check out their detailed policy before your trip. Also, there are ample pet-friendly accommodations in the area. So if you plan on staying the night, you can easily find a place to welcome your furry friend.
Is Wifi Available At Flowing Water Navajo?
No, there is no wifi available onsite. However, most of the nearby accommodations offer complimentary wifi access to their guests. So if you plan on staying overnight, book a room with this amenity.
Additionally, there are plenty of cafes and restaurants in the area that offer free wifi to their customers, so if you need a quick connection while on your trip, these places should do the trick.
What Is The Cancellation Policy For Flowing Water Navajo Casino?
As there is no onsite hotel, the cancellation policy for this casino does not apply. However, if you book a room in any of the nearby accommodations, their individual cancellation policies will apply. Make sure to check out the details before booking your stay.
Conclusion
The Flowing Water Navajo Casino offers a variety of gaming options and amenities to its patrons. It's important to abide by the minimum legal gambling age requirement, dress code, smoking policy and other guidelines during your visit.
Overall, plan your trip carefully, follow the guidelines and have fun during your stay at this casino. With the right planning and some luck, you could be taking home some big winnings!