Isleta Casino & Resort Albuquerque
Address: 11000 Broadway Blvd SE, Albuquerque, NM 87105
Phone Number: +1 505-724-3800
Website: www.isleta.com
Hours: Isleta Casino & Resort is open 24 hours a day, 7 days a week.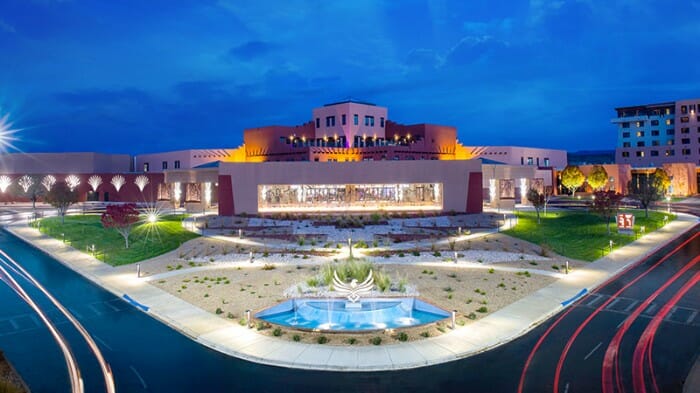 Isleta Casino & Resort has been a part of the Albuquerque community since its opening in 1986. The Pueblo of Isleta is a sovereign nation located just south of Albuquerque, New Mexico and the resort is owned and operated by the tribe.
The casino was built as part of an effort to create jobs within the community and to provide revenue for the tribe. Since then, they have grown into a popular destination for both locals and visitors alike.
It offers over a thousand slot machines, several table games, a bingo hall, live entertainment venues and five restaurants. True to its roots, the casino resort also hosts several powwows throughout the year, in addition to local festivals and other events.
Their resort also offers guests a variety of accommodations, from standard rooms to luxurious suites. Guests can also take part in the resort's signature spa treatments, RV park, golf courses and other recreational activities.
Over the years, this casino resort has become one of Albuquerque's most iconic attractions. It offers a unique gaming experience with its vibrant atmosphere and traditional Native American hospitality.
With so much to offer, this casino resort is sure to provide an unforgettable experience for all its visitors. Whether you're looking to relax or take part in the excitement of it all, they are sure to be an unforgettable experience.
This casino has been rated with a 4.5-star average by guests who have stayed at the resort and visited the casino. One review said, "This has been my favorite casino so far. The staff is friendly, the games are fun, and there is plenty of entertainment for everyone."
Another guest said, "The Isleta Resort is a great place to stay. Great amenities, clean and comfortable rooms, and an overall pleasurable experience. We'll definitely be back!"
(Related reading: New Mexico casinos)
Gaming
Their casino floor features over 1,800 slot machines and a variety of table games including blackjack, craps, roulette and more. The property also holds regular bingo tournaments in its spacious bingo hall.
Table Games
This casino offers a variety of different table games for all kinds of players. Whether you're a novice or an expert, you can find something to fit your individual playing style.
From classic card games like blackjack and baccarat to dice games such as craps and Head Up Hold 'Em, there's something for everyone. Prefer something with a little more excitement? Try the spinning wheel of Roulette or give Pai Gow or High Card Flush a chance.
This casino doesn't shy away from offering high-stakes games with minimums ranging from $10-$25. For those who prefer something a little more relaxed, they offer plenty of lower-stakes table games starting at just $5.
Slots
This casino offers fantastic gaming experiences with a great selection of exciting slot machines. From classic slots to themed games, players will find a variety of options. Popular machines include:
Shadow Of The Panther
Cash Wheel Quick Hit
Return to Crystal Forest
Wild Panda
John Wayne
Wild Panda Gold
Submarine Victory
Unfortunately, this casino does not disclose the payback percentages of their slot machines. However, the New Mexico Gaming Control Board does have specific regulations in place which require all NM casinos to return at least 80% of slot machine wagers in the form of winnings.
Hotel/Resort
This casino offers luxurious accommodations with comfortable rooms and suites. Each room includes a flat-screen TV, free high-speed Wi-Fi, and a mini fridge. Suites offer additional amenities such as bathtubs and balconies.
Room types include:
Deluxe King – features one king bed
Deluxe Queen – features two queen beds
Balcony King – features one king bed and a balcony overlooking their golf course
Extended King – features one king bed, a sitting area, a bathtub, a walk-in shower and two vanities
One-Bedroom Suite – features one king bed, a kitchen island with chairs and a separate living room
Governor's Suite – features two bedrooms, two bathrooms, two balconies, a kitchen and a dining area
Additionally, this casino resort offers plenty of amenities for its guests to enjoy. These include:
24-hour front desk
Concierge services
Daily housekeeping
Free wifi access
Free self-parking
A golf course
Fitness center
Full-service spa
Swimming pools
Meeting and banquet facilities
Business center
ADA amenities
RV park
Rates for this hotel start from $169 per night and depend on the type of room and time of year. Special discounts can be found by signing up for their email list or using coupon codes that you may find online.
Check-in time at Isleta is 4:00 pm
Check-out time at Isleta is 11:00 am
Restaurants & Buffets
This casino resort is home to a diverse array of delightful dining experiences. Indulge in an exquisite meal at Embers Steak & Seafood with its upscale atmosphere and delicious entrees.
For a more relaxed dining experience, TIWA Restaurant & Lounge offers Southwestern-inspired cuisine while Chile Ristra infuses Mexican dishes with the flavors of New Mexico.
If you're craving something fast and tasty, you can enjoy the traditional Chinese fare at Panda Express or indulge in classic burgers and fries from Fatburger. Guests should note that this casino does not offer buffet-style meals.
With so many options to explore, you'll find something that every member of your party – and tastebuds – will enjoy.
Pools
This casino is known for its luxurious amenities and breathtaking views, but nothing is more fun than splashing around in the resort's outdoor pool. Take a dip to cool off from the desert sun or relax in the hot tub – whatever you choose, you're sure to have a great time.
The pool area also boasts stunning mountain vistas and plenty of seating, so you can lounge while still enjoying the fresh air.
Best of all, access to the pool is included with every stay at this resort, so what are you waiting for? Come explore all that this amazing destination has to offer and make some unforgettable memories.
Isleta Casino & Resort, Albuquerque, NM FAQ
Does Isleta Casino & Resort Have A Sportsbook?
This casino has a fantastic Sports Book which is the perfect place to take in all the excitement of various sporting events. Located right on the main casino floor, patrons can follow the action for football, basketball, hockey, soccer, auto racing and more.
It's simple to stay up-to-date with what's happening with your favorite teams and players with real-time betting lines as well as a variety of prop bets. There is also seating available so you can watch games on multiple television screens while enjoying snacks and beverages from the bar.
Is Poker Available At Isleta Casino?
This casino is sure to provide you with an unbeatable gaming experience. Not only does the resort have slot machines, bingo and even a golf course, but they offer three versions of poker table games: Pai Gow, Heads Up Hold 'Em and High Card Flush.
With something for everyone, this casino is bound to become your go-to destination whenever you're looking for some fun gambling entertainment. Whether you're a savvy veteran or just starting out in the thrilling world of poker – there's something here waiting for you.
What Are The Age Requirements For Gambling At Isleta Casino & Resort?
Patrons must be 21 or older in order to gamble at this casino. Identification is required for entry, so please bring a valid form of identification with you. Also, be aware that some amenities may have different restrictions – please check before entering any area.
Does Isleta Have An Online Casino?
Unfortunately, they do not currently offer an online casino. However, the resort offers a variety of on-site amenities for visitors to enjoy. From live entertainment to excellent dining options, there's no shortage of ways to have a great time when you visit this exciting destination.
Is There An Isleta Casino & Resort App?
Unfortunately, they do not currently have a mobile app. However, visitors can still keep up-to-date with all the resort's latest news, events and offerings by visiting their website or social media pages.
What Is The Dress Code At Isleta?
The dress code at this casino is casual. However, visitors should make sure to keep their attire appropriate while on the premises.
Is There An Airport Shuttle Available From Isleta Casino & Resort?
Unfortunately, they do not currently offer an airport shuttle. However, visitors can take advantage of the many taxi and ride-sharing services available in the area to get to and from the resort.
Additionally, there is plenty of parking available on-site so visitors can bring their own vehicles. If you have any questions or concerns, please do not hesitate to contact the resort directly for assistance.
What Is The Smoking Policy At Isleta Casino?
Smoking is only permitted in certain designated smoking areas and is prohibited throughout the rest of the resort. Additionally, vaping is not allowed and visitors are asked to refrain from smoking or vaping in any of the non-smoking areas.
What Is The Pet Policy At Isleta Casino & Resort?
Unfortunately, pets are not allowed at this casino. As such, all pets must remain in the car or outside of the premises. However, service animals are allowed within the resort per New Mexico law.
Is Wifi Available At Isleta?
Yes, free wifi is available throughout the resort. Guests can connect to the internet with ease and enjoy unlimited access while they're there. Additionally, guests can also take advantage of the on-site business center for any work-related needs.
What Is The Cancellation Policy For Isleta Casino & Resort?
This casino has a 72-hour cancellation policy. All cancellations must be received at least 72 hours before the scheduled start time and any deposits will be refunded in full.
Conclusion
Isleta Casino & Resort offers a variety of amenities and activities sure to please all guests. From on-site gaming, live entertainment, and excellent dining options – there's something for everyone here.
Be sure to keep their age requirements, dress code, pet policy and cancellation policies in mind before planning your visit. With its convenient location, free wifi and plenty of parking – this is the perfect place to stay while visiting New Mexico.