Northern Edge Navajo Casino Farmington
Address: 2752 Indian Service Rd 36, Farmington, NM 87401
Phone Number: +1 505-960-7000
Website: www.northernedgecasino.com
Hours: Northern Edge Navajo Casino is open Monday 9 am–1 am, Tuesday 9 am–1 am, Wednesday 9 am–1 am, Thursday 9 am–1 am, Friday 9 am–4 am, Saturday 9 am–4 am, Sunday 9 am–1 am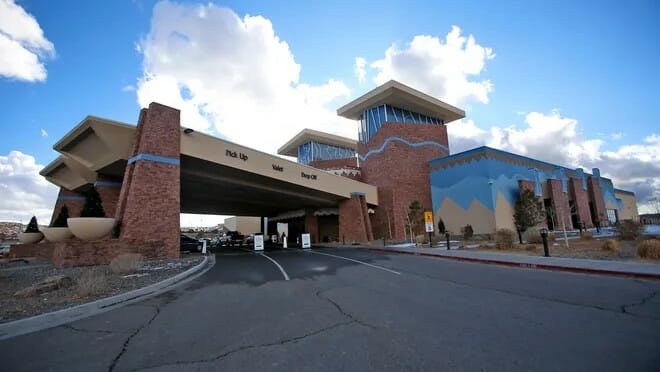 Northern Edge Navajo Casino, located in Farmington, New Mexico, opened its doors to the public on January 2012. The facility is owned and operated by the Navajo Nation Gaming Enterprise (NNGE) and offers a variety of gaming and entertainment options.
The property was formerly the site of a recreation center, which was redeveloped into a casino. The design of the facility is modeled after traditional Navajo styling and features an outdoor plaza with fire pits and cultural events and more.
The establishment was built to create jobs for local residents and help boost the economic development on the eastern side of the Navajo Nation. The facility has proven to be beneficial, creating over 300 jobs in its first year of operation.
Their casino floor offers a total of 750 slot machines, along with table games such as blackjack, craps, roulette and more. They also offer multiple dining outlets as well as a lounge area for guests to relax and enjoy live entertainment.
This casino is committed to providing a safe and secure environment for its guests, staff and surrounding community. They are dedicated to responsible gaming practices and customer service that exceeds expectations.
If you find yourself in the area, check out this casino for a fun, entertaining and responsible gaming experience.
On popular review sites, such as Google and TripAdvisor, this casino currently holds an average rating of 4.5 out of 5 stars. One guest said, "A clean, comfortable casino with a great variety of gaming options. The staff was friendly and helpful. Would definitely recommend it."
Another praised the property's commitment to responsible gaming practices and customer service: "The staff was really friendly and helpful. They make sure that everyone follows the rules. I felt very safe in this environment."
(Related reading: New Mexico casinos)
Gaming
Their gaming floor features 750 slot machines with a variety of themes and denominations. They also offer table games such as blackjack, craps, roulette, three-card poker and more. The casino also features multiple promotions for guests to take advantage of throughout the month.
Table Games
This casino in New Mexico is a great place to try your luck at the gaming tables. You can expect to find all sorts of classic games and some exciting exclusives. So, what's on offer? Roulette is always a favorite, where you bet on which number or color the spinning ball will land on.
Fortune Pai Gow combines strategy with luck as you battle against the dealer playing two hands at once. Player's Edge 21 is a great twist on regular blackjack with some special side bets for extra chances to win big.
Mini Baccarat is ideal for those who like the simplicity of baccarat in a mini version. Craps is an intense game of trusting your gut and seeing if you can beat the odds.
Finally, World Poker Tour Heads Up Hold'em adds an interesting dynamic to traditional poker that serious players won't be disappointed by.
The casino has a variety of table games and the minimums vary per game. Generally, the minimums range from $5 to $10. Be sure to check with the staff before playing so you know what the current minimums are for each game.
Slots
This casino is a popular destination for slot machine enthusiasts. People from near and far journey to this casino to try their luck with its wide selection of slot machines. Popular games include:
Li'l Red
Spartacus Gladiator of Rome
Colossal Wizards
Forbidden Dragons
Lazer Lock Ice Sapphire
Queen of the Wild II
Unfortunately, this casino does not disclose its slot machine payback percentage. However, according to the New Mexico Gaming Control Board, all casinos with slot machines in the state are required to have payback percentages of 80%.
Hotel/Resort
The casino does not have a hotel attached to it, but there are several nearby accommodations for guests. The casino offers a convenient list of nearby hotels and resorts, such as Hampton Inn & Suites, La Quinta Inn by Wyndham, Courtyard by Marriott and Holiday Inn Express & Suites.
All of these hotels and resorts are top-notch and offer luxurious amenities, great service and comfortable rooms at competitive prices. So, you can rest assured that when visiting this casino you'll be able to find the perfect hotel for your needs.
Restaurants & Buffets
At this casino, there's something for everyone's taste buds. Cedar Bow Restaurant offers delicious modern American and regional cuisine dishes that are sure to please. Plus, you can take advantage of their buffet for a great price of 12.95 per person.
If that's not enough, the Northern Edge Food Court gives you even more options with a variety of American classics and authentic Navajo favorites. These two great dining spots promise to be an enjoyable experience during your stay at the casino.
Pools
This casino offers plenty of entertainment and fun. The casino has all the classic tables, slots and other gaming amenities to make any trip enjoyable. But what it doesn't offer onsite pool.
That shouldn't be a problem, however, since there are numerous public and resort pools throughout the area that provide ample opportunities for swimming, relaxing and recreational options for those needing a break from gaming at the casino.
It may take just a bit of traveling outside the immediate area but it's worth the extra effort (and miles!) to find something special you'll remember from your trip to this casino.
Northern Edge Navajo Casino, Farmington, NM FAQ
Does Northern Edge Navajo Casino Have A Sportsbook?
Unfortunately, this casino does not have a sportsbook. However, there are plenty of sports betting options that can be found around the area. Also, guests can explore the casino's selection of other gaming options, such as slots, blackjack and baccarat.
Is Poker Available At Northern Edge Navajo?
Yes, the casino has a World Poker Tour Heads Up Hold'em game. Guests can try their luck with this interesting variation of poker. The minimums for this game may vary, so be sure to check with staff before playing.
What Are The Age Requirements For Gambling At Northern Edge Navajo Casino?
All guests must be 21 years or older to access the gaming floor. Proper identification is required for anyone entering the casino, regardless of age. Those under 21 will not be allowed onto the casino floor at any time.
Does Northern Edge Navajo Have An Online Casino?
No, this casino does not currently have an online counterpart. It is a brick-and-mortar casino only, so guests will need to visit in person to gamble here
Also, visitors should be aware that all casinos in New Mexico are required to have payback percentages of 80% so they can expect a fair and balanced gaming experience.
Is There An Northern Edge Navajo Casino App?
No, there is currently no app for this casino. However, guests can visit the casino's website to learn more about the gaming options, promotions, and dining and entertainment experiences available.
Additionally, guests can connect with the casino on social media platforms such as Facebook and Twitter to stay up-to-date on all of the latest news and events.
What Is The Dress Code At Northern Edge Navajo?
This casino has a casual dress code. Guests are asked to wear clothing that is neat and tidy, but they should avoid wearing any offensive or overly revealing attire. Shoes must be worn on the gaming floor at all times.
Is There An Airport Shuttle Available From Northern Edge Navajo Casino?
Unfortunately, this casino does not offer an airport shuttle service. However, there are several local taxi and car services available that can take guests from the airport to their destination.
Also, there are several ridesharing options, including Lyft and Uber, which can be used to get around Farmington and the surrounding area.
What Is The Smoking Policy At Northern Edge Navajo?
Smoking is only allowed in designated areas within the casino. Guests must adhere to all posted signs and smoking regulations while on the premises. Non-smoking areas are also available for those who wish to avoid secondhand smoke.
What Is The Pet Policy At Northern Edge Navajo Casino?
Unfortunately, pets are not allowed on the premises of this casino. Only service animals are permitted to accompany their owners while they enjoy the gaming, dining and entertainment options available at this casino.
Is Wifi Available At Northern Edge Navajo?
Unfortunately, this casino does not offer complimentary wifi. However, guests can purchase access to a local hotspot while they are at the casino. Also, visitors can stay connected by using their mobile device's data plan.
What Is The Cancellation Policy For Northern Edge Navajo Casino?
There is no need to cancel a reservation at this casino. Guests can come and go as they please, and all entrance fees are waived for those who do not wish to gamble. If you booked a reservation for a live event or show, it's best to check with the casino for any applicable cancellation fees.
Conclusion
Northern Edge Navajo Casino is a great place to visit for some gaming and entertainment options. This casino has a wide variety of games and amenities, as well as age restrictions and dress codes that guests should be aware of before visiting.
Additionally, there are several public transportation options available for those who need assistance getting to the casino. With its convenient location, exciting gaming options and friendly staff, this casino is sure to provide a memorable experience for all who visit.