Ohkay Casino Resort Ohkay Owingeh
Address: 68 NM-291, Ohkay Owingeh, NM 87566
Phone Number: +1 505-747-1668
Website: www.ohkay.com
Hours: Ohkay Casino Resort is open 24 hours a day, 7 days a week.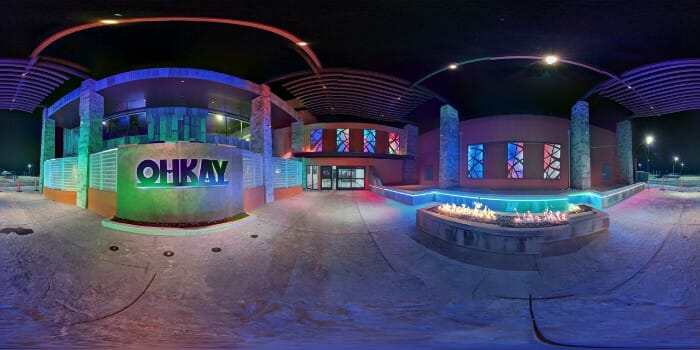 Ohkay Casino Resort is located in Ohkay Owingeh, New Mexico and has been part of the area since 1999. Through a lot of hard work and dedication, the casino resort has been able to provide guests with a wide variety of gaming options.
The property is owned by the Ohkay Owingeh Pueblo and has been run by the tribe since its opening. Their gaming space consists of slot machines, video poker, electronic table games, and more. They also have a Winners Club, which offers players discounts and other promotions.
The land also houses an onsite hotel that offers guests a variety of amenities, including a seasonal outdoor pool and RV parking. The resort also offers various dining options, from casual to fine dining.
There is even live entertainment on certain nights, providing guests with an evening full of fun activities such as karaoke nights, live entertainment, music, and more.
In addition to being a great place to gamble and stay, the casino is also committed to giving back to the local community. The resort contributes to local charities as well as education programs within the area.
They strive to make sure their guests have an enjoyable experience while contributing positively to the community they are a part of. The casino provides its guests with an unforgettable experience that is sure to keep them coming back for more.
On popular review sites, this casino resort has an overall rating of 4.5 stars out of 5. One guest said, "My husband and I had a great time. The staff was friendly, the casino was clean, and we had an amazing time!"
Another review said, "The Ohkay Casino Resort is a great place to spend the night. The staff was friendly and accommodating, the rooms were clean, and the casino offers plenty of gaming options."
(Related reading: New Mexico casinos)
Gaming
Their gaming space features slots, video poker, electronic table games and a Winners Club. Slots feature progressive jackpots and penny slots with denominations from 1 cent to $5.
Table Games
This casino offers a wide variety of slot and video machines for your gaming pleasure. However, unfortunately, you won't find any traditional table games such as blackjack or poker at this establishment.
If you're looking for a more diverse selection of casino games to play, you may want to check out other casinos in the area.
Slots
If you're looking for a fun time at the slots, then this casino is your place. They offer an impressive selection of slot machines ranging from classic Vegas-style games with three reels and single-pay lines to more engaging multi-pay line slots.
Players will find penny slots of all shapes and sizes with denominations ranging from 1 cent to $5. There are even video slots with progressive jackpots for those lucky enough to hit the big one.
Plus, they also have electronic table games like blackjack and roulette as well as other specialty games like keno and craps. Unfortunately, the casino does not release their slot's payback percentage.
However, casinos in New Mexico are required to have a minimum of 80% payout on their slot machines, so you can be sure that it's at least that high.
Hotel/Resort
This property has a hotel on site that features comfortable rooms and suites. All of the rooms come equipped with free Wi-Fi, TVs, refrigerators, microwaves, and other amenities to ensure your stay is as comfortable as possible.
Room types include:
Double Queen Rooms – features two queen beds
Suites – features one king bed, a living room and a balcony
Additionally, the hotel also has some great amenities such as:
24-hour front desk
Free wifi access
Non-smoking rooms
RV parking
Outdoor pool
Fitness center and gym
Room service
Daily cleaning services
Room prices vary depending on the time of year and what type of room you desire. Their room rate starts at $89 plus additional taxes and fees per night.
Check-in time at Ohkay is 4:00 pm
Check-out time at Ohkay is 12:00 pm
Restaurants & Buffets
Although the property does not have its own buffet, there are plenty of restaurants located within the casino that will surely satisfy your palate. Enjoy some lighter fare, like coffee or pastries, at Coffee Spot — a convenient cafe that serves up a variety of drinks and treats.
If you're looking for a Mexican meal, head to Coyote Cantina for authentic cuisine made from fresh ingredients. For those seeking casual dining with a fresh spin on classic American dishes, Harvest Cafe Dinner has you covered with its hearty entrees made from your favorite ingredients.
Pools
This casino has something for everyone, especially during the summer months. A favorite among visitors is their heated seasonal outdoor pool. With a depth range of 3-6 feet and plenty of space to lounge, it's a great spot to cool off from the desert sun or take a refreshing dip.
Swim laps or lay back in a chair with a good book – the pool offers something for everyone. This casino resort also has plenty of amenities, like on-site restaurants and exciting entertainment venues to really make your stay memorable.
Ohkay Casino Resort, NM FAQ
Does Ohkay Casino Resort Have A Sportsbook?
Unfortunately, this casino does not currently offer a sportsbook. However, guests can still enjoy plenty of other casino games and entertainment. Additionally, guests can also enjoy the hotel amenities and restaurants on site for a comfortable stay.
Is Poker Available At Ohkay Casino?
While they do offer exciting table games and slots, those wanting to play poker may be disappointed since this property only offers the video variety of this classic game. However, it's still an entertaining way to pass the time and who knows–you might get lucky.
What Are The Age Requirements For Gambling At Ohkay?
The minimum age for gambling at this casino is 21. Those under the age of 21 will not be allowed to enter the gaming floor or participate in any of the casino games. Please make sure you bring a valid ID when entering the property.
Does Ohkay Resort Have An Online Casino?
No, this casino does not currently offer an online version of its property. However, guests can still enjoy the live casino experience and all it has to offer by visiting the resort in person. There's nothing quite like being able to see, hear, and feel the excitement of a live casino.
Is There An Ohkay Casino App?
Unfortunately, this casino does not currently have an app for mobile devices. However, the website is mobile-friendly and provides access to information about their promotions and specials along with other useful details. Guests can also make reservations directly from the website.
What Is The Dress Code At Ohkay Casino Resort?
The dress code at this casino is casual attire. Guests are asked to refrain from wearing anything considered offensive or inappropriate. Additionally, guests must also wear shoes and shirts while on the gaming floor.
Is There An Airport Shuttle Available From Ohkay?
Unfortunately, there is no airport shuttle offered by the property. Guests are encouraged to arrange for their own transportation to and from the resort. Please check with your travel agent or airline carrier for more information on available transportation options.
There are also several ridesharing services available in the area. Uber and Lyft are both reliable taxi-style services that can take you wherever you need to go. Taxi cabs are also an option, but these may be slightly more expensive.
What Is The Smoking Policy At Ohkay Casino Resort?
The smoking policy at this casino is very strict. Guests are not permitted to smoke inside the casino or any associated buildings, including the hotel and restaurants.
Smoking is allowed in designated areas located outside of these locations. Please make sure you check with a staff member before lighting up.
What Is The Pet Policy At Ohkay?
Only service animals are allowed on the property. Pets are not permitted in any of the hotel or casino buildings, and guests must provide proof of service animal registration when entering the property.
Additionally, all service animals must be up-to-date on vaccinations and licensed by a local authority. Please check with the local laws before bringing any animal to this property.
Is Wifi Available At Ohkay Casino Resort?
Yes, this casino offers complimentary WiFi to its guests. However, the signal strength and availability may vary in certain areas. It's recommended that you check with a staff member for more information.
What Is The Cancellation Policy For Ohkay?
All reservations must be canceled at least 24 hours prior to the check-in date. Cancellations made after the designated time may result in a penalty fee equal to one night's room and tax charges. Please make sure you read through all of the terms and conditions before booking your stay.
Conclusion
Ohkay Casino Resort is a great destination for anyone that loves the thrill of gambling and live casino gaming. With its wide range of games, amenities, and entertainment options, it's sure to be a memorable experience. Remember to bring your valid ID to prove you're old enough to play.
Whether you're in it for the games or just looking for a quick getaway, this casino is sure to provide an unforgettable experience. With its exciting atmosphere and welcoming staff, you'll be sure to have a great time.