Route 66 Casino Albuquerque
Address: 14500 Central Ave SW, Rio Puerco, Albuquerque, NM 87121
Phone Number: +1 505-352-7866
Website: www.rt66casino.com
Hours: Route 66 Casino is open Monday 7 am–2 am, Tuesday 7 am–2 am, Wednesday 7 am–2 am, Thursday 7 am–2 am, Friday 7 am–2 am, Saturday 7 am–2 am, Sunday 7 am–2 am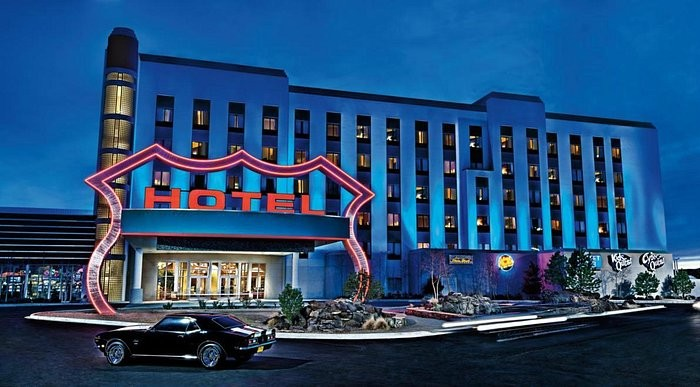 Route 66 Casino opened in October 2003 and has been providing first-class casino entertainment ever since. The casino is located on the historic Route 66 highway in Albuquerque, New Mexico, and offers an array of gaming options for guests.
The casino has always been owned by the Laguna Pueblo tribe and has been a major economic driver for the community. The casino has transformed from its humble roots in 2003 to become a world-class resort that provides guests with the ultimate gaming experience.
The casino features over 1,000 slot machines, table games and a bingo hall featuring both traditional paper and state-of-the-art e-bingos. There is also an entertainment area offering concerts and other events throughout the year and a variety of restaurants to choose from.
For nightlife, stop by the sports bar for drinks and watch the game or visit Legends Theatre to enjoy live music and entertainment from artists like Willie Nelson, Lonestar and more. There is also a hotel on-site with over a hundred guest rooms and a range of amenities.
Additionally, the casino offers promotions and tournaments throughout the year so you can always find something new to experience. With all these features, it's no wonder why this casino is one of the top entertainment destinations in New Mexico.
On popular review websites, guests have given this casino a 4.5/5 rating. Customers have praised the casino for its abundance of gaming options and amenities. One guest said, "We had a great time. Great selection of machines and games, good atmosphere and food!"
Another guest said, "Great casino with friendly staff and nice amenities. Would definitely recommend it to anyone looking for a fun time."
(Related reading: New Mexico casinos)
Gaming
Their gaming floor features over 1,000 slots and video poker machines from the industry's leading manufacturers. Table game offerings include blackjack, craps, roulette and more.
Table Games
Step into the wild west of New Mexico and come experience the thrill of classic casino games at this casino. As one of the premier destinations for entertainment and relaxation, you won't be disappointed with the selection of table games.
With a wide variety of options such as blackjack, roulette, craps, and Ultimate Texas Hold 'Em, you'll discover something new at every turn. Whether you're a beginner or an experienced gambler, there is sure to be a table game waiting to provide you with an exciting challenge.
Table game minimums vary depending on the type of game and day of the week. On weekdays, you can expect to find table games with a $5 minimum bet, while weekend games may have a higher minimum bet of up to $20 or more.
Slots
This casino in Albuquerque, New Mexico boasts a casino full of thrilling slot machines. From classic 3-reel games to exciting 5-reel and bonus games, there is sure to be something for everyone in the slot section. Popular options at the casino include:
Ultimate Fire Link
88 Fortunes
Golden Goddess
Shadow Of The Panther
Invaders Return from the Planet Moolah
Quick Hit Ultra Pays – Monkey's Fortune
Wonder Woman Bullets and Bracelets
Unfortunately, this casino does not report its slot machine payback percentage. However, according to the New Mexico Gaming Control Board, slot machines in the state are required to have an average of 80% payback.
Hotel/Resort
The casino features a hotel, which offers the perfect combination of comfort and convenience for all guests. The rooms are equipped with luxurious king-size beds, flat-screen TVs, and complimentary Wi-Fi access.
Room types include:
Standard Room King – features one king bed
Standard Room Queen – features two queen beds
Additionally, this casino offers a number of amenities to make your stay even more enjoyable. These amenities include:
Wifi access
Housekeeping services
Swimming pool
Fitness center
Multiple onsite dining options
Live shows and entertainment
RV park
Bingo room
Nearby attractions
The cost of a stay varies depending on the room type, season and any special promotions going on. Standard rooms with one king bed start from $129 plus tax per night, while standard rooms with two queen beds start from $139 plus tax per night.
Taxes and resort fees are additional charges that may apply to your stay. For more information on rates and availability, you can contact the resort directly or visit their website.
Check-in time at Route 66 is 3:00 pm
Check-out time at Route 66 is 11:00 am
Restaurants & Buffets
Although they currently do not have a buffet, their menu for dining is extensive. The Laguna Burger is one option for fast food lovers, with a large menu of classic burgers and sides made fresh.
For those looking for a heartier meal, Thunder Road Steakhouse offers an array of steaks cooked just the way you like it, as well as other entrées and sides. If you're craving a casual bite while watching your favorite team play, Stadium66 Sports Bar has everything you need.
The Snackbar is perfect for when you need something quick and tasty on the go. Last but not least, DQ Grill & Chill serves up some delicious chili and all sorts of treats from Dairy Queen that are sure to hit the spot.
Whatever your preference may be, there is something here for everyone at this casino.
Pools
Located just off historic Route 66, this casino offers a wonderful entertainment experience for travelers and locals alike. And if you're after a refreshing dip or splash within the hotel premises, come take advantage of the indoor pool.
A paradise for kids who want to cool off on hot summer days and for adults seeking some quality relaxation time, the pool at this unique casino offers something for everyone. Make sure to bring your sunscreen as the interiors can get quite bright.
Route 66 Casino, Albuquerque, NM FAQ
Does Route 66 Casino Have A Sportsbook?
If you're looking for a place to wager on your favorite sports teams, you should look no further than this casino. Home to The Book, the casino's sportsbook offers an array of options and features that will give sports fans access to the latest lines and best betting options available.
Players can enjoy an interactive experience with streams from some of the world's most popular sports broadcasts and plenty of promotional perks available. Whether you're a seasoned gambler or just getting started, this casino is sure to offer something for everyone.
Is Poker Available At Route 66?
This casino in New Mexico is the perfect place to experience the thrill of live poker. It offers Ultimate Texas Hold 'Em, providing players with a chance to participate in an exciting variation on the traditional Texas Hold 'Em game.
What Are The Age Requirements For Gambling At Route 66 Casino?
You must be 21 or over to gamble at this casino. A valid form of identification is required at check-in, and all guests under the age of 18 must be accompanied by an adult in order to enter the gaming floor.
Does Route 66 Have An Online Casino?
This casino offers Kicks Casino, an online casino for all your gaming needs. This exciting casino experience offers over 300 different games and is completely free to play. Plus, you'll get free credits daily that can be used to finance your gaming journey.
With Kicks Casino, it's easy to access classic slot machines and the latest games in one place and start having fun right away. All you need to do is visit their website, sign up, and you can start playing as soon as you're ready.
Is There An Route 66 Casino App?
Unfortunately, there is currently no mobile app for this casino. However, the website is optimized for mobile devices, so you can enjoy all your favorite games and features on the go.
To stay up to date with the latest news and promotions, make sure to follow them on social media and sign up for their newsletter. This way you can stay informed of all the exciting events taking place at this casino in New Mexico.
What Is The Dress Code At Route 66?
At this casino, there is no strict dress code. However, guests are expected to be dressed in casual and comfortable attire that adheres to the rules and regulations set out by the management.
Is There An Airport Shuttle Available From Route 66 Casino?
Unfortunately, there is no airport shuttle service available from this casino. However, there are many taxi and ride-hailing services that can take you to and from the airport.
Additionally, there are many public transportation options that can take you to and from the casino. Also, there are also car rental services available, so you can get around New Mexico with ease.
What Is The Smoking Policy At Route 66?
Smoking is only allowed in designated areas at this casino. To respect the health and well-being of all guests, smoking is not permitted anywhere else in the facility.
What Is The Pet Policy At Route 66 Casino?
This casino is a great location for travelers and their four-legged friends. Whether you're in town for a day or staying the weekend, you can bring one small pet of up to 20 lbs per room for an additional fee of $30 per stay.
Is Wifi Available At Route 66?
Wifi is available throughout the entire facility at this casino. Guests can easily connect to the wifi network using their devices and enjoy access to high-speed internet in all areas of the casino.
To ensure that guests have a pleasant experience and are able to stay connected for an extended period of time, there is no data cap and no additional fees for wifi access.
What Is The Cancellation Policy For Route 66 Casino?
At this casino, guests can cancel their reservations up to 24 hours before their scheduled arrival date. Any cancellation requests made after that time will be subject to a fee of 25% of the total reservation cost.
Conclusion
Route 66 Casino is the perfect destination for travelers looking to have an unforgettable time in New Mexico. This casino offers a wide variety of gaming options, entertainment events, and much more.
When visiting the casino, make sure to check their website or social media accounts for any updates on promotions and special events taking place. Additionally, make sure to familiarize yourself with the dress code and pet policy before you make any reservations.
With all these great features available, this casino is sure to provide an unforgettable experience for all its visitors. From the gaming floor to the entertainment shows, this casino is a great place to get away from it all and have a great time.