Route 66 Casino Hotel Albuquerque
Address: 14500 Central Ave SW, Rio Puerco, Albuquerque, NM 87121
Phone Number: +1 505-352-7866
Website: www.rt66casino.com
Hours: Route 66 Casino Hotel is open Monday 7 am – 4 am, Tuesday 7 am – 4 am, Wednesday 7 am – 4 am, Thursday 7 am – 4 am, Friday 7 am – 4 am, Saturday 7 am – 4 am, Sunday 7 am – 4 am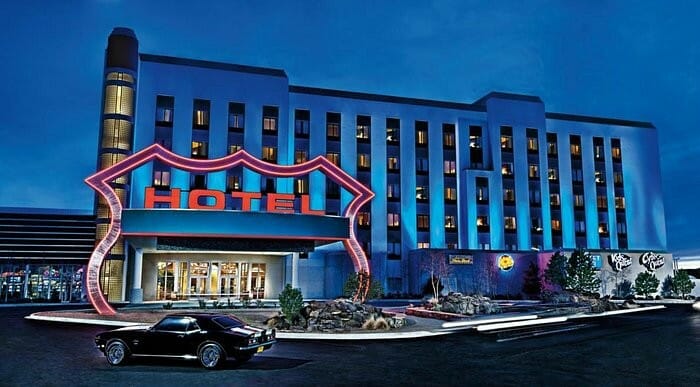 Route 66 Casino Hotel is a new property established in 2020 by the Pueblo of Laguna. The casino has quickly become a popular destination for travelers and locals alike, with its astounding amenities and modern design making it one of the most popular casinos in New Mexico.
Their gaming floor offers over 1,900 slot and video poker machines, along with multiple tables for blackjack, roulette and other table games. Guests can also enjoy live entertainment and shows held in this casino.
They also have a hotel where guests can stay in luxury rooms and suits. The hotel is equipped with a variety of amenities to ensure that guests have an enjoyable stay. From the pool and hot tubs to the spa and fitness center, there is something for everyone at this casino resort.
For dining, they offer a variety of restaurants, ranging from casual eateries to fine dining. Whether you're looking for a light snack or a multi-course meal, this casino hotel has something for everyone.
Whatever your needs or desires while visiting this casino, this casino hotel has you covered. With its modern design and amenities, this is a great place to stay when visiting Albuquerque. So come on down and enjoy the exciting gaming experience that only they can offer.
Guest reviews for this casino are quite positive, with many guests giving the casino an average rating of 4.5 stars out of 5. One guest said, "Route 66 Casino Hotel is an amazing place to stay. From the hotel amenities to the gaming floor, there's something for everyone."
Another guest said, "The atmosphere of this casino is great – it's modern and upscale but still welcoming and comfortable. I really enjoyed my stay here."
(Related reading: New Mexico casinos)
Gaming
Their gaming space has over 1,900 slot and video poker machines and multiple tables for blackjack, craps, roulette and other card games.
Table Games
If you're looking for an exciting night filled with gaming excitement, then this casino in New Mexico is the place for you. At this casino, you'll find various table games that will make your heart race.
Whether you're a seasoned blackjack player or a newcomer looking to try your hand at ultimate Texas Hold 'Em, there's something for everyone at this casino. Play against the dealer in classic games like craps and roulette, or test your luck with the newer games.
The minimums for the table games vary depending on what game you are playing and when. Most table games at this casino have a minimum bet of $5; however, some may require more or less depending on the time of day.
Slots
At this casino, you'll find a variety of popular slot machines that provide thrilling gaming experiences. From classic three-reel games to exciting bonus rounds and unique progressive jackpots, there's something for everyone at this casino.
Popular slot games include:
Wheel of Fortune
Colossal Wizards
Five Times Pay
Li'l Red
Spartacus Gladiator of Rome
Triple 7 Inferno
Forbidden Dragons
Queen of The Wild II
Buffalo Gold
Lazer Lock Ice Sapphire
Unfortunately, they do not publish what their slot machine payback percentage is. However, according to the New Mexico Gaming Control Board, the minimum payout for all casinos in the state is 80%.
Hotel/Resort
If you choose to stay at the luxurious hotel, you'll have access to various amenities that will make your stay even more enjoyable. The hotel offers comfortable rooms that are complete with mini-fridges and microwaves.
Room types include:
Standard King – features one king bed
Standard Two Queen – features two queen beds
Additionally, guests can enjoy the following amenities at the hotel:
Complimentary Wi-Fi
Parking onsite
24-hour front desk
Concierge services
Daily housekeeping
Onsite restaurants and bars
Live entertainment and shows
An indoor pool
Fitness center
A sportsbook
An RV park
Banquet facilities
The room cost at this hotel depends on the size and type you choose. Prices range from $129 to $139 per night, excluding taxes and additional fees.
Check-in time at Route 66 is 3:00 pm
Check-out time at Route 66 is 11:00 am
Restaurants & Buffets
Are you planning a trip to New Mexico soon? Make sure to add this casino hotel to your list of destinations. Not only does this hotel offer exciting gaming and comfortable accommodations, but it also boasts a variety of delicious dining options.
Among these options are the famed Laguna Burger, recognized as one of the best burgers in the area, and the Thunder Road Steakhouse, where you can indulge in top-quality cuts of meat and a sophisticated dining atmosphere.
And for those who want to catch the big game while noshing on some tasty snacks, check out the Stadium66 Sports Bar. Whatever your cravings may be, the restaurants at this casino hotel are sure to satisfy and elevate your dining experience.
Pools
Looking for a place to unwind and have fun during your stay in New Mexico? Look no further than the pool at this casino. With its relaxing atmosphere and top-notch amenities, the indoor swimming pool is the perfect spot to soak up some sunshine or take a refreshing dip.
Whether you want to unwind after a long day of exploring the sights or simply want to relax, you can find everything you need here at this casino hotel. So why wait? Make your reservation today and start planning your next adventure in New Mexico.
Route 66 Casino Hotel, Albuquerque, NM FAQ
Does Route 66 Casino Hotel Have A Sportsbook?
They have The Book, where guests can bet on their favorite teams. The Book offers competitive betting lines, live game updates, and an up-to-date leaderboard with winning selections. Guests can also enjoy watching the game comfortably from the Stadium66 Sports Bar & Grill.
Is Poker Available At Route 66?
Yes, they have Ultimate Texas Hold 'em and other variations. Guests can try their luck at the tables with minimum bets or participate in one of their daily tournaments to stand a chance to win big prizes.
What Are The Age Requirements For Gambling At Route 66 Casino Hotel?
The legal age for gambling at this casino is 21 or older. Guests must present a valid ID to enter the casino floor, and guests under 18 are prohibited from entering the gaming areas. Additionally, alcohol cannot be served to anyone under 21.
Does Route 66 Have An Online Casino?
Yes, it offers an online casino that provides a variety of gaming options. Players can enjoy slots, table games, and more from the convenience of their homes or on mobile devices.
A rewards program also allows players to earn points for playing games and redeem them for exclusive discounts and promotions.
Is There An Route 66 Casino Hotel App?
No, they do not currently have an app, but they do offer an online casino. Players can access the online gaming portal directly from their browser or mobile device to enjoy slots, table games and more.
What Is The Dress Code At Route 66 Casino Hotel?
The dress code at this casino is casual but neat. Guests should refrain from wearing clothing with offensive language or graphics, torn jeans, tank tops and swimwear in the casino area. Shoes are required at all times.
Is There An Airport Shuttle Available From Route 66?
No, they do not offer an airport shuttle service, but several local transportation services can take guests to and from the hotel. There are also ridesharing and taxi services available, as well as car rental agencies located nearby.
What Is The Smoking Policy At Route 66 Casino Hotel?
The casino floor is a non-smoking area. However, there are designated smoking areas on the property where guests can smoke cigarettes or cigars. Vaping and e-cigarettes are also allowed in these areas.
What Is The Pet Policy At Route 66 Casino Hotel?
Sadly, this casino does not allow pets on their property. Guests who bring a pet will be asked to leave or find alternative accommodations. Service animals are allowed with prior approval and documentation.
Is Wifi Available At Route 66 Casino Hotel?
Yes, complimentary wifi is available throughout the property for all guests. The wifi is accessible in the guest rooms and public areas, including the pool deck and casino floor. If you need help with your connection, the front desk is available to assist.
What Is The Cancellation Policy For Route 66 Casino Hotel?
Cancellations must be made at least 24 hours before arrival to receive a refund. A penalty fee may apply if canceling within 24 hours of your reservation date. Any additional fees or deposits paid are non-refundable.
Conclusion
This casino hotel in New Mexico offers a great experience for all guests, with plenty of gaming and entertainment options. There is something for everyone, including sports betting, poker, slots, and more.
Overall, Route 66 Casino Hotel provides guests a fun and exciting atmosphere. With great gaming options, entertainment activities, and dining choices, it's easy to see why this is a popular destination.