Sandia Casino Albuquerque
Address: 30 Rainbow Rd, Albuquerque, NM 87113
Phone Number: +1 505-796-7500
Website: www.sandiacasino.com
Hours: Sandia Casino is open Monday 8 am–12 am, Tuesday 8 am–12 am, Wednesday 8 am–12 am, Thursday 8 am–12 am, Friday 8 am–2 am, Saturday 8 am–2 am, Sunday 8 am–2 am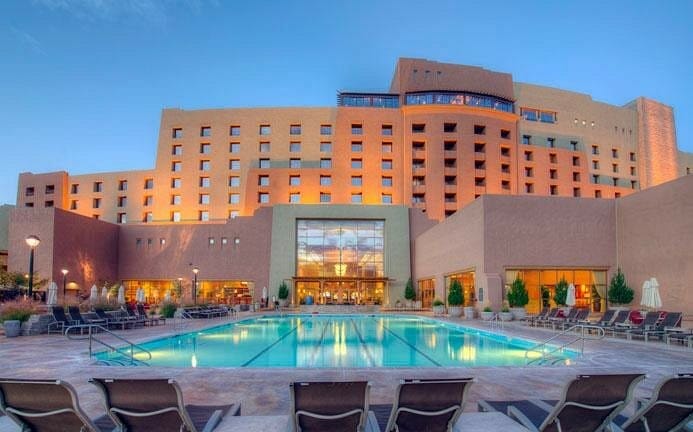 Sandia Casino is a tribal casino located in Albuquerque, New Mexico. It is owned and operated by the Pueblo of Sandia, one of 26 federally recognized tribes in the state of New Mexico. The casino opened its doors in 1994 and celebrated its 25th anniversary in 2019.
Since then, it has become one of the most popular casinos in the state, providing a variety of gaming options to its guests. The casino also offers live entertainment, fine dining and other amenities to ensure an unforgettable experience.
This casino has long been committed to supporting local communities, donating millions of dollars each year towards health initiatives, public education and more. The casino also participates in conservation efforts to help protect and preserve the precious natural resources of the region.
In addition to gaming, the casino offers live entertainment every week, including bands and DJs. The casino also offers a variety of dining options for guests, such as casual and fine dining. The casino also offers a variety of bars and lounges that provides cocktails, beer and wine.
They also offer various guest rooms from their hotel and many other amenities. So whether you are looking for an exciting night of gaming or want to take in the sights and sounds of Albuquerque, this casino is sure to provide an unforgettable experience.
On popular review sites such as TripAdvisor, this casino is rated with a 4.5/5 star rating by customers. One guest said, "Sandia Casino is an excellent place to visit. The staff was wonderful, and the casino was clean and organized. I would highly recommend it!"
Another guest said, "The atmosphere at Sandia Casino was great! So many different games to choose from! We also found that the food selection was plentiful and reasonably priced."
(Related reading: New Mexico casinos)
Gaming
Their casino floor features 1,750 slot and video machines and table games such as blackjack, craps, roulette and more.
Table Games
If you're looking for exciting ways to pass the time at this casino in New Mexico, then you should definitely check out their selection of table games. The casino offers plenty of options for all players – you can try your luck at blackjack, craps, Pai Gow Poker, baccarat and roulette.
For something more unique, the casino also offers No Commission Tiger Baccarat. Perfect for those looking for something that stands out from the usual casino offerings. The minimum for table games varies depending on the game and time of day.
Generally, during peak hours, you can find tables with a $5 minimum. However, these may vary during different times of day or week.
Slots
This casino is an exciting destination for gamers who are looking to get their gaming on. If you're visiting the casino, check out two of the most popular slot machines, Huff and Puff and Fhp Triple Diamond.
Both games offer plenty of opportunities for thrilling play, so there's something for everyone to enjoy. Of course, it's always important to remember responsible gaming when playing slots. Set a budget before playing and if your luck isn't on that day, walk away and try again another time.
Unfortunately, the payback percentage for slot machine games at this casino is not publicly available. However, the casino does operate within the parameters of New Mexico state law, which requires a minimum return-to-player percentage of 80%.
Therefore you can expect to have an exciting gaming experience with fair returns when playing slots at this casino.
Hotel/Resort
The property also houses a hotel onsite with a variety of accommodations. Guests can choose between standard rooms, suites and even ADA-style rooms. All of these options come with amenities like complimentary WiFi, premium movie channels and onsite dining options.
Room types include:
Super Suite – features a foyer, two rooms, a balcony with a view of the mountains, a wet bar, a dining area, a fireplace, and a bathtub
2 Bedroom Suite – features two rooms, two bathrooms, a living room, a sofa bed, and a powder room
1 Bedroom Suite – features one bedroom, a living room, a spacious bathroom, a sofa bed and a powder room
Deluxe King – features one king bed
Standard Queen – features two queen beds
Additionally, this casino offers several amenities to make your visit truly memorable. Some of the amenities include:
24-hour front desk
Concierge services
Highspeed wifi access
Daily housekeeping
Dry-cleaning service
Free self-parking and valet service
Full-service spa with saunas and hot tubs
A golf course
Onsite dining and bar
ADA amenities
Gift shop
Fitness Center
Swimming pool and cabanas
The prices for accommodations at this casino vary depending on the room type and time of year. Generally, weekday rates start from around $284 per night whereas weekend rates may be higher.
For additional savings, you can check out their website to see if they have any special offers or discounts available during your stay.
Check-in time at Sandia is 4:00 pm
Check-out time at Sandia is 11:00 am
Restaurants & Buffets
If you're looking for a top-notch dining experience, Council Room Restaurant is sure to please – from its custom uniforms to award-winning service and modern American food prepared in the rustic Northwest style.
For a more laid-back atmosphere, grab some tasty pub grub at Sandia Sports Bar or order Mexican specialties accompanied by an authentic margarita at Bien Shur. The Golf Club Grill offers tasteful meals and drinks on a casual patio setting for a relaxed dining experience.
Guests of Mountainside are entertained by live entertainment while enjoying locally sourced contemporary cuisine. To satisfy your caffeine cravings, Kiva Koffee provides specialty coffee drinks, teas, cold-pressed juices, smoothies, light pastries and much more.
And don't forget Delis – it's well worth stopping in for their delicious Mediterranean menu featuring fresh salads and Mediterranean wraps.
Lastly, be sure to check out the Thur Shan Buffet Restaurant. Here you can enjoy a lavish range of traditional cuisine from the area, plus offerings from locations around the world. All for one low price of $25.95 per adult.
With a menu that caters to all kinds of tastes, it's no wonder why this beloved spot has earned such rave reviews among happy guests and locals alike. With fresh ingredients and careful attention to detail, you'll experience an unforgettable meal — without having to break the bank.
Pools
Take a break from the excitement of this casino in New Mexico with a refreshing dip in the outdoor pool. It's the perfect way to cool off during your stay. You can also rent out private cabanas, which come equipped with a refrigerator and flat-screen TV.
With its pool bar and grill, you can energize after every swim – orders snacks and drinks while enjoying a stunning view of the Sandia Mountains. Let the sparkling pool take away any stress as you prepare for another fantastic gaming experience at this casino.
Sandia Casino, Albuquerque, NM FAQ
Does Sandia Casino Have A Sportsbook?
Unfortunately, sports betting is currently not available at the casino. However, players can still enjoy table games, slot machines and other gambling entertainment. Additionally, guests can take advantage of their on-site golf course and spa.
Is Poker Available At Sandia?
Yes, you can certainly enjoy some exciting rounds of poker at this casino. Boasting the most impressive gaming experience in the state, the Poker Room offers 14 tables, 65'' LCD TVs and cash games played on a daily basis.
Whether you prefer Limit Hold'em, No Limit Hold'em, No Limit Hold'em or Omaha Hi/Lo, they have something to offer everyone. And you won't want to miss out on their huge jackpot payouts that reward the most dedicated poker players.
What Are The Age Requirements For Gambling At Sandia Casino?
The minimum age requirement for gambling at this casino is 21 years old. So make sure you bring a valid ID when you visit the facility and be prepared to show it upon request if needed. Additionally, minors may not enter and remain in or around the gaming areas of the casino.
Does Sandia Have An Online Casino?
Unfortunately, they do not have an online casino. However, you can still enjoy all the gambling entertainment available at their on-site facility in Albuquerque.
Additionally, they offer a variety of luxurious amenities such as golf courses, spas and pools to create the ultimate gaming experience.
Is There An Sandia Casino App?
Unfortunately, there is not currently an app for this casino. However, guests can still check out their website for more information about upcoming promotions, events and entertainment.
Additionally, you can sign up for their newsletter to get updates on the latest news and offers from this popular casino in New Mexico.
What Is The Dress Code At Sandia?
The dress code at the casino is casual. For example, jeans and a t-shirt are acceptable attire. However, they do not permit clothing that is overly revealing or offensive in any way. Appropriate footwear must be worn at all times as well.
Is There An Airport Shuttle Available From Sandia Casino?
Unfortunately, there is not currently an airport shuttle service available from the casino. However, you can arrange for a private car or limo service to bring you to and from this casino.
Those looking for more affordable transportation options may also consider using a taxi, Uber or Lyft for their journey.
What Is The Smoking Policy At Sandia?
This casino is a non-smoking facility. However, they do provide designated smoking areas throughout the property where guests can go to enjoy a cigarette or cigar. You will need to adhere to these rules when visiting this casino as any breach of the policy may result in a fine.
What Is The Pet Policy At Sandia Casino?
At this time, the casino does not permit pets on the premises. However, service animals are permitted and must be accompanied by their owners at all times. It is also important to note that pets are not allowed in the gaming areas of the casino.
Is Wifi Available At Sandia?
Yes, you can enjoy free wifi throughout the casino. All guests need to do is connect their device to the casino's wifi network and they will be able to access the internet without having to pay any extra fees.
What Is The Cancellation Policy For Sandia Casino?
All reservation cancellations must be made no later than 48 hours prior to the date of arrival. Cancellations received less than 48 hours in advance will be subject to a charge of one night's room and tax.
Conclusion
Sandia Casino is an exciting destination for those looking to enjoy some gambling entertainment in Albuquerque.
With its wide variety of games, luxurious amenities and excellent customer service, it's easy to see why this casino has become so popular with locals and tourists alike. So don't miss out and make sure you check it out during your next visit to New Mexico.