Santa Ana Star Casino Bernalillo
Address: 54 Jemez Canyon Dam Rd, Bernalillo, NM 87004
Phone Number: +1 505-867-0000
Website: www.santaanastar.com
Hours: Santa Ana Star Casino is open Monday 8 am–4 am, Tuesday 8 am–4 am, Wednesday 8 am–4 am, Thursday 8 am–4 am, Friday 8 am–4 am, Saturday 8 am–4 am, Sunday 8 am–4 am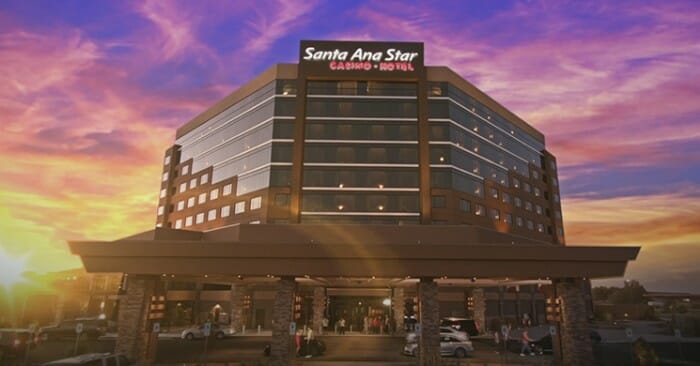 Santa Ana Star Casino first opened its doors in 1993 and is located on the Pueblo of Santa Ana Tribal Land. It was one of the many Indian gaming facilities in New Mexico and has been a major contributor to economic development within the community.
The property is built and owned by the Pueblo of Santa Ana and is operated by a local management team. The casino includes 1,600 slot machines and table games such as blackjack and roulette.
The hotel offers a variety of lodging options including deluxe rooms, suites and standard rooms and a wide range of amenities. Apart from its casino offerings, the casino also has a wide selection of restaurants, bars, lounges, and meeting venues for visitors to enjoy.
The casino is committed to providing its guests with an enjoyable and memorable experience every time they visit. From their friendly staff to the latest gaming technology, they are dedicated to making sure you have a good time.
On popular review websites, this casino has been rated with a 4.5/5 rating among guests for its excellent customer service and variety of offerings. One guest said, "It was great! The staff was friendly and the food was excellent."
Another guest praised the casino, saying "The slot machines are top notch and had a great time playing them. The drinks were also great, would definitely recommend this casino to my friends."
(Related reading: New Mexico casinos)
Gaming
Their gaming space includes 1,600 slot machines and table games such as blackjack and roulette. They also offer a variety of promotions including cashback bonuses and free play.
Table Games
If you're looking to have a great time at this casino, you'll be thrilled to know that they have plenty of table games waiting for you.
From classic card and dice games such as blackjack, craps, and High Card Flush, to the more unique Emperor's Challenge Exposed Paigow and Baccarat Squeeze, there's more than enough here to keep your heart racing.
And of course, don't forget about Roulette – spin the wheel and see if Lady Luck will be smiling at you today. With so many exciting games you'll always find something new and interesting just waiting for you at this casino.
The minimums for each game at this casino vary depending on the type of game and the time of day.
Be sure to check with the information desk before playing so you can be informed about the current table game minimums. However, some of the most popular table games have their minimums set at $5.
Slots
This casino provides visitors with access to a wide variety of exciting slot machines. Some of the most popular options include:
Fhp Triple Diamond
Shadow Of The Panther
Buffalo
Lock it Link – Eureka Reel Blast
Unfortunately, this casino does not publicly report its slot machine payback percentage. However, according to the New Mexico Gaming Control Board, casinos in the state must have a minimum payback of 80%. It is safe to assume that this casino meets or exceeds this requirement.
Hotel/Resort
The hotel at this casino offers a total of 204 nonsmoking deluxe rooms and suites that feature breathtaking views of the Sandia Mountains. Each room includes amenities such as a microwave, refrigerator and free wireless internet.
Room types include:
Double Queen – features two queen beds
Luxury King – features one king bed
Executive King Suite – features one king bed and a living area
Suite 2 Bay – features one king bed, a living room, and a dining room
Hospitality Suite – features one king bed, living room, kitchenette, dining area, and small bar
Additionally, the hotel offers a number of amenities including:
24-hour front desk
Free wifi
Self-parking
ADA amenities
A banquet hall
Business center
Fitness center
Swimming pool
Gift shop
Onsite dining
The hotel room prices vary depending on the type of room and date you choose. Room rates start at $139 per night plus additional fees and taxes. This rate is subject to change so please check with the hotel for the most up-to-date information.
Check-in time at Santa Ana Star is 4:00 pm
Check-out time at Santa Ana Star is 11:00 am
Restaurants & Buffets
Although the casino offers a variety of restaurants, sadly, they do not have a buffet. However, they do offer a variety of on-site dining options to satisfy every guest's cravings. Juniper Steakhouse is the perfect choice for a delicious steak dinner.
The Blue Plate offers a variety of classic Mexican dishes that will remind you of home. For those looking for something unique, Lucky Dragon serves specialty Asian cuisine, with options such as Mongolian beef and savory egg rolls.
Simon's Deli is your one-stop spot for a quick and savory sandwich, while Billy's BBQ will satisfy any barbecue cravings. Whichever restaurant you choose at this casino, you're sure to have an unforgettable experience with great food and atmosphere.
Pools
This casino offers a luxurious and refreshing dip in its indoor pool. This heated pool allows you to relax and unwind after a long day of sightseeing or conquering the casino floor.No need to worry about Mother Nature's sometimes unpredictable weather – take a swim any time of year.
Admission is included with your hotel stay, so why not make it a weekend escape? The casino is sure to provide you with all the fun, relaxation and entertainment that you need.
Santa Ana Star Casino, Bernalillo, NM FAQ
Does Santa Ana Star Casino Have A Sportsbook?
Boasting poker rooms, slot machines, and many other entertaining games, the casino is now upping the ante by offering a sportsbook too. With the addition of this great feature, both professional and amateur gamblers have literally more than one reason to come here.
The sportsbook includes all the classic favorites like American-style betting and spreads, as well as some unique offerings like teasers and money lines.
Whether you're an avid gambler or simply curious about trying your luck at something new, this casino has it all for you — including that coveted sportsbook.
Is Poker Available At Santa Ana Star?
Yes, poker games are available at this casino. They offer a wide variety of poker games including Heads-Up Hold 'Em and Pai Gow. The casino hosts regular tournaments and special events, so make sure to check the website for upcoming poker tournaments.
What Are The Age Requirements For Gambling At Santa Ana Star Casino?
The legal age for gambling in New Mexico is 21. This casino requires all players to be at least 21 years of age before they can participate in any gaming activities. All players must present valid photo identification when entering the casino.
Does Santa Ana Star Have An Online Casino?
Sadly, they do not offer an online casino. However, you can still enjoy all the wonderful games and promotions offered at the land-based casino in Bernalillo, New Mexico. They also offer a variety of entertainment options and amenities to enjoy, such as a luxurious pool, on-site dining and more.
Is There An Santa Ana Star Casino App?
No, there is no app for this casino yet. However, you can keep track of all the amazing promotions and events that are available at the casino by visiting their website or following them on social media like Facebook and Twitter.
What Is The Dress Code At Santa Ana Star?
The dress code at this casino is casual. Shorts, jeans, t-shirts and other comfortable clothing are acceptable. However, please note that all guests must wear shoes while inside the casino area. Also, any clothing that contains offensive language or imagery is strictly not allowed.
Is There An Airport Shuttle Available From Santa Ana Star Casino?
Unfortunately, there is no airport shuttle available from this casino. However, there is plenty of taxi and ride-sharing services that can take you to your destination. Additionally, guests can take advantage of the casino's free parking for those who are driving to the area.
What Is The Smoking Policy At Santa Ana Star?
Smoking is only allowed in designated areas at the casino. There are separate smoking and non-smoking areas within the gaming area, so all guests can find an area that meets their needs. Additionally, vaping is not allowed inside the casino premises.
What Is The Pet Policy At Santa Ana Star Casino?
Only service animals are allowed on the casino premises. Unfortunately, regular pets are not permitted. Please be sure you have all the necessary paperwork if you plan to bring your service animal with you.
Is Wifi Available At Santa Ana Star?
Yes, free wifi is available at the casino. Guests can access the internet from anywhere in the casino premises, so they can stay connected while enjoying all the gaming and entertainment that this great venue has to offer.
What Is The Cancellation Policy For Santa Ana Star Casino?
All reservations must be canceled at least 24 hours in advance to avoid any cancellation fees. However, some offers and packages may have different cancellation policies so please make sure to read the details carefully before making your reservation.
Conclusion
Santa Ana Star is a great casino that offers all the amenities and entertainment that you could want. From its vast selection of slots and table games to its incredible sportsbook, this casino is sure to please any gambler.
Whether you're an experienced player or just getting started, there's something for everyone at this casino. With its convenient location, wonderful amenities, and exciting promotions, it's easy to see why they are one of New Mexico's most popular gambling destinations.