Santa Claran Hotel & Casino Española
Address: 460 N Riverside Dr, Española, NM 87532
Phone Number: 505-367-4900
Website: www.santaclaran.com
Hours: Santa Claran Hotel & Casino is open Monday 8:00 AM – 2:00 AM, Tuesday 8:00 AM – 2:00 AM, Wednesday 8:00 AM – 2:00 AM, Thursday 8:00 AM – 2:00 AM, Friday Open 24 Hours, Saturday Open 24 Hours, Sunday 8:00 AM – 2:00 AM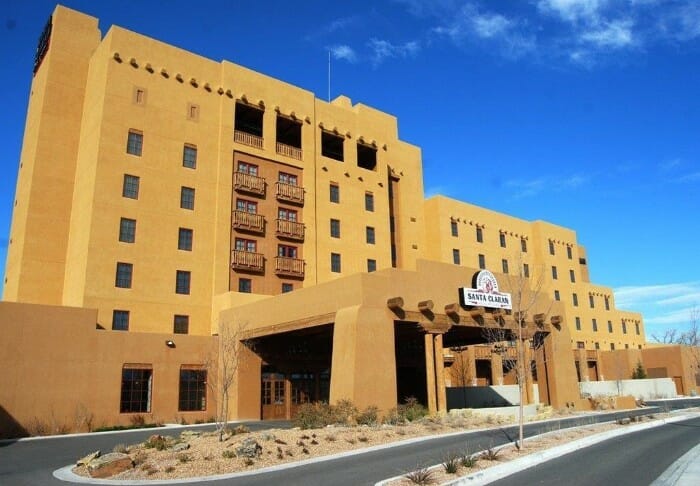 The Santa Claran Hotel & Casino is one of the most iconic and beloved casinos in northern New Mexico. It opened its doors in 1990 and has been a favorite destination for tourists and locals alike ever since.
The property was initially owned and operated by the Pueblo of Santa Clara, a local Native American tribe that still owns and operates the casino. The casino is located in Española, New Mexico, approximately 50 miles north of Albuquerque.
The casino offers an array of gaming activities, from slots to table games, as well as onsite entertainment and delicious restaurants. With comfortable rooms and amenities, this casino hotel has something for everyone.
It is conveniently located near the Santa Fe airport and is within easy reach of many local attractions. The casino features a smoke-free environment, 24-hour security and an onsite golf course.
Whether you're looking to gamble or just relax, this property provides plenty of activities and entertainment. This casino is the perfect choice for a fun weekend getaway or an extended stay.
On TripAdvisor, travelers rate this casino 4.1 out of 5 stars. One guest said, "This is a nice casino to visit. We had a great time playing the slots and found that the staff was friendly and helpful. The food was also pretty good."
Another guest commented, "This is one of the best casinos I have ever been to. The staff was really nice and the games were fun. Highly recommend!"
(Related reading: New Mexico casinos)
Gaming
Their gaming space features 650 gaming machines and multiple table games. The most popular game is their slot machines, which range from penny slots to high-limit games.
Table Games
This casino in New Mexico offers a wide variety of exciting table games for your gaming pleasure. Experience the rush of 21 at their Blackjack tables, with plenty of chances to up your ante and hit a big jackpot.
Craps is another exciting casino favorite, where you can put your luck to the test as the dice decide if you're a winner or loser. Crafty players might be interested in taking on roulette and its spinning wheel, daring and mastering bets while they hope that lady luck is on their side.
Fortune Pai Gow makes use of a 53-card deck along with some friendly strategies so that gamers can try to beat the bank.
And finally, Lets it ride and poker variants like Limit Holdem and No Limit Holdem are available courses where each competitor can use their wits and cards to come out ahead.
Generally speaking, their table game minimums are between $5 and $10. However, this may be subject to change depending on the season and level of player traffic. For more information on exact limits, it is best to call ahead or visit their website.
Slots
This casino offers a wide variety of slot machine games for players of all levels. Some of the more popular games include:
Li'l Red
Colossal Wizards
Forbidden Dragons
Queen of The Wild II
Spartacus Gladiator of Rome
Lazer Lock Ice Sapphire
Unfortunately, this casino does not release the exact RTP (return to player) percentage of its slot machines. However, according to the New Mexico Gaming Control Board, all licensed casinos in the state must meet an average payback percentage of 80%.
Hotel/Resort
The casino offers comfortable rooms and suites. Whether you're looking for a place to stay during your gaming trip or just need a refreshing night away from home, this hotel will provide you with all the amenities you need.
Each room is equipped with free Wi-Fi, cable TV, a mini fridge, microwave and coffee maker. The hotel and casino have a variety of different room types, including King Bed and King Balcony rooms, all with modern amenities.
If you're looking for something extra special, there are Santa Clara King and Santa Clara King Balcony rooms available. If there are several in your party traveling together, you may wish to reserve one of the Santa Clara Double Queen or Santa Clara Double Queen Balcony rooms.
Additionally, the hotel offers a number of amenities for guests. Some of these include:
Highspeed wifi access
Free self-parking
Gift shop
24-hour front desk
Onsite dining
Bar & grill
Fitness center
Business center
Swimming pool
Pet-Friendly Rooms
The casino hotel offers different packages depending on your budget and needs. Rates start at $94 per night plus additional taxes and fees. Be sure to check out their website for the latest promotional offers or contact the hotel directly for more information.
Check-in time at Santa Claran is 4:00 pm
Check-out time at Santa Claran is 10:00 am
Restaurants & Buffets
Although there are no onsite buffets at this casino, guests can enjoy a variety of eclectic dining options. If you're looking for unique flavors and fresh ingredients in a modern atmosphere, the restaurants at this casino in New Mexico are perfect for you.
Center Bar & Dining serves up Southwestern cuisine with plans to include a wine selection from the local vineyards of New Mexico. Sportsbook Bar & Grill is the best place to sit back and watch your favorite sports teams on their big-screen TVs along with choosing from their varied menu.
The Snack Bar offers quick bites that are perfect for those busy days when you need to fuel yourself quickly. Between these three eateries, there really is something for everyone at this casino.
Pools
This casino hotel in New Mexico is a great destination for vacationers looking to relax by the pool. You don't have to worry about uncooperative weather – the hotel has an incredible indoor pool that provides the perfect opportunity to escape from it all.
As far as amenities go, their pool is top-notch, complete with comfortable areas to lounge, take a dip, and even play games with friends or family. If you're looking for a peaceful place to rest, reflect and recharge this season, make sure you check out this casino's amazing pool offerings.
Santa Claran Hotel & Casino, Española, NM FAQ
Does Santa Claran Hotel & Casino Have A Sportsbook?
Unfortunately, the casino hotel does not have a sportsbook. However, you can watch your favorite teams play on one of the big-screen TVs at Sportsbook Bar & Grill. Also, be sure to check out their website for the latest promotional offers or contact the hotel directly for more information.
Is Poker Available At Santa Claran Casino?
Yes, the casino offers a variety of poker games, including Fortune Pai Gow, Let It Ride and NL Holdem. All of these games are available in both cash game and tournament formats. Whether you're a novice or an experienced poker player, there's something for everyone here.
What Are The Age Requirements For Gambling At Santa Claran?
The minimum age for gambling at the casino is 21. All guests must provide a valid ID in order to be admitted into the casino area. Additionally, all guests should be aware of local laws and regulations when it comes to gambling.
Does Santa Claran Hotel & Casino Have An Online Casino?
Unfortunately, they do not currently have an online casino. However, you can visit the on-site casino for a wide selection of games and entertainment options. With so many great amenities available, you won't be disappointed.
Is There An Santa Claran Casino App?
No, there is not currently an app available. However, you can stay up to date with all the latest news and events by visiting their website or following them on social media. You can also contact the hotel directly for more information about upcoming promotions and offers.
What Is The Dress Code At Santa Claran?
The dress code for this casino hotel is casual. Guests should be respectful of the other guests and staff, so please refrain from wearing clothing that is too revealing or offensive. Also, swimwear should not be worn in the dining areas or other non-pool areas.
Is There An Airport Shuttle Available From Santa Claran Hotel & Casino?
Unfortunately, there is no shuttle available from the casino. However, they do offer a complimentary, self-parking service for those who are driving to the hotel.
Additionally, you can book a taxi or car service if needed. There are also several ridesharing services available in the area should you choose to use these instead.
What Is The Smoking Policy At Santa Claran?
Smoking is only allowed in designated areas at the casino. There are also non-smoking rooms available for those who prefer this option. The hotel staff is happy to provide assistance and further information about their smoking policy if needed.
What Is The Pet Policy At Santa Claran Hotel & Casino?
For all stays with a pet, there is an additional $50 non-refundable deposit required which will pay for any necessary cleaning at checkout. To avoid any surprises, please keep pets off the beds and furniture during your stay.
If an animal is in the room without prior notification from the guest then a $250 non-refundable fee may be charged.
Is Wifi Available At Santa Claran Hotel & Casino, NM?
Yes, this casino hotel offers complimentary wifi for all guests. Upon check-in, you will receive the wifi login information to access the internet in your room or throughout the hotel. You can access the wifi from anywhere in the casino or hotel, including the pool area.
What Is The Cancellation Policy For Santa Claran Hotel & Casino, NM?
The cancellation policy for this casino hotel is 24 hours prior to check-in. You can cancel your reservation online or by calling the hotel directly.
Conclusion
Santa Claran Hotel & Casino, NM offers a wide range of amenities for visitors to enjoy. With plenty of entertainment options and services available, you're sure to have an enjoyable stay.
Whether it's playing poker or relaxing by the pool, this casino hotel has something for everyone. Be sure to check out their website or social media pages for upcoming promotions and offers. With a variety of gaming tables and slots, you're sure to find the perfect game for you.