Sky City Casino Acoma Pueblo
Address: 7 Sky City Rd drive, Acoma Pueblo, NM 87034
Phone Number: +1 505-552-6123
Website: www.skycity.com
Hours: Sky City Casino is open 24 hours a day, 7 days a week.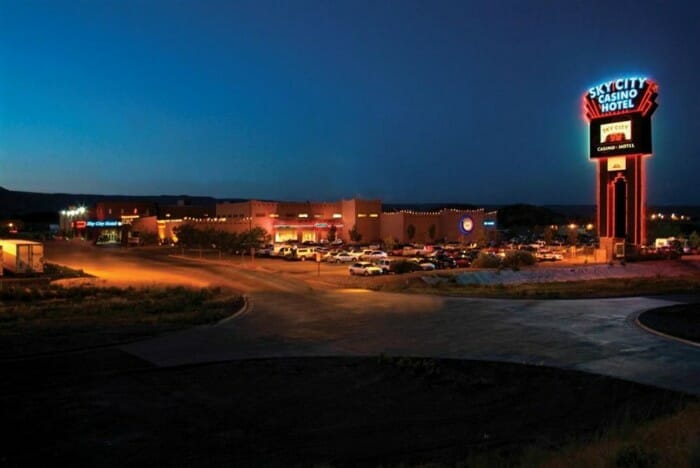 Sky City Casino opened in 2002 as a part of Sky City Cultural Center and Haak'u Museum. The casino is owned and operated by the Acoma Pueblo, one of the oldest continuously inhabited community Native American tribes in North America.
It is located on the mesa top in New Mexico, about 60 miles west of Albuquerque. The casino is home to over 600 slot machines, a variety of table games, bingo and entertainment. Additionally, the casino features a gift shop, restaurants, and other amenities.
The property offers lodging options as well for guests with their hotel and RV Park. Additionally, the casino offers a variety of events and promotions throughout the year such as live music and comedy shows.
The casino is located close to the Acoma Pueblo's tribal center and provides jobs for many of its citizens, while also bringing in much-needed revenue that is used to fund vital services such as healthcare and education.
The casino is an important social, cultural and economic hub for the Acoma Pueblo, offering a unique blend of modern gambling amenities with the community's traditional values.
Whether you're looking for a place to gamble, a hotel stays or just want to take in the stunning views of the New Mexico landscape, the casino is sure to be an unforgettable experience.
This casino has been rated with a 4-star rating by guests who have stayed and visited the casino. One guest said, "I had a great time at Sky City Casino. The slots are really fun, and the staff is very friendly. I would definitely recommend this place to anyone."
Another guest stated, "The scenery around the casino is incredible. You can see for miles. It's an amazing experience. Will definitely be back."
(Related reading: New Mexico casinos)
Gaming
Their casino floor features over 600 slot machines and a variety of table games, including blackjack and roulette. The casino also has bingo, with daily sessions available throughout the week.
Table Games
Whether it's Blackjack or Roulette, you have options galore. If you're looking for something a little more exciting, then Craps or Fortune Pai Gow are great options – both with plenty of lively atmospheres to make your casino experience a memorable one.
For the poker fans out there, they also offer Limit Holdem and NL Holdem, guaranteed to keep the adrenaline pumping. And if that isn't enough, their Let It Ride tables are a must-do for big rewards.
The minimums for the table games are dependent upon the game you are playing and how many players are seated at the table. Generally, they range from $5 to $10 per hand, with higher minimum bets allowed on certain tables.
Slots
This casino is an entertainment destination for locals and tourists alike. Guests can choose from a wide variety of classic and modern slot machines to enjoy. Popular machines include:
Li'l Red
Lazer Lock Ice Sapphire
Spartacus Gladiator of Rome
Queen of The Wild II
Colossal Wizards
Forbidden Dragons
Sadly, this casino does not publicly disclose the exact slot machine payback percentage. However, the New Mexico Gaming Control Board indicates that the average slot machine payback percentage in New Mexico should be 80%.
Hotel/Resort
Their hotel and resort provide a luxurious atmosphere for their guests. Whether you're looking for a fun-filled stay with all the amenities or an economical choice, their accommodations have something for every style and budget.
Their guest rooms come complete with all the comforts of home such as flat-screen TVs, coffee makers and plush beds.
For those seeking something extra special, they offer a wide range of luxury suites featuring ultra-comfortable pillow-top mattresses, Wi-Fi access, and spacious living areas perfect for relaxing after a day at the casino.
All rooms are generously appointed with all the modern amenities you could need. Additionally, this casino offers a variety of amenities and services that are sure to make your stay an enjoyable one. These include:
24-hour front desk
Highspeed wifi access
Free self-parking
Arcade games
Seasonal outdoor pool
Salon and spa
Laundry facilities
Retail stores
Meeting facilities
Onsite dining
Live entertainment
RV park
The prices of accommodations at this hotel depending on the specific room and amenities you choose. Room rates start for as low as $72 per night plus taxes and additional fees.
Prices may vary depending on the season and availability. Be sure to check with the hotel for more information or any special offers that may be available.
Check-in time at Sky City is 4:00 pm
Check-out time at Sky City is 11:00 am
Restaurants & Buffets
Unfortunately, this casino hotel does not offer buffet-style dining. However, they do have several on-site restaurants and bars where guests can enjoy a variety of delicious cuisine.
They have three different restaurants to choose from Huwak'a Restaurant, Piñon Tree Coffee Shop, and Sky Lounge. Huwak'a Restaurant offers a unique and delicious menu of traditional Pueblo cuisines, such as tamales, chili relleno and sopaipillas.
The Piñon Tree Coffee Shop has an array of artisan coffees and pastries, perfect for grabbing a quick bite or having a cozy snack. Last but not least is the Sky Lounge featuring craft cocktails and small plate menus with an amazing view of the Sandia mountains.
Pools
This casino is offering pool-goers an experience like no other. With their outdoor seasonal pool, visitors will be able to cool off and have fun in the sun. Whether lounging with a favorite book or splashing with friends and family, this pool provides the perfect escape from the hot desert heat.
With amenities that range from comfy day beds to private cabanas complete with towels and complimentary refreshments, this is definitely a spot not to be missed out on.
This casino makes it easy for anyone to come out and take advantage of some rest and relaxation before heading back into town.
Sky City Casino, Acoma Pueblo, NM FAQ
Does Sky City Casino Have A Sportsbook?
Unfortunately, this casino does not have a sportsbook. However, they do have a variety of games and slots that may be able to provide some entertainment.
Additionally, this is a great place for guests to watch their favorite sports games on big screens. So, if you're looking for a place to watch the big game, this may be the spot for you.
Is Poker Available At Sky City?
Although they do not have a dedicated poker room, they do have a variety of poker games available on the casino floor. So, if you're looking to join a game of Fortune Pai Gow or Limit Holdem, this is the perfect place for it.
What Are The Age Requirements For Gambling At Sky City Casino?
The legal age for gambling at this casino is 21 years old. All guests must be able to provide a valid form of identification before they can enter the casino and participate in any gaming activities. Also, guests must be able to provide proof of age if asked at any point during their stay.
Does Sky City Have An Online Casino?
Unfortunately, this casino does not have an online version of its establishment. However, you can still enjoy all the games offered on-site at the actual casino itself. The casino also offers a rewards program to guests which allows them to earn points and redeem them for great prizes.
Is There An Sky City Casino App?
No, there is no app for this casino at the moment. However, you can stay connected with the casino and up-to-date on all their latest news by following them on social media such as Facebook and Twitter.
What Is The Dress Code At Sky City?
The dress code at this casino is smart casual. It's important to remember that the casino reserves the right to refuse entry or service to anyone they deem inappropriate or disruptive. So, it's best to pay attention to the dress code before visiting.
Is There An Airport Shuttle Available From Sky City Casino?
No, there is not an airport shuttle available at this casino. However, the nearest airport is Albuquerque International Sunport, located just over 30 miles away from the casino.
There are several other transportation services in the area that can provide you with a ride to and from the airport. You can also rent a car if that's more convenient for you. There are also several taxi and ride-sharing services available in the area.
What Is The Smoking Policy At Sky City?
The smoking policy at this casino is that all indoor areas are completely smoke-free. This includes the gaming floor, restaurant, and bar. There is an outdoor smoking area for guests to use if they wish to smoke.
What Is The Pet Policy At Sky City Casino?
Unfortunately, this casino does not permit pets onsite. It's important to remember that all service animals must be appropriately identified prior to entry and any other form of pet will not be allowed into the premises.
Is Wifi Available At Sky City?
Yes, this casino does offer complimentary wifi to all its guests. To be able to connect to the wifi, you can get in touch with the casino's front desk for the password. Once you have the password, you can simply connect to the wifi from your device.
What Is The Cancellation Policy For Sky City Casino?
The cancellation policy for this casino will vary depending on what type of reservation you have made and the specific conditions that apply to it. Generally, reservations must be canceled at least 24 hours prior to the check-in date in order to receive a full refund.
Conclusion
Sky City Casino is a great place for anyone looking to enjoy the thrills of gambling in Albuquerque, New Mexico. The casino offers a wide variety of gaming options as well as an exciting rewards program.
They also have a great selection of food and drinks, along with large TVs for catching all the big games. Plus, they provide complimentary wifi and a convenient airport shuttle for guests.
Be sure to adhere to the casino's age requirements, dress code and other policies before visiting for an enjoyable experience!