Sunland Park Racetrack & Casino
Address: 1200 Futurity Dr, Sunland Park, NM 88063
Phone Number: +1 575-874-5200
Website: www.sunland-park.com
Hours: Sunland Park Racetrack & Casino is open Monday 10 am–1 am, Tuesday 10 am–1 am, Wednesday 10 am–1 am, Thursday 10 am–2 am, Friday 10 am–4 am, Saturday 10 am–4 am, Sunday 10 am–1 am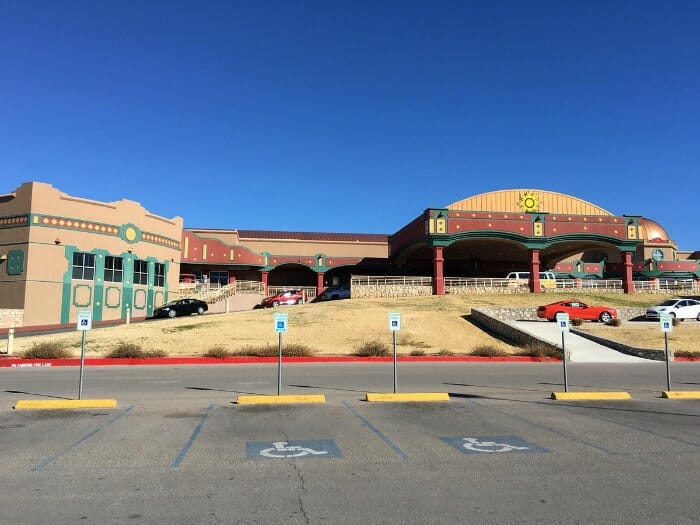 Sunland Park Racetrack & Casino has been in operation since 1959, making it the oldest racetrack in the state of New Mexico. The track opened on January 1959 and was immediately popular with both locals and tourists alike.
The facility is owned by Stanley Futon and is home to both thoroughbred and quarter-horse racing. The track features live thoroughbred and quarter horse racing, simulcast wagering, and a variety of gaming machines with both traditional slots and video poker.
It also includes an off-track betting (OTB) room for convenience. The casino has a full range of electronic table games including blackjack, roulette, craps, and more. The property also houses multiple dining venues that will satisfy any appetite.
The casino also offers special promotions throughout the year such as live music concerts, beer and wine festivals, special dining offers, giveaways, and much more. It is a great place to enjoy a day or night out with family and friends.
With its convenient location and exciting atmosphere, this casino is sure to be your favorite spot for a memorable experience.
On many review sites, guests rate this casino with 4.5 out of 5 stars, citing its convenient location, friendly staff and great entertainment value as major advantages to the establishment. One guest even said, "The staff is friendly, the atmosphere is vibrant and you get value for your money."
Another guest said, "It's a great place to hang out after work or on the weekend. The staff is friendly and accommodating and the gaming machines are always fun."
(Related reading: New Mexico casinos)
Gaming
Their gaming space features over 700 slot and video machines, with denominations ranging from penny to $5. You'll also find video poker machines, keno, and several electronic table games.
Table Games
While this casino does offer plenty of slot machines and electronic games, if you're hoping for traditional tableside gaming, you'll have to look elsewhere. Luckily there are other casinos in the area that do have those offerings.
This casino is great for the individual who wants to play some slots or hit the tables electronically; so if that's what you're after, it's definitely worth checking out.
Slots
This property in New Mexico is an exciting casino and offers a wide range of slots to choose from.
Some of their most popular games are the imaginative Colossal Wizards, the charming Li'l Red, the thrilling Spartacus Gladiator of Rome, the mysterious Forbidden Dragons, the adventurous Queen of The Wild II and the eye-catching Lazer Lock Ice Sapphire.
Each game exudes its own vibes and you can be sure that no matter which one you pick it'll keep you entertained for hours on end.
Unfortunately, the casino does not release its payback percentage numbers for slot machines. However, the New Mexico Gaming Commission requires that all casinos offer at least an 80% payback percentage.
Hotel/Resort
With its world-class horse racing, thrilling casino games, and amazing entertainment there is nothing like experiencing the excitement of this casino in New Mexico.
While they don't have an onsite hotel, they make it easy to find a place to stay with their recommendations of nearby accommodations where you can relax and unwind after all the fun.
Hotels like Holiday Inn El Paso West, La Quinta Inn El Paso Airport, Hotel Indigo El Paso Downtown, and DoubleTree by Hilton Hotel are sure to offer quality stays with great customer service so that you can stay close and enjoy all that this casino has to offer.
Restaurants & Buffets
Unfortunately, this property does not currently offer buffet dining. However, they have several restaurants onsite that will satisfy any appetite. Located inside this casino, the Corralito family of restaurants offers a delicious selection for every taste.
The Corralito Grill features an array of international options that are sure to delight even the pickiest of eaters. For those with a craving for fresh local flavors, Corralito Riley's is the perfect spot to enjoy classic dishes served in a fun and friendly atmosphere.
If steak is your thing, you'll love dining at Corralito Steak House, where they barbecue juicy steaks to perfection. And don't forget their amazing sides. Make sure you visit one or all when looking for first-rate food and great times with friends and family at this casino.
Pools
While the casino itself boasts a variety of gaming opportunities and horse races, there are no actual pools located on-site. However, if swimming is your thing then never fear.
The nearby city of El Paso offers up plenty of locations for visitors to take a dip as well as other attractions for fun-seeking adventurers and leisurely travelers alike.
So even though you won't find any water bodies inside the casino's grounds, you can still have a refreshing time in one of the many nearby spots.
Sunland Park Racetrack & Casino, NM FAQ
Does Sunland Park Racetrack & Casino Have A Sportsbook?
Unfortunately, this casino does not have a sportsbook. However, they do offer regular live horse racing events that you can bet on. Plus, with their slot machines and electronic table games, you'll have plenty of variety.
Is Poker Available At Sunland Park?
While Texas Hold'em, Omaha, or any other kind of poker cannot be found at this casino, guests can still enjoy the thrill of gaming by playing video poker.
There are dozens of video poker machines scattered throughout the casino floor and a comprehensive selection of games to choose from. Poker players who visit this casino can have just as much fun playing some top-quality video poker while they enjoy their time there.
What Are The Age Requirements For Gambling At Sunland Park Racetrack & Casino?
The age requirement for gambling at this casino is 21 years or older. Please note that identification will be required to confirm your age before you are allowed entry and access to the gaming floor. Also, all minors must be accompanied by an adult at all times when on the premises.
Does Sunland Park Have An Online Casino?
Unfortunately, this casino does not currently have an online casino. However, you can still enjoy the same top-notch gaming experience by visiting the real-life action onsite.
With over 700 slots and electronic table games offering up to 80% payback percentage, this casino provides a great opportunity to try your luck.
Is There An Sunland Park Racetrack & Casino App?
At this time, this casino does not have an app available for download. However, you can still get updated on the latest news and events from their website.
They also offer exclusive offers and discounts to those who subscribe to their newsletter, so be sure to take advantage of them when you can.
What Is The Dress Code At Sunland Park?
The dress code at this casino is casual but neat. They do not allow any offensive or revealing clothing, so please keep that in mind while you plan your visit. Also, they are a smoke-free facility and smoking is not allowed.
Is There An Airport Shuttle Available From Sunland Park Racetrack & Casino?
Unfortunately, there is no airport shuttle available from the casino to any nearby airports. However, guests can always take an Uber or taxi to get from the casino to their local airport. Just make sure you book ahead of time and factor in travel time so that you don't miss your flight.
What Is The Smoking Policy At Sunland Park?
Smoking is only allowed in designated smoking areas outside the casino. Guests who wish to smoke must go to these designated smoking areas and are not allowed to smoke inside or near the gaming area.
What Is The Pet Policy At Sunland Park Racetrack & Casino?
Unfortunately, pets are not allowed inside the casino. Service animals that are trained to perform tasks for their owners with disabilities are permitted. All service animals must be leashed or in a carrier at all times and owners must clean up after them.
Is Wifi Available At Sunland Park?
Yes, wifi is available at this casino. Guests can connect to the free public wifi network with their devices and stay connected while they enjoy their time there. Also, guests can enjoy complimentary refreshments while they play their favorite games.
What Is The Cancellation Policy For Sunland Park Racetrack & Casino?
As there is no need to book in advance for this casino, there is no cancellation policy. Guests can show up and enjoy the gaming experience without any prior reservation required.
Conclusion
Sunland Park Racetrack & Casino is a perfect destination for those looking to try their luck at the slots, table games and other gaming offerings.
With its convenient location and great amenities, this casino offers guests an enjoyable experience with plenty of chances to win big. So why not head on down today and see what all the fuss is about?