Taos Mountain Casino
Address: 700 Veterans Hwy, Taos, NM 87571
Phone Number: +1 575-737-0777
Website: www.taosmountaincasino.com
Hours: Taos Mountain Casino is open Monday 10 am–10 pm, Tuesday 10 am–10 pm, Wednesday 10 am–10 pm, Thursday 10 am–10 pm, Friday 10 am–12 am, Saturday 10 am–12 am, Sunday 10 am–10 pm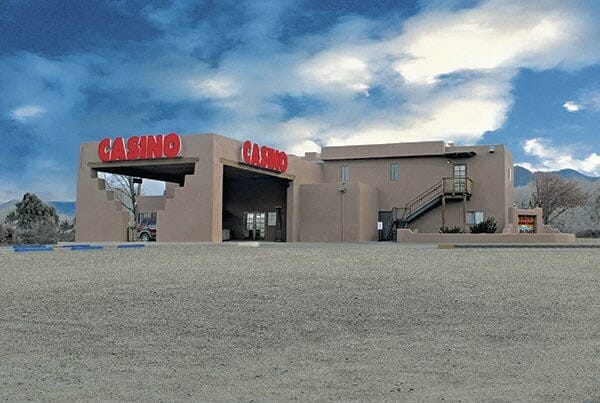 Taos Mountain Casino began its journey as a small bingo hall and evolved into the popular gaming destination it is today. In 1997, the property opened the doors to the newly built facility that now includes slots, table games, keno and live poker tournaments.
It is owned and operated by the Taos Pueblo Indians, who have been in the area for hundreds of years. The casino is located on the Taos Indian Reservation and boasts a commitment to providing top-notch gaming experiences to guests from all walks of life.
The casino celebrates its unique cultural heritage with an array of events and activities throughout the year. It boasts hundreds of slot machines and traditional table games such as blackjack, craps and more.
The casino also regularly hosts live music events and entertainment for all age groups. Whether you're looking for a low-key evening or an exciting night out, this casino is the perfect place to be.
On popular travel review sites, guests have given this casino an overwhelmingly positive rating. With a 4 out of 5-star rating from dozens of reviews, it's clear that guests enjoy their time at this casino.
One guest commented, "Great place to spend the day and night! The staff was friendly and the food was great. We had a blast playing slots and table games. Also, the live music was awesome!"
(Related reading: New Mexico casinos)
Gaming
Their casino floor offers hundreds of slot and video poker machines, along with keno and many other table games. They also offer live poker tournaments throughout the month.
Table Games
At this casino, you can enjoy plenty of thrilling table games. If you're looking to take a shot at being a card shark, why not try your luck at a game of Blackjack or Let it Ride? Craps is also available for those who like to keep things rolling.
For something different, Fortune Pai Gow is offered – perfect for revisiting classic Chinese gambling games. For something even more familiar, Roulette and various forms of poker are available, from Limit Holdem to No Limit Holdem.
Typically, the minimum bet for table games at this casino is $5. You can expect to find higher tables as well, which depending on the game and time of day could be up to $25 or more.
Slots
When it comes to slot machines, this casino in New Mexico has some of the best around. Popular favorites among players include:
Li'l Red
Colossal Wizards
Spartacus Gladiator Of Rome
Queen Of The Wild Ii
Forbidden Dragons
Lazer Lock Ice Sapphire
Unfortunately, this casino does not publicly report its payback percentage. However, the law in New Mexico requires that the average payback percentage for slot machines be at least 80%, so you can expect to find slots with better payouts here.
Hotel/Resort
If you're looking for an exciting gambling experience at this casino in New Mexico, you won't be disappointed. There is a wide selection of slots, tables and other gaming opportunities here – all without leaving the comforts of your home.
Although there is no hotel or resort on site, there are plenty of nearby options to choose from that will fit any budget. The Sagebrush Inn & Suites is located within walking distance, and Hotel La Fonda de Taos offers spectacular views of the historic El Pueblo area.
For more affordable options, check out Super 8 located close by or El Pueblo Lodge for an economical yet comfortable stay. Whichever option you choose, you won't have far to go for a great night's sleep after enjoying the action at this casino.
Restaurants & Buffets
This casino has a wonderful place to get a bite to eat when you're feeling lucky – the Red Diamond Grill. The grill serves up delicious entrees with something for everyone's taste buds. Every dish is made from the freshest ingredients, giving every meal a gourmet feeling.
Aside from its exquisite food selection, one of the best parts about the Red Diamond Grill is that there's no buffet line. That way, patrons can avoid long wait times and directly order their favorite plate right away.
Pools
Unfortunately, there are no pools on site but since the casino is located near the base of Taos Mountain there's ample opportunity to explore the surrounding area and take a dip in one of many local swimming spots.
It's worth noting that regardless of your swimming game or skill level there are lots of excellent pools nearby that provide fun experiences in the sun.
Additionally, nearby hotels such as The Sagebrush Inn & Suites offer their own pools for hotel guests. If you're looking to take a dip during your stay, make sure to check out the pool options of nearby hotels.
Taos Mountain Casino, NM FAQ
Does Taos Mountain Casino Have A Sportsbook?
No, this casino does not have a sportsbook. However, there are plenty of other ways to gamble and have fun here – from slots to table games, and more. Also, guests can take advantage of the great food and drink selection at the Red Diamond Grill.
Is Poker Available At Taos Mountain?
Yes, poker is available at this casino. Guests can find Limit Holdem and No-Limit Holdem games, as well as other forms of poker. Whether you're a novice or an expert, there's something for everyone here.
What Are The Age Requirements For Gambling At Taos Mountain Casino?
The minimum age required to gamble at this casino is 21 years of age. All guests must present valid identification upon entering the premises. Failure to do so can result in being refused entry or service.
Does Taos Mountain Have An Online Casino?
No, this casino does not have an online version. However, guests can enjoy a wide selection of gaming opportunities on-site, from slots to table games and more. There are also plenty of nearby local attractions to explore.
Is There An Taos Mountain Casino App?
No, there is no official app for this casino. However, guests are encouraged to check the website for information about upcoming events and promotions. Additionally, guests can follow the casino's social media accounts for up-to-date news and offers.
What Is The Dress Code At Taos Mountain Casino?
The dress code at this casino is casual. Guests are encouraged to wear comfortable clothing that won't interfere with their gaming experience. Shorts, tank tops and flip-flops are not allowed. Also, it's important to remember that all guests must be 21 years of age or older.
Is There An Airport Shuttle Available From Taos Mountain?
Unfortunately, there is no airport shuttle available from this casino. However, the nearest major airport is in Albuquerque – just a short drive away.
Guests can rent a car or take a taxi to and from the airport. There are also multiple ridesharing services available in the area, such as Uber and Lyft.
What Is The Smoking Policy At Taos Mountain Casino?
Only designated areas of the casino permit smoking. All other areas are non-smoking, including restaurants. All guests are expected to comply with this policy and must abide by posted signs regarding smoking restrictions. Failure to do so can result in ejection from the premises.
What Is The Pet Policy At Taos Mountain?
Unfortunately, only service animals are allowed on the premises. All other pets must be left at home or in a suitable pet-sitting facility. Guests with service animals should notify the staff upon arrival.
Is Wifi Available At Taos Mountain Casino?
No, there is no wifi available on the premises. However, most cellular phone networks should have good coverage in the area. Also, guests can purchase a prepaid data package from the local cellular service provider.
What Is The Cancellation Policy For Taos Mountain?
There is no need to cancel reservations at this casino as it does not accept advance bookings or reservations.
They don't also offer lodging services on site, so guests may need to book accommodations elsewhere nearby. It's important to check individual hotel cancellation policies when making your reservation.
Conclusion
Taos Mountain Casino is the perfect destination for a night of fun and gambling. Guests can enjoy slots, table games, poker and more. There's also great food and drinks available from the Red Diamond Grill.
Plus, there's plenty to explore outside the casino walls too – with nearby attractions like ski resorts, natural hot springs and more. From the dress code to the pet policy, it's important to make sure you understand the rules before visiting.
If you find yourself looking for an exciting night out, then this casino is the place to be. Don't forget to bring your valid ID and have a great time.