Tesuque Casino Santa Fe
Address: 7 Tesuque Rd, Santa Fe, NM 87506
Phone Number: +1 800-462-2635
Website: www.tesuquecasino.com
Hours: Tesuque Casino is open Monday 10 am–12 am, Tuesday 10 am–12 am, Wednesday 10 am–12 am, Thursday 10 am–12 am, Friday 10 am–2 am, Saturday 10 am–2 am, Sunday 10 am–12 am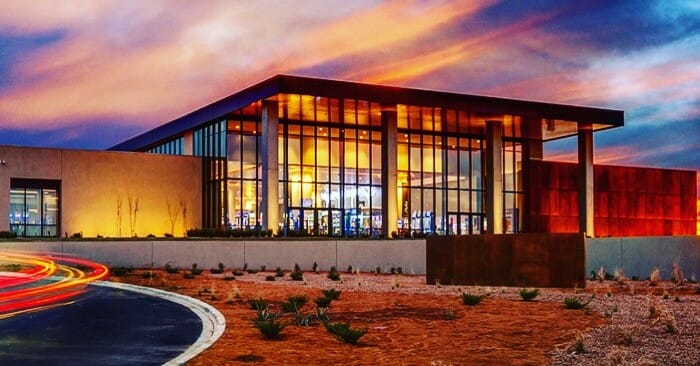 Tesuque Casino was established in 2018 as the first tribal-owned, Las Vegas-style casino in Santa Fe. It is operated by the Tesuque Pueblo of New Mexico, who have been in the area for centuries.
The property has been serving the local community since its opening, providing hundreds of jobs and economic benefits to the area.
The casino features a spacious gaming floor that includes hundreds of slot machines and multiple table games. In addition to gaming options, the casino offers an onsite dining option that will surely please any diner.
The casino also hosts various events and entertainment throughout the year, including live music and comedy shows. Guests can also take part in special promotions and drawings for a chance to win some amazing prizes.
With its commitment to customer service and its commitment to keeping traditional Pueblo culture alive, this casino is a great way for locals and visitors alike to experience some of the best gaming in Santa Fe.
On popular review websites such as Google and Yelp, this casino has been given a rating of 4.5 out of 5 stars by its guests. One guest said, "Tesuque Casino is a great place to visit. The staff is friendly and helpful, the gaming is excellent, and the food was delicious. Highly recommend."
Another guest said, "This is a great place to come and gamble. The staff was friendly and knowledgeable, the games were fun and challenging, and the food was great. If you're in Santa Fe I highly recommend visiting Tesuque Casino."
(Related reading: New Mexico casinos)
Gaming
Their casino floor offers slot machines that include penny games, multi-games, and progressive jackpots. Table games include blackjack, roulette, three-card poker, and more. They also offer daily bingo sessions.
Table Games
Have you been looking for a great casino experience in New Mexico? Look no further than this casino. There are plenty of exciting table games available to play, including fan favorites like Blackjack and Roulette.
If you're feeling lucky, take your chances with Craps, Fortune Pai Gow and Let It Ride. For poker enthusiasts, the theater also has Limit Holdem and No Limit Holdem options. Generally, the minimums for table games range from $5 to $20 depending on the game.
Slots
This casino is known for its exciting selection of slot machines. The most popular slot machines at this casino include:
Li'l Red
Colossal Wizards
Spartacus Gladiator of Rome
Queen of The Wild II
Forbidden Dragons
Lazer Lock Ice Sapphire
The average slot machine payback percentage at this casino is 80% which is based on the New Mexico Gaming Commission regulations. This means that for every dollar you wager on a slot machine, you can expect to receive back 80 cents in winnings.
Hotel/Resort
This casino offers a variety of fun and exciting activities for all ages. Unfortunately, there is no onsite hotel at the casino but there is plenty of nearby accommodation that guests can check out.
Some examples include the Cities of Gold Hotel, Days Inn by Wyndham, The Sage Hotel and Hilton Santa Fe. All these hotels can provide a relaxing stay for visitors to the area.
With so many great options close by, you'll be sure to find just the right place to lay your head after an amazing day enjoying everything that this casino has to offer.
Restaurants & Buffets
If you're after a culinary experience when visiting this casino, then you must check out the Cottonwood Kitchen. With an extensive menu filled with delicious options, this restaurant lives up to its reputation for high-quality cuisine.
Although there is no buffet, the food here is hearty and cooked to perfection. As an added bonus, the wait staff is friendly and helpful so you may need some assistance deciding what to order.
Unlike other casual dining restaurants, this one provides a unique atmosphere that makes it worth visiting and coming back to again.
Pools
This casino offers a great gaming experience for its visitors. Located on the edge of Santa Fe, it is well-maintained and gives off an inviting atmosphere. However, one thing you will not find at the property is pools.
So if poolside lounging is part of your vacation itinerary, this might not be the place for you – but if gaming classic casino entertainment is more your style, be sure to check out this casino and all its amenities.
Tesuque Casino, Santa Fe, NM FAQ
Does Tesuque Casino Have A Sportsbook?
Unfortunately, this casino does not offer a Sportsbook at this time. However, guests can still have an exciting gaming experience with all the other entertainment options available. Also, players can take advantage of their promotions and rewards programs.
Is Poker Available At Tesuque?
Yes, this casino offers Limit Holdem and No Limit Holdem options for poker enthusiasts. Whether you're new to the game or a seasoned pro, you can find great tables full of friendly competition here.
What Are The Age Requirements For Gambling At Tesuque Casino?
This casino requires all players to be at least 21 years of age. This is a requirement for entering the gaming floor and playing any of their table games, slots or other forms of entertainment. If you can't produce proof of your age, you will be prohibited from entering the casino.
Does Tesuque Have An Online Casino?
Unfortunately, this casino does not currently offer an online casino at this time. However, players can still enjoy the classic entertainment options available onsite. The casino also offers a variety of promotions and rewards programs to keep players coming back.
Is There An Tesuque Casino App?
Unfortunately, this casino does not offer an app at this time. However, players can keep up to date with the latest news and promotions through their website or social media channels. Guests can also take advantage of their rewards program which offers exclusive discounts for members.
What Is The Dress Code At Tesuque?
This casino does not have a strict dress code for guests. However, they ask that visitors keep their attire neat and casual when entering the gaming floor. Shoes and shirts must be worn at all times to comply with health and safety regulations.
Additionally, they ask that players refrain from wearing hats, torn clothing, or any type of athletic wear. Offensive or explicit clothing is also prohibited.
Is There An Airport Shuttle Available From Tesuque Casino?
Unfortunately, this casino does not offer an airport shuttle service. However, there is a variety of taxi and ride-share services available to get guests to their destinations quickly and conveniently. Additionally, the casino offers a complimentary shuttle service to and from its properties.
What Is The Smoking Policy At Tesuque?
This casino allows smoking in designated areas. Guests are asked to be respectful of other visitors when smoking, and should not light up in non-smoking areas. Additionally, players should dispose of their cigarettes safely and properly.
What Is The Pet Policy At Tesuque Casino?
Only service animals are allowed inside the casino. Pets, including emotional support animals, must be left outside at all times. Additionally, the casino does not assume responsibility for any unattended pets on its premises.
Is Wifi Available At Tesuque?
This information is currently unavailable so we suggest contacting the casino directly for the most up-to-date information. Additionally, there is a variety of local coffee shops and restaurants nearby with free wifi available.
What Is The Cancellation Policy For Tesuque Casino?
As there is no reservation system in place, you will need to contact the casino directly for their cancellation policy. Additionally, it is always best to call ahead and confirm your booking before arriving at the casino.
Conclusion
Tesuque Casino offers an exciting array of gaming options, entertainment, and dining facilities. With a variety of promotions and rewards programs available, players can enjoy great value for their gaming experience here.
Guests should note that this casino requires all visitors to be at least 21 years of age, as well as follow the dress code and smoking policies when visiting the premises. Additionally, only service animals are allowed inside the casino.
For more information and updates about this casino, please visit its website or social media channels. With the help of all the information provided, players can have an enjoyable and memorable visit to this casino.