Batavia Downs Casino
Address: 8315 Park Rd, Batavia, NY 14020
Phone Number: +1 585-343-3750
Website: www.bataviadownsgaming.com
Hours: Batavia Downs is open Monday 8 am–1 am, Tuesday 8 am–1 am, Wednesday 8 am–1 am, Thursday 8 am–1 am, Friday 8 am–3 am, Saturday 8 am–3 am, Sunday 8 am–3 am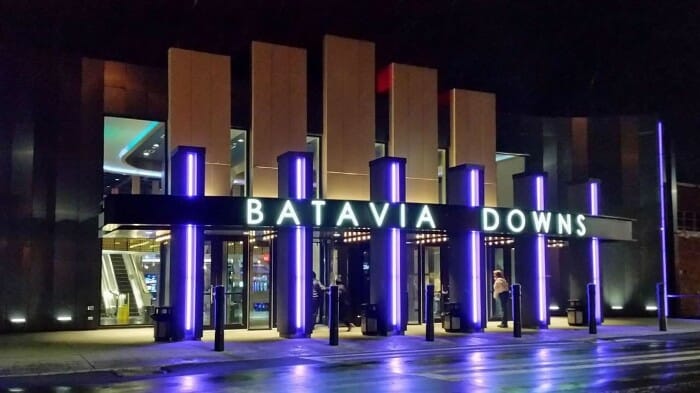 Batavia Downs has been a part of the Genesee County community for over 75 years. It first opened in 1940 as a horse-racing facility and quickly became an important way for the local community to come together, enjoy some fun and excitement, and bet on the horses.
The property is currently owned and operated by Western Regional Off-Track Betting Corporation. Over time, it has grown and evolved into a world-class gaming and entertainment destination.
It now features a casino with over 900 slots, live harness racing, restaurant and bar facilities, an event center for special events, simulcast wagering seven days a week and more.
The facility has been designated an official New York State Historic Site and continues to be an important part of the Genesee County community.
In addition, the establishment also offers lodging with several rooms and suites making it a great destination for overnight stays as well. Whether you're looking for a fun night out or just want to experience the history of the place, they have something for everyone.
On most review sites, such as Google and TripAdvisor, this casino is rated with an average of 4 stars out of 5. One guest commented, "This place is a great destination for fun with friends and family. They offer a variety of activities including the casino, harness racing, and bar facilities."
Another guest commented, "The staff is great and the atmosphere is always lively. You can usually find some good deals on food and drinks!"
(Related reading: New York casinos)
Gaming
Their gaming space offers guests hundreds of modern slot machines and live harness racing. Also, players can take part in simulcast wagering seven days a week.
Table Games
If you're looking to enjoy some table gaming, then this casino in upstate New York might not be the place for you. Unfortunately, the casino is limited to slot machines, so if that's what you're into then this local hotspot will certainly provide plenty of entertainment for you.
With all sorts of themed games and new machines frequently being added, like all casinos, there truly is something for everyone at this casino.
Slots
This casino is the place to go in New York for thrills and back-to-back exciting slot machines. Players can immerse themselves in the atmosphere of classic slots such as Coyote Moon and Li'l Red, or test their luck on more modern options such as Hot Hits and Queen of the Wild II.
The ever-popular Blazing Peppers, as well as Colossal Wizards, Forbidden Dragons, Great Africa, 5 Treasures and Stinkin Rich, elevate the gaming experience with bonus rounds, multipliers and fun bonus features.
For those looking for something a little different why not try Cash Cove ASC or Monopoly Hotel Tycoon? Finally, let's not forget WOF Cash Link & Spartacus Gladiator of Rome.
At this casino, the slot machine payback percentages are based on individual machines and games. The average for all slots at this casino is around 91.6% with some reaching up to 95%. Players should always check the payout rate of each game before playing.
Hotel/Resort
The casino also features an onsite hotel that offers guests a relaxing retreat within the property. The hotel is situated in an area that has easy access to all the gaming and entertainment areas, as well as dining options.
Each of their rooms comes equipped with all the necessary amenities, from flat-screen TVs to complimentary Wi-Fi. In addition, guests can take advantage of their fitness center and business center. They also offer accessible rooms for those with disabilities.
Room types include:
Standard Room – features one king or two queen beds
Track View Room – features one king or two queen beds and a view of the track
King Suite Track View – features one king bed, a separate living room, a dining area and unobstructed views of the track
Additionally, this property offers several amenities to make your stay more enjoyable. Some of these amenities include:
24-hour front desk
Wifi access
Daily housekeeping
Free parking
Onsite restaurants
A full bar and lounge area
Live entertainment and events
Live racing and simulcast
This casino hotel offers various packages and promotions to fit any budget. Room rates vary by season and availability, with prices starting at around $110 per night for a standard room.
Additionally, guests can take advantage of their weekly specials and packages to get even more value for their money.
Check-in time at Batavia Downs is 4:00 pm
Check-out time at Batavia Downs is 11:00 am
Restaurants & Buffets
Even though this casino does not currently offer any buffet-style dining options, they do have several great restaurants to choose from. From fine-dining experiences to grab-and-go food courts, this casino has something for every taste and budget.
Fortunes offers an upscale dining experience featuring classic flavors and creative cuisine. For a more casual experience, you can visit the Labatt Blue Zone at 34 Rush which offers traditional pub fare in a relaxed atmosphere with plenty of TVs to watch the game.
The Homestretch Grill is perfect for American favorites designed to be shared with friends and family, while The Clubhouse & Rail Bar offers tasty snacks and sandwiches.
If you want a combination of great food, drinks and a fun ambiance, The Gatsby at Fortune's is a great spot that can accommodate your needs. In this casino, you'll have no trouble finding something delicious to eat.
Pools
While the track is known for its thrilling live racing, there is also a great offering of off-track betting (OTB) options and simulcast racing programs.
Unfortunately, the onsite amenities do not include a pool, but there are several public outdoor pools nearby in the area, including one located within the Genesee County Park complex.
With all of these options to explore, it will be easy to enjoy your day at this casino no matter what kind of atmosphere you're looking for.
Batavia Downs, NY FAQ
Does Batavia Downs Have A Sportsbook?
Unfortunately, this casino does not currently offer a sportsbook. However, they do have an off-track betting (OTB) area where you can place your bets on simulcast racing. Guests can also take advantage of their live racing and harness racing events which are held throughout the year.
Is Poker Available At Batavia Downs?
This casino is a great venue for entertainment and fun, but unfortunately, it is not the best place to try your luck at poker. The only type of poker available here is video poker.
Therefore, if you are looking for that true "poker room" experience, complete with real cards and opponents around a table, then you will have to look elsewhere besides this casino.
What Are The Age Requirements For Gambling At Batavia Downs?
The legal gambling age in New York is 21 years old. Therefore, anyone under the age of 21 is not allowed to play at this casino. Additionally, all guests must present a valid form of photo ID upon entry.
Does Batavia Downs Have An Online Casino?
No, currently, the casino does not offer any online gambling options. All of their gaming and betting activities must be done in person at the physical location. Plus, all guests must also be 21 years of age or older.
Is There An Batavia Downs App?
Unfortunately, there is currently no dedicated app for this casino. However, patrons of this casino can use their official website to check out all the latest news and promotions happening at the casino.
Additionally, you can also find information about upcoming events, gaming options, and other helpful information related to the casino resort.
What Is The Dress Code At Batavia Downs?
The dress code at the casino is casual and relaxed. While there is no strict dress code in place, guests are asked to respect the rules of the casino by dressing appropriately. Guests should avoid wearing overly revealing clothing or clothing with offensive messages or graphics.
Is There An Airport Shuttle Available From Batavia Downs?
Unfortunately, there is no airport shuttle available in this casino. However, the casino does offer complimentary shuttle services to nearby hotels for its guests.
Additionally, you can also arrange for a taxi or rental car service to get you to and from the casino. There are also several ridesharing apps such as Uber and Lyft that you can use to get around.
What Is The Smoking Policy At Batavia Downs?
The casino has a strict no-smoking policy. All guests are asked to refrain from smoking inside the premises at all times. Additionally, you can only smoke in designated areas outside of the casino.
What Is The Pet Policy At Batavia Downs?
Sadly, pets are not allowed in the casino or any other areas of the complex. The only exception is for service animals, which must be registered and certified. All pets must remain outside of the premises at all times.
Is Wifi Available At Batavia Downs?
Yes, wifi is available at the casino. All guests can connect to the complimentary wifi network in order to access the internet. It can be accessed from any area within the complex. Additionally, guests can also purchase additional data plans if they need more bandwidth or faster speeds.
What Is The Cancellation Policy For Batavia Downs?
If you need to cancel your reservation at this casino, then you must do so at least 24 hours prior to arrival. Cancellations received within the 42-hour period will not be refunded and may incur additional charges. In order to qualify for a full refund, you must cancel before the deadline.
Conclusion
Batavia Downs is a great spot for anyone looking to enjoy casino gaming, live horse racing, and more. All guests must be 21 years of age or older, and also have valid forms of photo ID in order to gain entry.
Additionally, there are rules in place such as the dress code, smoking policy, pet policy and cancellation policy that all guests must adhere to.
Overall, this casino is surely a great destination for anyone looking to have some fun in Upstate New York. With all of its amenities, it's sure to be an unforgettable experience.