Del Lago Resort & Casino Waterloo
Address: 1133 NY-414, Waterloo, NY 13165
Phone Number: +1 315-946-1777
Website: www.dellagoresort.com
Hours: Del Lago Resort & Casino is open Monday 8 am–3 am, Tuesday 8 am–3 am, Wednesday 8 am–3 am, Thursday 8 am–12 am, Friday 8 am–12 am, Saturday Open 24 hours, Sunday Open 24 hours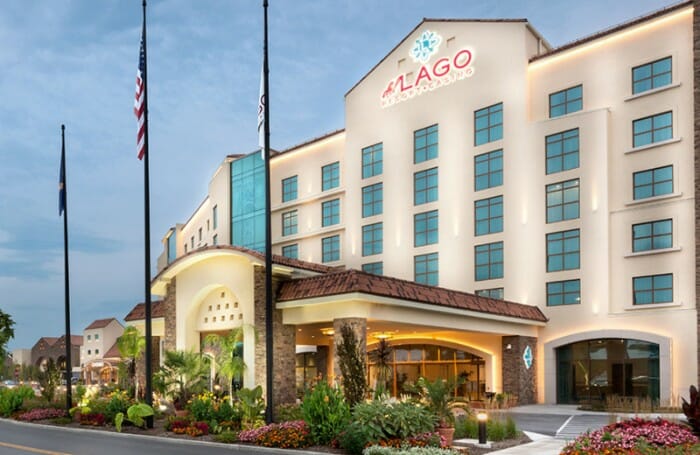 Del Lago Resort & Casino, located in Waterloo, New York, opened its doors to guests of the Finger Lakes region on February 1st, 2017.
Wilmorite and Peninsula Pacific Entertainment developed the Seneca County-area casino in an effort to bring them closer to their goal of becoming the premier gaming destination in the Northeast United States.
Currently, the property is owned and operated by Peninsula Pacific Entertainment, a subsidiary of the Las Vegas-based company Boyd Gaming. The casino offers great gaming experiences with over 1,700 slot machines and 66 table games spread across 100,000 square feet of gaming space.
Additionally, the property houses a hotel with 205 guest rooms and suites that will surely provide guests with all the comforts of home. There are also seven different dining options for hungry patrons, along with a spa, entertainment spaces and more.
The casino has become an increasingly popular destination for visitors to the Finger Lakes region and is sure to provide a great gaming experience that will keep people coming back for more. So if you're looking for a fun time in the Finger Lakes region, this casino is sure to provide it.
On TripAdvisor, the casino has earned 4 out of 5 stars with over 800 reviews. One guest said, "My wife and I went for our first time last night and had a great time! The casino was very clean, the games were fun, and the staff was friendly. We will be coming back!"
Another guest said, "The casino is great, the machines are loose and there is something for everyone. The staff was friendly and helpful. We had a great time!"
(Related reading: New York casinos)
Gaming
Their 100,000-square-foot gaming floor offers over 1,700 slot machines, and 66 table games including blackjack, roulette, craps and more. They also feature a poker room with a total of 14 poker tables and regular tournaments.
Table Games
This casino in New York offers plenty of entertainment options for visitors. If you're looking for table games to play, you'll have plenty of choices.
From the classic card game of blackjack to the dice-based game of craps and exciting roulette to thrilling poker tournaments – there's a game for you at this casino.
There are also extensive amenities offered such as complimentary drinks, private tables drenched with luxury, and helpful and friendly dealers ready to assist guests.
At this casino, table game minimums vary from $5-$25 depending on the game you are playing. Of course, high rollers can find higher-stakes games with larger minimums.
Slots
This casino is home to some of the most entertaining slot machines around. One of its most popular is Heidi's Bier Haus, a game inspired by an Oktoberfest celebration with plenty of wilds and bonuses – a big hit for visitors.
Lock It Link has plenty of progressive jackpots that give you chances at serious rewards when playing the reels.
And if you want something more immersive, you can take a spin on either Sphinx 3D or Zuma 3D, both offering thrilling animated visuals that'll make your experience feel even more like being in a real casino.
This casino has an average payback percentage of 90.4% on all their slot machines. This means that players can expect to receive about 90 cents for every dollar they wager on them.
Hotel/Resort
Located in the scenic Finger Lakes region of New York, their hotel offers a range of premier accommodation options to make your stay as comfortable and enjoyable as possible. Each room is equipped with a flat-screen TV, an in-room safe, and complimentary Wi-Fi.
The standard room offers a comfortable, modern place to rest after a long day of gaming or exploring the local area. If you're looking for something extra special, be sure to check out their Premium Room.
Their Junior Studio Suite and Deluxe Suite offers even more luxury, with upscale furnishings and all the amenities you need during your stay. Get ready to enjoy all the casino has to offer while experiencing superior comfort at this hotel.
The cost of a stay at this casino depends on the type of room and other amenities you choose. Rooms rates start at $149 per night and go up to $400 per night for a Deluxe Suite. Be sure to check their website for the most current rates and specials.
Check-in time at Del Lago is 4:00 pm
Check-out time at Del Lago is 11:00 am
Restaurants & Buffets
This casino in New York offers a wide variety of restaurants with something for everyone. From the Italian-inspired Portico by Fabio Vivani to the American classic hamburgers and sandwiches at Knuckle Sandwiches, Smash Burger, and Savor NY, there's no shortage of delicious offerings.
For those looking for a little something different from traditional fare, make sure to try The Sociale and Ciccino's for a delectably unique culinary experience. For classic Rochester-style favorites, be sure to grab a bite of the famous Zweigle's hot dogs while you're here.
Whatever your dining preference may be, rest assured that they have you covered. However, unfortunately, this casino does not offer any buffet options at this time.
Pools
This casino in New York is a great place to plan a stay or visit for a night out. While they may not have any onsite pools, there are plenty of ways to cool off during your visit.
Just a short distance away you'll find lakeside beaches with swimming and other activities like kayaking and paddleboarding. For a more relaxed experience, enjoy the nearby village parks that feature wading pools and playgrounds.
With so many options, you're sure to find something that's perfect for your day at this casino.
Del Lago Resort & Casino, Waterloo, NY FAQ
Does Del Lago Resort & Casino Have A Sportsbook?
This casino in New York is an exciting and luxurious destination for anyone looking to experience the thrill of gambling. But what if you're a big sports fan? You'll be happy to know that they also offer sports betting through DraftKings Sportsbook.
You can place real-money wagers on professional and collegiate events, as well as prop bets, futures, parlays, and much more.
Whether you're just getting your feet wet in the world of online betting or have been putting your knowledge to the test for years, DraftKings has something for everyone.
Is Poker Available At Del Lago Resort?
This casino is the perfect place to experience a thrilling game of poker. With 14 tables available, they are sure to provide plenty of action for everyone – beginners and experienced players alike.
Their welcoming atmosphere makes it an ideal spot for anyone looking to test their limits and make some winnings. There's never a dull moment in their Poker Room, so if you're ready for an unforgettable experience, look no further.
What Are The Age Requirements For Gambling At Del Lago Casino?
The minimum age for gambling at this casino is 21 years. Remember to bring valid identification such as a driver's license or passport when visiting the casino, as security will be checking IDs prior to entry.
Does Del Lago Have An Online Casino?
Unfortunately, at this time, this casino does not offer an online platform for players. To experience the excitement, you must visit the casino in person.
The good news is that there are plenty of opportunities to be had onsite. From a selection of slots and table games to sports betting and poker – this casino has something for everyone.
Is There An Del Lago Resort & Casino App?
No, there is currently no app available for this casino. However, you can still stay up to date on all the latest promotions and events taking place at this casino by checking out their website or social media platforms.
What Is The Dress Code At Del Lago?
This casino encourages its guests to dress for the occasion. Smart casual and business casual attire are recommended when visiting the casino floor. Visitors should avoid wearing ripped jeans, sandals, tank tops, and other informal clothing.
Is There An Airport Shuttle Available From Del Lago Resort & Casino?
If you're looking for an easy and convenient way to travel from this casino resort to the nearest airport, you should know that the resort offers a 24-hour return airport shuttle service.
This hassle-free form of ground transportation is available to accommodate both arriving and departing guests. Simply contact the front desk with your flight details and they will take care of arranging the pick-up.
Furthermore, they can confirm any updates or changes in your schedule by contacting the hotel shuttle directly.
What Is The Smoking Policy At Del Lago Resort?
Smoking is prohibited throughout the entire casino. This is to ensure that all visitors can enjoy a pleasant and comfortable atmosphere while at the resort.
What Is The Pet Policy At Del Lago?
The property is pet-friendly and welcomes your four-legged friends on their premises. However, pets must remain on a leash at all times and are not allowed in any of the restaurants or gaming areas.
Is Wifi Available At Del Lago Resort & Casino?
Yes, wifi is available throughout the entire property. If you need help connecting to the network, contact a member of staff from the front desk, and they can provide you with all the necessary instructions.
What Is The Cancellation Policy For Del Lago Resort?
All reservations must be canceled at least 72 hours prior to the arrival date in order to receive a full refund. If the reservation is not canceled within this timeframe, guests will incur a cancellation fee.
Conclusion
Del Lago Resort & Casino is a great place to visit for fun and entertainment. With plenty of opportunities for gaming, dining, relaxing, and more – this casino has something for everyone.
Whether you're looking to hit the slots or just enjoy some good food and drinks – they have it all. Be sure to take a look at their website or social media platforms to stay up to date with all their latest promotions and events.
And don't forget – they also offer a 24-hour return airport shuttle service. So, when you're ready to plan your next casino trip, Del Lago should be your top choice.