Finger Lakes Gaming & Racetrack Farmington
Address: 5857 NY-96, Farmington, NY 14425
Phone Number: +1 585-924-3232
Website: www.fingerlakesgaming.com
Hours: Finger Lakes Gaming & Racetrack is open Monday 8 am–4 am, Tuesday 8 am–4 am, Wednesday 8 am–4 am, Thursday 8 am–4 am, Friday 8 am–4 am, Saturday 8 am–4 am, Sunday 8 am–4 am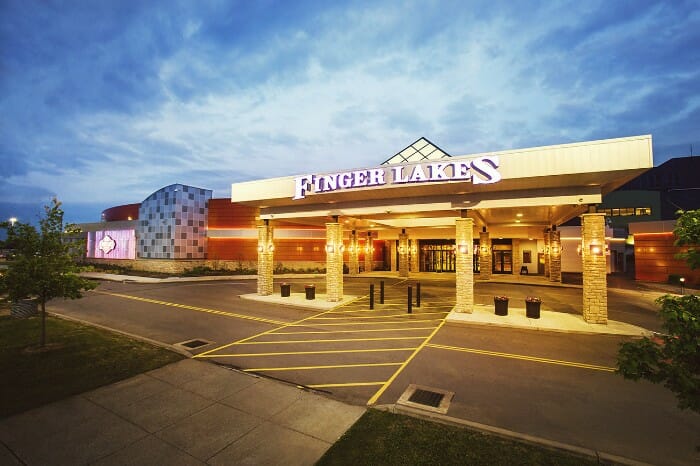 Finger Lakes Gaming & Racetrack is an entertainment facility near Farmington, New York. It opened in 1962 as a thoroughbred racetrack, and in 2004 added casino-style gaming and video lottery terminals (VLTs) to its offerings.
It is owned and operated by Delaware North, a global hospitality and gaming company based in Buffalo, New York. In addition to VLTs and video gaming machines, the property also offers multiple dining and entertainment options.
The facility also hosts numerous special events and promotions throughout the season. They also host live thoroughbred racing from April through December, offering fans a wide variety of betting opportunities and exciting finishes.
This casino is the perfect destination for a day or evening of exciting entertainment and gambling. It remains dedicated to providing visitors with an enjoyable experience that keeps them coming back.
On review websites such as Yelp and TripAdvisor, the majority of reviews for the facility are rated 4 out of 5 stars or above. One guest claimed, "This place is pure entertainment. There's a racetrack, casino, bars, and restaurants. Plus the food was great!"
Another guest said, "The atmosphere was really nice and the staff was friendly. I enjoyed my time here and would definitely come back."
(Related reading: New York casinos)
Gaming
Their gaming space includes over 1,100 video gaming machines that include slots and video poker. Games are linked to five progressive jackpots that can be won with any bet size.
Table Games
Unfortunately, this casino does not offer table games like poker or blackjack. However, they are dedicated to providing a fun place to play with state-of-the-art slot machines and a friendly atmosphere.
For those looking for a more traditional casino experience, there are other gambling establishments located in the area that offer these types of games.
Slots
You can't go wrong when you visit this casino in New York. With a wide variety of the most popular slot machines around, there's something for everyone. From American Original to Wolf Run Gold, you're sure to find something that meets your gaming needs.
Plus, their most recent selection of slots includes some exciting 3D games like Cairo Treasures and Golden Relics – it'll feel like you just stepped into Las Vegas.
Don't forget their classic machines like Wheel of Fortune and 5 Treasures and their new favorites 88 Fortunes and Lucky Lemmings. Additionally, this has a payback percentage of 92.1% on its slot machines. This is the average across all of their slots and video gaming machines.
Hotel/Resort
Unfortunately, this casino does not have a hotel or resort onsite. However, there are plenty of nearby options for you to choose from. Microtel Inn & Suites and Comfort Inn & Suites both offer excellent facilities and services.
America's Best Value Inn provides comfortable and affordable rooms, while the Budget Inn offers budget-friendly solutions without sacrificing any quality of service.
With a variety of nearby hotels and resorts, you can easily find the perfect accommodation for your stay in the area.
Restaurants & Buffets
Looking for great eats at this casino in New York? Look no further than their selection of restaurants. First up is Remedy Bar, where you can find affordable pub-style entrees like their signature beef two-way and great starters like loaded tots.
For an all-you-can-eat experience, you can't beat the Platinum Grille, as they have a buffet full of classic American-style favorites. Their prices range from $20.99 to $22.99 and they offer both brunch and dinner buffets.
And don't forget Sevens Bar, home to tantalizing bar classics like fried pickles and cheese curds as well as decadent desserts like pumpkin pie cheesecake. All these options make this casino a must-stop destination for any hungry traveler.
Pools
As you explore the track, you'll find plenty of activities to keep yourself busy, from slot machines and poker rooms to an event center for larger gatherings and a variety of dining options.
However, they do not offer any swimming or lounging facilities; if you're looking for hot summer days spent poolside, you'll need to look elsewhere. Despite the lack of pools, there is still plenty to do at the facility if you're interested in having some fun while avoiding the sun.
Finger Lakes Gaming & Racetrack, Farmington, NY FAQ
Does Finger Lakes Gaming & Racetrack Have A Sportsbook?
Unfortunately, this casino does not have a sportsbook. However, they do have a full gaming floor with slots, video poker and progressive jackpots. They also offer live horse racing betting through their racetrack.
Also, guests can watch the horse races on video monitors and enjoy great food, drinks and entertainment.
Is Poker Available At Finger Lakes Gaming?
Only video poker is available at this establishment. This casino does not have any live poker tables or tournaments. However, they do have several different varieties of video poker to choose from, so you can still find the game that suits your needs.
What Are The Age Requirements For Gambling At Finger Lakes?
In order to gamble at this casino, all patrons must be 18 years of age or older. This applies to both the gaming floor and the race track.
There is also strict enforcement of this policy, so it's important that all guests bring a valid form of identification. Failure to do so may result in ejection from the premises.
Does Finger Lakes Gaming Have An Online Casino?
This casino offers its own online casino via Lucky North. Playing is easy and hassle-free, accessible either through their website or their mobile app.
With a library packed with popular slots, blackjack, video poker, trivia, bingo and more, there are plenty of ways to have fun and rack up mega wins. Best yet is the exciting 30,000 in FREE PLAY you'll receive just for signing up – making playing even more of a bargain.
Is There An Finger Lakes Gaming & Racetrack App?
No, there is not a specific Finger Lakes app. However, they do have its own Lucky North Casino app that allows users to play its casino games online. The app can be downloaded on both Android and iOS devices.
What Is The Dress Code At Finger Lakes?
This casino does not have a dress code. However, it is recommended that guests dress in casual attire. No swimwear or revealing clothing is allowed in the casino. Additionally, no offensive language or clothing is allowed in the facility.
Is There An Airport Shuttle Available From Finger Lakes Gaming & Racetrack?
Unfortunately, this casino does not offer any airport shuttles. However, there are several local transportation services that can be contacted for rides to and from the airport.
Additionally, there are ridesharing services like Uber and Lyft, as well as local taxi companies, that can be used to get to and from the airport.
What Is The Smoking Policy At Finger Lakes?
This is a non-smoking establishment. Smoking is not allowed anywhere in the facility except for a designated outdoor area.
What Is The Pet Policy At Finger Lakes Gaming & Racetrack?
Unfortunately, pets are not allowed inside the casino or on its grounds. The only exception is for service animals, which must be registered with the facility upon arrival.
Is Wifi Available At Finger Lakes Gaming?
Unfortunately, there is no public wifi available at this casino. If you need to get online while visiting this casino, your best bet is to use the cellular data connection on your phone or tablet. You can also purchase a cellular data plan if needed.
What Is The Cancellation Policy For Finger Lakes Gaming & Racetrack?
There is no need to cancel your reservation as there are no reservations accepted. All games and attractions are available on a first-come, first-serve basis.
However, if you have purchased tickets in advance for any special events or promotions at the casino, please get in touch with their customer support team for more information about how to receive a full refund.
Conclusion
Finger Lakes Gaming & Racetrack is a great destination for those looking to have some gaming and racing fun. With its variety of gaming options, convenient location, and friendly staff, it's no wonder why so many locals and tourists alike enjoy visiting the casino.
Just be sure to adhere to their property policies to avoid any issues, and you'll have an enjoyable and memorable time. Whether it's playing slots or hitting the racetrack, there's plenty of fun to be had at this casino.