Point Place Casino Bridgeport
Address: 450 452 NY-31, Bridgeport, NY 13030
Phone Number: +1 315-366-9610
Website: www.pointplacecasino.com
Hours: Point Place Casino is open 24 hours a day, 7 days a week.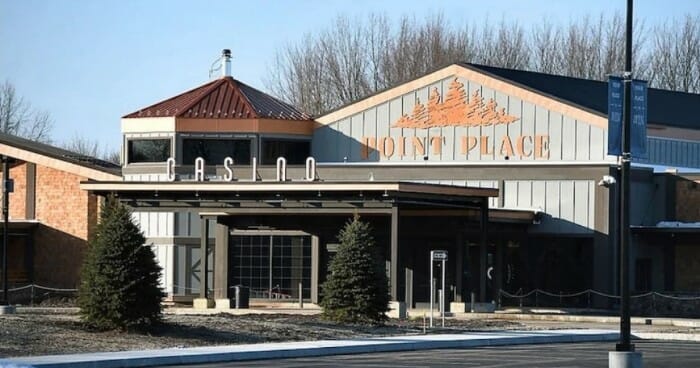 Point Place Casino, located in Bridgeport, New York, is owned by the Oneida Indian Nation. The casino opened its doors in 2018, making it one of the newest casinos in Upstate New York.
Their gaming floor is filled with over 500 slot machines and 20 gaming tables. The facility also includes several restaurants that serve all-day breakfast, lunch, and dinner.
There is a bar located on the gaming floor that serves drinks and snacks, as well as a lounge for guests to relax and enjoy live entertainment or special events. They also offer live music and comedy shows throughout the year.
This casino has become an integral part of the local community, providing employment for many individuals and generating revenue for the Oneida Indian Nation.
With its convenient location in Central New York, it's easy to see why this casino is becoming a popular destination for locals and visitors alike.
On popular review websites such as TripAdvisor, this casino has an overall rating of 4 out of 5 stars. One reviewer said, "I was pleasantly surprised with my visit. The staff was friendly and helpful, the gaming floor was well-maintained, and the food was delicious. Highly recommend!"
Another guest also said, "The casino is a great place to spend an evening. I highly recommend trying the restaurant and grabbing something from the bar before gambling."
(Related reading: New York casinos)
Gaming
Their 65,000-square-foot gaming floor offers a variety of slot machines, video poker, and table games. The casino also has an onsite sportsbook that allows players to wager on their favorite teams.
Table Games
This casino offers a wide selection of exciting table game options to choose from. If you're looking for classic card games, a blackjack is always an option and Three Card Poker provides the added excitement of a bonus bet.
Craps is perfect for those looking for a fast-paced and exciting experience. Additionally, if you're looking for more unique gaming experiences, Let it Ride and Spanish 21 provide intriguing twists on traditional table games.
Last but not least, Mississippi Stud Poker might be a great choice if you want to try your luck against other players as well as the dealer.
The table game minimums vary depending on the game. Generally, the minimum bet for a table game is $5. However, some games may have higher or lower minimums depending on crowd size and other factors.
Slots
This casino offers tons of amazing slot machines that cater to all types of players. Experience levels range from novice to professional and all levels in between.
From traditional spinning reels to fun, interactive video slot games, there is something for everyone enjoying a turn at this casino's slots collection. Popular titles include:
Dragon Link: Golden Century
Betti the Yetti
Bamboozled
Dragon Link
Big 6
Black & White Times Play
Black Knight
Bier Haus 200
By law, all New York casinos must return at least 90% of the money that is wagered on slot machines back to players in winnings. This casino's slots are no exception, and you can expect an average payback rate of over 90% on your wagers.
Hotel/Resort
Looking for an ideal spot to stay and play at this casino in NY? Look no further. While they, unfortunately, don't have an onsite hotel, there are plenty of nearby ones with great amenities and access to all the adventure you could want.
Comfort Suites Cicero, Ramada by Wyndham, Hilton Garden Inn, and Embassy Suites by Hilton are among the recommended properties. Check them out today and enjoy a truly convenient stay near all the gaming action.
Restaurants & Buffets
Although they currently do not offer buffet-style dining, they do have a variety of restaurants to choose from. Whether you're looking for a classic burger experience, a unique pizza twist, a cozy yet lively lounge or hot specialty drinks, the choices are endless.
The Burgers Of Madison County have been drawing rave reviews from locals, Wicked Good Pizza will tantalize your taste buds with its hand-crafted flavor combinations and specialty ingredients. Fireside Lounge is perfect for an enjoyable evening of great beers and delicious eats.
And to top it all off – grab a freshly brewed iced or hot beverage from the Perfect Pour Cafe and relax. With so many great options, you're sure to find something that will excite your taste buds.
Pools
Unfortunately, the casino does not have any on-site pools – but don't let that stop you from making the most of your visit. There are plenty of local hotels, water parks, and even beaches that provide all the aquatic fun you could ask for.
And when you're done swimming for the day, come back to this casino for all your gaming needs. With over 500 slot machines, 30 table games and virtual table games, there's something there for every type of gambler.
Point Place Casino, Bridgeport, NY FAQ
Does Point Place Casino Have A Sportsbook?
For those looking to place bets on their favorite sports teams, Caesars Sportsbook has them covered. With hundreds of pre-game and live game betting lines at their disposal, guests can choose from all major sporting events around the world.
Additionally, those who prefer to make their wagers on the go can do so using the Caesars Sports Betting App, available either directly through the casino's website or through the app store.
So if you're ever gaming in this casino and itching to take a chance on your favorite teams or players, they've got you covered with Caesars Sportsbook.
Is Poker Available At Point Place?
Yes, there are many ways to enjoy the popular game of poker at this casino. There are plenty of variations for players to choose from and plenty of tables available for both cash and tournament play.
What Are The Age Requirements For Gambling At Point Place Casino?
In order to play any of the casino games, guests must be 18 years or older. Additionally, all patrons must show valid photo identification before entering the premises. This includes a driver's license, passport, or other government-issued ID.
Does Point Place Have An Online Casino?
Unfortunately, there is no online casino associated with this casino. However, guests can still enjoy all the slots and table games within the physical casino itself. From classic favorites to new games, there's something for everyone at this New York casino.
Is There An Point Place Casino App?
Are you ready to feel the excitement of this casino? Now you can take this experience with you wherever you go with the official Point Place Casino app.
The app allows for an unparalleled level of convenience, including easy access to upcoming promotions, personalized offers, and the ability to check in to drawings or your TS Rewards Point Balance.
You'll also be able to make a dining reservation right from your phone or tablet; talk about on-the-go convenience. Download their app and get ready for some fun.
What Is The Dress Code At Point Place?
The dress code at this casino is casual and relaxed. Guests are encouraged to wear whatever makes them comfortable as long as their clothing does not violate local laws and ordinances. Additionally, clothing with offensive designs is not allowed.
Is There An Airport Shuttle Available From Point Place Casino?
Unfortunately, there is no airport shuttle available at this casino. However, guests can easily get to the casino using the local taxi or ride-sharing services. Also, many of the local hotels offer shuttle services to and from this casino as well.
What Is The Smoking Policy At Point Place?
Smoking is only allowed in designated smoking areas. All other areas of the casino are non-smoking. Additionally, e-cigarettes are not allowed anywhere inside the building.
If you would like to smoke, please use one of the designated smoking areas for the safety and comfort of other guests.
What Is The Pet Policy At Point Place Casino?
Sadly, pets are not allowed inside the casino. The only exception is for service animals, which must be properly identified and controlled at all times. All other animals must remain outside the building.
Is Wifi Available At Point Place?
Yes, complimentary Wi-Fi is available at this casino. Guests can easily connect to the internet through the provided network and enjoy browsing the web or using their favorite apps while they game.
What Is The Cancellation Policy For Point Place Casino?
As there is no onsite hotel, the cancellation policy does not apply to this casino in Bridgeport. If you happen to book a seat for their entertainment or event, please get in touch with their box office for more information regarding their refund and exchange policy.
Conclusion
As you can see, Point Place Casino is the perfect place to enjoy all your favorite casino games. With plenty of tables and games to choose from, there's something for everyone at this New York casino.
From slots and table games to an exclusive app and an on-site bar & grill, this casino has it all. So, why not come and visit and experience the fun? Plus, don't forget to bring your legal government-issued ID!