Resorts World Catskills Monticello
Address: 888 Resorts World Dr, Monticello, NY 12701
Phone Number: +1 833-586-9358
Website: www.rwcatskills.com
Hours: Resorts World Catskills is open 24 hours a day, 7 days a week.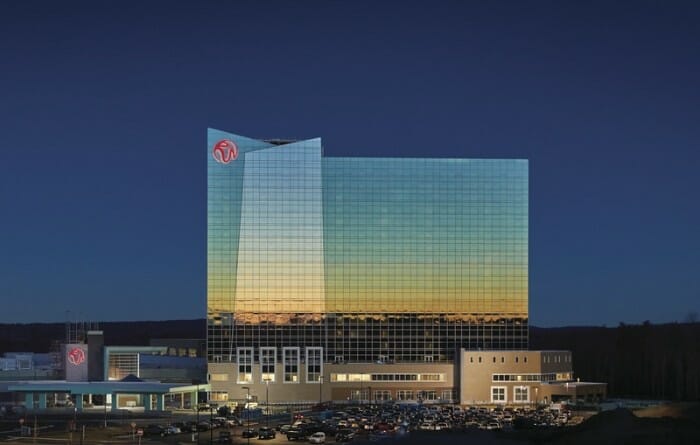 Resorts World Catskills was built in 2018 as part of a major gaming and hospitality expansion in the state of New York. It is located in Sullivan County, approximately 90 miles from New York City.
The land it currently stands on was originally home to the Concord Resort Hotel, which was developed in the 1950s and quickly became a popular destination for celebrities, politicians, and business moguls.
Today, the casino is a game changer for the area, bringing world-class gaming and entertainment to the region. It features an 18-story all-suite luxury hotel, multiple gourmet restaurants, swimming pools with cabanas, a spa and salon, and more.
Their state-of-the-art gaming facilities offer thousands of slot machines, several gaming tables including blackjack, roulette, and baccarat, plus a Poker Room. Nightlife and musical entertainment are also available, with live bands and DJs spinning tunes on the weekends.
There's something for everyone at this casino, so whether you're looking for an exciting nightlife scene or a relaxing spa day, you'll find it all here. From live entertainment to fine dining, they have it all.
This casino is critically acclaimed with a 4.5/5 rating on Google and a 4.6/5 rating on TripAdvisor. One guest said, "It has a great selection of slot machines and table games, as well as excellent restaurants. The staff is also very friendly and helpful!"
Another reviewer said, "The atmosphere is lively and exciting. The casino floor itself is large and roomy and great for a night out on the town. The staff is very friendly and knowledgeable."
(Related reading: New York casinos)
Gaming
Their 100,000 square-foot gaming floor features over 150 live table games, 1,600 slot machines, a poker room with many tables and more. From classic favorites to the latest in cutting-edge gaming technology, there's something for everyone here.
Table Games
Looking for a fun way to spend your evening at this casino in New York? Look no further – the resort has the perfect gaming options for you. Whether you enjoy classic card and table games, or something more unique; they have it all.
From blackjack and poker to Pai Gow Tiles and Crazy 4 Poker, there's something special to discover at this casino. Plus, with Roulette and Ultimate Texas Holdem, you can also enjoy exciting variations of classic games.
The resort even offers Casino War, Midi & Mini Baccarat, Caribbean Stud Poker, Mississippi Stud Poker and Let It Ride Poker – so whatever your style, there's sure to be a game that will bring hours of entertainment.
The minimums typically start at $15 but may vary based on the game. Be sure to check with a representative before sitting down at your favorite table or poker room.
Slots
This casino in New York offers plenty of excitement with its wide variety of slot machines. In recent years, some popular slot titles have been:
Buffalo Diamond Slot
Aristocrat Lightning Link
Dragon Link
Wheel of Fortune
Monopoly Millionaire
Wonder Woman
Stack of Gold
Their slot machine payback percentages are required by law to be at least 90%. However, several reports indicate that the average payback percentage for this casino's slots is 90.72%.
Hotel/Resort
This casino also proudly offers luxury accommodations with its suites, which are all equipped with premium bedding, complimentary Wi-Fi, an in-room safe, a flat-screen TV with pay-per-view movies and games, and much more.
Their suite types include:
Double Queen Suite – features two queen beds and a sitting area
King Suite – features one queen bed and a sitting area
Luxury King Suite – features one king bed and a sitting area
Palace Garden Suite – features one king bed, a separate living area and an outdoor terrace
Palace Two-Story Villa – features two bedrooms, a living area, a dining area and an outdoor terrace
Additionally, their hotel offers many amenities that can make your stay even more enjoyable. These amenities include:
24-hour front desk
Concierge services
Daily housekeeping
Free parking
EV charging stations
Wifi access
Meeting rooms
Fitness center
Onsite dining options
Spa services
Pools and cabanas
Live entertainment
The cost of a stay at this hotel will depend on the type of room and package you choose. Rates typically start from $139 per night plus additional taxes and fees. There are also many packages and promotions available, so be sure to check their website for the latest offers.
Check-in time at Resorts World is 4:00 pm
Check-out time at Resorts World is 11:00 am
Restaurants & Buffets
Even though this casino does not currently offer an on-site buffet, they do have plenty of dining options available. From casual quick bites to fine dining experiences and everything in between, their restaurants will satisfy any food craving you might have.
A great choice for late-night cravings is the quickly becoming legendary 24/7 Bistro, open all day and night with a never-ending menu sure to delight.
The Italian restaurant Cellaio serves up fine dining in a family-style atmosphere, while Dos Gatos dishes out Mexican cuisine in an upscale atmosphere.
The Doubletop Bar is the perfect spot for grabbing a beer or cocktail after exploring the casino, and Good Friends lets you hang out with your pals and kick back over some dinner.
For Asian fare, the upscale Lotus is the place to go, and RW Food Hall brings together numerous cuisines in one convenient location.
But if it's beach vibes you're after then head to Butterfly Beach – complete with drinks served right out of their signature beach cabana — while Empire Lounge offers plush lounging and chic cocktails.
Pools
This casino offers an unforgettable experience with its wonderful pool set-up. You can enjoy the refreshing feeling of swimming in a heated indoor pool surrounded by comfy chaise lounges, daybeds, and cabanas.
Whether you are looking for a relaxing lounging area for the day or an entire cabana to host up to four people – this casino has options suitable for everyone. Plus with its location near some of the area's top attractions, you won't want to miss out on all that this resort has to offer.
Resorts World Catskills, Montecillo, NY FAQ
Does Resorts World Catskills Have A Sportsbook?
At this casino, a visit to Sportsbook 360 is sure to be an exciting and unforgettable experience. Enjoy the thrill of sports betting right at the center of all the game-day action with more than 30 kiosks spread across their casino floor.
The Sportsbook itself spans 6,000 square feet, featuring a center bar flanked by 32 jumbo flat-screen televisions and even a high-definition screen. It's the perfect spot to catch all your favorite teams in action while placing your bets.
They also offer mobile betting with Resorts World Bet, where you can make wagers from the comfort of your own home.
Is Poker Available At Resorts World?
Yes, this casino does have poker. The casino's Poker Room offers 19 tables of live-action poker games, including Texas Hold 'em, Omaha, and 7-Card Stud.
The Poker Room also features weekly tournaments with a variety of buy-in levels so you can test your skills against the best in the business.
What Are The Age Requirements For Gambling At Resorts World Catskills?
In order to gamble at this casino, you must be 21 years of age or older. This age requirement is strictly enforced, and any guests under the legal gambling age will not be allowed entry. Also, valid identification must be provided at check-in.
Does Resorts World Have An Online Casino?
No, this casino does not currently have an online casino platform. Guests can only access the casino's games and services by visiting the physical location.
However, they also do offer frequent promotional offers and bonus codes for their players. Be sure to check their website for the latest offers.
Is There An Resorts World Catskills App?
No, there is no app available at this time for this casino. However, you can stay updated on the latest promotions and events offered by the casino through its website or social media pages.
Also, the casino's website has a mobile-friendly version that you can use to access their services on your mobile device.
What Is The Dress Code At Resorts World?
At this casino, the dress code is smart casual. You can wear anything from a nice collared shirt and khakis to a dress or skirt. However, beachwear and swimsuits are not allowed in the casino and other public areas of the resort.
Is There An Airport Shuttle Available From Resorts World Catskills?
If you're traveling to this casino, you'll be glad to know that they offer a convenient 24-hour return airport shuttle. This means that you can plan your trip worry-free, knowing that your transportation will be taken care of from the moment you arrive at the airport.
The shuttle will pick you up and take you from this casino straight to JFK or LaGuardia Airport on departures within 24 hours of arrival. You can rest assured knowing that your travels are being taken care of quickly and easily.
What Is The Smoking Policy At Resorts World?
Smoking is only allowed in designated smoking areas throughout the casino. Guests who wish to smoke should proceed to one of these areas, where they may enjoy their cigarettes or cigars without disturbing other guests.
What Is The Pet Policy At Resorts World Catskills?
Sadly, this casino only allows service animals on their properties. This means that no other pets are allowed on the premises and guests with non-service animals should make alternate arrangements before visiting this casino.
Is Wifi Available At Resorts World?
Yes, this casino offers complimentary wifi to all its guests. Guests can easily connect to the internet using their mobile devices and laptops, allowing them to stay connected while enjoying the casino's services.
What Is The Cancellation Policy For Resorts World Catskills?
If you need to cancel or make changes to your reservation, you must do so at least 24 hours before the date of your original arrival. Any changes or cancellations made after this time may incur additional fees.
Conclusion
Resorts World Catskills is a great destination for casino lovers looking to experience the thrill of gambling and enjoy the luxurious amenities offered at this casino.
Whether you're looking to stay in one of their hotel rooms, or want to try out some of the games on offer, they have something for everyone. From their complimentary wifi to their 24-hour shuttle service, they make it easy for you to enjoy your stay.
With all these amenities and services on offer, this casino is sure to be an unforgettable experience. So, if you're looking for a fun and relaxing getaway, then this casino is the perfect destination for you.