Seneca Niagara Casino Niagara Falls
Address: 310 4th St, Niagara Falls, NY 14303
Phone Number: +1 877-873-6322
Website: www.senecaniagaracasino.com
Hours: Seneca Niagara Casino is open 24 hours a day, 7 days a week.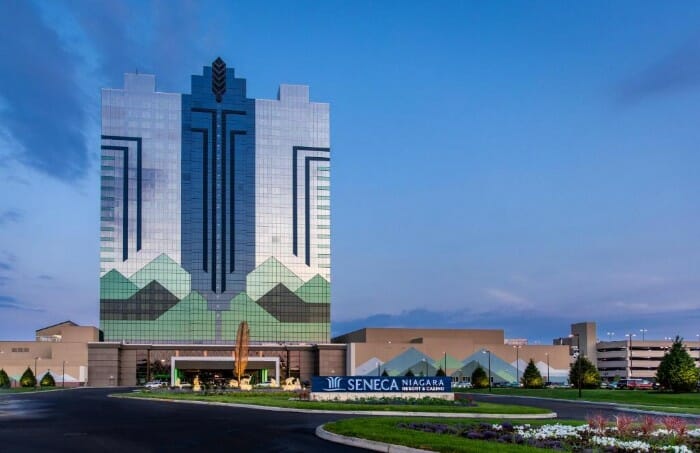 Seneca Niagara Casino is a resort located in the city of Niagara Falls, New York. It opened its doors in April 2002 by the Seneca Nation of Indians within New York State. The land the casino resides on formerly housed Niagara Falls Convention and Civic Center, which opened in 1973.
The casino and hotel complex is located on the American side of Niagara Falls. The casino was the first one to be built by the Seneca Nation of Indians on their territory. It carries a gaming floor that covers 147,000 sq. ft, with over 2,595 slot machines and several table games.
In 2005, the hotel was opened with more than 500 luxury rooms that feature a fitness center, spa, salon, and other amenities. They also have 4 different restaurants to choose from that will surely satisfy your craving.
Apart from the casino activities, it also provides events like live entertainment performances, comedy shows, fashion shows, martial arts tournaments and other special events. It also has a retail outlet where you can shop for souvenirs and other items.
This casino is one of the premier casino resorts located in New York's most beautiful environment – Niagara Falls. Make sure to take advantage of all they have to offer while visiting the area.
On popular review websites like Tripadvisor, this casino has an overall rating of 4/5 stars. One guest said, "The hotel is great and the casino has lots of slots and other games. Staff was friendly."
Another guest mentioned, "It's a great place to visit if you're in Niagara Falls; the casino itself is fairly large with plenty of variety in gaming options and it's clean and well run."
(Related reading: New York casinos)
Gaming
Their gaming floor covers 147,000 sq. ft that features over 2,595 slot machines and several hundred table games. It also offers a high-limit area for those who want to bet big.
Table Games
This casino offers eight exhilarating table games for you to enjoy. Whether you are an experienced gambler or new to the scene, the range of different games means there is something for everyone.
Test your luck with Blackjack, Craps, Let It Ride Bonus and Mini Baccarat. If you're looking for something a bit different, try out Mississippi Stud, Pai Gow Poker, Roulette and Three Card Poker.
The casino also hosts Ultimate Texas Hold'em and Spanish 21 if you want to experience some of the more unique variations of these classic table games. The minimum bet for each table game at this casino is $5. However, the casino also offers high limits that require higher minimums.
Slots
If you're looking for a great time and to rack up the wins, head over to this casino in New York. There are tons of popular slot machines that you can choose from, like the Wheel of Fortune Cash Link, Farmville Slot Game, Konami KX 43, Buffalo Diamond, and Wheel of Fortune 4D.
Or maybe you'd prefer something with a bit more excitement – why not take a spin on Money Link, Jin Ji Bao Xi Rising Fortunes or Tarzan? And for those seeking even bigger thrills, there's Timberwolf Grand and Liberty Link.
Plus don't forget Invaders from the Planet Moolah too – who wouldn't want to join an alien invasion? Unfortunately, the information pertaining to this casino's slot machine payback percentages is not publicly available.
However, the state of New York does require casinos to maintain an overall minimum return-to-player rate of 90%.
Hotel/Resort
This casino also offers a hotel complex with over 500 luxury rooms that are designed to provide comfort and relaxation. Each room comes with a mini-fridge, microwave and coffee maker so you can prepare your own snacks.
Room types include:
Deluxe Rooms – features one king or two queen beds (offers smoking and nonsmoking rooms)
Deluxe Fallside – features one king or two queen beds (offers smoking and nonsmoking rooms)
Corner Suites – features one king bed and jacuzzi (offers smoking and nonsmoking rooms)
Additionally, the complex offers a wide range of amenities for guests to enjoy during their stay such as:
Free wifi access
Free self-parking
24-hour front desk
Concierge services
Daily housekeeping
Business center with meeting rooms
Fitness center
Full-service spa and salon
Swimming pool
Live entertainment
Shopping area
Multiple dining options
The cost of staying at this casino varies depending on what type of room you choose. Their room rates generally start at $65 plus additional fees and taxes per night. Keep in mind that prices may differ depending on the time of year and special offers.
For more information on room rates, you can check their website for the latest details. You can also reach out to their customer service team who will be happy to provide you with further assistance.
Check-in time at Seneca Niagara is 4:00 pm
Check-out time at Seneca Niagara is 11:00 am
Restaurants & Buffets
If you're looking for an amazing dining experience, look no further than this casino's array of restaurants. From the luxurious Western Door Steakhouse to the upbeat, casual vibe at Blues Burger Bar, all your foodie wishes will be granted.
La Cascata offers authentic Italian flavors while Koi and Three Sisters Café serves a fusion of Southeast Asian and Native American dishes. For lighter fare, there's Lounge 101 where you can enjoy small plates and desserts.
Slice-N-Dice is ideal for late-night snacks with their various pizzas and burgers, while Stir has an incredible selection of craft drinks to accompany your meal. If you're looking to relax and grab a bite at the same time, Keno Bar is the perfect spot.
Lastly, at the Full.Plate Eatery, you can indulge yourself in fantastic dishes prepared with all local products. The buffet prices are very competitive too, ranging from $32.99 to $38.99.
Pools
Located right along the scenic Niagara River, this casino is a great place to experience Vegas-style gambling with plenty of gaming options and entertainment. But if you'd like some fun without relying on Lady Luck, visitors of all ages can enjoy the casino's relaxing indoor heated pool.
Whether you're looking for early morning laps or a way to unwind from an adventurous day, the pool offers a great opportunity to take a dip and relax after your day at the casino.
With stunning views of the beautiful Niagara River making it seem as though you're swimming outdoors, you're sure to create amazing memories when you choose to stay at this casino.
Seneca Niagara Casino, Niagara Falls, NY FAQ
Does Seneca Niagara Casino Have A Sportsbook?
Are you looking for a great place to view your favorite sport and have an indulgent evening? Well, this casino in New York may be just the right place for you.
No matter the season, this casino offers an exciting, modern sports lounge onsite, giving guests the unique opportunity to follow their favorite teams as they compete in leagues all over.
The lounge features large HD TVs that are oriented towards individual comfort seating, while also displaying game scores from other important contests and events. With quality food and beverage, it's guaranteed that no one will be missing out on any of the action.
Is Poker Available At Seneca Niagara?
While they do not have a dedicated poker room, you can find several tables with many variations of the game at this casino. With daily tournaments and special events throughout the year, there's always something new to experience at this casino
What Are The Age Requirements For Gambling At Seneca Niagara Casino?
The state of New York requires all guests at this casino to be 21 or older in order to gamble. Be sure that your ID is up-to-date before you visit, as proper identification will be checked upon entering the premises.
Does Seneca Niagara Have An Online Casino?
This casino in New York is one of the many casinos from the Seneca Gaming and Entertainment family. To answer the question, yes, this establishment does have an online casino. In fact, you can play from anywhere across New York State using their secure iPlaySeneca platform.
Enjoy all your favorite Las Vegas-style slots and table games for real money with a valid payment method. It's a great way to get all the excitement of the casino without having to leave your couch.
Is There An Seneca Niagara App?
Unfortunately, there isn't an app available for this casino. However, you can access their online casino platform on your mobile device by visiting the URL directly in your phone's browser. This will allow you to enjoy all of their Las Vegas-style games wherever you are within New York State.
Additionally, you can stay updated on their latest events, promotions and news by visiting their website or following them on social media.
What Is The Dress Code At Seneca Niagara Casino?
No matter what your style is, the dress code at this casino in New York is always casual. Guests are asked to dress comfortably for an evening of fun and excitement. They also encourage guests to wear their favorite team colors so they can join in on the sports lounge festivities.
Is There An Airport Shuttle Available From Seneca Niagara?
Unfortunately, there is no airport shuttle available from this casino. However, Niagara Falls International Airport is just a short drive away and taxis are readily available to bring you directly to the premises.
Additionally, there are several public transportation options available to get you to and from the casino. Check out their website for more information on their shuttle services.
What Is The Smoking Policy At Seneca Niagara Casino?
Smoking is only allowed in designated areas of this casino. There are several smoke-free areas on site that guests can enjoy without being exposed to secondhand smoke. Also, guests can take advantage of the designated smoking areas provided to enjoy their cigarettes or cigars.
What Is The Pet Policy At Seneca Niagara?
Sadly, no pets are allowed on the premises of this casino. This includes all areas, including the gaming floor, restaurants and sports lounge. Service animals are always welcome.
Is Wifi Available At Seneca Niagara Casino?
Yes, complimentary wifi is available at this casino. You can access the wifi by connecting to their secure network and providing your first name, last name and email address. Once you've done this, you'll be able to explore the casino floor with ease knowing that everyone is connected.
What Is The Cancellation Policy For Seneca Niagara?
Seneca Niagara Casino has a strict cancellation policy. All reservations must be canceled at least 48 hours prior to the scheduled arrival date in order to receive a full refund. If you cancel after this point, you are subject to pay the full amount of your reservation.
Conclusion
Seneca Niagara Casino is a great place for an evening of fun and entertainment. From their online casino to the smoke-free areas, this casino has something for everyone to enjoy. Don't forget your valid ID when you come – proper identification will be checked upon entering the premises.
With all the amenities they have to offer and the convenience of their location, this casino is a great spot for an enjoyable night out. So why not get your game on and come visit them today?