Yellow Brick Road Casino Vernon
Address: 4229 Stuhlman Rd, Vernon, NY 13476
Phone Number: +1 877-888-3766
Website: www.yellowbrickroadcasino.com
Hours: Yellow Brick Road Casino is open Monday 9 am – 12 am, Tuesday 9 am – 12 am, Wednesday 9 am – 12 am, Thursday 9 am – 12 am, Friday 9 am – 2 am, Saturday 9 am – 2 am, Sunday 9 am – 12 am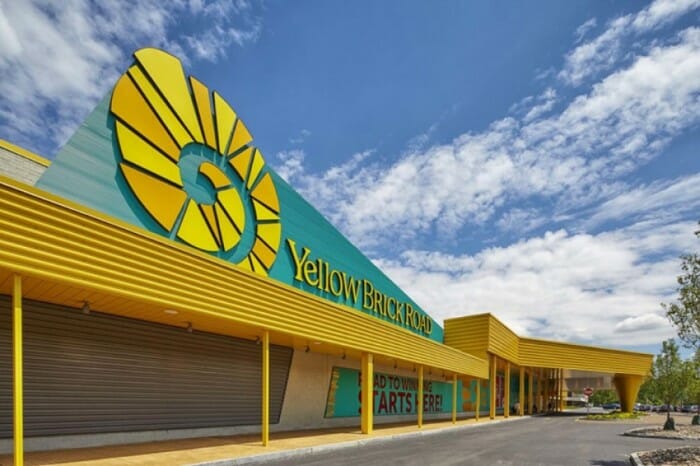 Yellow Brick Road Casino is a Las Vegas-style casino located in Vernon, New York. It was initially opened as a casino and bingo hall in June 2015, however, the bingo hall was closed after a few months to make room for more table games.
The property is owned and operated by the Oneida Indian Nation, which is based in New York state. The casino was named after the iconic yellow brick road from the classic movie "The Wizard of Oz."
The casino offers various slots and table games, including blackjack, roulette, craps, and more. They also have an onsite sportsbook that offers live betting on major sporting events. The casino also features a variety of dining options, from quick snacks to full meals.
In addition, the casino features an entertainment lounge, where guests can enjoy live music, comedy shows, and other events. The venue also includes a bowling alley and a golf course for guests to enjoy.
The casino has been very successful in its few years of existence and has seen many visitors from all over the world. It is one of the top tourist attractions in New York state and continues to be a popular destination for gambling enthusiasts.
On TripAdvisor, the casino has a 4 out of 5-star rating with over 800 reviews, and on Yelp, it has a 4.5 out of 5-star rating with over 400 reviews. One guest said, "Wonderful casino with a great selection of slots and table games. The staff is friendly and the atmosphere is always fun."
Another guest said, "My family and I had a great weekend at Yellow Brick Road Casino. The staff was friendly and helpful, the food was excellent, and the entertainment was second to none! Highly recommended."
(Related reading: New York casinos)
Gaming
Their casino floor offers a wide variety of games to play. Slot machines, video poker, and table games are all available for guests to enjoy.
Table Games
Looking to have a great time while trying your hand at some fun table games? Look no further than this casino, where a wide variety of games awaits. Enjoy the classic Blackjack, put your luck to the test with Craps, or ride off into the sunset with Let It Ride.
Feel like changing up the game? They've got you covered with Three Card Poker and Spanish 21. For something a little more unique, try your hand at Mississippi Stud and don't forget to spin the wheel on their Big 6 Wheel.
The minimums for table games at this casino vary depending on the game and day of the week. On any given day, you can typically find low-stakes tables at a minimum of $10.
Slots
At this casino, you will find a variety of popular slot machines to choose from. Whether you're looking for classic 3-reel slots or modern 5-reel video slots, there's something for everyone. Popular titles include:
5 Dragon Rapids
Big Six Wheel
Aftershock
Carnival of Mystery
Jackpot Inferno
Legends of Chang'e
Liberty Link – Diamond Burstd Burst
Jackpot Inferno
Cash Falls
Triple Lucky 7's
Triple Lucky Magic
Wonder 4 Wonder Wheel
Unfortunately, the actual slot machine payback percentage for this casino is not known. However, by law, all New York slot machines are required to have a minimum payout percentage of 90%.
Hotel/Resort
Visiting this casino in Upstate New York is a great way to enjoy gaming fun. Although the casino doesn't have an onsite hotel, nearby accommodations are plentiful.
Guests can choose between the Hampton Inn & Suites Cazenovia, Days Inn by Wyndham and Ramada by Wyndham East for comfortable lodging close by. Whichever you select, you're sure to get a good night's rest and be ready for your next day of gaming entertainment at the casino.
Restaurants & Buffets
Even though this casino does not currently offer buffet-style dining, guests can still enjoy a variety of delicious meals.
Burgers Of Madison County is renowned for its mouth-watering selections and outstanding customer service, making it one of the most popular restaurants. Looking for something lighter?
Wicked Good Pizza has got you covered with its signature specialty pies cooked to perfection. In the evenings, The Lounge Menu offers a more intimate atmosphere with intimate seating and an impressive selection of wines.
And don't forget Bar West; if you're looking to cap off your night on the town, they have all your favorite drinks in an inviting atmosphere.
Pools
This casino does not have a swimming pool onsite. However, if you're after some aquatic fun, don't despair as there are several public pools in the area that can provide a refreshing escape from the hot summer days.
From local leisure centers to secret wild swimming spots just waiting to be discovered, New York has plenty of options for a fun and cooling day out. Take some time to explore all there is on offer and enjoy an afternoon of peace and relaxation before returning to the casino.
Yellow Brick Road Casino, Vernon, NY FAQ
Does Yellow Brick Road Casino Have A Sportsbook?
Yes, you can kick back and watch your favorite teams battle it out on the big screen, or place bets to win real money. With Caesars Sports, you don't even need to leave the comfort of your home to bet; they also offer mobile betting through their app.
So grab some friends, grab some snacks and drinks, pick your winners, and cheer them on at this casino.
Is Poker Available At Yellow Brick Road?
Yes, you can take part in a variety of poker tournaments and cash games at this casino. Whether you're a beginner or an experienced player, there's something for everyone here – so grab your cards and get ready to bluff.
What Are The Age Requirements For Gambling At Yellow Brick Road Casino?
You must be 21 years of age or older to gamble at this casino. All guests must present a valid photo ID when entering the premises. The casino reserves the right to deny entry for any reason. Additionally, minors may not accompany adults into any gaming area.
Does Yellow Brick Road Have An Online Casino?
No, this casino does not currently offer an online casino. However, you can still take your gaming experience to the next level by playing on a variety of interactive video terminals.
These state-of-the-art machines let you play all your favorite slots, poker and table games in an exciting virtual environment. Plus, you can even earn rewards points and exclusive promotions by playing on them.
Is There An Yellow Brick Road Casino App?
Are you ready to take your gambling experience up a notch? The Yellow Brick Road App is here to do just that. It offers some great upcoming gaming promotions and personalized offers to tantalize any casino fan.
Just check in for drawings, check your TS Rewards Point Balance, and even make dinner reservations from this one convenient app. You can download the app now from the App Store or Google Play.
What Is The Dress Code At Yellow Brick Road?
The dress code at this casino is casual. Shorts, jeans and t-shirts are all acceptable attire for guests unless otherwise noted in a promotion or special event. Keep it simple and comfortable for the best casino experience.
Is There An Airport Shuttle Available From Yellow Brick Road Casino?
Unfortunately, there is no airport shuttle service available from this casino. However, you can easily find several transportation services nearby that can take you to and from the casino quickly and safely. Be sure to compare rates and book in advance for the best deal.
What Is The Smoking Policy At Yellow Brick Road?
This casino is a non-smoking facility. Visitors who wish to smoke can do so in designated areas outside the casino. The smoking policy also prohibits the use of electronic cigarettes and vaping devices inside the casino.
What Is The Pet Policy At Yellow Brick Road Casino?
Only service animals are allowed inside the premises. All other animals must remain outside of the casino at all times. Service animals must be properly identified and may be subject to inspection by casino staff.
Is Wifi Available At Yellow Brick Road?
Yes, free WiFi is available throughout the casino. This makes it easy to stay connected while enjoying your gaming experience and allows you to take a break from the hustle and bustle of the casino floor for a moment of peace and relaxation before returning to the casino.
What Is The Cancellation Policy For Yellow Brick Road Casino?
There is no need for a reservation to enter the casino; you can show up and start playing. However, any special events with reservations might have their own cancellation policy. For situations like these, you should contact the casino directly for more information.
Conclusion
With its tempting gaming options, convenient amenities and exciting promotions, Yellow Brick Road Casino is the perfect destination for a night out on the town or an extended stay. With something for everyone, from beginners to experts, it's no wonder why this casino is so popular.
From its excellent customer service and comfortable atmosphere, it's a one-stop shop for all your gambling needs. So make sure to stop by this casino the next time you're looking for an unforgettable gaming experience.