Dakota Magic Casino Hankinson
Address: 16849 102nd St SE, Hankinson, ND 58041
Phone Number: +1 701-634-3000
Website: www.dakotamagic.com
Hours: Dakota Magic Casino is open 24 hours a day, 7 days a week.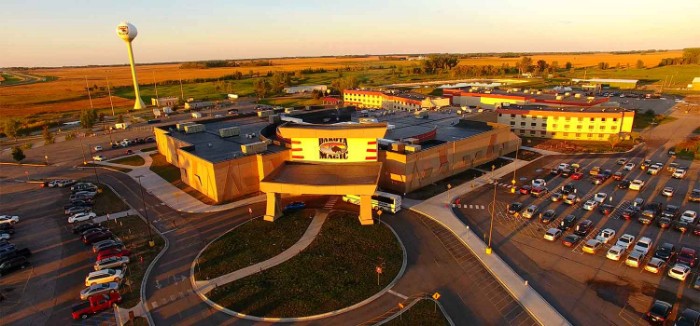 Dakota Magic Casino opened its doors in August 1999. Located on the border between North and South Dakota, it has since become a major attraction for visitors from both states.
This casino is owned and operated by the Dakota Nation Gaming Enterprise of the Sisseton-Wahpeton Sioux Tribe. The casino offers a variety of gaming, entertainment, dining and lodging options for those looking to enjoy some time away from their daily routine.
They have over 700 slot machines, table games such as blackjack and craps, video poker and video keno. The casino also features different incredible restaurants that would please any appetite.
The casino also offers standard hotel rooms and suites that would make any stay comfortable and enjoyable. Additionally, the casino resort provides an entertainment center with live music, comedy shows and other special events throughout the year.
Guests rate this casino resort very highly. Overall, they have given this casino an average rating of 4 out of 5 stars. Guests say, "this casino has a great selection of games, excellent customer service and an overall friendly atmosphere."
Another guest also mentioned, "The hotel was very nice and the staff was friendly and helpful. The casino resort is also clean and well-maintained."
(Related reading: North Dakota casinos)
Gaming
This casino is home to over 700 slot machines, video poker and video keno. They also have table games such as carnival games, blackjack, and craps.
Table Games
This casino offers a wide selection of table games for every type of player. Whether you're an old-school Blackjack fan or jumping into the fast-paced Carnival Games, the casino has something to offer everyone.
They have six classic blackjack tables with limits ranging from $5 up to $250 per hand, and side bets add to the thrill. Looking for something more? Challenge your luck with their Ultimate Texas Hold'em, Three Card Poker and Phil-em-up.
Craps is a fun game for both beginners and veterans; just kiss the dice, make your wager, close your eyes and cross your finger.
The minimum wager for all table games at this casino is $5. However, some tables have higher limits when it comes to bets. These higher-limit tables can range from $25 up to a maximum of $250 per hand.
Slots
This casino is full of popular slot machines providing hours of entertainment and potential big winnings. There are over 700 slot machines to choose from, featuring classic video poker games, keno, spinning slots, game shows and TV-themed machines.
With a variety of bets – ranging from as little as 1 cent up to $25 – there's something to stay within every budget.
What's more, Rewards Club members will earn points and rewards just by playing and have the chance to participate in exclusive events.
Their slot machine payback percentage is currently not publicly available. However, the North Dakota Gambling Commission does set a minimum payback of 80 per cent for slot machines at all casinos in the state.
Hotel/Resort
This casino resort provides guests with standard hotel rooms and suites equipped with a flat-screen television, free Wi-Fi, and more. However, guests must note that all their rooms are non-smoking.
Additionally, the hotel features special events like live music, comedy shows and a golf course on the grounds.
The room types include the following:
Standard Two Queen – features two queen beds
Standard King – features one king bed
Handicap King – features one king bed and is wheelchair accessible
King Jacuzzi – features one king bed and a jacuzzi
Queen Jacuzzi – features one queen be and a jacuzzi
Whirlpool King – features one king bed and a Whirlpool tub
Hospitality Suite – features a wet bar, living room, kitchenette, one king bed with a jacuzzi, and two queen beds
Two Bedroom Suite – features a wet bar, living room, kitchenette, jacuzzi and two bedrooms
One Bedroom Suite – features a wet bar, living room, kitchenette, jacuzzi and one bedroom
Additionally, they offer visitors a range of amenities to ensure a pleasant experience. If you're looking for a fun night out, the casino has everything from exciting gaming options and live entertainment to delicious dining.
Plus, visitors get access to complimentary parking and free WiFi for added convenience. Those who want to stay for the weekend can enjoy the 27-hole championship golf course or try their luck at one of the many slot machines and table games.
The cost of lodging at the hotel varies depending on factors such as room type and amenities. Prices for rooms start from $70.00 per night plus taxes and fees.
Check-in time at Dakota Magic is 3:00 pm
Check-out time at Dakota Magic is 11:00 am
Restaurants & Buffets
At Dakota Magic Casino Resort, there are plenty of dining options to choose from. At Twin Buffalo Grill, you can enjoy everything from seafood and steaks to burgers and pasta.
If you're looking for a drink after playing golf on the course nearby, be sure to visit The Dakota Winds Tavern for some delicious signature burgers.
Or, if you're in the mood for something quick and easy, check out the Exit 1 Deli for some yummy hot dogs, brats, snacks and thirst-quenching beverages.
While The Seven Fires Buffet remains closed temporarily, all other restaurants remain fully operational, so you won't miss out on great food while you're here.
Pools
Those looking for a fun way to relax and escape from it all should consider visiting this casino in North Dakota. Located just outside of the city, it offers plenty of exciting gaming options for guests to explore.
Although there are no pools on-site, some rooms offer hot tubs or jacuzzis to soak away your stress after a long day. Whether you're looking for an exhilarating casino experience or simply a place to unwind and enjoy yourself, this casino is sure to provide.
Dakota Magic Casino, Hankinson, ND FAQ
Does Dakota Magic Have A Sportsbook?
At this casino, you have the chance to place your bets on all of your favorite sports with their state-of-the-art sportsbook. Whether it's football, ice hockey, basketball or baseball, they have a wide range of betting options to fit your preferences.
Their friendly staff can help guide you along every step, while added features like their automated betting kiosks provide an easy and convenient way to ensure your bet is placed at just the right time.
Grab a seat within their comfortable non-smoking environment to watch your team battle it out while waiting to see if you win. With Dakota Nation Sportsbook, you can always get in on the action while watching safe in the knowledge that your bet will be taken care of.
Is Poker Available At Dakota Magic Casino?
The casino offers an exciting selection of poker games for all players. Whether you are a fan of classics like Three Card Poker or you want to try your luck in Texas Hold 'Em Poker, there is something for everyone.
The casino has the most up-to-date technology and machines so that customers can experience the thrill of playing poker on the best possible platforms.
What Are The Age Requirements For Gambling At Dakota Magic?
Gambling at Dakota Magic Casino is limited to individuals 21 years of age and older. All guests must provide valid identification upon entering the casino floor or participating in any activities.
Does Dakota Magic Have An Online Casino?
They do not currently have an online casino. However, visitors can still enjoy the casino's many attributes in its physical location.
Is There An Dakota Magic Casino App?
Unfortunately, there is no specific app for this particular casino at this time.
What Is The Dress Code At Dakota Magic Casino Resort?
The dress code is casual and relaxed. Guests are encouraged to wear comfortable clothing that does not contain any offensive material or images.
Is There An Airport Shuttle Available From Dakota Magic?
The casino does not offer an airport shuttle service. However, guests can use several local taxis and ride-share services, such as Uber and Lyft, to travel to and from the airport.
What Is The Smoking Policy At Dakota Magic Casino And Hotel?
The smoking policy at this casino is designed to accommodate all guests. Smoking is permitted inside the casino; however, table games will operate as nonsmoking and face masks are optional. What's more, all hotel rooms are non-smoking, making them a great choice for any stay.
What Is The Pet Policy At Dakota Magic?
Unfortunately, all pets are not allowed in the casino. Although service animals are allowed in the casino. For all other pets, guests should make arrangements for a pet-sitting service or boarding facility during their stay.
Is Wifi Available At Dakota Magic?
Yes, complimentary wifi is available throughout the entire property. Connect to the "Dakota Magic" network, and you will be able to surf the web while staying at the casino.
What Is The Cancellation Policy For Dakota Magic Casino Resort?
The cancellation policy of the casino hotel is straightforward and simple. You must cancel by 6 PM of the night before your scheduled arrival, and you won't incur any additional charges. If you fail to do so, you will be charged a fee equal to one night's stay.
That being said, it's always a good idea to double-check and make sure your payment is processed correctly.
Conclusion
Dakota Magic Casino Resort offers a large variety of gaming and entertainment options. From poker to sports betting, there is something for everyone.
Visitors can enjoy the games in a comfortable non-smoking environment, take advantage of their free wifi, and conveniently use their automated betting kiosks.
Dakota Magic Casino Resort is an ideal destination for all who seek a great gaming experience. With its wide selection of games, reliable customer service, and convenient amenities, it is a great choice for your next casino adventure.