Prairie Knights Casino & Resort Fort Yates
Address: 7932 ND-24, Fort Yates, ND 58538
Phone Number: +1 800-425-8277
Website: www.prairieknights.com
Hours: Prairie Knights Casino & Resort is open 24 hours a day, 7 days a week.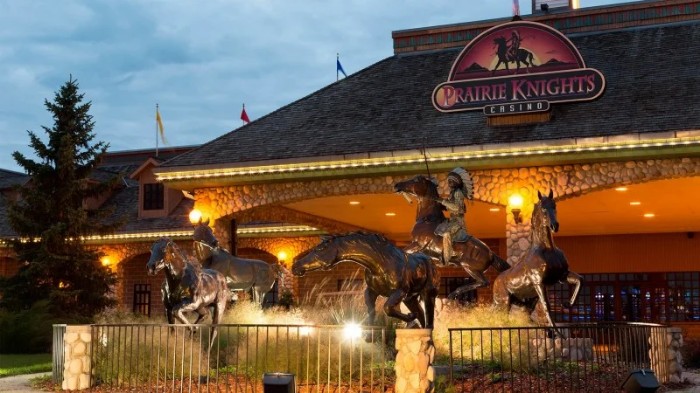 Prairie Knights Casino & Resort has served the Standing Rock Sioux Tribe since its establishment in 1993. The casino is located just north of Fort Yates, North Dakota and serves as the economic engine of the reservation.
In addition to providing jobs and other financial support for members of the tribe, the casino also offers a variety of amenities designed to make guests feel welcome.
These include a full-service hotel, RV sites and campground, swimming pool, fitness centre, and a state-of-the-art gaming floor with more than 700 slot machines, table games and keno.
The resort also features a variety of dining options that will please any palate. Guests can enjoy an exciting variety of entertainment and special events throughout the year that caters to all ages, including live music performances, comedy shows and contests.
The casino resort guarantees a memorable stay every time with its commitment to providing excellent customer service and a wide range of amenities.
Many people have rated this casino resort with a four-star rating or higher. Guests have said, "The rooms are clean and comfortable, the food is good and reasonably priced, and the staff is exceptionally friendly. We enjoyed our stay very much!"
Other guests also commented, "We had a great time at Prairie Knights Casino & Resort. The casino was clean and the staff were very friendly and helpful. We also enjoyed the pool, fitness centre and restaurant."
(Related reading: North Dakota casinos)
Gaming
This casino offers a variety of gaming options, including over 700 slot machines, video poker and classic table games, such as craps, roulette, blackjack and three-card poker. They also offer keno and an array of progressive jackpots.
Table Games
If you're looking for the best in table game action, this casino is just the place for you. Try your luck on various classic games such as Blackjack, Craps and Three Card Poker.
If you're feeling adventurous, why not tackle one of their exciting Ultimate Texas Hold'Em tables? Take your time to learn the rules or get advice from friendly staff – they are always ready to help and ensure everyone has a great experience.
This casino offers some great minimums for those looking to enjoy some live-action table games. Whether you're a low-stakes player who enjoys Blackjack or poker or someone who likes to go big with high-stakes bets, they have you covered.
Low-limit Blackjack plays start at just $3 and all the way up to $100 depending on availability; Three Card Poker and Ultimate Texas Hold 'Em are both set at $5-25; and for high rollers, you can find blackjack tables offering bets up to $250.
Slots
This casino is a great spot for all types of gamblers, from beginners to high rollers. With over 700 slot machines, there's something for everyone. Their denominations on the gaming floor range from one cent up to five dollars.
You may be interested in trying out their High Stakes slots in the High Skies room if you're confident. The vast selection includes exceptional possibilities and offers the potential for some of the area's biggest and most lucrative jackpots.
Some popular games found here include Sizzling Sevens, Dakota Diamonds, Silver Sunset, and video poker – so have fun and take a chance to win big.
Unfortunately, this casino's slot machine payback percentage is not made publicly available. However, the North Dakota Gaming Commission requires all licensed casinos in the state to offer a minimum payback of 80%.
Hotel/Resort
The Lodge at Prairie Knights has something for everyone. Their standard rooms are perfect for travellers wishing to stay on a budget and include essentials such as covered parking and access to amenities like their pool with water slide, fitness room, and guest laundry.
For those seeking that extra level of comfort, their luxury suites offer beautiful vaulted ceilings and elegant décor, along with all the expected amenities, plus a separate sitting area, fireplace, table, and more.
No matter what type of room you choose, all of them are equipped with must-haves like a mini safe and HDTV with premium channels.
This casino has many amenities available to its guests, ranging from practical conveniences like the fitness room and guest laundry to recreational activities such as a pool and water slide to ensure your stay is enjoyable.
For guests looking for added luxury, the lodge offers covered parking and several electric cars charging stations in both the lodge parking garage and the south casino parking lot.
Wi-Fi is also available throughout the property, so you can stay connected no matter where you are on the property. The casino also features 16 convenient RV sites providing electricity, water and sewer services conveniently located near the casino.
The cost to stay at this casino resort can vary based on the type of room and amenities you select. Standard rooms start at $100 per night, while luxury suites can go up to $199 per night. RV sites are available starting at $30 plus taxes per night.
Check-in time at Prairie Knights is 3:00 pm
Check-out time at Prairie Knights is 11:00 am
Restaurants & Buffets
At this casino resort, you can find something for everyone. With their Feast of the Rock buffet, you'll have the option to enjoy classics like pancakes, eggs and biscuits & gravy.
You can also find a good selection on their lunch and dinner menus with items like sandwiches, burgers and appetizers.
If you're in the mood for a true Bismarck experience, check out The Hunters Club, where you can feast on fresh seafood and primo cuts of meat for an unforgettable meal.
Don't forget The Prairie Bar & Tatanka Bars at our resort – equipped with multi-game bar tops and big screen TVs, offering delightful drinks in a cozy atmosphere.
Adults can fill up delicious food and drinks every Saturday and Sunday from 7 am to 10:45 am with the Weekend Breakfast Buffet, priced at $12.95 per person. Kids ages 5-10 can also join in on the fun and feast away with their discounted price of only $7.25.
Later in the evening, consider stopping by again for the Concert Night Buffet from 5 pm to 10 pm, offered at $12.95 per person or $9.50 per senior.
Pools
If you're looking for an unforgettable aquatic experience, this casino resort is the ultimate getaway. Their pools offer both relaxation and thrilling adventure with their spectacular indoor pool and water slide.
Take a dip in the pool's warm waters, or slide down the fast-paced excitement of the water slide – all within an elegant atmosphere designed to provide a maximum escape.
Whether you're a beach bum or an adrenaline seeker, this casino resort delivers an aquatic experience that satisfies your needs.
Prairie Knights Casino & Resort, Fort Yates, ND FAQ
Does Prairie Knights Casino Have A Sportsbook?
Unfortunately, this casino does not have a sportsbook available. However, customers can still enjoy the casino's many other offerings, such as slot machines, card games and live entertainment.
Is Poker Available At Prairie Knights?
The casino offers a variety of exciting poker options to its guests. Patrons can enjoy games such as video poker, Three Card Poker, and Ultimate Texas Hold Em with various stake levels to match their budget.
What Are The Age Requirements For Gambling At Prairie Knights Casino & Resort?
This casino resort is a great spot for adults who want to enjoy their favorite casino games, but it's important to note that there are age restrictions you must be aware of before making the trip.
All guests under 21 years of age are welcome in the Lodge and other restaurants at Prairie Knights, but unfortunately, they cannot access the casino itself. Fortunately, those over 21 can have a great time playing slots, poker and more.
Does Prairie Knights Have An Online Casino?
No, this casino resort does not have an online presence. However, when you visit this casino, you can still enjoy all the fun and excitement of gambling in a real-world setting.
Is There An Prairie Knights Casino & Resort App?
Currently, there is no app available for this casino resort. However, their website offers information on the casino's many services and amenities to make your stay as enjoyable as possible.
What Is The Dress Code At Prairie Knights?
The dress code at this casino is casual. Although there are no formal requirements, please keep in mind that clothing must be clean and presentable. Shorts, sandals, and athletic wear are all acceptable for the casino floor.
Is There An Airport Shuttle Available From Prairie Knights Casino & Resort?
Unfortunately, there is no airport shuttle available from the casino. However, you can access transportation to and from the local airport via taxi or rental car. Additionally, Prairie Knights offer complimentary valet parking for those driving themselves.
What Is The Smoking Policy At Prairie Knights?
The casino resort ensures guests have the best possible gaming experience, including a smoke-free environment. The main gaming floor is now completely smoke-free to ensure everyone can enjoy their stay.
If you're looking for an area to smoke, a specially designated smoking area is located in the southwest corner of the building. This area will allow guests to enjoy themselves still while maintaining a healthier atmosphere on the gaming floor.
What Is The Pet Policy At Prairie Knights Casino & Resort?
This casino resort happily welcomes all four-legged friends, but there are a few rules their owners must follow. Carriers or crates are required for pets on the property at all times, and a $75 non-refundable pet fee is charged per visit.
Unfortunately, some breeds, including pit bulls, Doberman Pinschers and Rottweilers, are barred from visiting.
Is Wifi Available At Prairie Knights?
Yes, this casino resort offers free Wi-Fi to all guests. Guests can access the Wi-Fi network from anywhere on the property, allowing them to stay connected during their visit.
What Is The Cancellation Policy For Prairie Knights Casino & Resort?
The cancellation policy for this casino resort is currently undisclosed. Please get in touch with the hotel directly for more information about their cancellation policy.
Conclusion
Prairie Knights Casino & Resort offers guests a great selection of games and amenities in a fun, family-friendly atmosphere. From video poker to live entertainment, there's something for everyone to enjoy at this casino resort.
Plus, the smoke-free environment makes it a comfortable spot for all types of gamers. Whether you're looking to hit the tables or relax with a few friends, this casino resort is a great choice for your next gaming getaway.
Before you go, make sure to double-check the age requirements and dress code, as well as any pet policies that apply. Finally, don't forget to take advantage of the free Wi-Fi and complimentary valet parking. With all this casino resort has to offer, you'll surely have a great time.