Skydancer Casino Belcourt
Address: 3965 Sky Dancer Way NE, Belcourt, ND 58316
Phone Number: +1 701-244-2400
Website: www.skydancercasino.com
Hours: Skydancer Casino is open Monday 10 AM–2 AM, Tuesday 10 AM–2 AM, Wednesday 10 AM–12 AM, Thursday Open 24 hours, Friday Open 24 hours, Saturday Open 24 hours, Sunday 10 AM–2 AM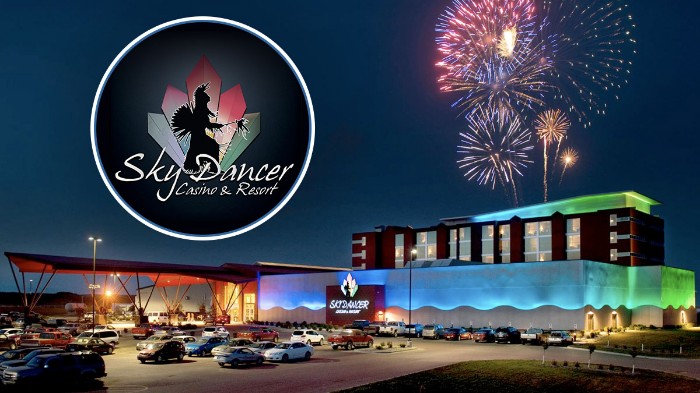 Skydancer Casino ND is a tribal casino located in Belcourt, North Dakota. It opened its doors in November 2012 and has since become one of the top gaming destinations in the region.
The casino is owned and operated by the Turtle Mountain Band of Chippewa Indians, who took great pride in creating a high-quality gaming facility that offers a wide range of games and amenities.
The casino includes 700 slot machines, various table games, and different dining options. There is also a live entertainment venue and an on-site hotel. The casino also offers players the opportunity to join its rewards program.
Whether you are looking for a night out with friends or family, an exciting gaming experience, or just an excellent dining option, this casino has something for everyone.
Skydancer Casino has received an overall rating of 4.3 out of 5 stars from guests who have visited the casino. Guests say, "We had a great time and were able to find games that were suitable for all of us. The staff was friendly and the atmosphere was enjoyable."
Another guest said, "I had a wonderful time at Skydancer Casino. The staff was helpful and the games were fun. I would definitely recommend this casino to anyone looking for an exciting night out."
(Related reading: North Dakota casinos)
Gaming
This casino offers 700 slot machines and a variety of table games, including blackjack, let it ride and more. Plenty of promotional activities are taking place throughout the casino, and players can join tournaments to win cash prizes.
Table Games
This casino offers a variety of table games for guests to enjoy. If you're looking for classic casino fun, you can take your pick from Let it Ride and Black Jack. Not in the mood for something quite so traditional? Then try electronic Roulette or 3 Card Poker.
Whether you're a novice or a master gambler, this casino has something that is sure to bring out your inner daredevil.
Table game minimums vary depending on the game and time of day. During peak hours, most table games have a minimum bet of $5.00.
Slots
You'll find a variety of popular slot machines that will keep you busy for hours at this casino. From classic slots to the newest games and progressive jackpots, there is something here for everyone.
Whether your preference is video or reel slot machines, you're sure to find what you're looking for at this casino. With multiple screens around, it's easy to get in on all the action without leaving your seat.
Don't forget to participate in one of their exciting slot tournaments where your luck could be tested.
The slot machine payback percentage of this casino is currently not available. However, the North Dakota Gaming Commission requires all casinos to meet at least an 80% payback percentage on their slot machines.
Hotel/Resort
Skydancer Casino offers a hotel that is adjacent to the casino and just a short drive away from the Turtle Mountains. Normally, they offer lodgings at the Tower Side and Lodge Side. However, the Lodge Side is currently closed until further notice.
The Tower Side hotel offers guests 98 spacious rooms equipped with modern amenities, including flat-screen TVs, refrigerators and microwaves, Wi-Fi and more.
Their standard rooms come with a flat-screen HDTV, one or two queen beds, a refrigerator, a microwave, and a Keurig coffee maker, filling your room with freshly-brewed coffee aroma. Enjoy complimentary Wi-Fi access as well as free HBO while in your room.
As an extra touch, we have made everything smoke-free. Moreover, if you want a more upgraded experience, consider our suites featuring two flat-screen HDTVs and luxury showers, in addition to all of the amenities our standard rooms come with.
For extra comfort, a fireplace is also featured in the king suite for those chilly winter nights. With so much to choose from, you can customize your stay with us to make it even more special.
The casino also offers several amenities to make your stay even more enjoyable. Some of their amenities include:
Complimentary Wi-Fi
Onsite restaurant and bar
Gift shop
Entertainment lounge
Simulcast
The cost of lodging at this casino is dependent on the room type and time of year. The general rate for a standard room starts at $99 per night. Prices may vary based on special events and holidays.
Check-in time at Skydancer Hotel is 3:00 pm
Check-out time at Skydancer Hotel is 11:00 am
Restaurants & Buffets
Skydancer Casino is the perfect spot to satisfy your hunger and thirst. With three great eateries, you won't be left feeling hungry.
Fire's Edge Steakhouse offers a fantastic selection of starters, mains, and desserts, while they also have an extensive full bar that serves up top-of-the-line liquors, wines, ales, and stouts.
If coffee is more your thing, then Sky Brew Coffee Shop has a variety of tasty hot drinks and snacks for you to indulge in.
And finally, there's Grillerz Snack Bar which serves casual grub at wallet-friendly prices – everything from sliders to loaded fries with all of your favorite toppings. Unfortunately, while they have a great selection of restaurants available, there is no buffet option at this time.
Pools
A trip to this casino is much more than gaming excitement. Enjoy a relaxing swim in the hotel pool or unwind by soaking in one of their hot tubs. Located close to home, it's easy to get away for a weekend and indulge in the luxurious amenities offered at this majestic casino.
With attentive staff, an energizing atmosphere and first-class comfort that caters to your every whim, this casino should always be at the top of your list for a perfect getaway.
Skydancer Casino, Belcourt, ND FAQ
Does Skydancer Have A Sportsbook?
This casino is one of the most popular places to enjoy real las vegas style sports betting.
Not only can guests bet on all major leagues, such as NBA, MLB, NFL, GOLF, NASCAR, and MMA, but they can also try their luck with live betting or make a pre-bet at one of the self-service kiosks that are placed throughout the property.
Is Poker Available At Skydancer Casino?
The casino offers a variety of gaming activities for its guests, including poker. Players can enjoy this classic card game with a more thrilling atmosphere than at home.
The casino floor has been designed to provide a comfortable and stimulating environment that reinforces the game's social nature. Skydancer prides itself on providing an experience to help newbie players learn and practice their skills while having fun.
Special gaming tables are available, so novice players can get the answers they need while experienced players stay sharp on their strategies.
What Are The Age Requirements For Gambling At Skydancer Casino?
Gambling at this casino is restricted to guests who are 21 years of age and older. All guests must show valid identification at the door in order to enter.
Does Skydancer Have An Online Casino?
This casino offers a unique gaming experience with its online slot machine. Whether you are a veteran gambler or just starting out, they offer something for any and all players.
With its easy-to-use interface, you can quickly spin the wheel and play your luck immediately. And if you hit the jackpot, your winnings will be transferred directly to your account.
Is There An Skydancer Casino App?
There is, unfortunately, no mobile app to enjoy this casino. It may be a little unfortunate, but the silver lining of that cloud is that visitors to the casino can show up, grab a chair, and pull up a slot machine as soon as they feel like getting some gambling started.
What Is The Dress Code At Skydancer?
Skydancer Casino's dress code is generally relaxed and casual. Guests should wear comfortable clothing that is not overly revealing or offensive in nature.
Is There An Airport Shuttle Available From Skydancer?
The casino offers an airport shuttle service from the casino to Belcourt Airport. Be sure to check the schedule for pick-up times, as they may vary depending on the day of the week or time of year.
What Is The Smoking Policy At Skydancer Casino & Resort?
The Tower Side is smoke-free, however, and within the casino, designated areas are available for patrons who want to light up.
At the casino, smoking regulations are clearly posted, and management actively enforces these standards so all of our guests can experience a comfortable atmosphere during their stay.
What Is The Pet Policy At Skydancer?
The casino does not allow pets in the facility. However, guests who need to bring their pet with them on their trip can check out Skydancer's Pet-Friendly Hotels nearby.
Is Wifi Available At Skydancer Casino?
Yes, Skydancer Casino offers free wifi throughout the hotel and gaming floor. Guests can easily connect to the internet to stay connected or use their mobile devices while at the casino.
What Is The Cancellation Policy For Skydancer Casino & Resort?
You don't have to worry about those pesky cancellation fees at their hotel. You can cancel up to the check-in date without charge or penalty, giving you peace of mind to plan your getaway easily.
Conclusion
Skydancer Casino & Resort is a great spot for anyone looking to take a break from their usual routine and enjoy some gambling. The casino offers an array of gaming activities, including poker and slots, as well as its online slot machine.
Guests can also take advantage of the hotel's airport shuttle service, free wifi, and various amenities. With all these features, this casino resort is the perfect destination for a night on the town.