Spirit Lake Casino St. Michael
Address: 7889 ND-57, St Michael, ND 58370
Phone Number: +1 701-766-4747
Website: www.spiritlakecasino.com
Hours: Spirit Lake Casino is open Monday-Wednesday 9 am-2 am, Thursday-Sunday Open 24 hours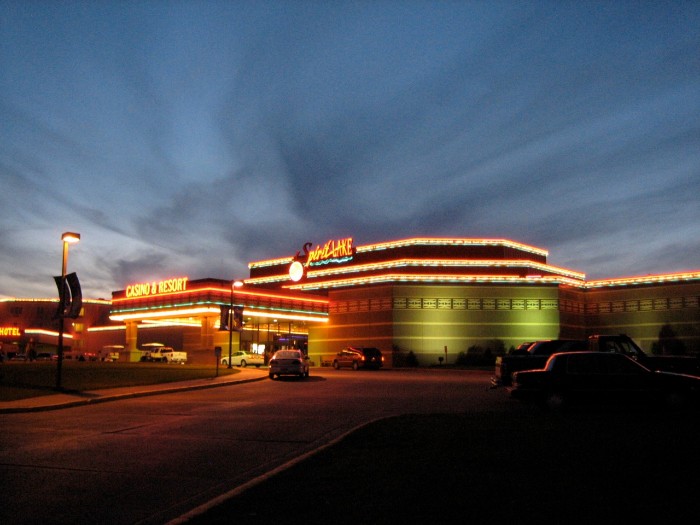 Spirit Lake Casino has been in operation since 1996 and is owned and operated by the Spirit Lake Tribe. Located in the town of St. Michael, North Dakota, it is one of the largest employers in the region and provides a great source of entertainment for locals and visitors alike.
The casino offers a variety of gaming options with 650 reel and video slot machines, blackjack, craps and more. The venue also features live entertainment, dining options, and retail amenities.
Additionally, this casino offers lodging options in its hotel, cabins, cottages, lake houses and RV park, making it the perfect destination for a weekend getaway. The casino also hosts special events and promotions that provide guests with chances to win cash or prizes.
Whether you're looking for a fun night out or the perfect place to stay on your next visit to St. Michael, make sure to check out this casino.
The guests at Spirit Lake Casino have given the venue an average rating of 4.5 out of 5 stars on TripAdvisor. Guests say, "The casino was very clean and the staff were friendly and helpful."
Other visitors say, "This is a great place to stay for a weekend getaway, with plenty of gaming options, entertainment, food, and lodging."
(Related reading: North Dakota casinos)
Gaming
This casino offers a selection of 650 reel and video slot machines, blackjack, craps and more. The casino also offers jackpot drawings, allowing guests to win cash or prizes.
Table Games
Playing table games at this casino is a great way to have some exciting and entertaining fun. Whether you're looking for the classic game of blackjack or are searching for something new like roulette, you'll find it all here.
Craps games can also be found at this casino, giving players an exciting chance to roll the dice and win big. If poker is your game of choice, the casino offers both cash tables and tournaments – perfect for players of any skill level.
The minimums for table games are $3 up to $100, with some variations based on different tables; this range ensures there's something for everyone when it comes to playing the tables.
Slots
This casino offers a selection of 650 reel and video slot machines. Popular slots include:
Colossal Wizards
Spartacus Gladiator of Rome
Forbidden Dragons
Lazer Lock Ice Sapphire
The slot machine payback percentage for this casino is currently unknown. However, the North Dakota Gaming Commission sets a minimum theoretical payout limit for all slot machines in the state of 80%.
Hotel/Resort
The Spirit Lake Hotel has various guest rooms and luxurious suites, accommodating all of your stay needs. Each room features Wi-Fi access, HD flat-screen TVs, fridges, hair dryers and coffee makers, and some have a view of Devils Lake.
They offer a variety of different room types for your stay. For those on a budget, they have the standard two queens or one king option. If you're looking for more space and comfort, two king rooms have it all, with two large beds and plenty of floor space.
Lovely views abound in their poolside two queen rooms, while cosy amenities come with their mini-suite package. Experience the pinnacle of luxury with an executive suite, or opt for an upgraded king-corner stay to really relax.
They also offer cabins, cottages and lake houses that will provide private living quarters for visitors looking for a quieter getaway.
A cosy cabin tucked away in the woods will provide a peaceful retreat from all the hustle and bustle of everyday life. Or perhaps a cottage with a view is what you seek; cottages provide extra space to entertain, cook up some delicious meals, and make plenty of memories.
Last but not least, lake houses are perfect for those wanting to enjoy more time on the water – they can be found with their own docks and pier access to really make your stay special.
The casino hotel offers several amenities to enhance your stay. Some of them include:
Live entertainment
Fine dining and buffet
Outdoor pool
High-speed internet
Spirit Lake Marina and Grocery
Gift Shop
RV Park
The cost of a stay at the hotel can vary depending on the type of lodging you choose and the time of year. Some rooms may range from $85 per night up to several hundred per night in peak season.
The cabins and cottages can be rented for $200-350 per night, and the lake houses have an average rate of $400-500 per night.
Check-in time at Spirit Lake is 4:00 pm
Check-out time at Spirit Lake is 11:00 am
Restaurants & Buffets
If you're looking for a delicious dining experience, then Spirit Lake has you covered with three excellent options. The View is a full-service restaurant featuring fresh seafood, steaks, and more, all served in an upscale setting.
For an all-you-can-eat smorgasbord of food, the Dakotah Buffet offers up something to satisfy every taste – from salads and artisanal cheeses to classic meatloaf and golden chicken tenders.
Finally, don't forget the Snack Bar if you're just in the mood for some comfort food staples like burgers, fries, tacos, wings, and sandwiches.
For only $10, diners at this casino can enjoy the delicious Dakotah Buffet, featuring recipes that have become integral to Northern cuisine. With a stellar selection of dishes and reasonable pricing, it's no wonder that Spirit Lake Casino is a popular destination for lunch or dinner.
Pools
If you are looking for a refreshing escape to cool off on your next visit to this casino, then you'll be glad to know that it features one outdoor pool.
The pool area is complete with comfortable lounge chairs where you can relax and enjoy the warm summer sun. Taking a dip in the pool will also provide a great workout opportunity, with its depth varying from four to six feet.
Spirit Lake Casino, St. Michael, ND FAQ
Does Spirit Lake Casino Have A Sportsbook?
Unfortunately, the answer is none if you're looking for a sportsbook at this casino. However, there are still plenty of other exciting things to do and see while you're there. There are over 1000 slot machines you can test your luck on and three delicious restaurants to choose from.
Is Poker Available At Spirit Lake?
They offer a wide variety of poker games, including cash and tournament poker, so there's something suitable for all types of players. Plus, their friendly staff can help even the newest player feel like a pro.
What Are The Age Requirements For Gambling At Spirit Lake Casino Hotel?
Guests must be 21 years or older to participate in any gambling activities at this casino. Be sure to bring a valid form of identification with you for proof of age if you plan on entering the casino floor.
Does Spirit Lake Have An Online Casino?
This casino does not offer its customers an online casino option now. Those looking to play some of their favorite table games and slots from the comfort of their own home will have to seek other options.
Is There An Spirit Lake Casino Hotel App?
Patrons of this casino will be delighted to know that the resort has released a handy app. The app makes managing your account, deposits and withdrawals a breeze – you can also easily view your current card level and check out amazing offers and rewards.
Plus, you can now buy tickets for amazing upcoming events on the go and even book accommodation with just a couple of taps.
What Is The Dress Code At Spirit Lake?
The casino hotel has a casual dress code – guests are encouraged to wear neat, comfortable and appropriate clothing.
Is There An Airport Shuttle Available From Spirit Lake Casino, ND?
Unfortunately, the answer is no. However, there are still plenty of ground transportation options, such as taxi services, buses or car rentals, that make it easy to get around after landing at the airport.
What Is The Smoking Policy At Spirit Lake Casino, ND?
The casino hotel takes the health and safety of its customers very seriously. To that end, they have a strict no-smoking policy throughout the building and its facilities.
Furthermore, they proudly support BreatheND.com – an organization dedicated to making North Dakota healthier through clean air initiatives.
Of course, they understand that not everyone can just quit smoking overnight, so there is an enclosed smoking area away from other patrons for those who want to partake.
What Is The Pet Policy At Spirit Lake Casino, ND?
A pet policy requires a fee of $25 per night per pet. Be sure to ask for details when making your reservation. They have designed the space and the accommodations with animals in mind, ensuring your furry friend can enjoy the luxurious amenities as much as you do.
Is Wifi Available At Spirit Lake Casino, ND?
Yes, the casino hotel offers guests complimentary wifi in all rooms and common areas. This makes it easier to stay connected and keep in touch with family and friends while you're away.
What Is The Cancellation Policy For Spirit Lake Casino, ND?
Reservations need to be cancelled 48 hours before your date of arrival. If the reservation is cancelled after that point, you will incur a charge for the one-night stay and resort fee – in addition to cancelling your remaining nights.
Conclusion
Spirit Lake Casino Hotel is a great destination for those looking for a fun and relaxing time. From the exciting gaming tables to delicious dining options, there's something for everyone here.
They even offer a great app that helps you manage your account and book tickets for upcoming events. Before planning your trip, check out their pet policy, dress code and smoking policy.
Don't forget to take advantage of the free wifi so you can stay connected while on the go. With all these great features and amenities, this casino hotel is sure to provide an unforgettable experience.