Hollywood Casino Toledo
Address: 1968 Miami St, Toledo, OH 43605
Phone number: +1 419-661-5200
Website: https://www.hollywoodcasinotoledo.com/
Hours: This casino is open 24 hours a day 7 days a week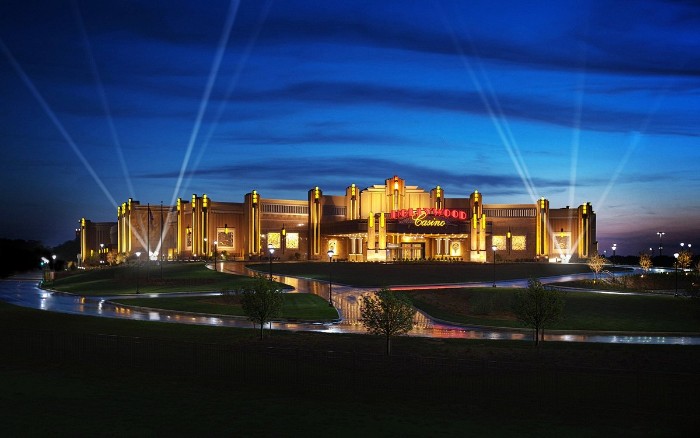 Hollywood Casino has been a staple of the Toledo region since it opened its doors in May 2012. The casino is located on the banks of the Maumee River, where it has become an important part of the city's entertainment and gaming landscape.
The casino features over 1,700 slot machines, 46 gaming tables, a sportsbook, and an expansive poker room with 12 tables. Additionally, there are several restaurants and bars where guests can kick back and relax when they need a break from trying their luck on the casino floor.
In addition to the traditional game offerings at Hollywood Casino, guests can enjoy various special promotions and events throughout the year. These events include live music performances, standup comedy acts, celebrity appearances and tournaments where you can win big prizes.
Hollywood Casino Toledo is committed to providing a safe and secure gaming experience for all its customers. The casino's security team is available 24 hours a day to ensure that your visit is safe and secure.
So, if you are looking for an exciting night out in the Toledo area, make sure to check out Hollywood Casino. Whether you enjoy playing slots or table games, they have something for everyone.
Guests of Hollywood Casino Toledo generally have a positive experience and rate the casino highly, with a 4/5 star rating on Tripadivsor.
Guests praise the great selection of slots, the friendly and helpful dealers, and the overall atmosphere of the casino. The customer service is excellent, and the staff are friendly and welcoming.
(Related reading: Ohio casinos)
Gaming
This casino offers all of your most loved slots and table games. If you are looking for something more fast-paced, the Sportsbook is open daily to place bets on your favorite teams or events.
Table Games
This casino offers a variety of thrilling table games to suit every visitors' interest. From classic Blackjack and Roulette to the more diverse Bonus Craps and 3-Card poker, you are sure to find something fun to do.
Take your pick of lucky hands in Crazy 4 poker or wager on a royal flush in Mississippi Stud. Or perhaps you would prefer a round of 21+3 for an even bigger thrill? Don't forget about the optional side bet that comes with Blackjack or the free bet options available for both Craps and Blackjack.
Table game minimums at Hollywood Casino Toledo vary depending on the particular game and time of day. They range from $5 to $25 during peak hours, while they can be as low as $2 off-peak. Make sure you check the minimums before sitting at the table.
Slots
With so many slots available, you are sure to find something that leaves you excited as you spin to win. This casino has a wide range of machines available, offering a whole host of slot games.
Some of the most popular slots include:
Lanterns of Destiny Floating Fortunes
88 Fortunes Money Coins
Gold Fish Feeding Time – Castle
Gold Fish Feeding Time – Treasure
The payback percentage for this casino is 90.97%. When you consider that the payback percentage for the state of Ohio is set at a minimum of 85%, you're getting good odds with this location, and it should give you an idea of what to expect.
Hotel/Resort
This casino does not have a hotel. However, it does work in partnership with several hotels in the area that it strongly recommends to those who want to make a weekend out of their trip.
These accommodations are:
Renaissance Toledo Downtown Hotel
Country Inn and Suites
Hilton Garden Inn
Towneplace Hotels
Holiday Inn Express
Courtyard Marriott
Restaurants & Buffets
If you are looking for a fine dining experience when visiting this casino, then look no further than Shobu by Kengo, Final Cut Steak & Seafood, Take 2 Grill, Scene and Sequel.
All of these restaurant options offer a unique menu selection, including new dishes made with high-quality ingredients. The sushi at Shobu by Kengo will buzz your taste buds, while the steaks and seafood at Final Cut Steak & Seafood are so tender it melts in your mouth.
If you are looking for something with a bit more pizzazz, then check out Take 2 Grill, where their eclectic mix of classic American dishes will surely satisfy you. For a casual dining experience, Scene and Sequel offer traditional food options that are flavorful and made fresh every day.
Pools
There is no pool at this casino. However, many of the hotels that work in partnership with this location have pools, spas, and hot tubs that guests can enjoy.
Hollywood Casino Toledo, OH FAQ
Does Hollywood Casino Toledo Have A Sportsbook?
Are you looking for a great place to bet on your favorite sports teams? Look no further than this location. This casino boasts a full sportsbook with the latest lines and up-to-date odds on all your favorite games.
Whether you're placing bets on football, basketball, baseball, or any other sport you can think of, this casino has it covered. They also have daily features like live betting, allowing you to take advantage of the game while it's happening.
Is Poker Available At Hollywood Casino?
If you want to enjoy a game of poker, look no further than this casino. They offer many forms of poker for all skill levels, from casual players looking to join a low-stakes game all the way up to experienced players wanting their shot at the big leagues.
Whether you choose to play on your own or join with friends in one of their tournament formats, this casino has something for you. Enjoy a night out and test your skills against the competition.
What Are The Age Requirements For Gambling At Hollywood Casino?
If you're looking to place some bets and cash in on the action at this casino, the age requirement is clear: no one under the age of 21 will be admitted. That includes anyone that appears to be under 25 as well.
Making sure everyone that steps on into the casino is of age is important for providing a safe and enjoyable atmosphere for all its customers. All guests are subject to having their IDs checked prior to entering.
Does Hollywood Casino Toledo Have An Online Casino?
The great news is that this location does have an online casino available. It provides the same thrilling gaming experience as its brick-and-mortar counterpart, but without having to leave home.
Players can join in the fun with various games, including slots, poker, table games, and more. Every game is created with the utmost care and attention to detail so players can trust in a reliably enjoyable experience each and every time.
Is There An Hollywood Casino App?
If you're a fan of this casino, you'll be excited to hear that they now have a mobile app. With the app, you can always have access to all your favorite games from wherever you are.
You'll also get exclusive bonuses and offers so you can enjoy free play and other perks within the app. It's easy to use and makes it more convenient and exciting to take advantage of all the casino offers.
You must download it onto your smart device, sign up, and you'll be ready to start playing immediately.
What Is The Dress Code At Hollywood Casino Toledo?
The dress code at this casino is smart casual. That means things like collared shirts and blouses, khakis or dress pants, skirts or dresses that fall just above the knee, and closed-toe shoes are all appropriate. Make sure to wear something comfortable yet stylish for a great time in the casino.
Is There An Airport Shuttle Available From Hollywood Casino?
No, there is no airport shuttle available from this location. However, you can get to the casino via public transportation like buses and taxis.
If you're driving in, there's plenty of on-site parking for all your needs. And if you're staying overnight, then you'll be delighted to find that they have a variety of hotel accommodations nearby.
What Is The Smoking Policy At Hollywood Casino Toledo?
Smoking is prohibited in all casino areas, including gaming floors and restaurants. However, designated outdoor smoking areas are available for those who wish to smoke.
These areas must be used with respect and courtesy towards other guests, so please ensure to remain courteous. The casino wants to ensure that everyone is as comfortable and safe as possible.
What Is The Pet Policy At Hollywood Casino?
Unfortunately, there is no pet policy at this casino. To ensure the safety and comfort of all guests, any animals are prohibited on the premises.
However, service animals are permitted but must remain on a leash or harness at all times. If you have a service animal, please make sure to provide documentation upon arrival.
Is Wifi Available At Hollywood Casino Toledo?
Yes, complimentary wifi is available throughout the casino. You can easily connect and use it for all your online gaming needs without worrying about any extra costs.
This makes it easy to stay connected and enjoy a great time at the casino without worrying about expensive data fees. So make sure to take advantage of this free wifi for an even more enjoyable time at the casino.
What Is The Cancellation Policy For Hollywood Casino?
There is no cancellation policy in place at this casino. This is because there is no hotel on site. For cancellation policies, please refer to the hotel you have booked.
Conclusion
Hollywood Casino Toledo is a great place to visit for an exciting and entertaining gaming experience. You can easily have a great time here with exclusive bonuses, a variety of games, and plenty of amenities.
Whether you're looking for slots, poker, table games or more, this casino has something for everyone. Plus, the dress code, pet policy, and wifi availability make it easier to get the most out of your visit. So come join in on the fun at Hollywood Casino Toledo today.