Hollywood Gaming at Dayton Raceway
Address: 777 Hollywood Blvd, Dayton, OH 45414
Phone number: +1 844-225-7057
Website: https://www.hollywooddaytonraceway.com/
Hours: This casino is open 24 hours a day 7 days a week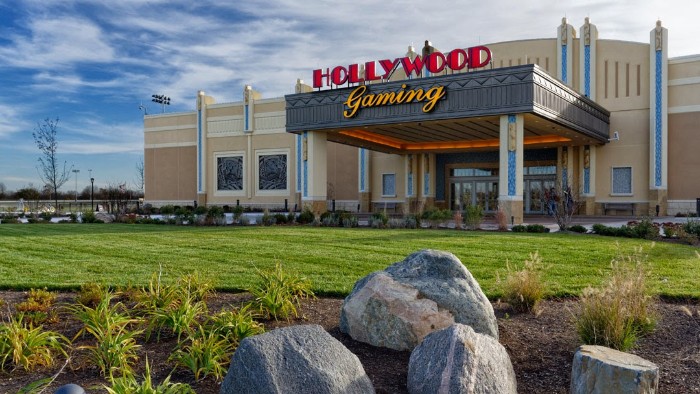 Hollywood Gaming is a full-service casino located in Dayton, Ohio, that first opened its doors to the public in 2014. This location at Dayton Raceway offers an extensive selection of slot machines for patrons in addition to an impressive sportsbook.
In addition to the casino floor, Hollywood at Dayton Raceway also features several restaurants and bars with live entertainment and plenty of drinks. The venue also houses an excellent racetrack and simulcast wagering rooms for patrons who enjoy the thrill of horse racing.
Its commitment to providing a top-quality entertainment experience has earned them a variety of awards and accolades. If you're looking for an exciting night out that combines gaming, dining, and entertainment, this location is the perfect choice.
Guests at Hollywood Gaming at Dayton Raceway have consistently given it positive reviews. Many of the regulars cite the casino's commitment to providing a top-quality entertainment experience as one of its most defining attributes.
(Related reading: Ohio casinos)
Gaming
This casino offers patrons an extensive selection of slot machines and video poker games. All the slots offer a variety of themes and options, so there's something for everyone. Plus, there is a sportsbook if you want to bet on the in-house races or the next big game.
Table Games
There are no table games at this casino. However, there are plenty of other options on the casino floor for those who want to have some fun.
Slots
There are over 950 slot machines for you to choose from, each of which offers some of the best and latest games available. You're sure to get the rush you want as you watch these symbols spin.
Some of the most popular slot machines at the casino are:
Quick Hits
Buffalo Gold
Ultimate X Poker
Huff N Puff
Piggy Bankin'
Players can also enjoy a variety of bonus rounds and progressive jackpots.
The payback percentage for this casino is 90.71%. The minimum payback percentage for the state of Ohio is 85%, and this should give you a good idea of what to expect when you hit the casino floor in search of your big win.
Hotel/Resort
This casino does not have a hotel. However, there are several close to the casino that you can stay at if you want to make your trip a little longer.
Some of the recommended hotels include:
Drury Inn and Suites
Hampton Inn
Wingate by Wyndham
Home2 Suites
Restaurants & Buffets
This casino is the perfect place to spend an evening. With its five amazing restaurants, you're sure to find something to satisfy your cravings. For a delicious burger that screams freshness and flavor, try Wahlburgers.
At Skybox Sports Bar, you can find a variety of pub-style food while taking in live sporting events on the big-screen TVs. Take 2 Grill offers classic American microbrews and hearty sandwiches.
H Lounge beckons with its cozy atmosphere, featuring live entertainment and DJs playing throughout the night. If you're looking for a unique culinary experience, Zombie Dogz is sure to blow your mind with its wildly creative hot dog creations.
You can't go wrong with Sunset Patio Bar's panoramic views of the racetrack scenery if you're searching for some drinks in peace and quiet.
Pools
There is no pool at this casino. However, many of the hotels close to this location offer a pool, hot tub, and sauna.
Hollywood Gaming at Dayton Raceway, OH FAQ
Does Hollywood Gaming at Dayton Raceway Have A Sportsbook?
The casino has a sportsbook available for all its customers. The sportsbook here is filled with state-of-the-art betting terminals that make your sports betting experience a lot more interactive and exciting.
Alongside the traditional bet types, the sportsbook also features several special promotions that bring additional chances for winning. These may include free bets, accumulator bonuses and miles of loyalty points.
Is Poker Available At Hollywood Gaming?
Unfortunately, this casino does not offer poker. However, those looking for an entertaining gaming experience can participate in the various slot machines.
Moreover, if you're looking for some excitement and social interaction that poker offers, why not check out their live horse racing events?
What Are The Age Requirements For Gambling At Hollywood Gaming?
This casino is excited to welcome guests who are of legal age to participate in their gambling activities. To ensure the safety and responsibility of their patrons, the minimum age requirement for gambling at Hollywood Gaming at Dayton Raceway is 21 years old.
Guests need to be 21 years or older to enter the gaming floor. Additionally, you must be able to show a government ID that proves your age upon request.
Does Hollywood Gaming at Dayton Raceway Have An Online Casino?
The exciting world of gambling is now available online. Whether you are a seasoned gambler or a newbie looking to try your luck, this casino has something for everyone.
With an extensive variety of slots, table games and a state-of-the-art sportsbook, you can be sure that there are plenty of opportunities to win big. In addition to the standard selection of casino games, the website also offers tournament play, weekly promotions and access to both virtual sports and virtual racing.
With easy gameplay and reliable customer support, enjoying all Hollywood Gaming has to offer can be just a few clicks away.
Is There An Hollywood Gaming App?
If you're looking for a great way to experience the excitement of this casino, then you need to download the official app.
It's easy to use, and you'll have instant access to everything that happens on the raceway, including entertainment schedules, gaming results, upcoming events and promotions.
With the app, you can stay up-to-date on all the latest happenings, so you don't miss out on any of the action.
What Is The Dress Code At Hollywood Gaming at Dayton Raceway?
The dress code at this casino is casual. Feel free to come as you are and enjoy your time playing the slots or watching a live race.
However, please note that shirts and footwear must be worn at all times. Also, any clothing of offensive nature will not be allowed on the premises.
Is There An Airport Shuttle Available From Hollywood Gaming?
No, there is no airport shuttle available from the casino. The nearest major airport is Dayton International Airport (DAY), located about 10 miles away from the raceway.
Taxis and rideshare services are available for those who need transportation to and from the airport. Hollywood Gaming also offers a complimentary shuttle bus service that runs between their casino and select destinations in the local area.
What Is The Smoking Policy At Hollywood Gaming at Dayton Raceway?
At this casino, smoking is not allowed anywhere on the premises. This includes all gaming areas as well as any other indoor/outdoor spots throughout the property.
For those who wish to smoke, designated outdoor smoking areas are available. These areas are located away from entrances and windows to ensure that no second-hand smoke enters the building.
What Is The Pet Policy At Hollywood Gaming?
Service animals, as defined by the Americans with Disabilities Act (ADA), are permitted in all areas of the venue where guests are normally allowed to go. Be sure to bring proper documentation for any service animals that may be accompanying you.
Unfortunately, pets are not allowed inside the casino or on the raceway premises. There are pet boarding facilities located in the Dayton area for those with pets that cannot be left at home.
Is Wifi Available At Hollywood Gaming at Dayton Raceway?
Yes, complimentary Wi-Fi is available throughout the casino and raceway property. Guests can connect to the network using their personal devices and access the internet without any additional cost.
For those looking for a faster connection, there are also paid Wi-Fi plans that can be purchased directly from the casino.
What Is The Cancellation Policy For Hollywood Gaming at Dayton Raceway?
There is no cancellation policy for this casino. This is because it does not have a hotel, so there is no need to have one in place.
Conclusion
Hollywood Gaming at Dayton Raceway is an exciting place to visit for those looking for a fun night out. The casino offers a wide variety of slots, horse racing, and a state-of-the-art sportsbook, giving plenty of opportunities to win big.
Plus, the easy gameplay and reliable customer support make it easy to enjoy all that the casino has to offer. And with an official app and complimentary shuttle service, you can stay connected and get around without any hassle.