Hollywood Gaming at Mahoning Valley Race Course
Address: 655 N Canfield Niles Rd, Youngstown, OH 44515
Phone number: +1 877-788-3777
Website: https://www.hollywoodmahoningvalley.com/
Hours: This casino is open 24 hours a day 7 days a week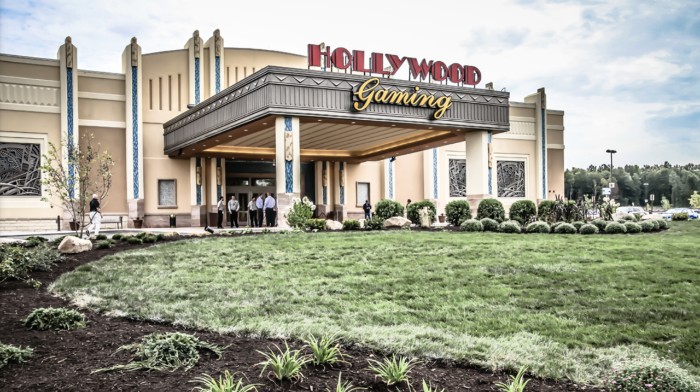 Hollywood Gaming at Mahoning Valley Race Course is a racino located in Youngstown, Ohio, that first opened its doors to the public in 2014.
The race track was originally built in 1964 and was home to harness racing for generations. However, in 2012, the Ohio Lottery Commission granted the race track a license to expand into gaming.
The venue opened with over 1,100 VLTs (video lottery terminals) and has since added three restaurants, two bars/lounges, an off-track betting area, and live entertainment options. The facility also hosts simulcast racing from other tracks around the country.
The gaming floor spans over 80,000 square feet and features a variety of VLTs, including slots, video poker, keno, and more. Hollywood Gaming at Mahoning Valley also has a sportsbook where guests can bet on the latest game or the next harness race.
It has plenty of options if you're looking for a night out or some entertainment. As well as live racing, visitors can catch the latest sporting events in their Satellite Sports Bar or take in a show at the venue's Entertainment Center.
Hollywood Gaming is the perfect place to escape and get lost in a world of thrilling gaming and non-stop entertainment. With plenty of amenities to satisfy you, it's no wonder this racino has become one of the most popular spots in Ohio.
Hollywood Gaming at Mahoning Valley Race Course has established itself as an exemplary racino in the state of Ohio with a 3.5/5 rating on Tripadvisor. Guests have praised the facility for its high-quality games, exceptional customer service and a wide array of entertainment options.
(Related reading: Ohio casinos)
Gaming
This casino offers loads of video lottery terminals (VLTs) featuring slots, video poker, keno, and more. Guests can also take advantage of the sportsbook to bet on the latest sports games or harness races.
Table Games
No table games are offered at this casino, but sports betting and a massive range of slots definitely make up for it.
Slots
With so many slots on offer, you are sure to find a machine that tickles your fancy. This is the place to be if you're seeking a thrill as you watch the symbols spin.
Some of the most popular slots at this location are:
Jin Long
Triple Double Stars
Hotter Than Blazes
Legend of the 3x 2x Phoenix
Dancing Drums
Wonder 4
Tarzan
Lightning Link
The payback percentage at this casino is 90.20%. The minimum payback percentage for the state of Ohio is 85%, so this should give you a good idea of what to expect when you are hitting the slots.
Hotel/Resort
This casino does not offer a hotel to guests. However, it works in partnership with several local hotels that can offer accommodations to those who want to enjoy a lengthy stay at the racino.
These hotels are:
Hampton Inn
Home2 Suites
Quality Inn
Comfort Inn
Candlewood Suites
Holiday Inn Express
Restaurants & Buffets
Looking for a great place to eat while visiting this casino and race course? Look no further. With five options, you're sure to find something delicious.
For burger lovers, try out Wahlburgers with their wide selection of delicious patties and craft beer. If you want some comfort food, Head to Take 2 Grill for classic pub-style favorites.
Whether you want a casual night watching the game or a quiet dinner, Trackside is the spot for you. Harlan's Holiday offers the perfect date night atmosphere with modern American cuisine delights.
Lastly, SKYBOX Sports Bar combines all four – great food, big drinks, and daily entertainment.
Pools
There is no pool at this location. However, many of the hotels partnered with this casino offer pools, hot tubs, and saunas to those staying with them.
Hollywood Gaming at Mahoning Valley Race Course, OH FAQ
Does Hollywood Gaming at Mahoning Valley Race Course Have A Sportsbook?
This casino is proud to announce that they now boast a fully-fledged sportsbook on its property, ready to accept bets and provide just as thrilling an experience as its racetrack.
They have a full range of both traditional and exotic wager options you can choose from with competitive odds and lines. Visitors of the racecourse will be able to conveniently place sports bets without leaving the premises.
From horse racing and normal sports betting action to NASCAR races – they have it all in store for those who love getting their adrenaline rush.
Is Poker Available At Hollywood Gaming at Mahoning Valley?
When it comes to live poker action, sadly, this casino doesn't offer any. However, the casino features plenty of exciting options, such as slots and video gaming terminals.
Check out their website for great promotions and events. The gaming floor is also home to various restaurants and bars catering to different palates and available for an all-around entertainment experience.
What Are The Age Requirements For Gambling At Hollywood Gaming at Mahoning Valley Race Course?
The legal age requirement for this casino is 21 years and older. This is for both betting on horse racing and playing slot machines in the casino. All patrons must have valid photo identification, such as a driver's license or passport, to prove that they meet the minimum age requirement.
Does Hollywood Gaming Have An Online Casino?
This location has its own online casino. This is great news for residents and those frequenting the establishment who want to experience all it offers.
The online platform can be accessed from the comfort of your home on a laptop or desktop anytime you want to play. Players can choose from blackjack, slots, and other popular Las Vegas-style games as though they were right inside the racino itself.
With various bonuses, up-to-date graphics and sound effects, there is something for everyone in this virtual world of casino fun.
Is There A Hollywood Gaming at Mahoning Valley Race Course App?
Good news for all gaming enthusiasts near the racino – you can now access a Hollywood Gaming app. This innovative, user-friendly app allows users to access their favorite games, join tournaments while on the go, and receive exclusive rewards and promotions.
Whether you're a beginner or an expert casino player, you're sure to find something that suits your needs through the app.
What Is The Dress Code At Hollywood Gaming at Mahoning Valley?
The dress code at the casino is strictly enforced, and the staff reserves the right to refuse entry to patrons who do not adhere to it. The preferred attire is casual but smart and neat – denim jeans, collared shirts, and closed-toe shoes are acceptable.
Is There An Airport Shuttle Available From Hollywood Gaming at Mahoning Valley Race Course?
No, Hollywood Gaming at Mahoning Valley Race Course does not offer an airport shuttle service. However, many nearby transportation services can easily take you to and from the casino.
Those who prefer public transport can catch a bus or ride a taxi straight to this location. There are also car rental companies available in the area that can be convenient for visitors coming from farther away.
Finally, if you're looking for a luxurious ride, private chauffeur services are available to pick you up and drop you off at the venue of your choice.
What Is The Smoking Policy At Hollywood Gaming at Mahoning Valley Race Course?
Smoking is allowed in certain areas of the casino, but it must be done responsibly and respectfully. All patrons must remain 25 feet away from any non-smoking area if they wish to light up.
What Is The Pet Policy At Hollywood Gaming Racino?
Unfortunately, no pets are allowed inside the premises of the racino. This is for the safety and comfort of all customers who visit.
However, service animals that have been identified as such will be permitted entry into the casino along with their owners. Other than this exception, no other kind of animal will be allowed inside.
Is Wifi Available At Hollywood Gaming at Mahoning Valley Race Course?
Yes, Hollywood Gaming at Mahoning Valley Race Course does offer free Wifi for all customers. Users can easily access the casino's network and go online with ease.
The connection is strong and reliable, ensuring that users have a smooth and seamless experience while playing or browsing their favorite sites.
What Is The Cancellation Policy For Hollywood Gaming Hotel?
There is no cancelation policy for this casino due to the fact that it does not have a hotel.
Conclusion
Hollywood Gaming at Mahoning Valley Race Course is great for casino enthusiasts to enjoy their favorite games. From slots and table games to live entertainment, there's something for everyone here.
The dress code is fairly strict, and visitors should take into account the pet and smoking policies before visiting the racino. Additionally, the casino offers free Wifi for customers, making it easy to stay connected while playing.
Finally, there is no cancelation policy as this racino does not have a hotel. Hollywood Gaming at Mahoning Valley Race Course is sure to provide a fun and enjoyable gaming experience.