Jack Cleveland Casino
Address: 100 Public Square, Cleveland, OH 44113
Phone Number: +1 216-297-4777
Website: www.jackentertainment.com/cleveland
Hours: Jack Cleveland Casino is open 24 hours a day, 7 days a week.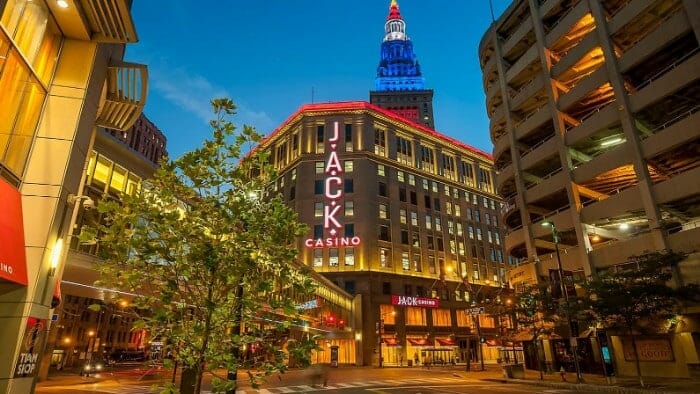 Jack Cleveland Casino, known initially as Horseshoe Casino Cleveland, is a casino in downtown Cleveland, owned by Vici Properties and operated by Jack Entertainment LLC. The casino opened on May 14, 2012, as the first casino in the state of Ohio.
Their gaming space boasts 100,000 square feet of gaming space with over 1,000 slots and almost 100 live table games, offering all of your favorite games. And with their promotions and events, you can be sure to make the most of your visit.
The casino also features multiple restaurants, including the Stack'd and American Burger Bar. In addition, they offer various entertainment options, such as live music performances and comedy shows.
This casino has become one of the premier entertainment destinations in Ohio and continues to draw loyal customers from across the region. Whether you're looking for gaming fun or a night out on the town, they have something for everyone.
On TripAdvisor, this casino has an overall rating of 4.5/5 from 835 reviews. According to one guest, "Jack Cleveland Casino is a great place for entertainment, service, and food. The staff is always friendly and helpful. Highly recommend it if you're looking for a fun night out."
Another guest stated that "the casino has a great variety of slots and table games, plus food and drinks. The atmosphere was fun, and the staff was friendly. I would definitely recommend it."
(Related reading: Ohio casinos)
Gaming
Their casino floor offers over 1,000 slots and almost 100 table games. Table game favorites such as blackjack, craps and roulette are available, as well as specialty games like Three Card Poker, Ultimate Texas Hold'em and Mississippi Stud.
Table Games
With so many classic, exciting table games to choose from, no visit to this casino in Ohio is complete without hitting the tables. From Blackjack to Ultimate Texas Hold'em, no matter your skill level, there's something that will satisfy all of your gaming needs.
Craps is always a crowd favorite, and anyone looking for something a bit more off-the-beaten-path can check out games like I Luv Suits or Mississippi Stud Poker. Of course, you don't want to forget about traditional favorites like Face Up Pai Gow and Baccarat, either.
This casino offers a wide variety of table games with different minimums. For most games, the minimum bet is $5. This can change, however, depending on the card expected to be dealt with and the type of gaming session being offered.
Slots
At this casino, you can find a variety of exciting slot machines that range from classic 3-reel slots to the newest selections with cutting-edge graphics and features. Their selection of popular games includes:
Li'l Red
Colossal Wizards
Spartacus Gladiator of Rome
Queen of the Wild II
Forbidden Dragons
Lazer Lock Ice Sapphire
As per statistics, the average payback percentage of this casino's slot machines is 92.29%. This means that for every dollar you wager, the casino pays out $0.92 in winnings. This makes the property one of the best casinos in Ohio regarding slot machine payback percentage.
Hotel/Resort
For those looking to stay and play at this casino, located in the heart of downtown Cleveland, the perfect accommodation right in the thick of the action may not be onsite.
But with an exclusive partnership with The Ritz-Carlton, which is only a few minutes from the casino and offers upscale accommodations for all travelers, you won't have to go far for quality accommodations.
The Ritz-Carlton offers everything from comfortable king rooms to luxurious suites. Plus, you can enjoy fine dining at the restaurant, a health club and spa, pools, and much more.
Restaurants & Buffets
Looking for the perfect place to grab a bite to eat before hitting the tables at this casino? Look no further, as there are so many great options available.
For breakfast or coffee, stop into Starbucks and get energized for your day of casino fun. Stack'd serve up delicious gourmet burgers that have something new and interesting on every menu.
American Burger Bar also has some amazing burgers, as well as classic American dishes such as mac & cheese, chicken tenders and wings. If you really want to treat yourself, check out Wahlburgers for authentic double-stack hamburgers with all the best toppings.
Lastly, don't forget the Seven Chefs Buffet. This buffet offers something for everyone and is a great way to refuel after hours of gaming. Their buffet prices start at $20, and they could go up depending on specials, holidays and other events.
Pools
Planning a weekend trip to this casino? While you won't find a pool onsite, don't worry, there are still plenty of fun activities available for your enjoyment. From classic table games and exciting slots to delicious restaurants and lively bars, the casino has something for everyone.
And with its central downtown location, you can enjoy all that downtown Cleveland offers. So forget the pool and relax away the afternoon playing cards or experiencing local attractions within walking distance.
Jack Cleveland Casino, OH FAQ
Does Jack Cleveland Casino Have A Sportsbook?
Yes, this casino has a betJACK sportsbook, where you can bet on your favorite teams and sports. From football to basketball, you can find the best odds and lines for all the games. And with self-serve kiosks and a wide range of betting options, you can find the wager that works for you.
Is Poker Available At Jack Cleveland?
Yes, this casino offers a variety of poker games and tournaments. With several poker tables and tournaments offered daily, you can find the perfect game for your skill level. Whether you are a newbie or an advanced player, you can find the perfect game to hone your skills.
What Are The Age Requirements For Gambling At Jack Cleveland Casino?
To be allowed to gamble at this casino, you must be 21 years of age or older. Guests under the age of 21 can still enjoy other amenities, such as restaurants and bars but are not permitted to play table games or slots.
Does Jack Cleveland Have An Online Casino?
Unfortunately, this casino does not have an online casino at the moment. However, you can still take advantage of gambling options and special promotions by visiting the land-based property in downtown Cleveland.
Is There An Jack Cleveland Casino App?
No, this casino does not currently have a mobile app. However, you can still keep up with the latest news and promotions by visiting their website or social media pages. They also offer a rewards program with exclusive offers and discounts, so be sure to sign up for that.
What Is The Dress Code At Jack Cleveland?
This casino has a casual dress code. Guests are asked to avoid wearing flip-flops, tank tops, and other overly revealing clothing. However, you can still look fashionable in jeans and a nice top or dress shirt.
Is There An Airport Shuttle Available From Jack Cleveland Casino?
Unfortunately, this casino does not offer a shuttle service. However, there are several convenient transportation options available such as taxis, Uber and car rentals. And there is also public transportation to and from the airport.
What Is The Smoking Policy At Jack Cleveland?
The casino is a non-smoking facility. However, there are designated smoking areas available on the property. These areas are located on the outdoor patio and near some of the restaurants.
And all guests must abide by the casino's smoking policy; failure to comply may result in eviction from the premises.
What Is The Pet Policy At Jack Cleveland Casino?
Sadly, this casino does not allow pets. Guests can leave their furry friends at home or in the care of a pet sitter for the duration of their stay. However, service animals are welcome at the premises and must comply with the hotel's rules and regulations.
Is Wifi Available At Jack Cleveland?
Unfortunately, guests may need to rely on their data plan or wifi hotspots when visiting the casino. Wifi is unavailable at this property, and there are no wifi connections in the gaming area. It is best to plan accordingly if you need wifi during your visit.
What Is The Cancellation Policy For Jack Cleveland Casino?
There is no need to reserve a seat on their gaming floor; all guests are welcome to come and play anytime. There is also no hotel or room reservation, so there is no need to cancel any reservations.
However, if you have a special event booked at the casino, it is best to check their cancellation policy before booking.
Conclusion
Jack Cleveland Casino is a great place to spend an evening or two. With various gaming options, from slots and table games to poker tournaments, there is something for everyone.
The casino also offers a variety of amenities, such as restaurants, bars, and smoking areas. All guests must be 21 years of age or older to gamble and abide by the casino's policies. With all these benefits and more, this casino will surely provide you with an unforgettable experience.