Jack Thistledown Racino North Randall
Address: 21501 Emery Rd, North Randall, OH 44128
Phone Number: +1 216-662-8600
Website: www.jackentertainment.com/thistledown
Hours: Jack Thistledown Racino is open 24 hours a day, 7 days a week.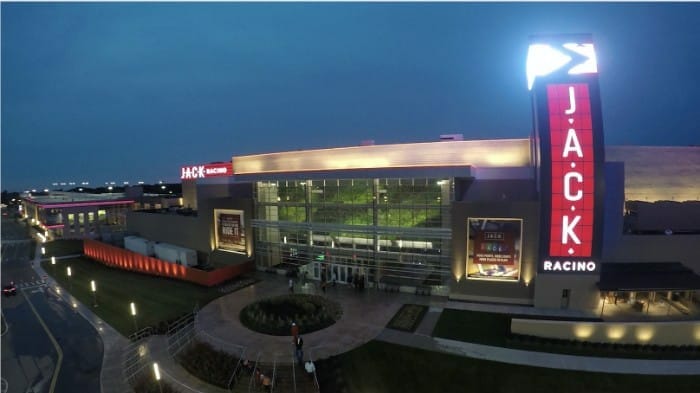 Jack Thistledown Racino is a part of the JACK Entertainment family of casinos. The casino opened in 2013 and is located on the site of the historic Thistledown Racetrack, which was built in 1931 before being renovated with a gaming floor in 2013.
Today, this racino offers more than 1,400 slots and electronic gaming machines, as well as live racing from April through September. Patrons can also enjoy their promotions, events and live entertainment.
The racino also features multiple dining outlets and bars where patrons can enjoy their favorite drinks. From casual to fine dining, from snacks to gourmet meals, there's something for every taste.
Whether you're looking for a night of fun and excitement or the perfect place to relax and be pampered, this racino has it all. So if you're in the North Randall area, head to this casino for an experience you won't soon forget.
On review sites such as Trip Advisor, it has an overall rating of 4.5 out of 5 stars. According to one guest, "This is a great place to go for entertainment. The staff is friendly, and the gaming floor is clean and enjoyable. There's plenty of dining choices, so you'll never go hungry."
Another guest says, "Thistledown Racino is an awesome place to hang out with friends and family. The staff is friendly and helpful, the gaming floor is huge, and it offers a variety of games. We had dinner at one of their restaurants, which was really good."
(Related reading: Ohio casinos)
Gaming
Their gaming floor offers over 1,400 slots and electronic gaming machines. They also offer live horse racing from April through September for anyone who likes a little bit of excitement.
Table Games
This racino is a great place to visit for fun and excitement. Unfortunately, you won't find any table games at this racino, as their gaming selection is limited to slot machines only.
However, the area does offer other entertaining activities such as live racing, karaoke nights and various dining options. So even if traditional table games are not your thing, you won't want things to do at this casino.
Slots
Going to this racino looking for a great slot machine experience? Look no further, as this casino offers an array of popular slots to choose from. For a classic show-themed game, Showcase Showdown Slots is the one for you.
Get nostalgic about your favorite quiz show with Jeopardy! For something more traditional, Ultra Hot Mega Link and Ultimate Fire Link China Street have all your favorite bells, whistles, and spinning reels.
And if you're looking for something more modern, Dragon Link and Lock It Link provide fun bonus features for even more chances to win big.
According to reports, the slot machine payback percentage at this racino is roughly 90.64%. This means that for every $100 spent, players can expect to get back about $90.64.
Hotel/Resort
This racino is a great place to come for a night of entertainment, but it doesn't offer overnight accommodations. However, if you need a hotel stay nearby, consider Economy Inn & Suites, Express Inn, Highlander Inn, or Extended Stay America.
These hotels are located close to the Racino and offer amenities such as complimentary Wi-Fi, complimentary breakfast, and other services to make your stay even more enjoyable. With various price points and great customer service, one of these places is sure to be perfect for your needs.
Restaurants & Buffets
Unfortunately, they do not offer any buffet options. But if you're looking for a great spot to grab a bite and enjoy the atmosphere, this racino offers multiple restaurants and bars.
There are so many great restaurants to choose from – whether you're in the mood for Italian, American or something else entirely. For Italian cuisine, Nonna Pazza serves up traditional favorites with an upscale twist.
If burgers and fries are more your speed, head to American Burger Bar for big flavors and even bigger portions.
Did someone say dive bar? Make sure you check out Cleo's Hometown Bar for some great drinks and atmosphere. And if it's just drinking you want, don't forget Centerbar. Beer, wine, hard liquor – they've got it all.
Pools
Located in North Randall, this racino provides a unique experience for visitors to the Cleveland area. Whether you come for the slots, racing or dining options – it's a great place to spend the day.
Unfortunately, they don't have any pools onsite. However, the fun doesn't stop here. There are many great water parks and swimming pools located in the nearby area. Plus, with so many hotels to choose from, you're sure to find one with a pool.
Jack Thistledown Racino, North Randall, OH FAQ
Does Jack Thistledown Racino Have A Sportsbook?
If you're looking for top-notch sports betting in the area of this casino, then look no further.
This casino is proud to be home to betJACK, featuring 4,500 sq. ft. of dedicated sports betting space and luxury seating – perfect for watching your favorite teams play no matter where they are in the world.
Along with five other betting counters, one can find score tickers to easily keep track of all your bets and also self-betting kiosks to make sure that you never miss a beat when placing your wager.
Is Poker Available At Jack Thistledown?
Unfortunately, this casino does not offer poker games. There are no live tables and no card rooms on their casino floor. However, you may easily find video poker machines throughout the premises.
With these games, you can still enjoy all the excitement of poker without worrying about other players and their strategies. Plus, video poker games have great payouts and bonuses that make playing even more enjoyable.
What Are The Age Requirements For Gambling At Jack Thistledown Racino?
The minimum age requirement for gambling at this racino is 21 years old. If you are below this age, you will not be allowed to gamble or enter the casino floor. Also, anyone who appears under the influence of alcohol or drugs may not be admitted onto the premises.
Does Jack Thistledown Have An Online Casino?
Unfortunately, this racino does not offer an online casino. All gambling must be done in person at the premises.
There are no online options for playing slots, racing or any other game offered here. But with so many great gambling options available, you're sure to find something to keep you entertained.
Is There An Jack Thistledown Racino App?
Unfortunately, there is no dedicated app for this casino. You can, however, check out their website to stay up-to-date on all the latest news and promotions.
Additionally, you may access their Facebook page for more information about special events and discounts. There is also a Twitter account where one can follow their daily updates.
What Is The Dress Code At Jack Thistledown?
The dress code at this racino is casual. However, it's important to note that you must wear a shirt and shoes at all times while on the premises. Any type of clothing deemed offensive or indecent may not be allowed and could result in being asked to leave the premises.
Is There An Airport Shuttle Available From Jack Thistledown Racino?
Unfortunately, there is no airport shuttle available from this racino. However, if you need to get to the Cleveland-Hopkins International Airport or any other nearby airport, you can easily find taxi services or rideshare companies in the area.
What Is The Smoking Policy At Jack Thistledown?
For the comfort and safety of all guests, smoking is not allowed anywhere within this racino. However, there are designated smoking areas outside the premises. These areas are clearly marked, and all guests must remain within these designated sections while smoking.
What Is The Pet Policy At Jack Thistledown Racino?
Unfortunately, pets are not allowed on the premises of this racino. If any pet is found on-site, the owner may be asked to leave and take the animal with them.
However, service animals are always welcome and must remain with their owners at all times. It is the responsibility of the owner to provide valid documentation stating the animal is a certified service animal.
Is Wifi Available At Jack Thistledown?
Unfortunately, you may need to purchase a data plan to access wifi at this racino. However, there are free public wifi hotspots scattered around the building that you may be able to access. And hotels nearby may also offer free or paid wifi services.
What Is The Cancellation Policy For Jack Thistledown Racino?
As there is no hotel attached to this casino, there is no cancellation policy. However, if you have made reservations for an outside hotel or booked additional services with the racino, it's important to check their individual policies.
Conclusion
Overall, this casino is a great place to gamble, play slots and enjoy other casino games. With so many options for gaming, entertainment and dining, you're sure to have an enjoyable experience here.
With all these great features and amenities, it's easy to see why Jack Thistledown Racino is one of the top racinos in Ohio. Whether you're a local or just passing through, ensure you don't miss out on all this great fun!