MGM Northfield Park Casino Northfield
Address: 10777 Northfield Rd, Northfield, OH 44067
Phone Number: +1 330-908-7625
Website: www.mgmnorthfieldpark.mgmresorts.com/en.html
Hours: MGM Northfield Park is open 24 hours a day, 7 days a week.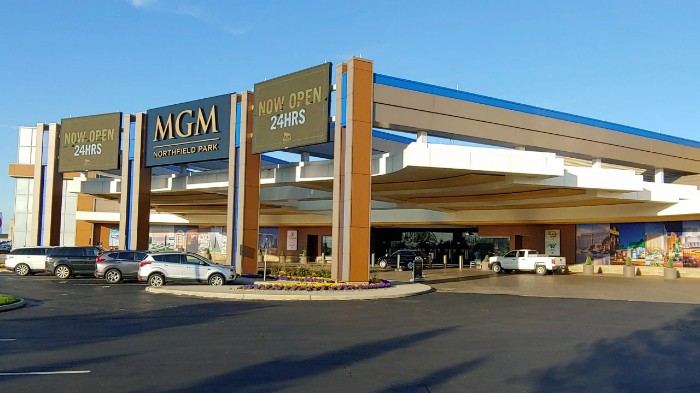 MGM Northfield Park is a casino, entertainment and dining venue located in Northfield, Ohio. The property was originally built as a racing track for midget cars in 1934.
After more than 80 years of operation, MGM Resorts International purchased it in 2018 and officially opened its doors as MGM Northfield Park in 2019. The property offers over 2,000 slot machines and VLTs along with year-round live harness racing.
Additionally, the venue features a variety of restaurants and bars. The racino also hosts large events such as concerts, comedy acts and more. With 24-hour gaming, live entertainment and dining options, MGM Northfield Park is the perfect destination for all your fun-filled needs.
The establishment also features a live and simulcast racing experience. The harness racing track brings a vibrant atmosphere and colorful characters with the excitement of live horse racing.
Whether it's watching exciting races on the track or enjoying great dining and live entertainment at MGM, a trip to this racino promises something for everyone to remember.
MGM Northfield Park has a 4.3 out of 5.0 rating on Google Reviews. Most visitors have said, "MGM Northfield Park is a great facility filled with fun and excitement. The staff are friendly and accommodating, and there's plenty of dining options available to enjoy."
Many guests have also commented on the cleanliness of the racino, with one visitor stating "it's very well-maintained even though it can get crowded during peak hours."
(Related reading: Ohio casinos)
Gaming
This racino offers over 2,000 slot machines and VLTs. With a variety of classic slots, progressive jackpots, and video poker available, there's something for everyone.
Table Games
At this racino, there are a plethora of entertaining gambling options to enjoy. However, as it is a racino, they do not offer the traditional table game experience we've come to expect when visiting a casino.
Unfortunately, this is due to state law and current regulations imposed by the Ohio Lottery Commission, which regulates racinos and their respective gambling activities.
While you won't be able to play games like roulette, blackjack, poker and other card games here at this casino, plenty of enjoyable alternatives are sure to get your thrill-seeking fix.
Slots
This casino is a great destination for slot machine enthusiasts. Get a chance to win big with Fu Dai Lian Lian Dragon, Dollar Storm, Money Link – Egyptian Riches and Rakin' Bacon.
Looking to up the stakes? Make sure to check out the High Limit Room, where they have 70 of the best VLT games in Ohio, and you have a chance to win Jackpots over $250,000.
The High Limit cashier window also makes it easier to get extra cash with check cashing, front money, credit card advances or lines of credit.
Or, if you are looking for an outdoor experience, head over to our Outdoor Gaming Patio with 8,000 square feet of gaming area with 240 VLTs for your choosing – all in climate-controlled comfort and even designated smoking areas.
Additionally, the casino offers a 90% slot machine payback percentage. This means that for every dollar bet on slot machines, the player can expect to receive 90 cents back.
Hotel/Resort
Unfortunately, the casino doesn't have an onsite hotel, but guests can easily find nearby accommodations that suit their needs.
The Hampton Inn & Suites Oakwood Village provides a comfortable setting for weary travellers to recharge before hitting the slopes.
Those looking for something a little more budget-friendly might enjoy the Country Inn & Suites by Radisson or the Quality Inn & Suites, both of which offer competitive rates and modern amenities.
Whether you're looking for a bit of luxury or some pocket-friendly fun, the casino's surrounding area has plenty of accommodations to choose from.
Restaurants & Buffets
If you're looking for something to eat at this racino, you've got some great choices with Kosar's Wood-fired Grill, TAP Sports Bar, and Concerto Italian Kitchen.
Kosar's will give you the full Cleveland experience with a custom selection of steaks, chops and seafood grilled to perfection in a wood-fired oven.
For sports fans who also have an appetite, TAP is the perfect spot to watch the latest games while enjoying classic American favorites from their menu.
If Italian is what your taste buds are craving, check out Concerto Italian Kitchen where pizzas and pasta are topped with all sorts of fresh ingredients, plus delectable sandwiches and salads for an easy grab-and-go option.
If you're looking for a truly unique and memorable dining experience, be sure to check out The Buffet. This buffet-style restaurant offers guests an impressive selection of global cuisine with more than 60 fresh options daily.
For an even bigger incentive to try out The Buffet, they offer T-Bone Steak & Shrimp on Saturdays for only $29.99 when you use your MGM Rewards Card. And then on Sundays, you can enjoy Sunday Brunch for just $14.99.
Pools
The casino offers its visitors a wide variety of activities and entertainment options, but unfortunately, the racino does not feature pools.
Whether you're looking for a place to cool down during the hot summer months or want to take a dip in the evening, this destination may not be your best option.
However, there's no need to feel disappointed if you plan a trip here since there are still plenty of other exciting attractions to explore, like a casino, live music venue, outstanding restaurants, and so much more.
MGM Northfield Park, OH FAQ
Does MGM Northfield Park Have A Sportsbook?
The racino might not have a sportsbook, but they do offer plenty of entertainment related to wagering. There are live and simulcast racing events available for visitors to bet on.
To make it even more convenient for their guests, they provide mutuel windows which allow customers to place their wagers on the spot. This venue also provides pari-mutuel wagering, so you can enjoy a greater variety of betting options while watching the races.
Is Poker Available At MGM?
Unfortunately, the casino does not offer poker games at this time. This exciting, action-packed venue boasts various other fantastic gaming and entertainment opportunities like slots, live harness racing and a full array of delicious dining options.
What Are The Age Requirements For Gambling At MGM Northfield Park?
The minimum age requirement for gambling at this casino is 21 years old. Visitors are expected to provide valid identification if asked by casino staff.
Does MGM Northfield Park Have An Online Casino?
No. At this time, the venue does not have an online casino. However, visitors can take advantage of the lively atmosphere and exciting gaming experiences available at the racino in person.
Is There An MGM Northfield Park App?
No. Currently, the venue does not have an app available for download in either Apple's App Store or Google Play. However, you can access their website from your mobile device to get information about upcoming events and promotions.
What Is The Dress Code At MGM Northfield Park?
The dress code at this casino is casual. Guests are expected to be dressed in neat, comfortable clothing that is appropriate for the venue. Visibly offensive clothing and accessories will not be tolerated.
Is There An Airport Shuttle Available From MGM?
No. At this time, the racino does not offer an airport shuttle service to or from the venue. However, guests can take advantage of the various transportation options available in and around the area, such as taxis, Uber and rental car services.
What Is The Smoking Policy At MGM Northfield Park?
Smoking is only allowed in designated areas within the venue and in outdoor smoking sections. All other areas of the casino are smoke-free.
What Is The Pet Policy At MGM?
At this time, the venue does not allow pets of any kind. Although service animals are welcome, guests are encouraged to contact the casino ahead of time to ensure that their pet is not prohibited from entering.
Is Wifi Available At MGM Northfield Park?
Yes. Free wifi is available throughout the venue for all of its guests. Connect to the casino's wireless network and start browsing.
What Is The Cancellation Policy For MGM Northfield Park?
As there is no on-site hotel, there is no specific cancellation policy for the casino. It's important to check the policy at the hotel you decide to stay at if you are looking to cancel your reservation.
Conclusion
MGM Northfield Park is a great destination for people looking to have an amazing time and enjoy all its attractions. It features live entertainment venues, exciting gaming options and delicious food outlets.
Visitors will be sure to make the most of their experience by taking advantage of everything this racino has to offer. Although no sportsbook or poker is available, they have plenty of other activities to keep visitors entertained.
The dress code at this casino is casual, and pets are not allowed. Free wifi is provided for all guests, and no on-site hotel or airport shuttle services are available from the venue.
With all of the fantastic amenities and gaming opportunities this racino has, it's sure to be a great time for everyone.