Scioto Downs Racino Columbus
Address: 6000 S High St, Columbus, OH 43207
Phone Number: +1 614-295-4700
Website: www.caesars.com/scioto-downs
Hours: Scioto Downs Racino is open 24 hours a day, 7 days a week.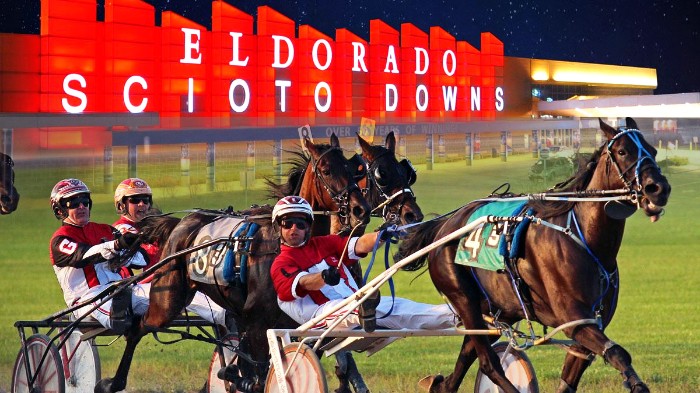 Scioto Downs Racino was originally established in 1959 as a racetrack for standard and thoroughbred horses.
After decades of success, it was converted into an electronic gaming center in June 2012 and is now one of Ohio's premier destinations for horse racing and casino gaming. The facility offers a wide variety of slots, virtual table games and live horse racing.
The casino also features several restaurants and a full-service bar. Scioto Downs Racino is owned and operated by Caesars Entertainment Corporation, one of the world's largest gaming companies.
The racino has become a popular destination for locals and tourists alike, offering a unique experience combining horse racing and casino gaming.
Scioto Downs Racino has received favorable reviews from guests. On popular review sites like TripAdvisor, the racino has earned an average rating of 4 out of 5 stars.
Guests say, "Scioto Downs is great for a night out. The atmosphere is very lively, and the slots and games are plentiful. The staff are friendly, helpful and attentive." Another guest comments, "The live horse racing was exciting, and the casino had plenty of slots to choose from."
(Related reading: Ohio casinos)
Gaming
This casino is packed with over 2,100 of the most popular slot machines and digital keno. There are plenty of themes to choose from and denominations that range from a penny to $25.
Table Games
The racino has plenty of great things to offer. It has a state-of-the-art horse racing track with historical events, exciting races, and a variety of delicious restaurants.
Unfortunately, if you're looking for regular table games such as blackjack or roulette – this racino does not offer any electronic or live table games. But don't worry, there is still plenty of fun with all the other activities available.
Slots
The casino has a wide range of popular slot machines for you to choose from. From luxurious high-limit games to traditional digital keno bar top tables, you can find something to suit your budget and taste.
The racino offers open-air gaming on the three terraces available for those looking for an even more exciting wagering experience. Enjoy a variety of games ranging from penny slots all the way up to thrilling higher-stakes options.
These include:
Carnival Rio
Wild Buffalo
Dancing Drums Prosperity
Game of Thrones: Winter Is Here
Monopoly Money Grab
The payback percentage of slot machines at this racino is currently undisclosed. However, the Ohio Casino Control Commission requires all casinos in the state to maintain a minimum payback of 85%.
Hotel/Resort
If you are looking to stay near the area, there is no on-site hotel at the resort, but we can certainly help point you in the right direction.
Have you considered checking out the Hampton Inn and Suites Columbus Scioto Downs? Or, if you are looking for something a bit more budget-friendly, why not look at Baymont by Wyndham Columbus/Rickenbacker or Quality Inn & Suites South/Obetz.
All three offer great service and amenities that will make your stay enjoyable. So don't hesitate to book now and make your vacation unforgettable.
Restaurants & Buffets
You're in luck if you're looking for a bite to eat while at this racino. Dash Cafe serves up burgers, salads and snacks, perfect for visitors who want something quick.
For a more relaxed experience, guests can head over to The Brew Brothers, where they can try out one of the ten hand-crafted beers on offer.
And if you don't feel like eating and want to take in all the racing excitement, then check out The Clubhouse – it's a great spot that offers multiple bars plus televisions at most tables.
Veil Bar, located in the center of the casino's gaming floor, is the perfect place to unwind and enjoy a few drinks. Step away from the hustle and bustle of the gaming floor and relax in this modern yet elegant atmosphere.
Their staff is friendly and knowledgeable; they are ready to craft the perfect cocktail for you or choose a beer or wine that will leave you satisfied. There's no faster route to fun with free entry every night of the week.
Video games abound while plenty of TVs keep gamblers entertained while they sip on their drinks. If a break from gaming to have a drink sounds like good fortune, their bar is your destination.
Unfortunately, though, they do not offer buffet dining at the moment.
Pools
Whether you're looking to try your luck at the horse races or take a chance on the VLTs, there is something for everyone to enjoy.
Unfortunately, the racino does not offer any pools. However, guests can still have a great time spending their days playing various games and participating in other activities at the track.
Although it may be disappointing that the racino does not have any pools, it is still a great place for those wanting an entertaining getaway without traveling far from home.
Scioto Downs Racino, Columbus, OH Pools FAQ
Does Scioto Downs Racino Have A Sportsbook?
This casino may not offer its own sportsbook, but you can still place bets on your favorite teams or athletes through their official sports betting partner, Caesars Sportsbook. Signing up is quick and easy – you need to choose a welcome offer that's right for you.
Whether it's betting $20 or $100, you'll get a $100 Free Bet no matter what. And bigger bets of more than $100 are available through Caesars with the peace of mind that if you lose your first bet there, they will refund it as a Free Bet – up to $1,500.
Is Poker Available At Scioto Downs?
The racino is a popular gaming location, but unfortunately, it doesn't offer poker games. This is due to the state gambling laws that prevent racinos from offering any table game, whether they are electronic or live.
What Are The Age Requirements For Gambling At Scioto Downs Racino?
They are committed to providing a safe and entertaining gambling environment for all its players. For that reason, the racino has two different age limits; for playing any of the casino games, you must be at least 21 years old and for betting on horse races, you need to be 18 years old or older.
Does Scioto Downs Have An Online Casino?
At the moment, there is no online casino platform associated with them. While they offer various gaming options in a physical location, they are not currently able to offer any online games.
Is There An Scioto Downs Racino App?
While there isn't an app specifically designed for the facility, there is something even better available. Their official sports betting partner, Caesars Sportsbook, offers an easy-to-use mobile app for Ohio residents wishing to place bets on racing and other sporting events.
What Is The Dress Code At Scioto Downs?
The only requirement for the dress here is that clothing must be neat and appropriate. Shorts, tank tops, and flip-flops are all acceptable; however, profane or offensive clothing is not allowed. Shoes and shirts must be worn at all times.
Is There An Airport Shuttle Available From Scioto Downs Racino?
Unfortunately, there is no airport shuttle service available from the casino. Numerous public and private transportation services in the area can take you to and from the airport.
What Is The Smoking Policy At Scioto Downs?
The racino is proud to be a non-smoking property for the benefit of all its guests. For those who wish to smoke, however, outdoor heated smoking lounges are located on the premises for your convenience.
What Is The Pet Policy At Scioto Downs Racino?
Due to health and safety concerns, pets are not allowed inside the facility. Although service animals are allowed, they must remain on a leash and be accompanied by their owner at all times.
Is Wifi Available At Scioto Downs Racino Columbus?
Yes, the racino offers complimentary wireless internet to all guests. Just connect to the Scioto Downs guest network and enter your username and password to get access.
What Is The Cancellation Policy For Scioto Downs?
As the racino currently does not have an on-site hotel, no cancellation policies are associated with the facility.
Conclusion
Scioto Downs Racino is a great destination for those looking to have fun and entertainment without travelling far from home. The range of gaming options available, including Caesars Sportsbook, makes this racino a great place to get away and enjoy an exciting game or race.
The property also offers various amenities like complimentary wifi and even heated smoking lounges. With various options available to suit all your needs and wants, this racino is the perfect spot for your next gaming adventure.
They also offer numerous promotions throughout the year, so make sure to check out their website for more information about what's available and take advantage of their generous bonus offers.
With their friendly staff and helpful customer service, you can be sure to have a great time whether you're playing in the casino or just enjoying a night out at the races.