Indian Head Casino Warm Springs
Address: 3236 US-26, Warm Springs, OR 97761
Phone Number: +1 541-460-7777
Website: www.indianheadcasino.com
Hours: Indian Head Casino is open Monday 9 am – 1 am, Tuesday 9 am – 1 am, Wednesday 9 am – 1 am, Thursday 9 am – 1 am, Friday 9 am – 2 am, Saturday 9 am – 2 am, Sunday 9 am – 1 am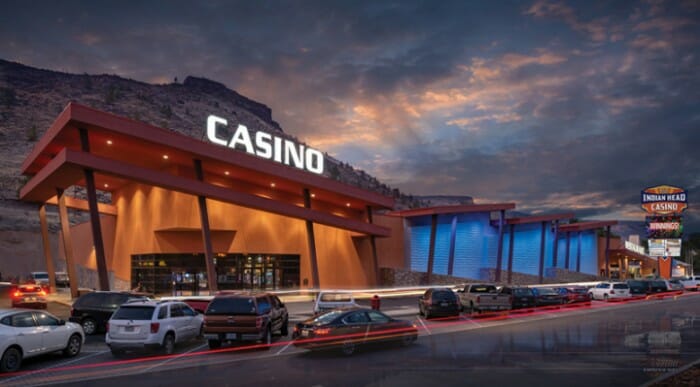 Indian Head Casino is owned and operated by the Confederated Tribes of Warm Springs and was first established in 1996. It is located on the reservation just east of the beautiful, cascading Deschutes River.
Previously, the property was known as Kahneeta High Desert Resort & Casino, but the name was changed in February 2012 to its current branding. Since its beginning, this casino has been providing guests with a top-quality experience and unforgettable memories.
The casino is proud to be helping the local community by providing cultural preservation and job growth, creating hundreds of jobs for members of the Confederated Tribes.
Members and non-members alike can look forward to an enjoyable atmosphere featuring more than 500 slot machines that offer various denominations and themes from classic favourites to the newest games.
Video poker is also available, as well as keno and several classic blackjack tables. The casino also offers promotions and rewards programs to keep guests coming back. In addition to gaming, the property also features a variety of dining options that will surely satisfy any appetite.
At this casino, there is always something fun and exciting happening. Guests can check out the casino's calendar of events for upcoming concerts, special offers, tournaments, and more. So come on down and experience what this casino has to offer.
On average, guests rate the casino 4.3 out of 5 stars based on reviews from TripAdvisor and Google. One guest claimed, "This place is great. Very friendly atmosphere. Not too busy and plenty of machines to choose from. I highly recommend this casino."
Another guest noted, "The Indian Head Casino is a great place for a night out. They have all the latest slot machines and some great table games. The staff is always friendly and helpful. Highly recommended."
(Related reading: Oregon casinos)
Gaming
Their casino floor offers over 500 slots including traditional reels, video poker, keno and several blackjack tables.
Table Games
This casino in Oregon is a great destination for those looking for some exciting table games. One popular table game offered at this casino is blackjack, with the added bonus of tournaments being held from time to time.
If you're visiting the casino multiple days, try challenging yourself by playing a new game each day. Blackjack can be a great way to test your skills and with tournaments becoming increasingly more accessible, it's easy to have an enjoyable time.
Generally, this casino has a $10 minimum on most of its table games. However, the casino does offer some high-stakes tables with larger minimums for players looking for an extra challenge.
Slots
If you're prancing into this casino, you certainly won't be disappointed by the slot machines it has to offer. Popular games here include the adrenaline-pumping Colossal Wizards, which boasts wild card wins and a massive 100 pay lines.
There's also Li'l Red Riches – featuring an intriguing werewolf theme and multiple bonus rounds. Climb aboard Spartacus Gladiator of Rome for 80 ways to win, eye-catching reels and free spins triggered by scattered symbols.
Forbidden Dragons fascinate with brilliant colors on its multi-line layout, as well as special Mystic Fire extras. Nature lovers will be captivated by Queen of the Wild II and its beautiful graphics depicting African wildlife.
Finally, Lazer Lock Ice Sapphire is a mesmerizing game featuring engrossing trance music, ultra-stacked symbols and several bonus features including Mystery Stacked Wilds and Icy Cash Free Spins.
Unfortunately, this casino does not release the exact payback percentages for its slot machines. However, according to reports from independent consulting firms, the payback percentage of slot machines in the state of Oregon averages approximately 96%.
This means that for every $100 wagered, the slot machines at this casino will pay back an average of $96. Of course, keep in mind that this is only an approximation and actual payback percentages may vary from machine to machine.
Hotel/Resort
If you're looking for the perfect place to stay while visiting this casino, you might find it worrisome to know that there is no hotel onsite. However, fret not as there are plenty of nearby options that offer something to suit everyone's needs.
The Inn At Cross Keys Station offers luxurious lodgings for those looking for something special. For a wallet-friendly option, Econo Lodge Inn & Suites Madras has you covered. Quality Inn and Budget Inn Madras by OYO offer their own versions of comfortable rooms at reasonable prices.
These nearby hotels are great for those just looking for a place to rest their heads after a night of fun at the casino. With a variety of amenities and helpful staff, they'll make your stay in the area all the more enjoyable.
Restaurants & Buffets
Although they do not offer a buffet, this casino does have a few dining options to choose from. This casino offers a diverse selection of restaurants and eateries for guests to choose from.
Cottonwood Restaurant boasts classic American fare, ranging from hamburgers to succulent seafood dishes, as well as lighter fare options like salads and flatbreads.
Tule Grill offers exciting Mexican fusion cuisine with several tantalizing appetizers, as well as soups, salads, tacos and desserts. For late-night dining or traditional bar fare–like their famous chicken wings–visitors can grab a bite at 777's Lounge. Don't forget to ask about daily specials!
Pools
This casino may not have a pool, but that doesn't mean you'll be stuck without a place to swim. Luckily, the area surrounding the casino has plenty of options for a refreshing dip.
From local community pools to riverside swimming spots and even seaside getaways, there's no shortage of places to take a dip nearby. For those looking for something special, consider visiting one of Oregon's historic hot springs.
No matter what type of swimming experience you're looking for, there's sure to be something nearby that will fit the bill. So don't worry–you won't have to miss out on a relaxing swim while you're visiting this casino.
Indian Head Casino, Warm Springs, OR FAQ
Does Indian Head Casino Have A Sportsbook?
Unfortunately, this casino does not offer a sportsbook at this time. However, they have a variety of other gaming options and entertainment activities to choose from. Plus, there are several nearby sportsbooks in the area that can provide all of your sports betting needs.
Is Poker Available At Indian Head?
Only video poker is offered at this casino. While there are no live poker tournaments or tables, you can still enjoy a variety of video poker games that will give you a chance to win big payouts. They also have several blackjack tables available for those who prefer a more traditional card game.
What Are The Age Requirements For Gambling At Indian Head Casino?
You must be 21 years or older in order to gamble at this casino. All players are required to provide valid identification if asked by staff, so please make sure you have your ID on hand before entering the gaming floor.
Does Indian Head Have An Online Casino?
No, this casino does not have an online casino. However, if you're looking for some online gaming action, there are several sites available that allow you to play popular slots and other casino games from the comfort of your own home.
Just be sure to do your research beforehand and make sure the site is reputable before signing up.
Is There An Indian Head App?
No, there is not currently an Indian Head Casino app available. However, the casino does have a mobile website that you can access from your smartphone or tablet to get all of the latest information about promotions, events and more.
What Is The Dress Code At Indian Head Casino?
The dress code at this casino is casual. Guests should wear comfortable clothing that is neat and presentable. Swimwear, sleeveless shirts for men, and tank tops for women are not allowed in the gaming areas.
Is There An Airport Shuttle Available From Indian Head?
Unfortunately, there is no airport shuttle available from this casino. However, you can easily arrange for a taxi or Uber to take you to and from the airport. Be sure to give yourself plenty of time to get there so that you don't miss your flight.
What Is The Smoking Policy At Indian Head Casino?
This casino offers a smoke-free gaming environment. Smoking is not permitted in the gaming areas, with designated smoking areas located outside of the casino. Electronic cigarettes are allowed but must be used in designated smoking areas only.
What Is The Pet Policy At Indian Head?
At this time, the property only accepts service animals. All other pets are not allowed in the casino or on the property. If you require a service animal, please get in touch with the casino in advance so that they can make the necessary arrangements.
Is Wifi Available At Indian Head Casino?
Unfortunately, this casino does not offer wifi service at this time. However, most cell phone providers should have adequate coverage in the area so that you can still stay connected while you're visiting.
What Is The Cancellation Policy For Indian Head Casino, OR?
There is no need for a reservation to visit the casino, so there is no cancellation policy. Once you arrive, you can stay as long as you'd like and enjoy all of the different games and activities that the casino has to offer.
Conclusion
Indian Head Casino is a great place to visit if you're looking for a fun and entertaining gaming experience. The casino offers a variety of gaming options, entertainment activities, and even video poker.
Plus, there are several nearby sportsbooks that can provide any sports betting needs you may have. Be sure to check their website for all the latest promotions and events, as well as the dress code, pet policy, and smoking policy.
With all these features and amenities, you're sure to have a great time at this casino. Make sure to check it out the next time you're in Oregon.