Spirit Mountain Casino Grand Ronde
Address: 27100 SW Salmon River Hwy, Grand Ronde, OR 97347
Phone Number: +1 503-879-2350
Website: www.spiritmountain.com
Hours: Spirit Mountain Casino is open 24 hours a day, 7 days a week.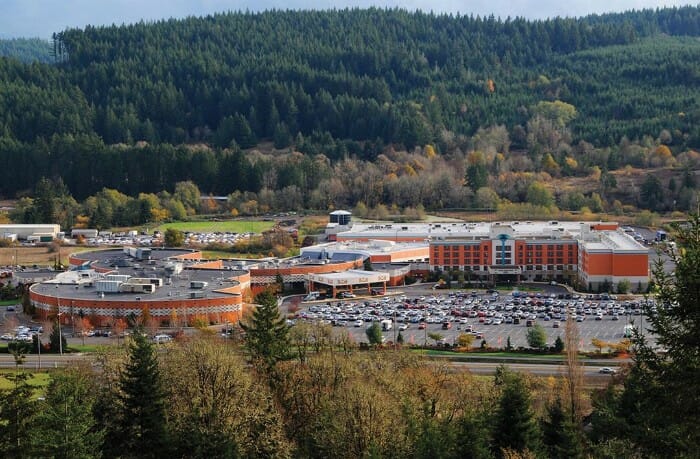 Spirit Mountain Casino in Grand Ronde, Oregon opened its doors in October 1995 as the first full-scale Indian gaming facility in Oregon. The property has been known to host some of the biggest names in entertainment such as Billy Ray Cyrus, The Isley Brothers, Lonestar, and more.
Over the years, it has grown to become one of the largest casinos in Oregon and a premier destination for entertainment. With its vibrant Pacific Northwest theme, generous amenities and friendly staff, it provides an exciting casino experience that cannot be found anywhere else.
Their gaming floor boasts over 2,000 slots and a variety of table games including blackjack, craps, roulette, poker and more. Their hotel features over 200 rooms and suites, as well as a fitness center, pool, spa, RV park and more.
They also offer dining options ranging from classic American cuisine to international dishes. In addition, their entertainment center offers unique live events on a regular basis.
This casino is dedicated to providing a fun and safe gaming experience for all guests, making it the perfect destination for anyone looking for a fun getaway or night out.
On popular review sites such as TripAdvisor, this casino in Grand Ronde is rated an average of 4.5 stars out of 5. One visitor said, "I had a great time at Spirit Mountain Casino.
The staff was friendly and helpful, the games were varied and exciting, and the food was really good. Highly recommended!"
Another said, "This is my favorite casino in Oregon- I love the atmosphere here. The service and selection of games are top-notch, plus the entertainment schedules are always packed with great acts. I would definitely recommend it to anyone looking for a fun night out or weekend getaway."
(Related reading: Oregon casinos)
Gaming
Their 90,000 square-foot gaming floor offers a variety of slots, video poker and table games to choose from. There are over 2,000 slot machines including the latest titles, progressives and classics.
Table Games
This casino in Oregon is an amazing experience, and they offer a huge array of table games and variations to keep you occupied. If you're looking to test your luck, you can try your hand at classic Blackjack.
If that's not your style, there are other options like Bonus Let it Ride or Craps – both of which can offer great rewards if you get lucky. There are also more modern games like EZ Baccarat, Pai Gow, Roulette, and Ultimate Texas Hold'em.
Generally, this casino table game minimums start at $5 for most games. However, some tables do go up to $25 or more depending on the day. You can also find special events and promotions that offer higher payouts or lower limits on certain days of the week.
Slots
The casino offers a wide variety of slot machines for those looking for some gaming fun in Oregon. A few of the most popular slot games at this casino include:
Buffalo
Cleopatra
Zeus
Crystal
Sparkling Roses
Lock It Link – Huff N' Puff
Unfortunately, the payback percentage at this casino is not known. However, players report that the average slot machine payback in Oregon is about 95-98% for most locations. You can also find the exact payback percentage for each slot machine posted on the machines.
Hotel/Resort
Their hotel onsite offers over 200 guest rooms and suites to accommodate your stay. All of the rooms come equipped with amenities such as a flat-screen TV, high-speed internet access, air conditioning, and more.
Room type includes:
Standard Rooms – features one king or two queen beds, a spacious bathroom and a separate vanity area
Premium Rooms – features one king bed, a spacious bathroom and a small sitting area
Premium Suites – features one king bed, a living area, jetted tub and a shower
Additionally, this casino offers many onsite amenities for guests to enjoy such as:
Self-parking onsite
Highspeed wifi access
24-hour front desk
Housekeeping services
Gift shops
Multiple dining options
Live entertainment
RV park
Onsite bar and lounge
Meeting and banquet facilities
The cost of staying at this casino varies depending on the room type and season. Generally, their room rates start from $159 per night excluding taxes and additional fees. For a more accurate cost breakdown, check out the hotel's official website for more information.
Check-in time at Spirit Mountain is 4:00 pm
Check-out time at Spirit Mountain is 11:00 am
Restaurants & Buffets
Even though they currently do not have a full-scale buffet, they offer multiple dining options to choose from. Trying Amore with its fresh ingredients and classic Italian dishes is a must-do, or sample some new brews at 10 Barrel Hop Yard.
Want something more casual? Stop by Mountain View Sports Bar's enormous selection of beers and pub food, or grab something quick at Jalapeno's Mexican Grill. If you're looking for a place to watch a game, head over to Stadium Bar and get ready for an amazing experience.
Lastly, finish your night with the popular cuisine from Happy Dragon which has been serving Oregon customers for over 20 years. With all these spots to choose from, you won't know what to do first – but we can guarantee that it will be an enjoyable time.
Pools
This casino is one of the most popular gaming facilities in the area. Despite its notoriety for slot machines and table games, what you may not know is that it does not have an onsite pool.
Although there are no public pools here, you won't have to venture far to find a great place to cool down and relax during hot summer days. There are many nearby locations that offer a variety of water activities for all ages.
Whatever your preference, there are plenty of options available when it comes to refreshing your day at this casino.
Spirit Mountain Casino, Grand Ronde, OR FAQ
Does Spirit Mountain Casino Have A Sportsbook?
Now available at this casino is the innovative BetMGM Sportsbook, a product of MGM Resorts International that allows customers to place bets on sporting events across the country.
For those looking for convenience and flexibility, BetMGM also offers mobile betting through its convenient app. You'll find all the thrills associated with traditional sportsbooks in a modern setting while using leading-edge technology – whether you're betting from home or at the casino.
Is Poker Available At Spirit Mountain?
Yes, they have a dedicated poker room where you can find all your favorite games. Their poker room features a variety of cash games and tournaments for players of all skill levels. They also offer daily promotions to increase the excitement of playing poker.
What Are The Age Requirements For Gambling At Spirit Mountain Casino?
All guests must be 21 years or older to enter and gamble at the casino. Identification must be presented upon entry. Failure to adhere to the age requirement will result in denied entry.
Does Spirit Mountain Have An Online Casino?
Unfortunately, this casino does not currently offer an online casino. You may only experience the full Spirit Mountain experience by visiting the casino in person. There are plenty of onsite entertainment and gaming opportunities to enjoy when you visit.
Is There An Spirit Mountain Casino App?
No, there is no official app for this casino. However, you can stay up to date with the latest promotions and events by following their Facebook page or subscribing to their newsletter.
Additionally, the BetMGM Sportsbook has a convenient mobile betting app that customers can use on iOS and Android devices.
What Is The Dress Code At Spirit Mountain?
This casino has a casual dress code. Appropriate attire includes jeans, khakis, shorts, skirts, and collared shirts. Athletic apparel like t-shirts and tank tops are also acceptable as long as they are not offensive.
Is There An Airport Shuttle Available From Spirit Mountain Casino?
Unfortunately, this casino does not provide an airport shuttle. However, there are several transportation options available to get you to and from the facility.
You may find taxi services, Uber or Lyft rides, or a bus system that can take you to or from the airport in the area.
What Is The Smoking Policy At Spirit Mountain?
Smoking is only permitted in designated areas at the casino. The sections that are designated as smoking are clearly marked and monitored by security for compliance. Guests must respect all posted signs regarding smoking or the risk of being ejected from the premises.
What Is The Pet Policy At Spirit Mountain Casino?
Sadly, this casino does not allow pets on the premises. This is to ensure the safety of all guests and staff and maintain a pleasant environment for everyone. Service animals are allowed provided they wear proper identification and remain under control at all times.
Is Wifi Available At Spirit Mountain?
Yes, free WiFi is available throughout the casino. Guests can connect to the high-speed network at any time and enjoy uninterrupted internet access. Additionally, guests will find a variety of charging stations located throughout the casino for their convenience.
What Is The Cancellation Policy For Spirit Mountain Casino?
Cancellation policies may vary depending on the promotion or event. When booking tickets, please refer to the terms and conditions listed on your order page for information regarding refunds and cancellations.
For hotel reservations, cancellation is required 24 hours prior to the stated check-in date. Failure to do so will result in a fee equal to one night's stay plus taxes and fees applied.
Conclusion
Spirit Mountain Casino is a great place to go for entertainment and gaming. They offer a variety of options for all ages, such as slot machines, table games, poker tournaments, and daily promotions.
From their casual dress code to their strict pet policy, this casino has steps in place to ensure a safe and enjoyable experience for all guests. If you find yourself in the area, be sure to check out this casino and experience all that it has to offer.