The Mill Casino & Hotel North Bend
Address: 3201 Tremont Ave, North Bend, OR 97459
Phone Number: +1 541-756-8800
Website: www.themillcasino.com
Hours: The Mill Casino & Hotel is open 24 hours a day, 7 days a week.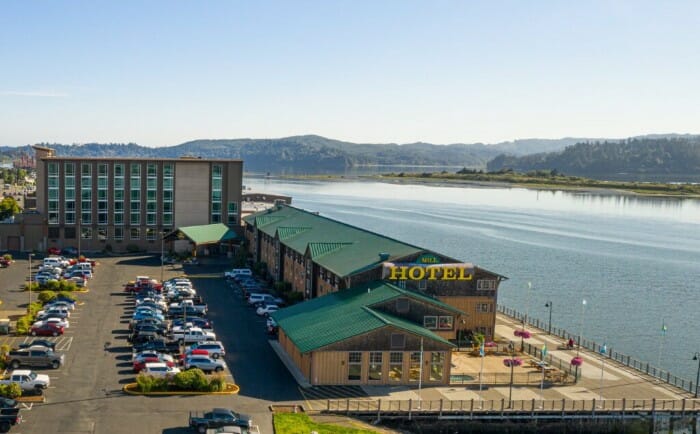 The Mill Casino & Hotel in Oregon began its journey after its owners, the Coquille Indian Tribe, purchased and opened the property in 1995. Located on the banks of the Coquille River in North Bend, the land had once served as a wood mill before being converted into a casino and hotel.
For more than 20 years, this casino hotel has provided guests with an outstanding gaming experience, featuring over 600 Vegas-style slot machines, table games such as blackjack and craps, as well as poker tournaments and keno.
The property also offers lodging with a variety of room types and amenities such as an RV park, fitness center, pool, spa and more. On the property, visitors can find several restaurants ranging from casual to fine dining, as well as live entertainment and shopping.
This casino hotel is dedicated to offering unforgettable experiences that make each stay special. The staff strives to provide first-class customer service and they look forward to welcoming visitors for years to come.
This casino hotel has received mostly positive reviews from guests, with an average rating of 4.1 out of 5 stars on popular travel websites. One guest said, "The staff is friendly and helpful. The games are fun and the food is delicious. Highly recommended!"
Another guest said, "We had a great time here. The slots were plenty of fun, the free drinks kept us hydrated, and the hotel room was great for sleeping off our winnings."
(Related reading: Oregon casinos)
Gaming
Their gaming space features 600 slot machines, as well as a variety of table games including blackjack, craps and keno. They also have daily poker tournaments and offer a rewards card that provides points for play.
Table Games
This casino offers a great selection of table games for your game-playing pleasure. You can try your luck with Three Card Poker, which offers three ways to win. If you're feeling adventurous, electronic craps is also available.
If you're in the mood for classic card gaming, then blackjack is the perfect choice for you. Roulette fans can also find both electronic and live options at this casino. For something a bit more exotic, there's Emperor's Challenge Pai Gow and Spanish 21 on offer.
The table game minimums at this casino depend on the day and time of play. However, typically the minimums start as low as $10.
Slots
If you're looking for exciting slot machine action, then this casino is the place to be. This Vegas-style gaming venue offers tons of fun, with hundreds of slot machines just waiting to payout a jackpot. Popular games include:
Ba Fang Jin Bao Abndt Fortune
Cash Falls Huo Zhu
Drop & Lock – Sweet Tweet
Game King
Guo Nian Mighty Cash Xtra Reel
Jade Wins
Money Ball
Myths & Legends
Piggy Pennies All Aboard
Rakin Bacon
Tiger Lord
Unfortunately, slot machine payback percentages are not publicly available for this casino. However, all of the games offered at this casino are legal and regulated by the Oregon Gaming Commission.
So while exact payout percentages may be unknown, you can rest assured that your gaming experience is fair and secure.
Hotel/Resort
Their hotel offers a variety of lodging options to suit your needs. From the rustic charm of their RV park to luxurious rooms and suites in their hotel, you can find the perfect fit for your stay.
Their hotel was recently remodeled and boasts modern decor, comfortable beds, and complimentary Wi-Fi. Also, their rooms and suites are divided into two categories: The Tower and The Lodge.
Look out to river and bay views from the Coquille Suite or one of the Tower Rooms featuring either one king or two queen beds. For those seeking a more romantic getaway, the Tower Balcony Suite has you covered with a work desk, balcony/patio, separate living area and much more.
For extra space and unbeatable views, you can settle in for family vacations or weekend trips to remember at The Lodge King/Double Queen Bayview or Suite.
Additionally, this casino offers an array of on-site amenities and services to make your stay as comfortable as possible. Some of these include:
Internet access
Concierge services
Free valet parking
Shuttle services
EV charging stations
Indoor pool and spa
Business center
Fitness center
Outdoor patio
RV park
Live entertainment and events
Onsite dining options
Meeting and banquet facilities
The cost of a stay at this hotel depends on the type of room you book and when you choose to stay. Prices start from around $148 per night plus taxes and fees.
Check-in time at The Mill is 4:00 pm
Check-out time at The Mill is 11:00 am
Restaurants & Buffets
Even though this casino hotel does not have a buffet, there are still plenty of great food options on-site. For a more upscale experience, one should try the Plank House Restaurant, which serves up delicious Northwest-inspired cuisine with stunning views of Coos Bay.
Just down the road is Warehouse 101, where visitors can grab some comfort food favorites including tasty burgers and mac 'n cheese. Whitecaps is located in the middle of the casino action and is ideal for grabbing a quick bite to eat in between gaming.
Looking for something unique? Visit Plate Food Truck where you can indulge in delicious street tacos made with locally-sourced ingredients. Or if you're craving classic American comfort food with a coastal twist, head to the Timbers Café.
Last but not least, don't forget to stop by the Lobby Bar to cap off your night with one of their signature cocktails. No matter what mood you're in, this casino hotel has something for everyone.
Pool
This beautiful casino resort features an indoor pool and spa where you can unwind after a long day. Take a refreshing dip in one of the sparkling outdoor pools, perfect for making the most of a sunny summer day.
Enjoy the luxury of lounging around on comfy poolside chairs, taking in spectacular views of the bay while basking in the sun. With so much to offer, this casino hotel is the ideal place to escape the hustle and bustle of everyday life.
The Mill Casino & Hotel, North Bend, OR FAQ
Does The Mill Casino & Hotel Have A Sportsbook?
If you are looking for a sportsbook at this casino, you will be pleased to know that despite not having a sportsbook in its own right, the venue does offer Sports Betting. This includes betting on NFL and NCAA games as well as NBA and NCAA matches.
Plus, there's plenty of variety beyond these major leagues with baseball, soccer, NHL, NASCAR and F1 all available too. If you're feeling really daring there are also opportunities to bet on boxing and MMA as well as the Olympics and PGA Tour.
Is Poker Available At The Mill Casino?
Yes, poker is available at this casino. You can find a full list of games and tournaments on the casino's website or ask one of the friendly staff for more information when you arrive. Whether you're a novice or an experienced poker player, there's something to suit everyone.
What Are The Age Requirements For Gambling At The Mill Casino & Hotel?
The age requirement for gambling at this casino is 21 years old. All guests must be of legal age to participate in any gaming activities available. Guests under the age of 18 must be accompanied by a guardian or adult family member at all times while on the property.
Does The Mill Have An Online Casino?
No, this property does not currently have an online casino. However, you can still enjoy the slots and other games available at the property in person.
The casino offers slots, table games, video poker and more. Plus, with a wide range of entertainment and events available, there's something for everyone to enjoy at this casino.
Is There An The Mill Casino & Hotel App?
This casino hotel in Oregon is getting into the 21st century and has released its very own app for both iPhones and Androids. This app allows you to stay up to date with all the exciting events and promotions happening at the casino, as well as book reservations for accommodations and dining.
Furthermore, you can plan your visit by viewing amenities, hours of operations, view menus, booking tee times and more. Download it today for an easier way to experience all that this casino has to offer its guests.
What Is The Dress Code At The Mill?
This casino hotel has a smart casual dress code. This means that guests should avoid wearing overly revealing clothing, athletic wear or torn/dirty clothes. T-shirts, jeans and sneakers are acceptable but anything too ostentatious is discouraged.
Is There An Airport Shuttle Available From The Mill Casino & Hotel?
Yes, for a fee, the casino will provide an airport shuttle service to Portland International Airport (PDX). Guests may inquire about options and fees at the front desk or by calling ahead.
Additionally, Uber and Lyft also offer reliable transportation services for those traveling to or from this location.
What Is The Smoking Policy At The Mill?
This casino hotel is a smoke-free property. Smoking or vaping of any kind, including electronic cigarettes, is strictly prohibited inside all public areas and guest rooms. Guests may smoke in designated outdoor smoking areas.
What Is The Pet Policy At The Mill Casino & Hotel?
This casino hotel is a pet-friendly property and allows well-behaved pets to accompany its guests. However, all pets must be kept on leashes while in public areas, and only service animals are allowed inside the hotel lobby or any of the dining establishments.
Also, they offer pet-friendly rooms, which must be requested at the time of booking. For more information regarding the pet policy, guests should contact the hotel directly.
Is Wifi Available At The Mill?
Yes, free wifi is available throughout the property. Guests can access high-speed internet in all guest rooms and public areas for a seamless experience. Additionally, guests may also access complimentary printing services at the front desk.
What Is The Cancellation Policy For The Mill Casino & Hotel?
If you need to change or cancel your reservation for this casino, please be aware of the cancellation policy.
If you must alter your travel plans, remember that reservations must be canceled by 6 pm on the night before your scheduled arrival date in order to avoid a charge of one night's room rate.
Conclusion
The Mill Casino & Hotel offers its guests a great experience with plenty of gaming, entertainment, and dining options. Plus, they offer comfortable accommodations and helpful amenities like free wifi and an airport shuttle service.
Whether you are looking for a great night out or a relaxing getaway, this casino hotel has something for everyone. So, if you're looking to experience the best of Oregon, make sure to check out this casino hotel.