Lady Luck Casino Nemacolin Farmington
Address: 4067 National Pike, Farmington, PA 15437
Phone Number: 1-724-329-7500
Website: www.ladylucknemacolin.com
Hours: Lady Luck Casino Nemacolin is open Wednesday 9 am – 2 am, Thursday 9 am – 2 am, Friday 9 am – 2 am, Saturday 9 am – 2 am, Sunday 9 am – 2 am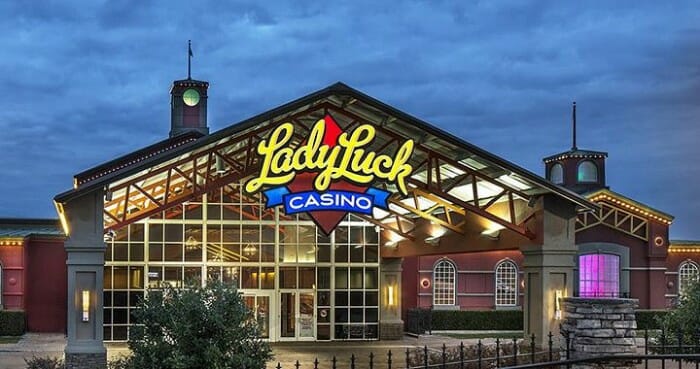 Lady Luck Casino Nemacolin is a casino located in Nemacolin Woodlands Resort as one of its many amenities. It was designed and built in 2013 by the renowned gaming company Isle of Capri Casinos Inc as a joint venture with the resort.
The gaming floor consists of 600 slot machines, several table games and various specialty games. The casino also provides a wide range of entertainment options, including live music and shows in its showroom.
They also offer many promotions and bonuses for their players to participate in. This includes a Players' Club, which gives players access to exclusive offers and discounts, special events, and more.
And if you want to take a break and grab a bite, this casino features a restaurant serving delicious American fare and chef's specials perfect for any appetite. Plus, they also have a bar and grill offering delicious drinks and snacks.
For accommodations, the casino is conveniently located inside the Nemacolin Woodlands Resort, which offers a variety of luxurious lodging options, from suites to townhouses.
Whether you're looking for a night out on the town or just some quality time with family and friends, this casino has something to offer. With its gaming floor, delicious restaurant and comfortable accommodations, it is sure to be an enjoyable experience.
On Google, it has an average rating of 4.4 out of 5 stars with over 1,000 reviews. On TripAdvisor, it is rated 4 out of 5 stars with over 500 reviews. And on Yelp, it has an average rating of 3.5 out of 5 stars with over 500 reviews.
One guest mentioned, "This casino is a great place to spend time. The atmosphere is fun, and the staff is friendly. The gaming floor has plenty of machines, and there are always promotions going on. The food was good, and the rooms were very nice. Highly recommended!"
(Related reading: Pennsylvania casinos)
Gaming
Their gaming floor comprises 600 slot machines and various table games, including blackjack, craps, roulette, poker, and more.
Table Games
If you want to let the chips fall where they may, this casino is the place for you. Offering a variety of exciting table games, your night at the casino can be filled with thrills. Put your luck to the test with Craps and Roulette and try to beat the house with Blackjack.
For something more strategic, try Three Card Poker and Four Card Poker. Omaha and Mississippi Stud allow for further analysis by challenging you to develop optimal hands.
Table games offered at this casino have minimums ranging from $5 to $25. It varies from game to game and is subject to change on a day-to-day basis.
Slots
This casino offers a wide variety of slot machines, including classic reel games, video slots and much more. Some popular titles include:
Super Charged 7s
Money Rain Delux
Crazy Money Delux
I Love Super Free Game$
Jinse Dao Phoenix
Super Lantern 8s
Unfortunately, this casino does not disclose its slot machine payback percentage. That said, the Pennsylvania Gaming Control Board requires all gaming machines to return a minimum of 85% of their deposits.
Hotel/Resort
This casino offers the ultimate experience for gaming and vacationing. You'll find no better place to enjoy both than the Nemacolin Woodlands Resort. You can choose from various lodging options, such as The Chateau, The Falling Rock, The Homes, and The Estates.
Whether you're looking for an upscale stay with all the amenities or just a cozy wooden cabin away from it all, Nemacolin Woodlands Resort has something to suit everyone's needs.
With this nearby resort and the amazing casino just steps away, visitors will surely have a memorable stay at this casino.
Restaurants & Buffets
This casino boasts a variety of restaurants that are sure to tantalize the taste buds. The Lone Wolf is a popular spot for classic American fare, with everything from burgers and sandwiches to delicious entrées.
Not in the mood for something sit-down? Otis & Henry's Bar and Grill is perfect for a more relaxed setting – whether you're looking for finger food or just a spot for drinks, this eatery has you covered.
Unfortunately, they currently do not offer any buffet-style options. But with their full-service restaurant, bar and grill, visitors will not be disappointed.
Whether you prefer a night in the casino or grabbing something tasty, this casino has the menu selection and atmosphere to satisfy any diner.
Pools
This casino in Pennsylvania is the perfect destination for a vacation that combines gaming with relaxation. Although it doesn't have a pool on-site, guests are able to take advantage of all of the amenities that the nearby Nemacolin Woodlands Resort has to offer.
The Pools at the Peak is the resort's outdoor water park, featuring a variety of pools, slides and other aquatic attractions. And if you're looking for something a bit more relaxing, there are several indoor and outdoor hot tubs available as well.
No matter what kind of pool experience you're looking for, this casino and Nemacolin Woodlands Resort has it covered.
Lady Luck Casino Nemacolin, Farmington, PA FAQ
Does Lady Luck Casino Nemacolin Have A Sportsbook?
Unfortunately, this casino does not offer sports betting. However, with their wide variety of table games and slots, you're sure to find something to keep you entertained for hours. Plus, with the nearby resort that offers a variety of amenities, you'll be able to enjoy your visit even more.
Is Poker Available At Lady Luck Casino?
Yes, this casino offers a variety of poker games. In addition to classic Texas Hold'em, visitors can try Omaha, Mississippi Stud, Three Card Poker and Four Card Poker for something more strategic. The minimums vary from game to game and are subject to change on a day-to-day basis.
What Are The Age Requirements For Gambling At Lady Luck Casino Nemacolin?
The legal age for gambling in Pennsylvania is 21. Anyone under the age of 21 will not be allowed to enter the casino floor, participate in any gaming activity or purchase alcoholic beverages. A photo ID is required upon entry, so make sure to bring one with you if you plan on visiting.
Does Lady Luck Have An Online Casino?
No, this establishment does not have an online casino. However, visitors can still enjoy all of the same great gaming action at their brick-and-mortar casino, located just minutes away from the Nemacolin Woodlands Resort.
Is There An Lady Luck Casino Nemacolin App?
Unfortunately, this casino does not have any app available at this time. However, there is an official website where you can find current promotions and upcoming events and helpful information about the casino.
What Is The Dress Code At Lady Luck Casino?
This casino does not have an official dress code. However, guests are encouraged to dress in a neat and presentable manner.
Shorts, tank tops, beachwear and other items deemed inappropriate by the staff are discouraged. The atmosphere is generally casual, but neat attire is always appreciated.
Is There An Airport Shuttle Available From Lady Luck?
Unfortunately, this casino does not provide an airport shuttle service. However, there are several taxi and rideshare services available in the area that can take you from the airport to the casino.
And with the Nemacolin Woodlands Resort nearby, you may be able to take advantage of their transportation services as well.
What Is The Smoking Policy At Lady Luck Casino Nemacolin?
This casino does not allow any smoking or vaping on the casino floor. However, there are designated smoking areas located outside of the casino.
The Pennsylvania Clean Indoor Air Act prohibits smoking in all public places, so visitors who wish to smoke must do so in designated outdoor areas only. The casino also offers non-smoking gaming areas for those looking to enjoy their time without secondhand smoke.
What Is The Pet Policy At Lady Luck Casino?
The casino itself does not allow pets. However, the Nemacolin Woodlands Resort is pet friendly and offers several amenities for those traveling with furry friends.
Guests can rest assured knowing that there are plenty of accommodations available for both them and their four-legged companions.
Is Wifi Available At Lady Luck?
Yes, there is free wifi available for guests of the casino. Guests can connect to the internet and enjoy all the online gaming action this casino offers. There are also several restaurants on-site that provide wifi access as well.
What Is The Cancellation Policy For Lady Luck Casino Nemacolin?
As there is no formal policy, guests should contact the casino directly to inquire about cancellation fees or refunds. Generally speaking, this casino does not have a hotel in its own right, so there may be no cancellation fees or refunds issued.
For reservations at the Nemacolin Woodlands Resort, guests should check the resort's website for more information regarding their specific cancellation policy.
Conclusion
Lady Luck Casino Nemacolin is a great destination for gamblers looking to enjoy all the gaming action in Pennsylvania. It offers a variety of slot machines, table games and more for visitors to enjoy.
And with its convenient location within the Nemacolin Woodlands Resort, visitors can also enjoy an array of other amenities and attractions nearby. Whether you're looking for a fun night out or just some good old-fashioned gambling action, this casino has something for everyone.