The Big M Casino Ship Little River
Address: 4491 Mineola Ave, Little River, SC 29566
Phone Number: +1 843-249-9811
Website: www.bigmcasino.com
Hours: The Big M Casino Ship is open Monday 8 AM–5 PM, Tuesday 8 AM–5 PM, Wednesday 8 AM–5 PM, Thursday 8 AM–6 PM, Friday 8 AM–6 PM, Saturday 11 AM–4 PM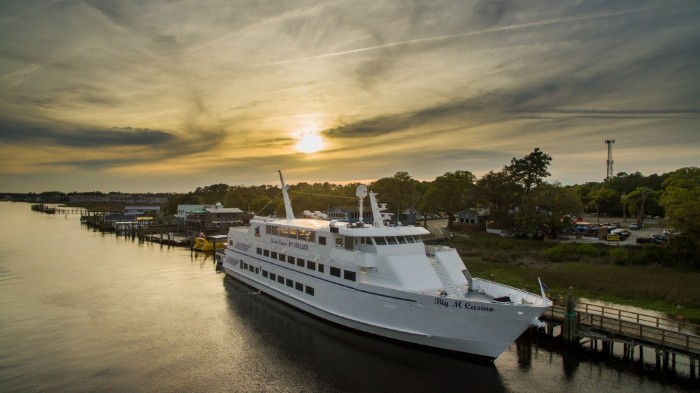 The Big M Casino Ship first opened its doors in South Carolina in 2008. It was created to provide a unique entertainment experience for visitors and locals alike.
The state currently considers casino gambling to be illegal, so the casino was built on two ships that operate off the coast of Little River. This allows customers to board and gamble without crossing state lines.
This casino is the only one of its kind in the area and features a wide variety of gambling games. Guests can choose from the two gambling ships, each offering a different experience.
The cruise ships are two-level, Vegas-style boat that offers slots and table games (blackjack, craps, roulette) for both beginner and experienced gamblers.
All of this, combined with breathtaking views of South Carolina's Intracoastal Waterway, make for a unique and memorable experience. However, visitors must know that the ships sail within federal waters and are not allowed to dock in the state of South Carolina.
Additionally, the casino ships do not board passengers all day long. Cruises depart at specified times, so it is important to check the schedule before departing.
This casino is a great option for those looking for an exciting and unique experience in South Carolina. Whether you're a gambling enthusiast or want to enjoy some stunning views and entertainment, there's something for everyone at this one-of-a-kind casino.
This casino has generally received positive reviews from guests. On Tripadvisor, the casino ship has an average rating of 4 out of 5 stars. One customer said, "The staff was very accommodating, the food was excellent, and of course, all of the gaming options were great!"
Another customer remarked, "The Big M Casino Ship was an amazing experience! Such a fun way to spend the day. We had so much fun playing the slots and table games!"
(Related reading: South Carolina casinos)
Gaming
This casino ship features a wide variety of gambling games, including 400 of the newest slots. They also feature table games such as blackjack, craps, and roulette.
Table Games
This unique casino is the perfect place to try your luck and take a chance at the house. Whether you're an experienced player or this is your first time at the casino, there are several classic table games available that are sure to provide an exciting experience.
Of the many table games on offer, one can find traditional favorites like Blackjack starting at minimums of $10, $25 and $50.
Craps/Dice is another popular game among casino players, and you can get in on the action with minimums as low as just $5. Roulette is another classic addition to the ship's tables, with a minimum bet set at only $5.
If you are feeling lucky, why not try your hand with Let it Ride, which has a minimum bet of $10 or take a taxi ride to 3 Card Poker where you can start your engine with a modest 10-dollar stake?
So why not experience some excitement and join them onboard? Go and join the fun on one of these two casino ships for an unforgettable day of gaming, entertainment and breathtaking views.
Slots
If you're visiting this casino, you'll definitely want to try out some of its popular slot machines. Among the most played machines, you'll find 3 to 5-reel games colorful and exciting themes, from pirate adventures to safaris.
Some of the most popular slot machines you can play at this casino include:
Treasure Ball
Dancing Drums
Pot O' Gold
88 Fortunes
Game King
Wheel of Fortune
Video Poker
Double Diamond
Bally Cash Wizard
Quick Hit Platinum
Double Jackpot 7's
Double Gold
There is also a huge variety of progressive jackpots and huge payouts, with rewards climbing higher every time someone plays.
The casino has a variety of slots and table games for guests to enjoy. However, the payback percentage for all of the slot machines at this casino is unavailable.
Additionally, the state of South Carolina does not regulate the percentage of payouts in any casino gambling as it is considered illegal.
Hotel/Resort
The casino ships offer an exciting night out on the Atlantic for South Carolina locals and visitors alike! And while there is no hotel on the actual ship, nearby lodging is just a quick drive from the departing area.
Guests can check out a wide range of nearby lodging options with everything from the Holiday Inn Express & Suites to the Days Inn by Wyndham Little River and Sleep Inn at Harbour View.
Each of these hotels provides convenient locations to make sure performers can enjoy the show and excitement of this casino before returning for a restful night in the comfort of one of these cozy places.
Restaurants & Buffets
Eating on board the vessel can be an enjoyable experience for everyone. The restaurants boast a wide selection of meals, from Boar's Head subs and wrap to coffee, tea, water and soda. Alcoholic beverages can also be had for purchased with the help of one of their wait staff.
And if your party has handicapped needs or cannot climb stairs, there's no need to worry as they're more than happy to bring food down to the main deck and set up a special dining area so that no one is left out.
Let them know prior to seating if you have any special requirements, and they'll do whatever they can to make you feel comfortable and at home while dining onboard.
However, this time, they do not have a buffet available. But they are hoping to bring that feature back soon, so keep an eye out for updates.
Pools
With beautiful views of the Atlantic Ocean from all decks, visitors can rest assured they will be entertained while they take in some stunning ocean sights. However, there are no pools or pool-oriented features, so if you're looking to take a dip, then you may want to look elsewhere.
The Big M Casino Ship, SC FAQ
Does The Big M Casino Ship Have A Sportsbook?
Unfortunately, this casino does not have a sportsbook option at this time. However, the casino still has tons of exciting gaming activities like slot machines, blackjack tables, and live poker. Even without a sportsbook, there are plenty of opportunities to have fun or even win big.
Is Poker Available At The Big M?
Yes, there are several live poker tables available at this casino ship. So if you're interested in playing any other variations of poker, this casino is a great place to do it. Just don't forget to bring your A-game.
What Are The Age Requirements For Gambling At The Big M Casino Ship?
The minimum age requirement for gambling at this casino is 21 years of age. Anyone under the age of 21 will not be allowed to gamble or be on the casino ship. So make sure you bring valid government identification with you if you plan on visiting this place.
Does The Big M Have An Online Casino?
No, there is no online casino option available at this time. All of the gambling activities must be done on the actual casino ship itself. So make sure you plan your trip accordingly if you want to experience all that this exciting casino has to offer.
Is There An The Big M Casino Ship App?
No, there is not currently an app for this casino ship. If you want to stay up to date on all of the latest news and promotions, make sure you check out their website or social media accounts, as those are updated regularly.
What Is The Dress Code At The Big M Ship?
Visiting this casino ship should be an enjoyable experience, and one of the best parts about the ship is the dress code. It's casual, so no need to worry about looking fancy.
However, there is a sensible dress requirement which means that visitors must wear clothing that is not torn or soiled, doesn't have offensive material or visible undergarments, does not allow for low-cut tank tops or see-through clothing and also cannot display any visible offensive tattoos.
Is There An Airport Shuttle Available From The Big M?
Unfortunately, there is no airport shuttle available from this casino ship. However, they do offer free parking and plenty of taxis, Uber, and Lyft drivers in the area, so you can easily get to and from the departing area of the casino ship.
What Is The Smoking Policy At The Big M Casino Ship?
If you are planning to visit this casino ship and are wondering about its smoking policy, we have some great news for you.
Smoking is allowed but only on the outside decks of the ship, so if you want a smoke during your gaming experience, make sure to go outside. Chewing tobacco, e-cigarettes and vaping are also prohibited at any time while on board any of their ships.
What Is The Pet Policy At The Big M Ship?
Unfortunately, pets are not allowed on board this casino ship. However, service animals that meet the requirements of ADA regulations and have proper documentation can be brought on board. If you need to bring your service animal, make sure to let their staff know prior to boarding the ship.
Is Wifi Available At The Big M Casino Ship?
Unfortunately, this information is not available at this time. You may want to contact the casino directly for more information. If you need to stay connected while playing your favorite games, feel free to bring your own mobile hotspot device with you during your visit.
What Is The Cancellation Policy For The Big M?
Due to the nature of casino cruises, there are no refunds for cancellations. However, if you would like to reschedule your cruise, you may contact the office directly to discuss your options.
Additionally, some cruises may offer a credit towards a future cruise if you cancel within 24 or 48 hours of your departure.
Conclusion
The Big M Casino Ship is an exciting and unique way to experience the thrill of casino gambling. With plenty of gaming options, a sensible dress code and even pets allowed, you can really make your night out an unforgettable one.
Make sure to check out their website or social media accounts for the latest updates and promotions, and don't forget to bring valid government identification if you plan on gambling. Don't forget to bring your lucky charm and get ready to win big!